TranslatePress allows you to translate your website content page by page, directly from the front-end.
It also supports automatic translation via Google Translate or DeepL.
Installing TranslatePress
TranslatePress installs and is activated just like any other WordPress plugin.
You can watch the following video for a quick installation tutorial or continue reading for an in-depth approach:
Download the plugin zip file
After purchasing a license, you'll receive an email containing links to your purchased downloads and also the information to access your account.
By logging into your TranslatePress Account you will be able to download the main plugin, download the premium version, upgrade to another version, see your serial number, renew your license if it's expired and also see your purchase history with us.
After you download the plugin:
Unzip the archive and upload the plugin folder under the /wp-content/plugins directory.
Or install it from your WordPress admin Plugins → Add New → Upload and upload your .zip file and then just hit Install Now button.
Activate TranslatePress
After the installation completes, just press Activate Plugin and the plugin will be ready for use.
Where is TranslatePress located in the navigation menu?
After the installation and activation, you can find the TranslatePress options page under Settings -> TranslatePress.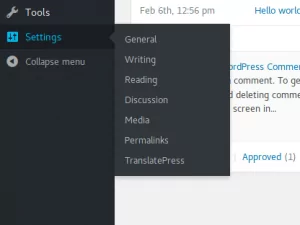 Activate your license
To activate your license, go to Settings → TranslatePress and then to the License tab.
The License tab will become available only after installing one of the paid versions.

Here, you need to enter the serial number you received with your purchase and press Activate License.

You need to press this button in order to activate the license. If the license is valid and not expired, the activation will work, else, it will fail to display a notice: