If you need to translate your WordPress site into a language that is not found in the All Languages drop-down you can easily add a custom language.
This feature lets you add one or more custom languages directly from TranslatePress Advanced Settings. Once the language(s) is added it will appear and can be selected from the languages list.
Steps to Add a Custom Language to your Multilingual WordPress Site
To add a custom language, navigate to TranslatePress → Settings and select the Advanced tab. Then click the Custom language section.

Here you'll be asked to input the following custom language details:
Language Code: the language code of the language, which will be used in the URL.
Language name: the name of the language, as it will appear in the languages list.
Native name: the native language name, which will be used only if you select the option to display languages in their native names.
Automatic translation code: the code used by Google Translate or DeepL to do the automatic translations.
Flag URL: in order to add a flag to your language, simply upload a PNG file into the WordPress media library and then copy its URL here (TranslatePress will take care of the resizing).
Text RTL: check only if the custom language is written in right-to-left format.

Once you've added all the custom language details don't forget to click the Add button and then Save Changes. Your custom language will now appear in the language list and you can select it.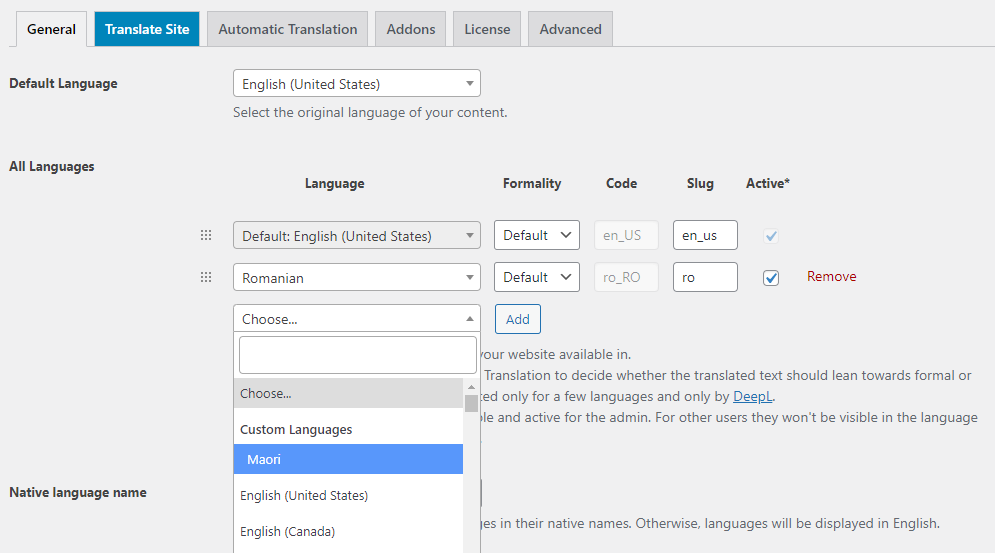 After this, your new language will appear in the front-end translation interface.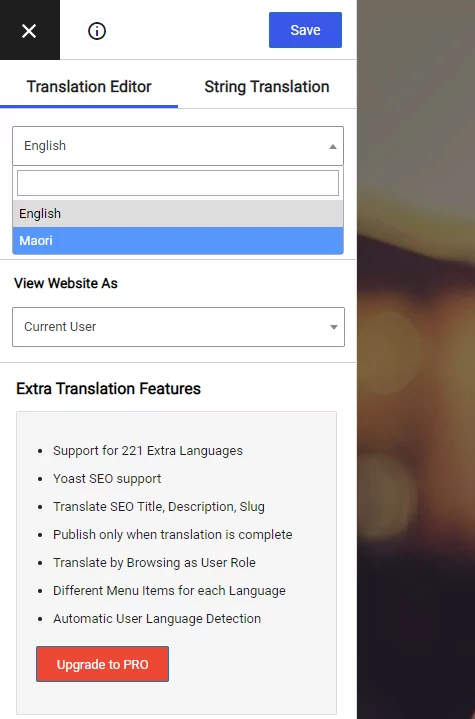 It will also be listed in the language switcher:

The premium version of TranslatePress has no limitation on the number of custom languages that you can add. In the free version, the number of translation languages is limited to two.
Following these steps, you can start translating your site into any language you want. Even Klingon! Here's a short video tutorial on this:
Editing an existing language
If you wish to edit the name or the flag of an existing language you can achieve this by going to TranslatePress → Advanced Tab → Custom Languages.
You can add the Language Code of the language you wish to edit. The language code can be found in General Settings under Code.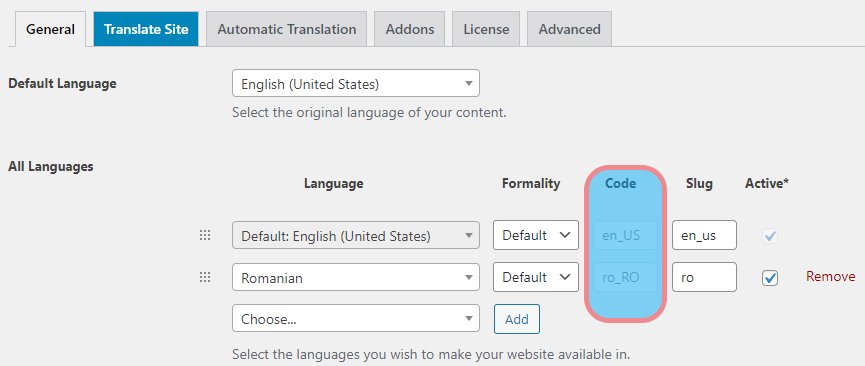 Fill in the Language Code and the changes you want to make. The Language Code field is required but apart from that any field left unfilled will be automatically completed with the rest of the information.

By doing this you can edit the name or the flag of an existing language. After clicking Add and saving the changes, the language will appear in General settings under Custom Languages.