Using the Automatic User Language Detection Add-on for TranslatePress, users will be redirected to their preferred language.
First-time visitors will be redirected to their preferred language based on their browser settings or IP address. The language is then saved in a cookie so that any time they return to the website, they will be automatically redirected to their last visited language.
Install the Automatic User Language Detection Add-on
Install and activate a premium version of TranslatePress (Business or Developer). Once installed, go to Settings → TranslatePress in your WordPress dashboard, and then navigate to the Addons tab.
Scroll down to the Automatic User Language Detection Add-on and Activate it here.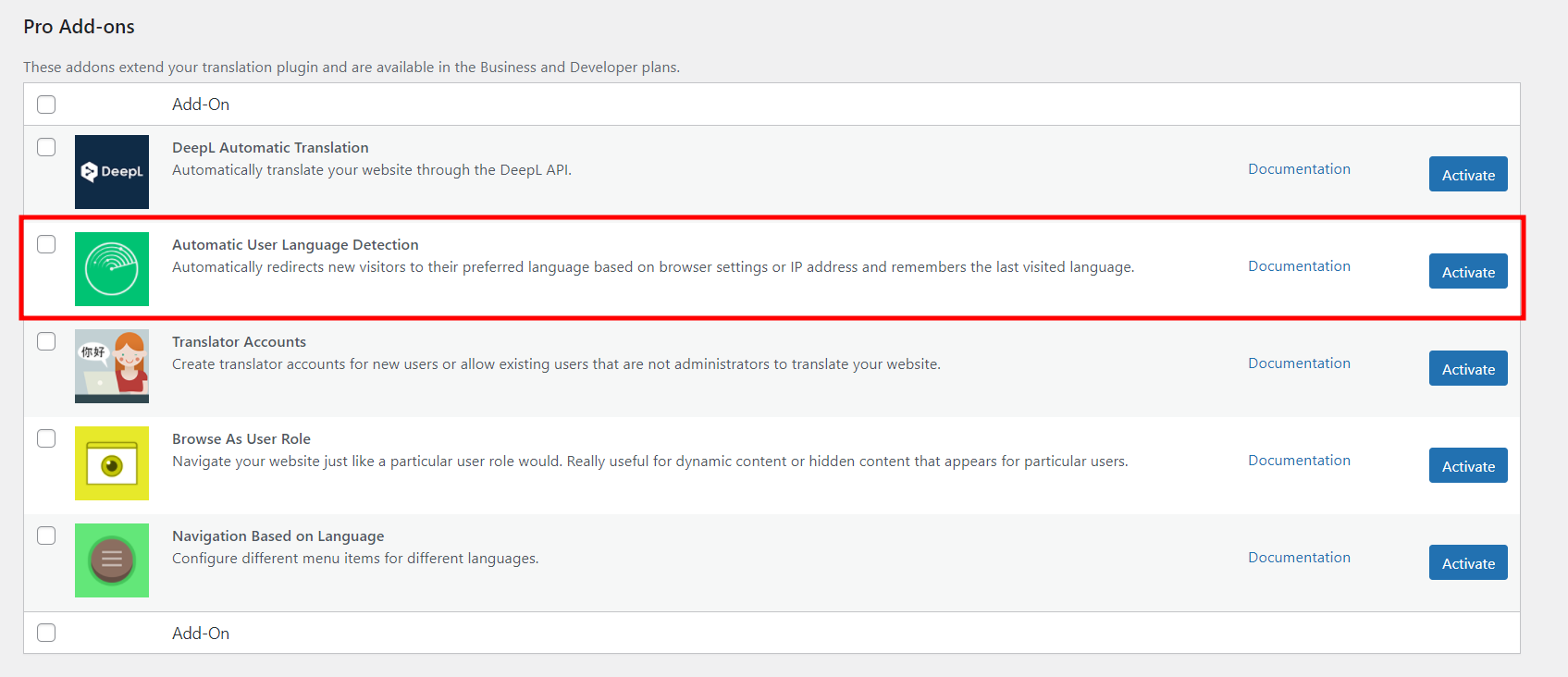 Configure your menu items
With the add-on active, you can go to Settings -> TranslatePress and select the method of language detection.
You can choose what method to be considered: their browser language setting, or their IP address.
Selecting the option First by browser language, then IP address will consider the user's browser language setting. If it doesn't match any of the site's available languages selected in TranslatePress settings, then the IP address of the user will be used to determine its preferred language. If this doesn't match any of the available languages either, then the default language will be displayed to the user or, if the option Use subdirectory for default language is set to Yes, the first language in the Translation Languages option.
Similarly, selecting the option First by IP address, then browser language will determine the language by IP and if that fails then browser language is considered.
Selecting Only by browser language or Only by IP address will not have a fallback user language detection method.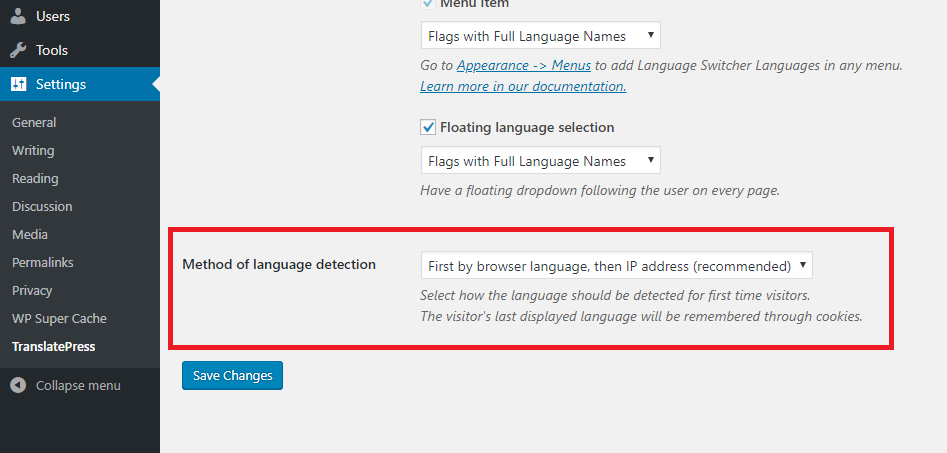 IP address based language
The visitor's IP address is searched in the GeoLite2 database to determine the country from which the user accessed the website. The country is then searched in the locales code of the selected translation languages in TranslatePress Settings.
This product includes GeoLite2 data created by MaxMind.
Google Indexing
Google understands browser language redirection and will redirect your users to the specific language URL.
Google can index your site for various IP addresses, but there's no guarantee for how these redirects will affect your site indexing. This is happening because Google frequently updates its indexing algorithms, so nobody knows exactly how these are working.
You can use Google Webmaster Tool to see how is your site indexed. Also, we recommend reviewing your index status from Webmaster Tool periodically.
One of the best methods to show your users that you have content in their language is to place a language switcher on your site.
Another way could be to first ask your users about the language that they prefer through a welcome page and then show them relevant content in that language.