WordPress powers almost 43% of all websites and not all of them are in English. In fact, the number of non-English websites is on the rise, with 56% of WordPress sites being created in languages other than U.S. English. This shows there's a huge opportunity for going multilingual and translating your site in multiple languages.
But getting started can be confusing, even for experienced WordPress users. You might be wondering what are the best WordPress multilingual plugins? What are the technical challenges of setting it up a multi language website? Are there any SEO implications? Should I use machine or human translations?
In this post, I'll guide you through what you need to know about translating your WordPress site and hopefully answer all your questions. We'll cover everything from figuring out whether you need to translate your site in other languages, different methods and WordPress plugins for translation, and the best ways to translate your content.
Translate WordPress Index
Do You Need to Translate Your WordPress Website?
Translating your WordPress content isn't something you do for fun—it's something you do with a strategy in mind. So if you're wondering if you need a multilingual site, it's best to start by checking if you're already getting international traffic.
The easiest way to do this is with Google Analytics. To check what languages your visitors have set their browsers to, go to Reports → Audience → Geo → Language.
It helps to compare this data with your visitors' locations, which you'll find at Reports → Audience → Geo → Location.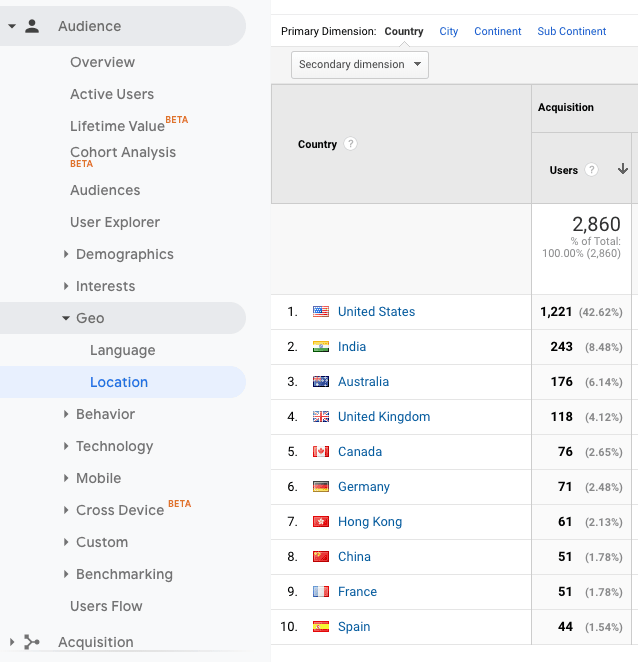 So what does all this data mean? You can draw a few conclusions:
Most visitors browse this site in English.
People from India are not browsing in their native languages, but maybe they would like to.
Visitors from Spain, France and China are browsing in their respective languages and might feel more comfortable accessing the site in Spanish, French and Simplified Chinese.
The bottom line is there are opportunities for translating this site into other languages, including Hindi, Spanish, French and Chinese.

Benefits of Translating WordPress Site
Translating WordPress doesn't just benefit your visitors, it offers many advantages for your business, too. If you're doing well locally and nationally, it might be time to think about expanding into other countries. Scaling your business is as good a reason to consider translating your content.
1. Boost Your SEO
One of the biggest advantages of having additional languages is the boost you'll get in traffic.
Say, for example, you translate your content into Spanish and French. The next time Google crawls your site, it will recognize your new languages as separate content to your English pages. This means your site will appear in English, Spanish, and French search results.
Additionally, while the competition for English language SERPs is fierce, you might find it's easier to rank for your keywords in other languages.
For example, the keyword phrase 'translation plugins' is competitive, as you can see in the KWFinder results below:
If you search for the same keywords in Spanish, it's suddenly much easier to rank:

And a search for 'plugins de traduction' in French shows there's even more potential for ranking highly in SERPs.

Creating a multilingual WordPress site, together with a well-thought out international keyword strategy, can help you target a broader range of keywords. This will increase your chances of ranking on the first page of search results for more than one language.
2. Improve User Experience
When you go online, you probably take it for granted that you can browse in your native language, right? For much of the non-English speaking world, this isn't the case.
Translating WordPress instantly improves the user experience for visitors who speak other languages. Not only will they be able to understand your content, but they'll feel welcome and want to keep browsing. This will have a flow on effect across your site, increasing traffic, reducing your bounce rate, and boosting conversions.
3. Build Trust and Credibility
It's important for businesses to speak the same languages as their target markets. Why? Because people feel more comfortable conversing in their native language as it's the culture they've been brought up in.
Having a fully translated website can help establish your business as a credible offering in your target markets. Quality multilingual content will also reduce any misunderstandings and misrepresentation of your brand overseas.
4. High ROI
Taking translation a step further with localization — the process of adapting your content for a specific market's language, customs, and culture—can further impact your business' brand, customer relationships and, ultimately, bottom line.
According to Industry Specification Group for Localization (ISG), for every US$1 spent on localization, a business will make a return of $25. That's right—a 2,500% return.

Machine Translation vs Human Translation
There are two primary types of translation: machine translation and human translation.
1. Machine translation
Also known as automatic translation, machine translation uses translation packs or AI to convert words on a page into other languages. One of the most popular examples of machine translation is Google Translate and its neural machine translation system.
2. Human translation
Human translation relies on human intelligence to convert one way of saying things to another. There are many professional translation services available, ready to translate content for a fee. Human translation is usually more accurate and natural sounding as people are better at interpreting the nuances of language than machines.

Choosing a Solution for Translating Your WordPress Site
Before diving into translating your site or WordPress site, there are three key things to think about:
What is your budget? Do you want a free solution or are you happy to pay an ongoing monthly subscription for high-quality translations?
How much time do you have? Do you have time to manually translate your content and manage it ongoing, or would you prefer a solution that does it automatically for you?
How important is quality and accuracy? Does your business sell products or services where there's no room for confusion and accuracy is essential? For example, medicine, finance, or law? Will machine translations do or does your business need human translations?
There are many different ways you can translate WordPress content but we're going to take a look at the 3 most common:
WordPress Plugins
Copy + Paste Content Manually
Rely on Browsers
1. WordPress Plugins
The most popular way to translate WordPress is with a WordPress translation plugin. Translation plugins are the most convenient solution for adding multiple languages to a site.
This is in stark contrast to just a few years ago when you had to deal with language packs, .PO files and .MO files, and translating strings. Now, there are intuitive translation plugins that let you easily translate text on the front-end of your site, visually and hassle-free.
A quick search of the WordPress.org plugin repository brings up the most popular free WordPress plugins for translation: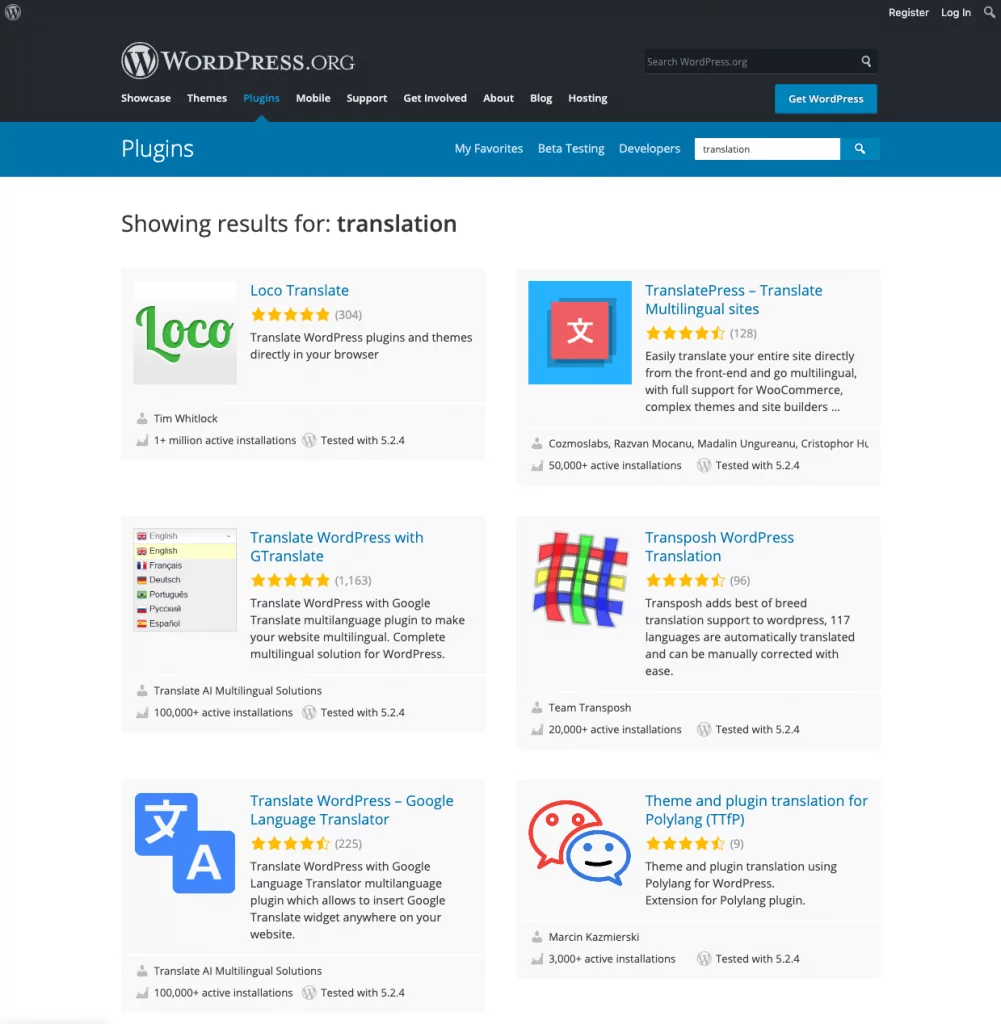 If you've googled 'translation plugins' you've probably come across some other plugins for creating a WordPress multilingual site, such as TranslatePress, Loco Translate, WPML, Polylang, or Transposh.
All these free and premium options have different features and interfaces for translating content. It's worth checking out their pros and cons to decide which suits you best.
TranslatePress: A WordPress Translation Plugin That Anyone Can Use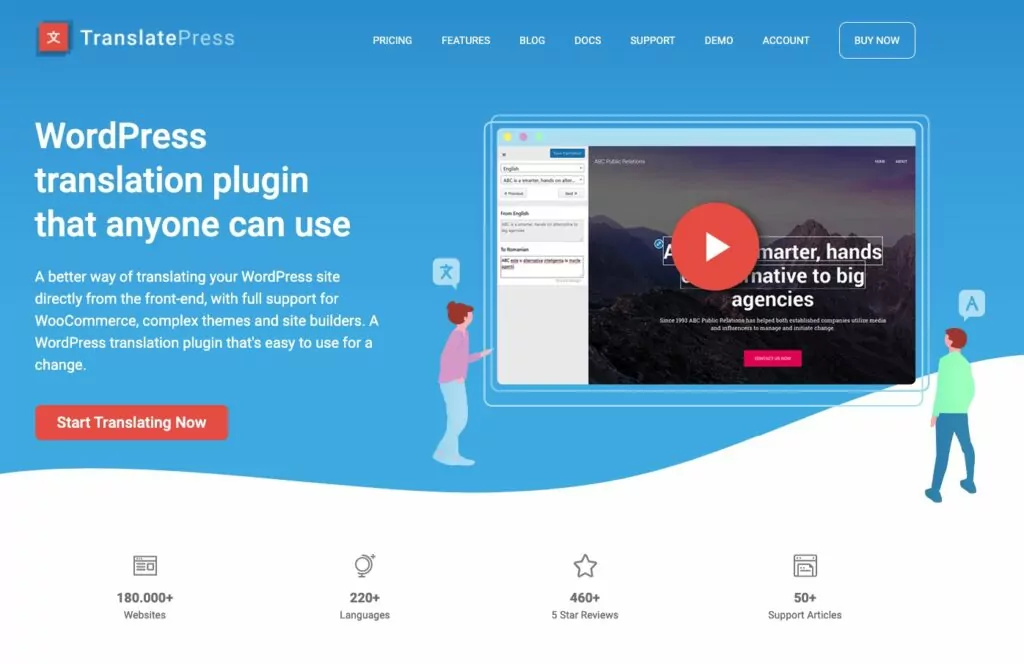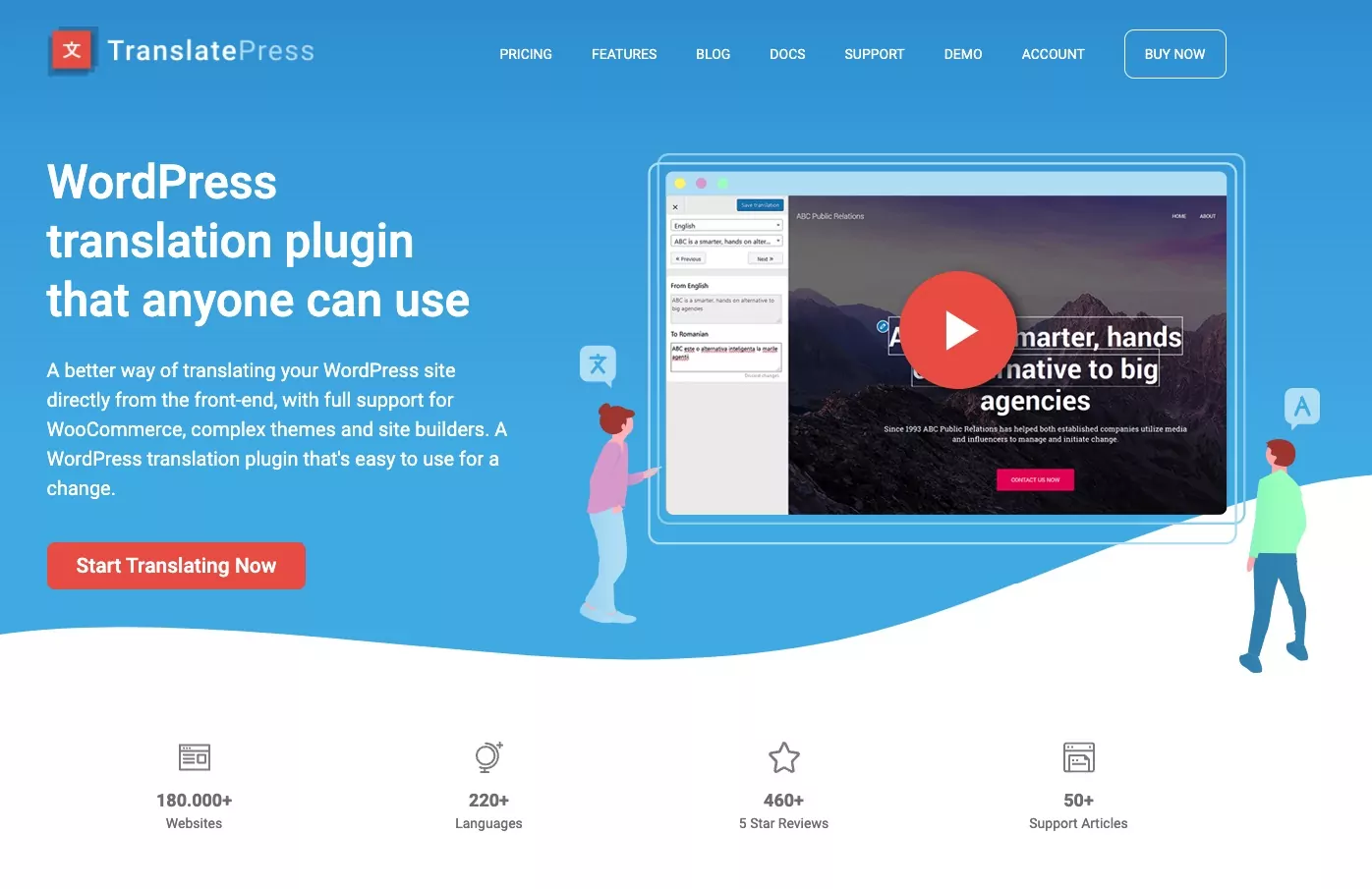 The best WordPress translation plugin in terms of price, quality, accuracy and ease of use is TranslatePress.
It lets you translate your site manually and with automatic machine translation powered by Google Translate or DeepL—super useful for starting with machine translation and then making manual edits for accuracy and nuance.
Key features include:
Translate everything on your site, including posts and pages, output from plugins, shortcodes, and contact forms.
User-friendly visual interface for translating content.
Add as many languages as you need.
Translate images (i.e. show different images for each language of your site).
SEO-friendly. Create multilingual sitemaps and indexable versions of your site for each language.
Supports WooCommerce, custom post types, complex themes, and page builders.
Customizable language switcher.
We'll take a look at how to translate your WordPress site with TranslatePress later in this post.

2. Copy and Paste Content Manually
Copy and paste is one of the simplest WordPress translation methods because you don't need to install any plugins or pay for premium services.
To use this manual translation technique, simply copy the text you want to translate into a document, which you then share with a private translator or professional translation services like Gengo or Straker Translations. When the translated text is ready, copy and paste it into new pages on your site.
This is a bare-bones solution if you only need some of the source text on your site translated. However, it can be time-intensive and may not be worth your time since there are serious SEO disadvantages.
Google looks for the hreflang attribute in page headers for information about what language the content is published in. Without this markup, Google will have no idea whether your site is in English or some other language. (We'll look at hreflang tags in more detail later in this article.)
So if you go down the copy and paste path, there's very little chance of your content ranking in multiple languages.
You could add hreflang tags yourself but it's far easier to leave it to a plugin like TranslatePress to take care of it for you. Plus, you'll get the added SEO benefits of URL slug translation, WooCommerce support, automatic translation, and image translation.

3. Rely on Browsers
The easiest—and laziest!—way to translate WordPress is to not translate it at all. Thanks to browsers like Chrome, you can leave it to your visitors to translate your content.
Browsers can automatically translate all the content on a page. The advantage of this is that the visitor can decide if they want to browse your site in the original language or switch to their preferred language.
The disadvantage is that you'll have no control over how your site is translated. Google Translate could misinterpret your content and any nuance or personality in your writing would be lost in translation.
Plus, you'll lose the all-important trust and credibility that comes with delivering multilingual content. Relying on browsers for translation should only be an option if providing multilingual content isn't a priority.

What Should You Translate?
It's generally best practice to translate everything on your site. This is both for user experience and SEO. If you translate some content on a page and not the rest, it's not only jarring for the visitor but confusing for search engines.
1. Content
This includes blog posts and page content, as well as header and footer content, categories and tags, widgets, and menu items.
Don't forget to translate custom post types and your privacy policy and terms and conditions pages.
2. SEO meta data
The meta title and description of your pages and posts are usually displayed in search results, so translate these pieces of text, too. Doing so will help boost your organic traffic in other languages.
Make sure you choose a translation plugin that supports multilingual SEO and sitemaps (TranslatePress supports both).
3. URLs
SEO best practice recommends that keywords should be included in URL slugs. This is probably something you already do for your pages and posts. So naturally, it's a good idea to translate your URLs, too.
For example, your contact page might use this slug in English:
example.com/contact-us
And in German would look like this:
example.com/kontaktiere-uns
While some WordPress translation tools won't let you translate URL slugs, TranslatePress' SEO Pack add-on provides this must-have feature.
4. Images
Translating images is essential for maintaining a consistent user experience. When you've translated all the content on a page, it can be confusing for visitors when images that contain text are in another language.
With TranslatePress, you can use the visual translation interface to specify different images for each language of your website. This allows you to swap images throughout your site, depending on what language the visitor is using.
For more, check out How to Translate Images in WordPress [Complete Guide].

What URL Structure Should You Use?
Google offers some tips on how to manage multilingual versions of your site. It recommends using a URL structure that makes it easy to geotarget your site:
Country-specific domain for each language – example.de (or example.com for English visitors)
Subdomain for each language – de.example.com
Subdirectory for each language – example.com/de/
Google advises not to use URL parameters (e.g. example.com?loc=de) as users might not recognize geotargeting from the URL and geotargeting from Google Search Console isn't possible. This is easy enough to avoid in WordPress thanks to pretty permalinks.
TranslatePress uses subdirectories, aka subfolders, for each language, which is Google best practice.

What Are hreflang Tags?
hreflang tags are a method for marking up translated pages that are similar in meaning but aimed at different languages and/or regions.
As Yoast explains, there are three common ways to implement hreflang:
Content with regional variations like en-us and en-gb.
Content in different languages like en, de and fr.
A combination of different languages and regional variations.
hreflang tags tell search engines like Google the version of a page that's optimized for a user's language and location.
In the example below, you can see the hreflang attribute specifies U.S. English:
<link rel="alternate" href="http://example.com" hreflang="en-us" />
hreflang tags also prevent the problem of duplicate content. For example, if you have the same content in English, but for the US, UK and Australia, the difference in content on these pages might be minimal. With the hreflang attribute, you can tell search engines these pages aren't duplicate content.
It you're using TranslatePress, it automatically adds hreflang tags for each language on your site.

How to Translate a WordPress Site with TranslatePress
Looking for a simple way to add languages to your WordPress site? You can't go wrong with TranslatePress.
Let's take a look at how to get up and running with the free version of TranslatePress. In this example, I'm setting up a site in English and German.
Step 1: Install and Activate TranslatePress
In the WordPress dashboard, go to Plugins → Add New and search for 'translatepress.' Install and activate the plugin.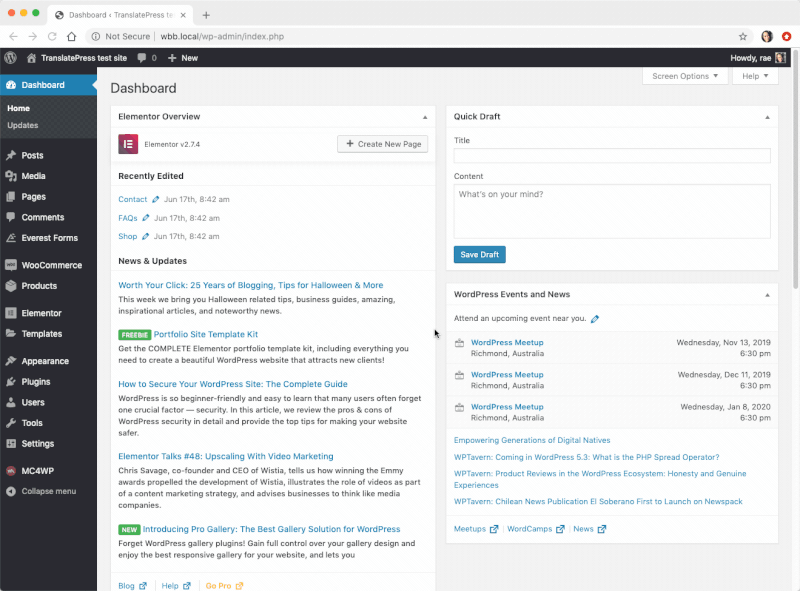 Step 2: Choose Your Languages
Next, head over to Settings → TranslatePress to configure some basic options.
In the General settings, you can choose your default language and the additional languages you want to translate your content into. As you can see below, I've added German.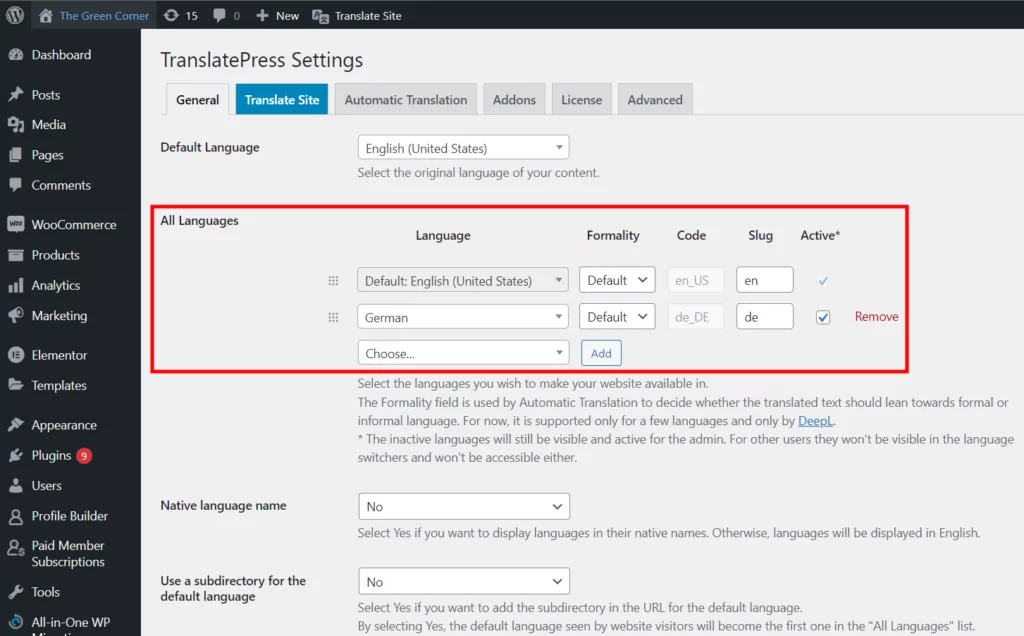 Step 3: Customize the Language Switcher
By default, TranslatePress adds a floating language selection switcher button to the front-end of your site. It allows visitors to switch between the different languages you've set.
You can customize how the language switcher looks, with options for full and short language names, flags, and a combination of both.

Step 4: Choose How You Want to Translate Content
If you want your content automatically translated, the Automatic Translation tab lets you choose whether or not to enable machine translation.
If you choose 'yes' you'll need to get a Google Translate API key to connect to the service. There's also an option to use DeepL Automatic Translation with the premium version of TranslatePress.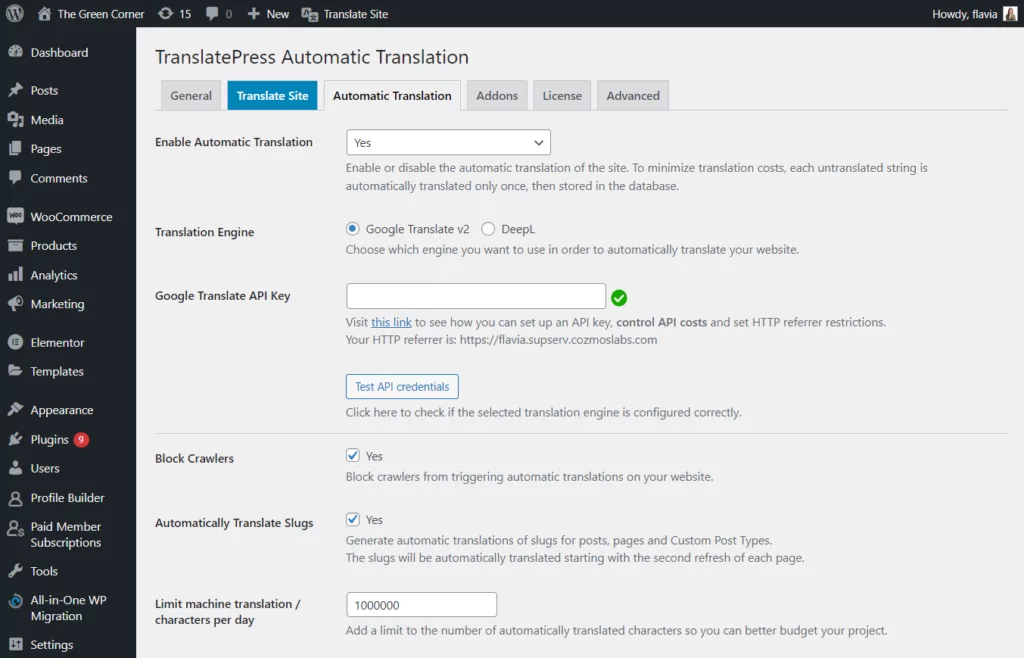 When you hit 'Save Changes,' the plugin will go ahead and translate your site the next time you or a visitor chooses another language.
Step 5: Start Translating Your WordPress Site
Now that you're done with basic configurations, you can start translating your WordPress content.
The awesome thing about TranslatePress is that it's user-friendly visual interface lets you translate everything on your site directly from the front-end, making it super easy to change any piece of text.
To access the translation interface, look for the 'Translate Page' button in the WordPress admin toolbar when you're logged in. (You'll also notice the language switcher in the bottom-right.)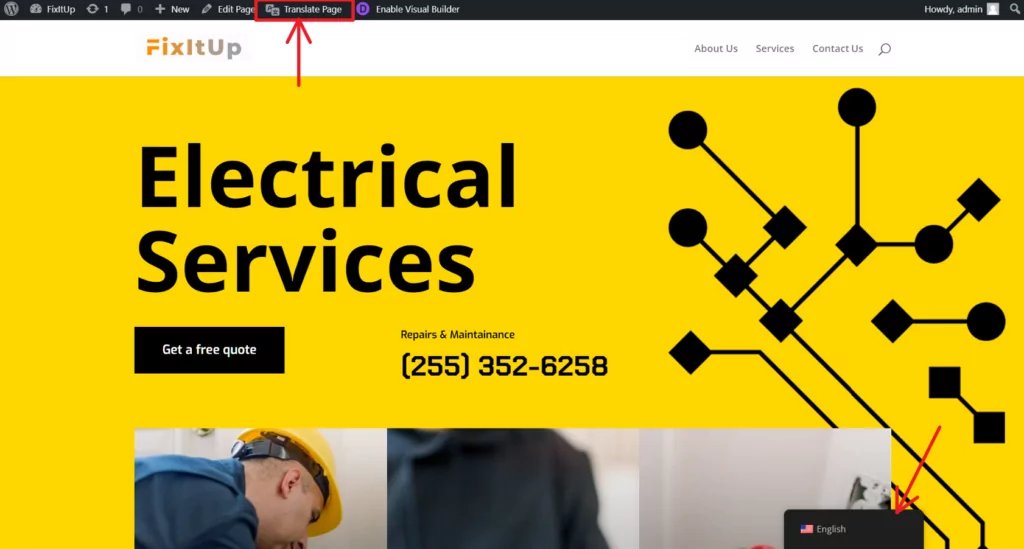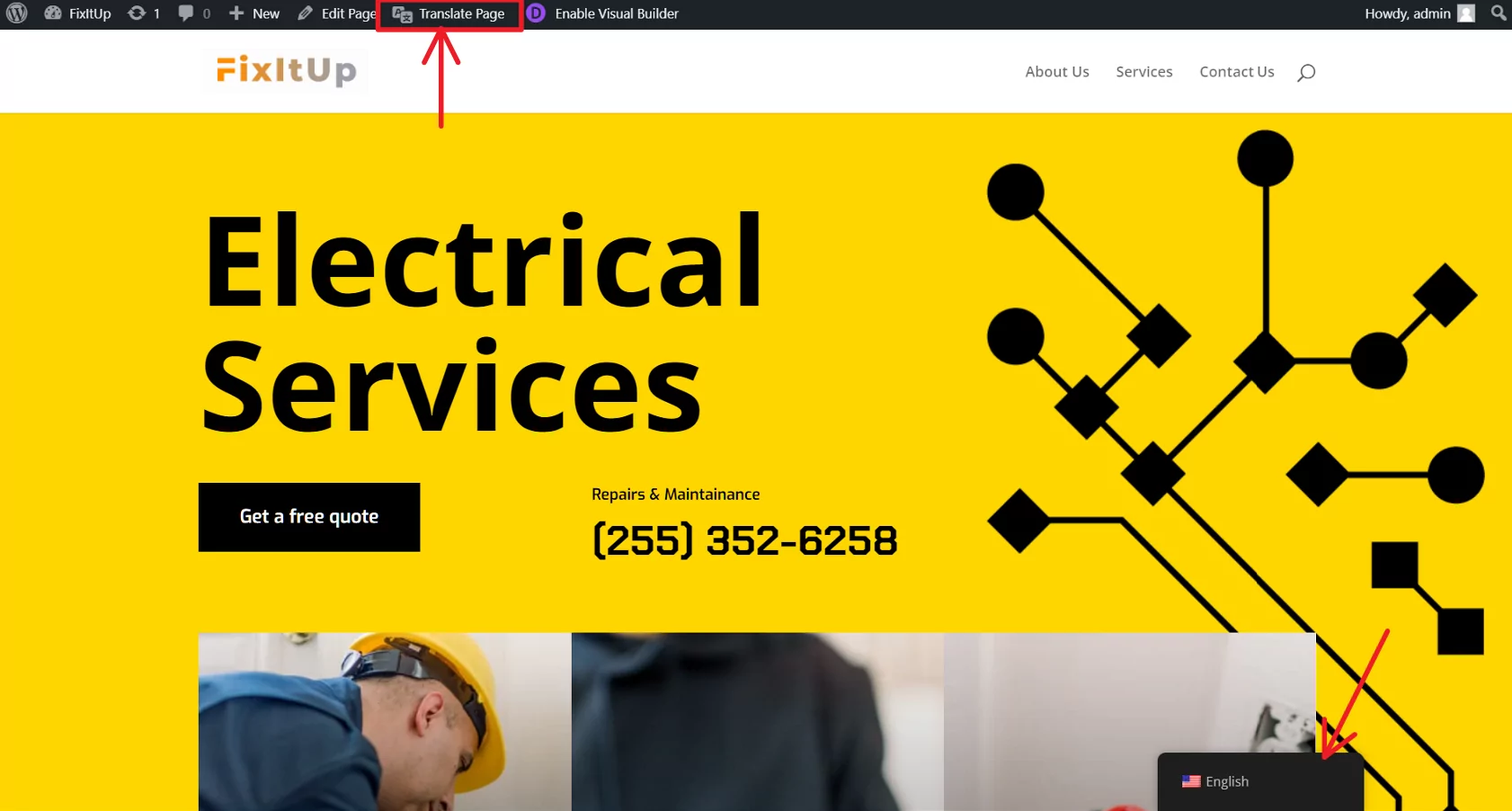 Alternatively, you can access the interface in the TranslatePress settings.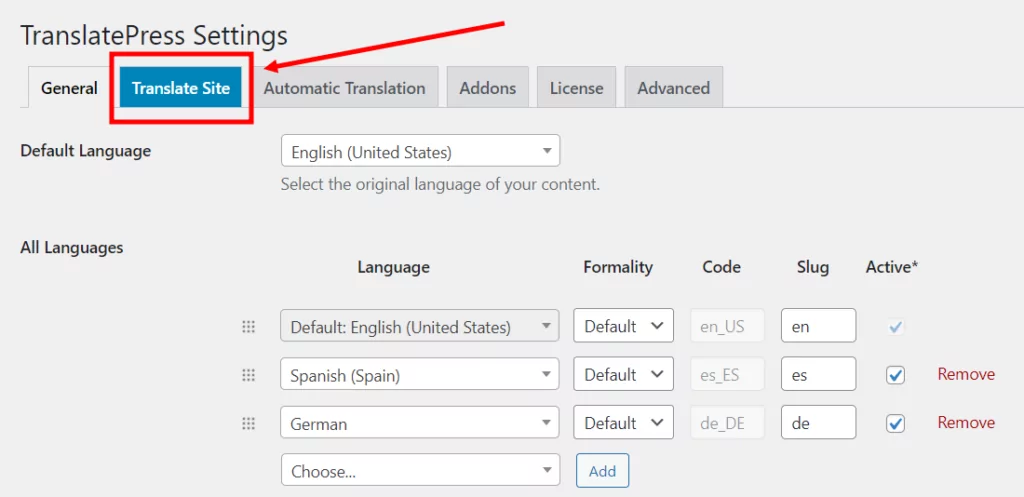 To translate some text or edit an existing translation:
Hover over the text you want to translate and click the pencil icon, or
Use the drop-down menu on the left to search the content on the page.
You'll see the text you want to translate appear in the sidebar. Adding a translation is as easy as entering your text and saving the translation, like so: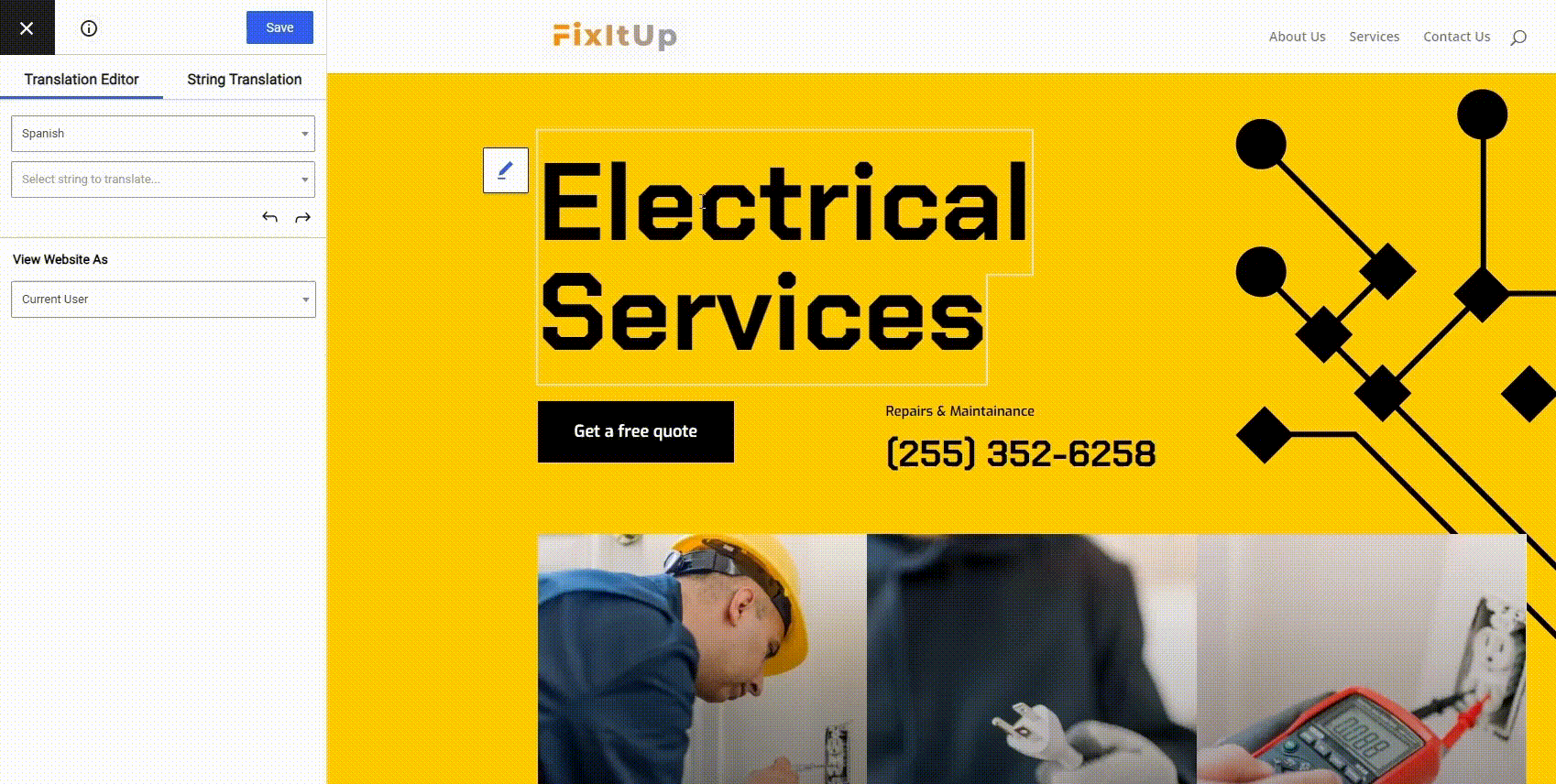 Now all you need to do is browse your site, page-by-page, using the visual translation editor. Continue clicking to select certain elements, enter your translations, and more onto the next piece of text.
You'll have your site fully translated with TranslatePress in no time!
Besides translating standard text, TranslatePress lets you translate different elements of your site, including pop-ups, sliders, forms, WooCommerce products, images, and more.
I highly recommend checking out the full guide on how to Create a Multilingual WordPress Site.

Get Started Translating WordPress
Hopefully this guide has helped clear up any confusion you might have around translating WordPress. It might seem overwhelming at first, but with some planning and the right translation plugin, you can create a multilingual WordPress site with little effort.
As well as providing a user-friendly visual interface for translations, TranslatePress takes care of all the technical challenges that come with setting up a multilingual site. This includes SEO and hreflang tags, translating URL slugs, setting up machine translations, customizing language switcher buttons, and more.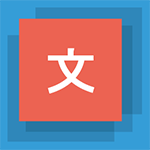 TranslatePress Multilingual
TranslatePress is the easiest way to translate your WordPress site. It's fast, won't slow down your website, works with ANY theme or plugin and it's SEO friendly.
Get the plugin
Do you have any questions about translating WordPress? Or do you have any of your own tips for creating a multilingual website? Let us know in the comments below.
If you found this post helpful, please check out our YouTube channel, where we constantly upload short & easy-to-follow video tutorials. You can also follow us on Facebook and Twitter to be the first to know each time we post.