If you're looking for an easy way to automatically translate your WordPress site, you can achieve this by using the new DeepL Integration available in TranslatePress.
Since a significant amount of TranslatePress users have been enthusiastically requesting DeepL support (stating that it's better than Google Translate), we had to oblige.
The result: you can now allow TranslatePress to automatically translate your site using the DeepL Automatic Translation add-on.
Below, we'll go through the simple steps needed to have your website automatically translated using DeepL.
What is DeepL?
DeepL is a relatively new automatic translation service, that has climbed rapidly among the best machine translation services.
It uses neural networks and artificial intelligence to translate texts, which results in high quality and accurate translations. It's really good with grasping the meaning of a sentence, rather than going for a literal translation.
While it does support a limited number of languages (currently 9), this number is gradually increasing.
Here's the list of supported languages in DeepL:
English
German
French
Spanish
Portuguese
Italian
Dutch
Polish
Russian
Setting up DeepL WordPress Translation Plugin
1. Install TranslatePress and its DeepL Automatic Translation add-on
Get a TranslatePress Business or Developer license, which also includes the DeepL Automatic Translation add-on.
Then, from your account page you can download the main TranslatePress plugin, as well as all the pro add-ons.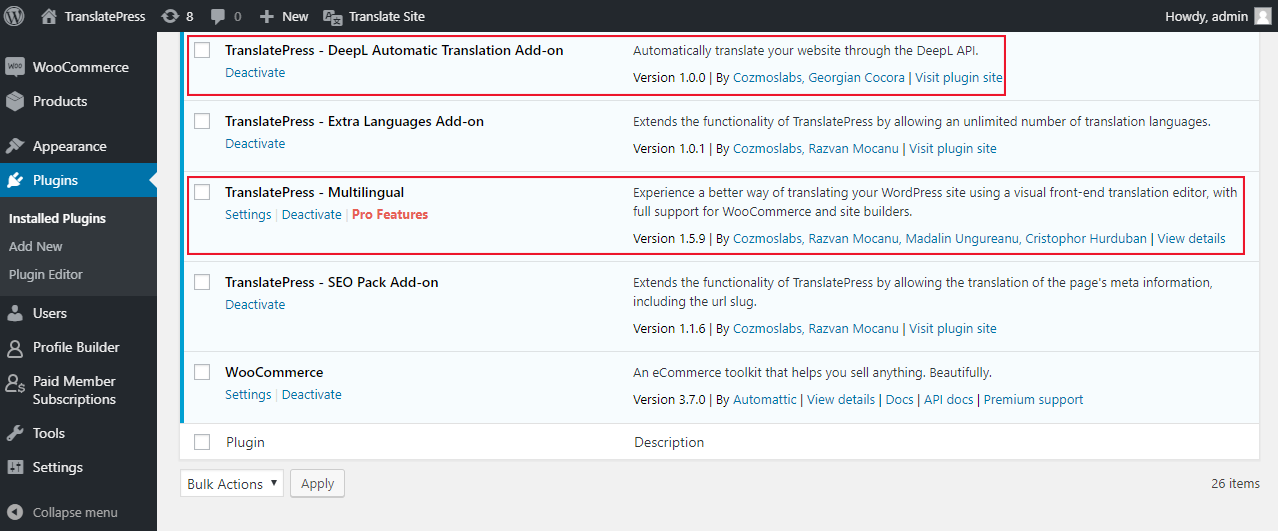 Install and activate both TranslatePress and then the DeepL Automatic Translation add-on. Head over to Settings > TranslatePress and enter the plugin's license key under the License tab.

Next, under TranslatePress Setttings -> General we'll choose the languages to use on your site. Select the current language of your site in the Default Language drop-down. Then, choose the new language into which you want to automatically translate it using DeepL.
You can add as many languages as you need using the Multiple Languages add-on, but for the purpose of this tutorial we'll stick to two, English and Italian.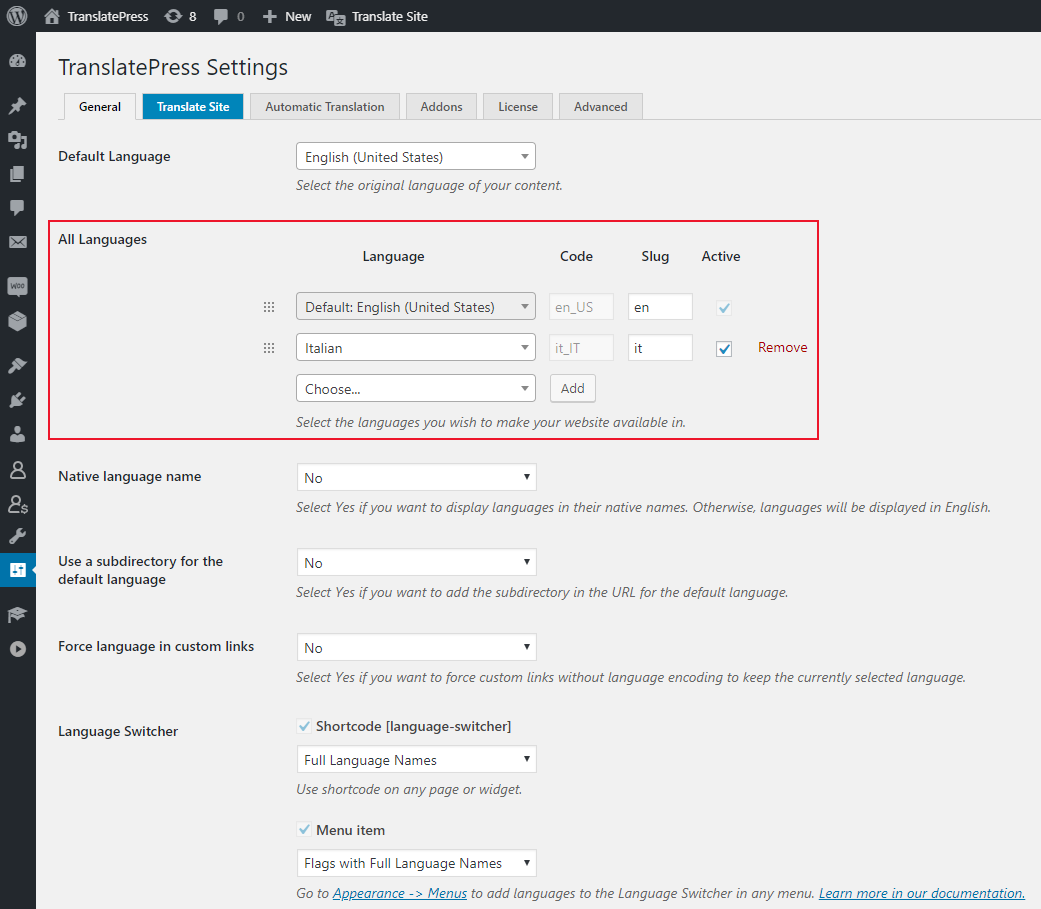 Make sure the translation languages you add here are supported by DeepL.
2. Generate DeepL API Key
Next, we'll head over to TranslatePress Automatic Translation tab.
From here we'll enable automatic translation and select DeepL as our translation engine.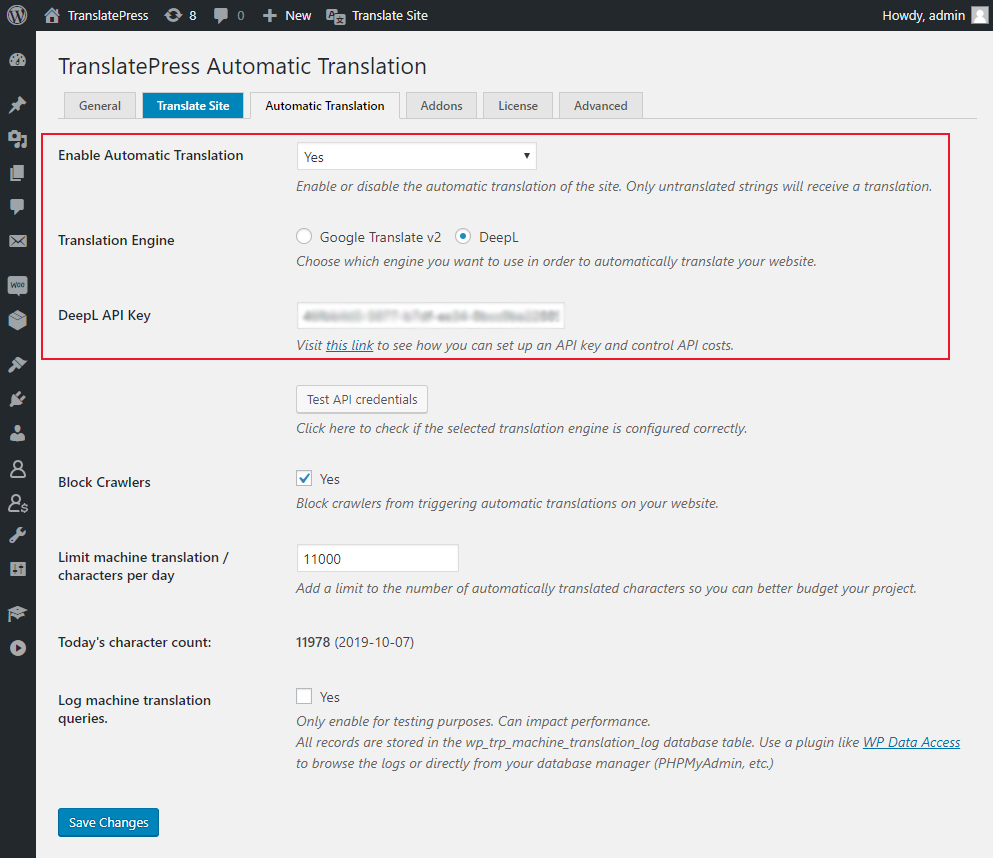 In order to use the DeepL API, you will need to get a key.
The key can be purchased from here. The package that contains API access is listed under For Developers -> DeepL API and it costs 4.99€ + usage fees. Automatic translation costs will be on top of this.
After you've created the account for DeepL go to your Account page where you'll find your API key: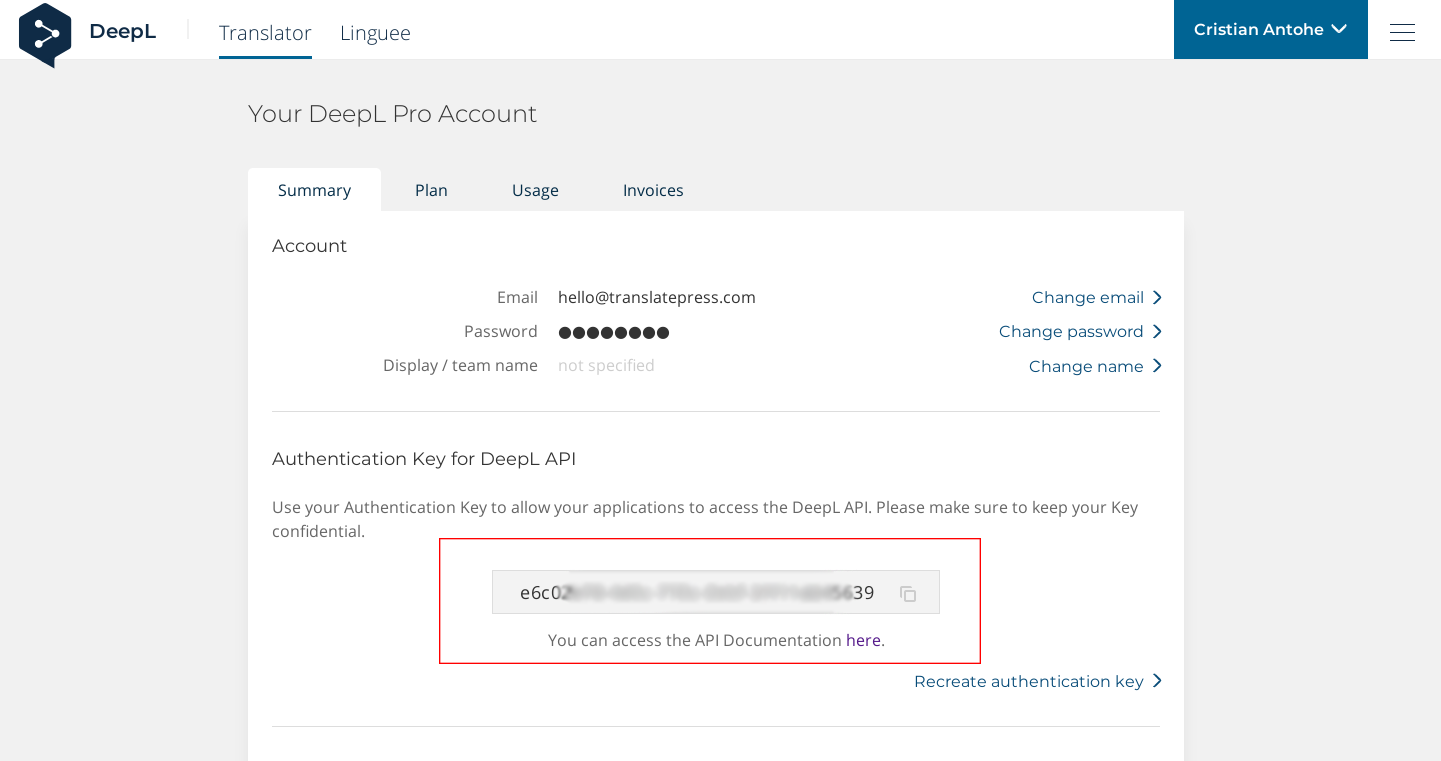 All that's left is for us to copy this key under TranslatePress Automatic Translation -> DeepL API Key.
Click "Save Changes" and we're done.
3. Browse your site and see how it's automatically translated
That's it! You can now simply navigate to the front-end of your website and browse it in the language of your choice. You'll notice the content has been translated automatically.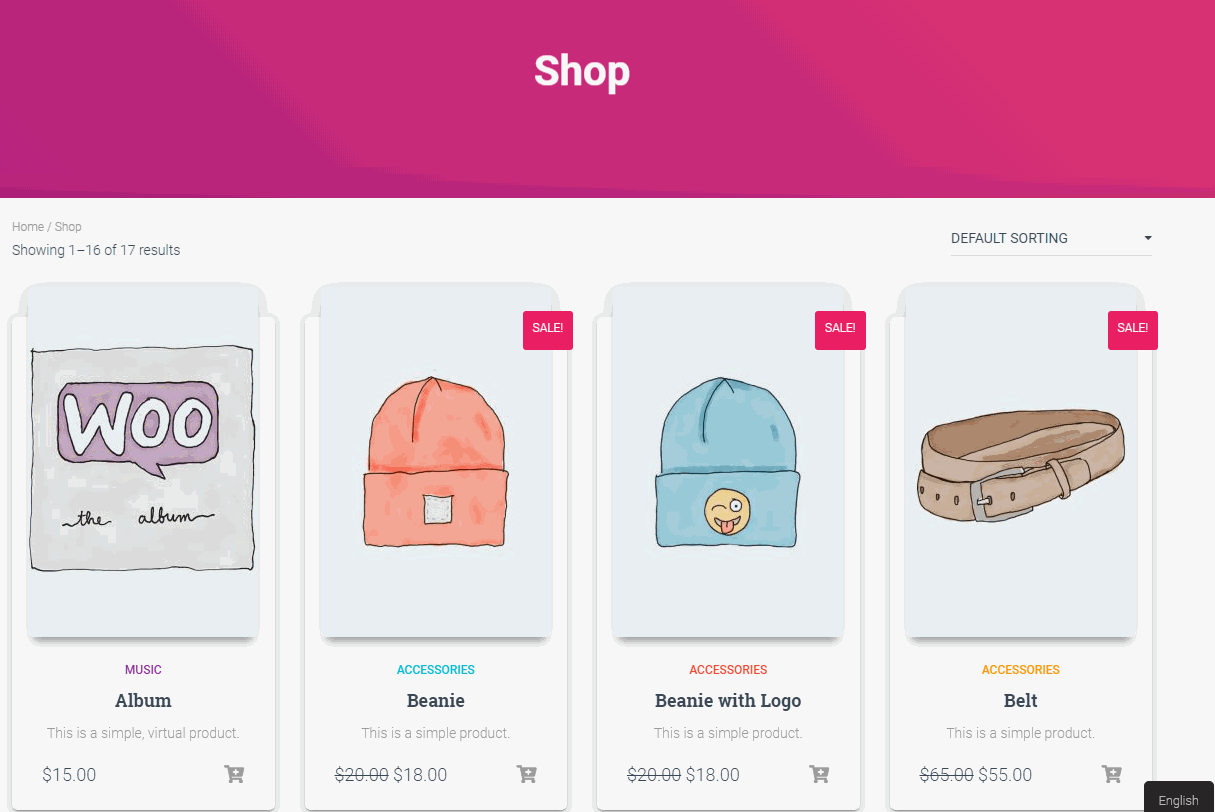 As you notice, we created and automatically translated a WooCommerce store and all its products using DeepL.
The automatic translation is triggered ONLY the first time a user visits a page that hasn't been translated yet. By browsing your site for the first time in a certain language you're actually translating it page by page.
If some of the translated texts sounds off, you can easily click and modify it using the visual translation interface from TranslatePress.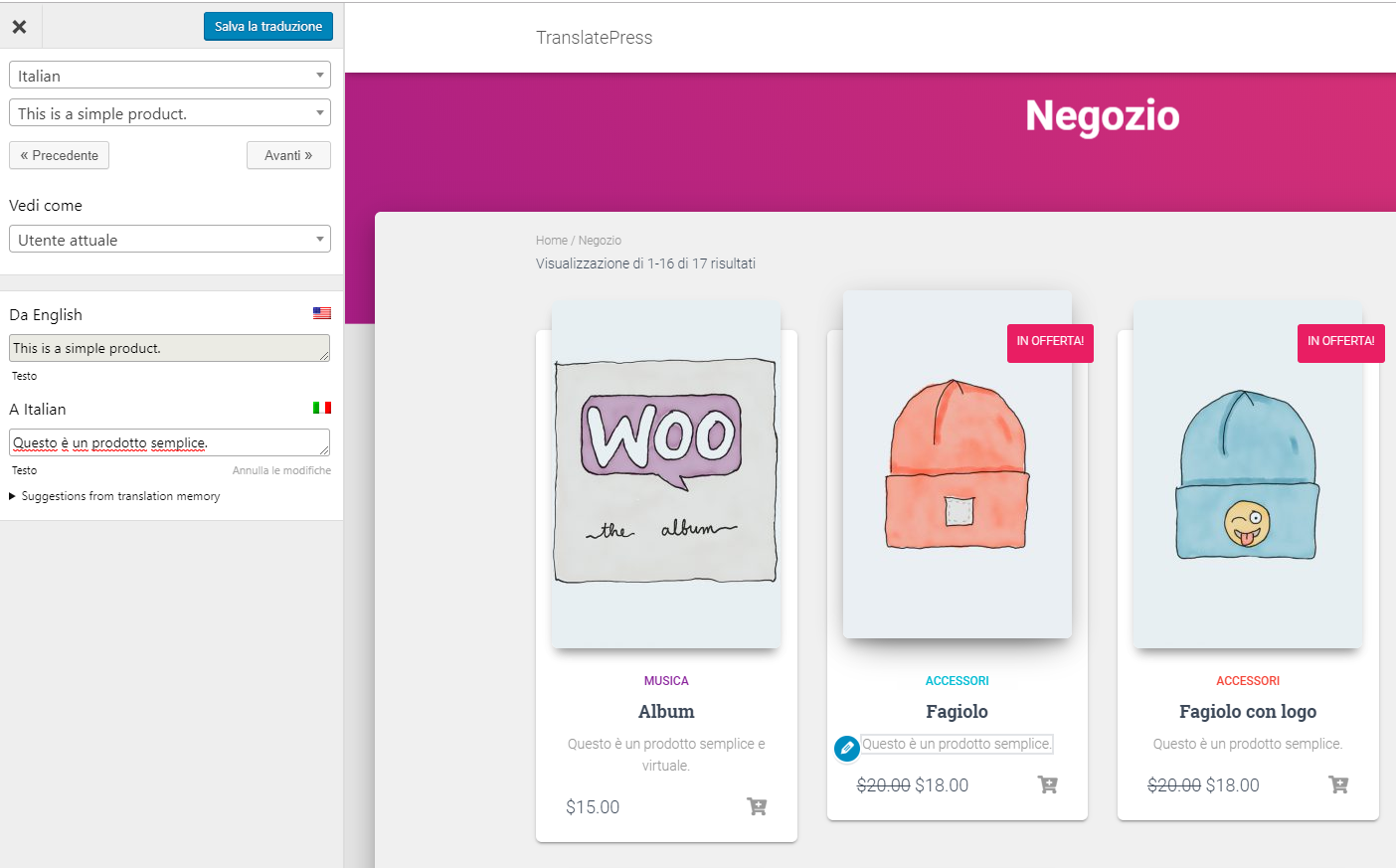 Also, by installing the Translator Accounts add-on, you can create accounts for professional translators that can review the automatically translated version of your site. Because it has been automatically translated, the process of reviewing translations will be much faster and cheaper. Also, it will guarantee you everything is translated properly and in context.
4. (Optional) Set a daily limit for automatically translated characters
In order to keep translation costs under control, TranslatePress allows you to set a daily limit for the automatically translated characters.

We're also blocking crawlers from triggering automatic translations on your site, which can result in unwanted costs from texts that maybe you didn't want translated.
You'll find all these options under the Automatic Translation tab.
Will adding automatic translation affect your site speed?
An important aspect when it comes to automatically translating your site is how it affects your page load time.
If every time a user accesses a page in Italian, you have to hit the automatic translation service API, grab the translations and display them, this will have a negative impact on your multilingual site speed.
In TranslatePress the automatic translation happens once, when the page is first loaded (and only for the requested language), then it is saved in your database and served from there. This combined with blocking crawlers from triggering automatic translations, will result in no visible impact on your site speed.
That's how to automatically translate your WordPress site
That's how easy it is to automatically translate your website using TranslatePress and the DeepL Automatic Translation add-on.
The automatically translated text will be high quality and will require very little editing on your side to make sure everything is understandable. Using the visual translation interface you or your hired professional translators can easily browse the site and modify texts that lack meaning or seem out of context.
Due to the extended control that TranslatePress offers when it comes to automatic translations, you'll be able to keep automatic translation costs under control. Everything that has been translated using the DeepL API is stored by the plugin, so you'll only be charged once for translating a certain text. This means less calls to the DeepL translation API, and no visible impact on your site speed.
Besides the DeepL Automatic Translation add-on the premium TranslatePress version will give you access to the SEO Pack add-on. By activating it you'll be able to automatically translate your URL slugs, titles, description, social media graph tags, create multilingual sitemaps and more. It will significantly increase your chances of ranking in more languages.
To learn more, head here to check out all of the premium features of TranslatePress.
Keep in touch!
We'll only notify you of new articles, special promotions and updates. No spam!