Creating a multilingual WordPress site is great for your site's SEO and user experience. You'll be able to reach new visitors in Google search and let your multilingual audience browse your site in their preferred languages.
That's all well and good, but creating a multilingual WordPress site can also feel overwhelming. You have all that content to translate. All those random text strings from the themes and plugins that you're using. How do you make everything work?
With the right WordPress translation plugin, translating your WordPress site into different languages doesn't have to be a chore. To prove it, we're going to show you exactly how to start translating your site into new languages.
By the end of this post, you'll be able to translate 100% of your content by simply clicking on a live version of your site – no special knowledge needed: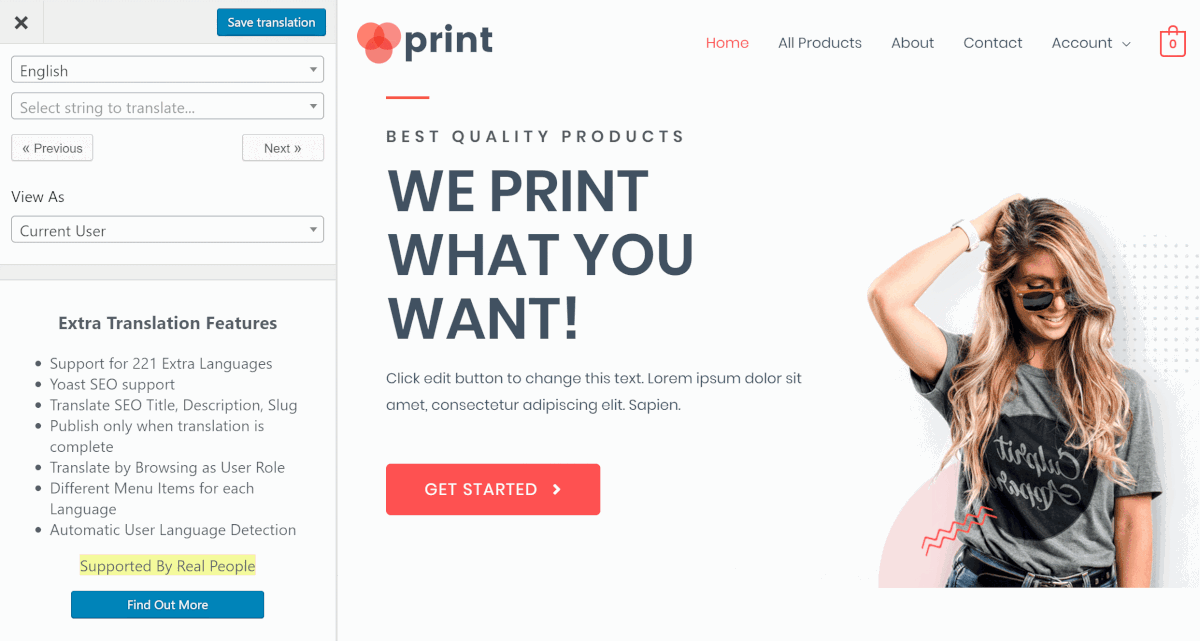 Let's get started…
Important Considerations for Translating Your WordPress Site
If you want to get all the benefits of a multilingual WordPress site, you'll need to look for some specific functionality in your translation tool of choice.
1. Multilingual SEO
Translating your WordPress site into different languages gives you a chance to start ranking in Google for queries in new languages. The great thing is that you don't have to create any new content to do this – you can just repurpose ideas you already have into a new language.
However, if you want to optimize your site's multilingual SEO, you'll want to look for a plugin that implements key functionality like:
Indexable URL structure – typically either a subfolder or subdomain.
Multilingual sitemap support.
Hreflang support.
Translatable SEO metadata.
Implementing these techniques will help your site's content rank in all languages, which sets you up for success.
2. Front-end Usability
The vast majority of people (~90%) prefer to browse websites in their native language, so translating your site is a great way to give those people what they want and improve your site's user experience.
However, you can only make that happen if you make it easy for people to find their preferred language.
Look for a tool that helps you add a front-end language switcher at a minimum. Some tools also let you automatically redirect visitors to their language based on their IP address or browser settings, which is how many large websites handle things (including Google).
3. Translation Completeness
There are a lot of moving parts to your WordPress site and it can be tough to find a tool that makes it easy to translate all of them.
You have content from the WordPress editor, text from your theme, like your widgets, and content from any plugins that you're using.
With all that going on, it's easy for a few text strings to get lost in the shuffle (and not translated), especially when dealing with dynamic content (gettext). Obviously, it's not good to have untranslated content floating around.
So if you're serious about creating a multilingual WordPress site, make sure your tool of choice is going to let you translate everything.
The TranslatePress Plugin Ticks All the Boxes
TranslatePress is a WordPress translation plugin that comes in both a free and premium version and hits all the features above.
It lets you translate your site manually, with automatic machine translation powered by Google Translate and DeepL, or with a combination of both. That is, you can start with automatic translation and then go back and make manual edits.
The way TranslatePress handles translations ensures that it can translate 100% of your site, including all the content from your theme and plugins.
And it also sets you up with a multilingual SEO-friendly foundation, with indexable versions of your site for each language, multilingual sitemaps, and more.
Best of all, it lets you translate your content with a visual translation interface that looks a lot like the WordPress Customizer, which makes it super easy to manage all your translations.
And once you've translated your site, you can display a language switcher as a floating button, a menu item, via a shortcode, or with a widget.
Here's how it works…
How to Create a Multilingual WordPress Site
Now that you know the theory behind running a multilingual WordPress site, let's dig into the actual how-to and show you how you can get up and running with TranslatePress using the free version that's available at WordPress.org.
Setting up the basics will only take you a few minutes and you don't need any special technical knowledge to follow along.
To get started, make sure to install and activate the TranslatePress plugin at your site.
1. Choose the Languages That You Want to Use
Once you've activated the plugin, head to Settings → TranslatePress to configure the basics.
Here, you can choose the language that your site currently exists in, as well as which languages you want to translate your content into.
For example, if your site is in English and you want to translate it into Spanish, you'd configure it like this: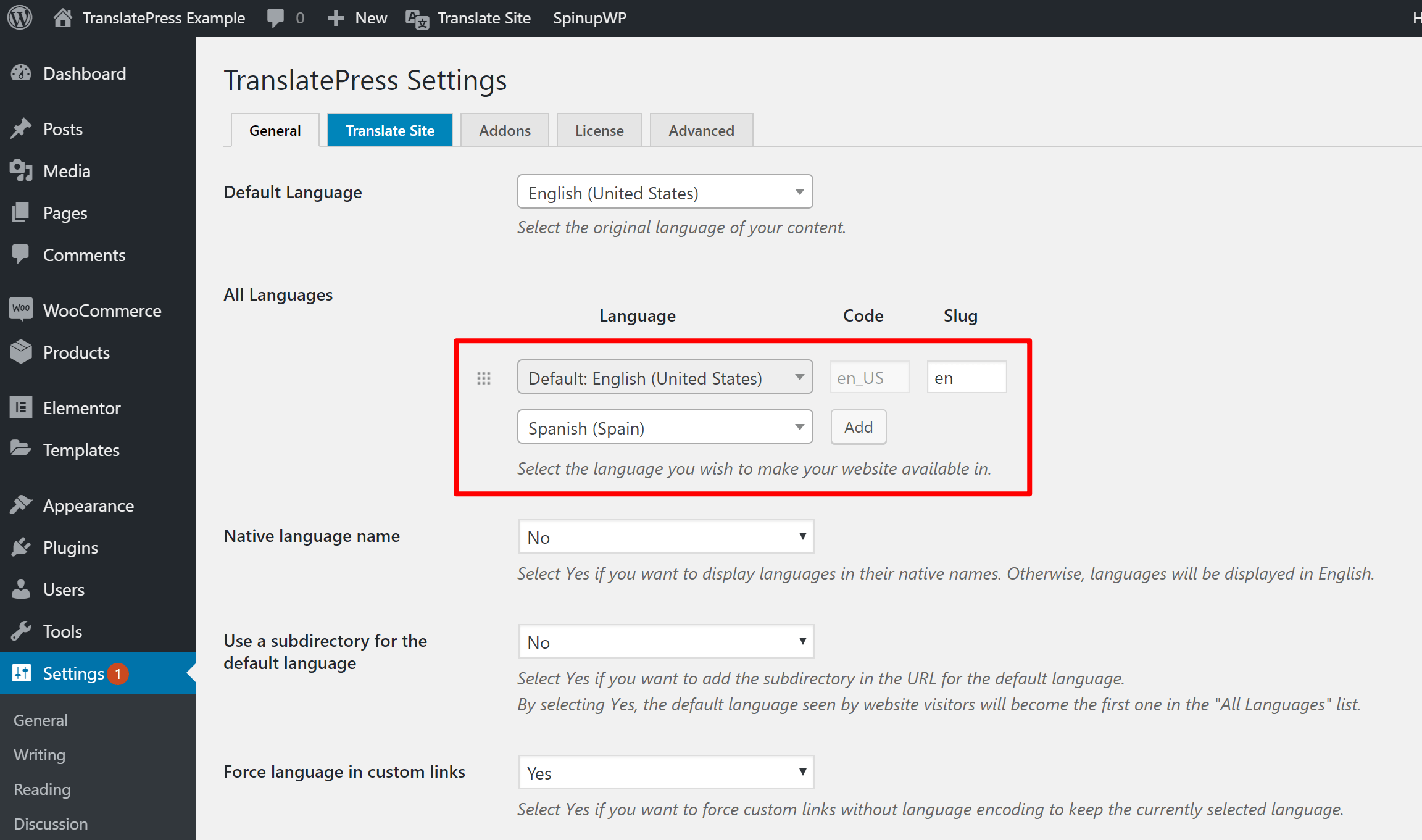 2. Choose How to Translate Your Content
The Automatic Translation tab lets you choose whether or not to automatically translate your site or WooCommerce store using either Google Translate or DeepL (available in the premium version).
If you want to setup Google Translate, you'll need to generate a Google Translate API key to connect to the service: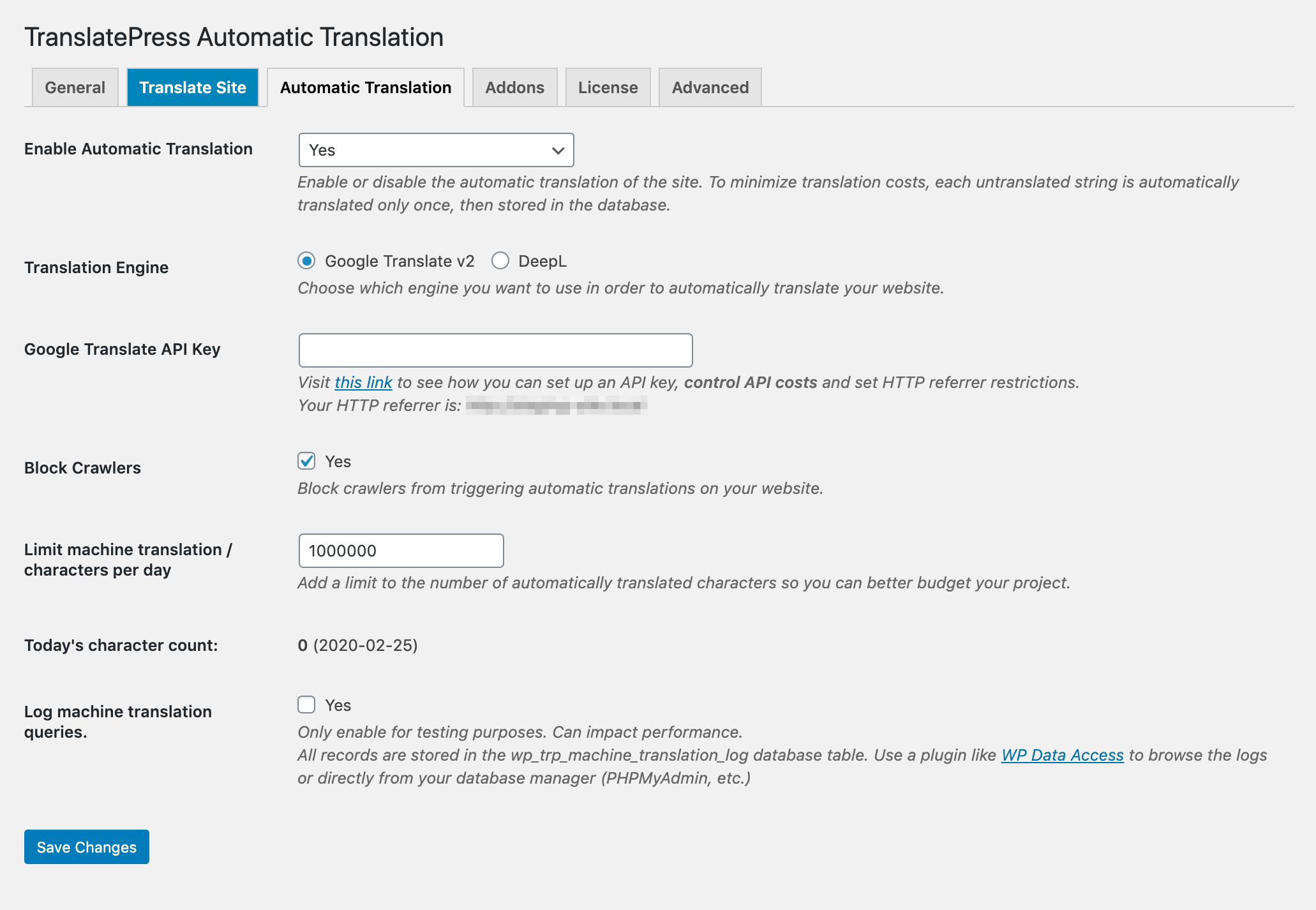 Once you do that, TranslatePress will use machine translation to automatically translate your entire site. Then, you can always go back and manually adjust those translations.
3. Configure the Language Switcher for Your Visitors
By default, TranslatePress adds a floating front-end language switcher for your visitors to choose their preferred language(s).
If you want to configure this functionality, the Language Switcher section lets you also display the language switcher via a shortcode or menu item:

Once you've made your changes, click Save Changes.
4. Start Translating Your Content
At this point, you're finished the setup and you're ready to start translating your WordPress site!
The nice thing about TranslatePress is that you can use one visual interface to translate everything on your site.
To access this interface for a page that you want to translate, you can click the "Translate Page" button in the WordPress admin toolbar: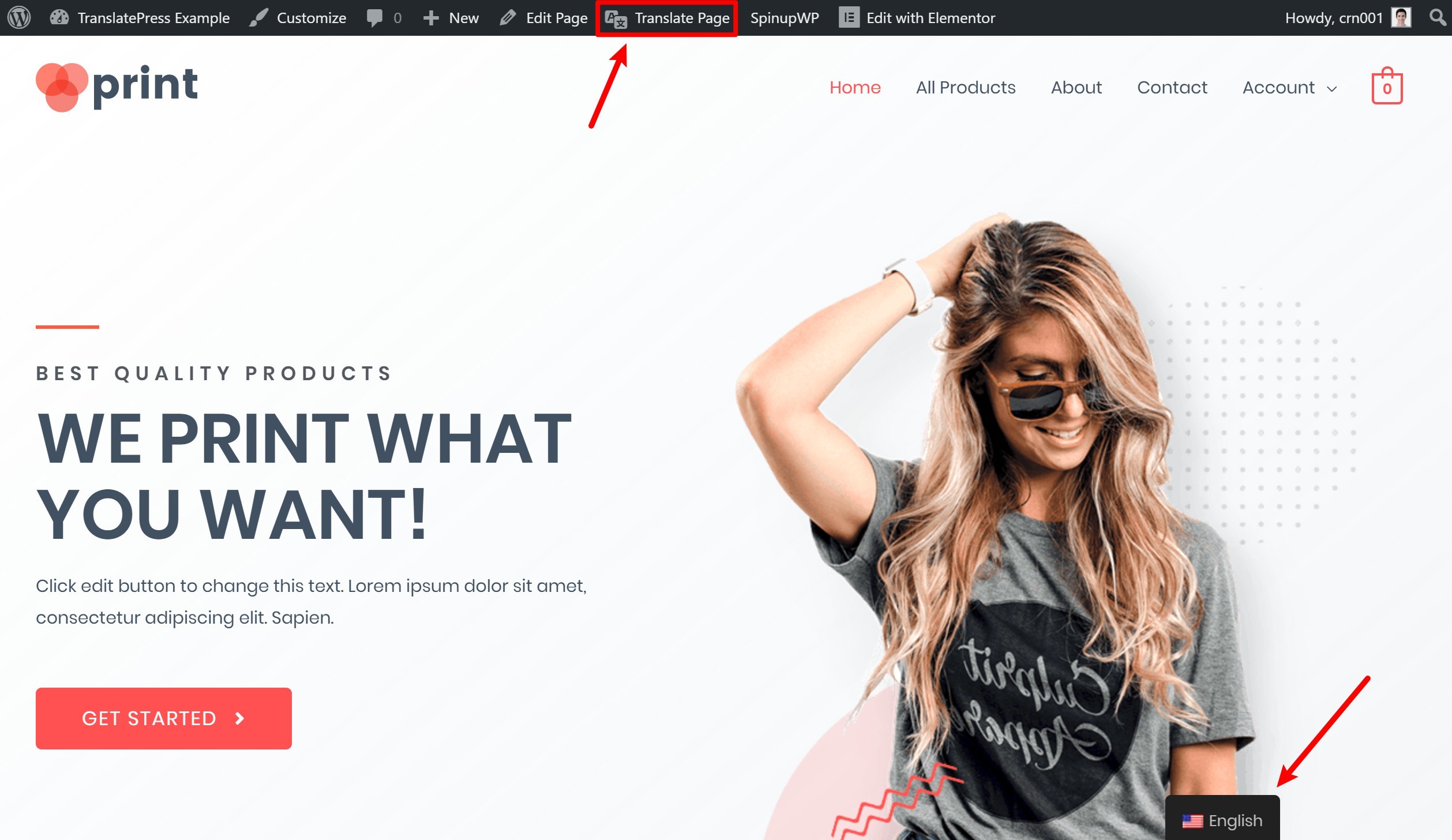 You can also see the floating language switcher that TranslatePress automatically adds.
Once you open up the translation editor, you'll see an interface that looks a lot like the regular WordPress Customizer.
To edit or add any translation, you can:
Hover over it on the live preview of your site and click the pencil icon.
Use the drop-down on the left to search or browse all the content on the page.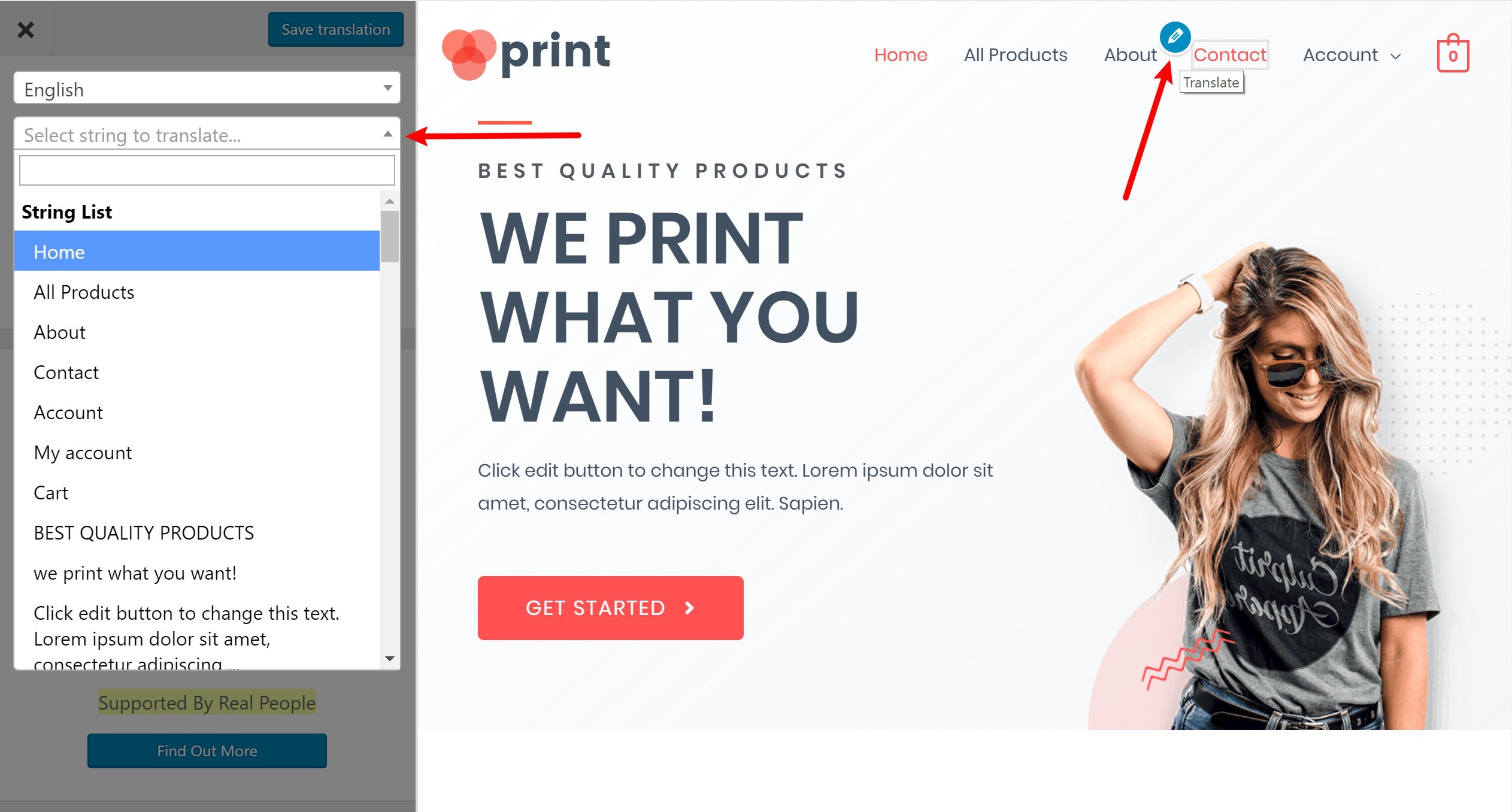 Once you select something to translate, you can make your edits right there in the sidebar: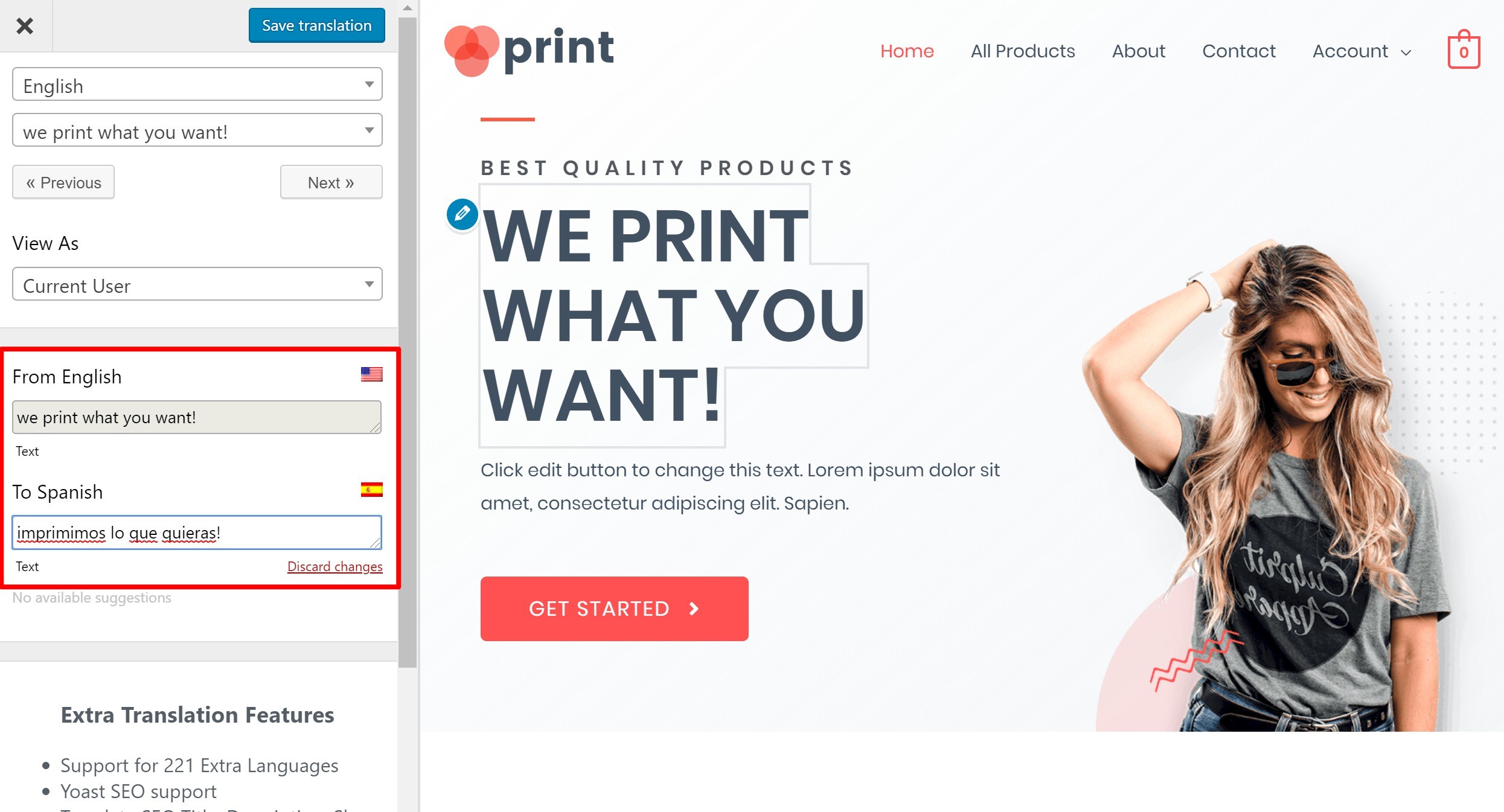 This interface lets you translate anything. For example, right now we're translating a landing page built with the Elementor page builder.
But you can also use this interface to translate…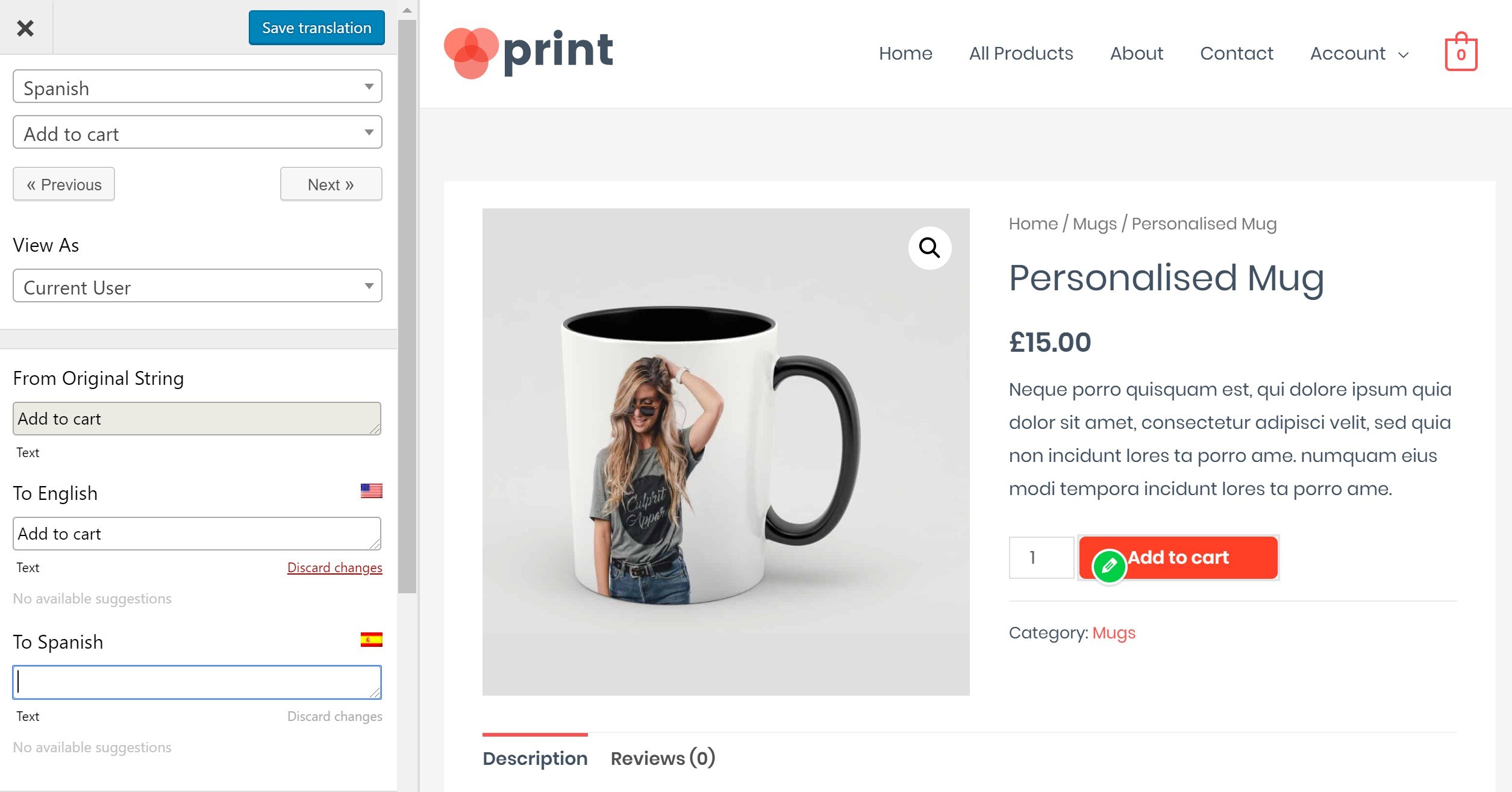 A contact form that you created with your favorite contact form plugin…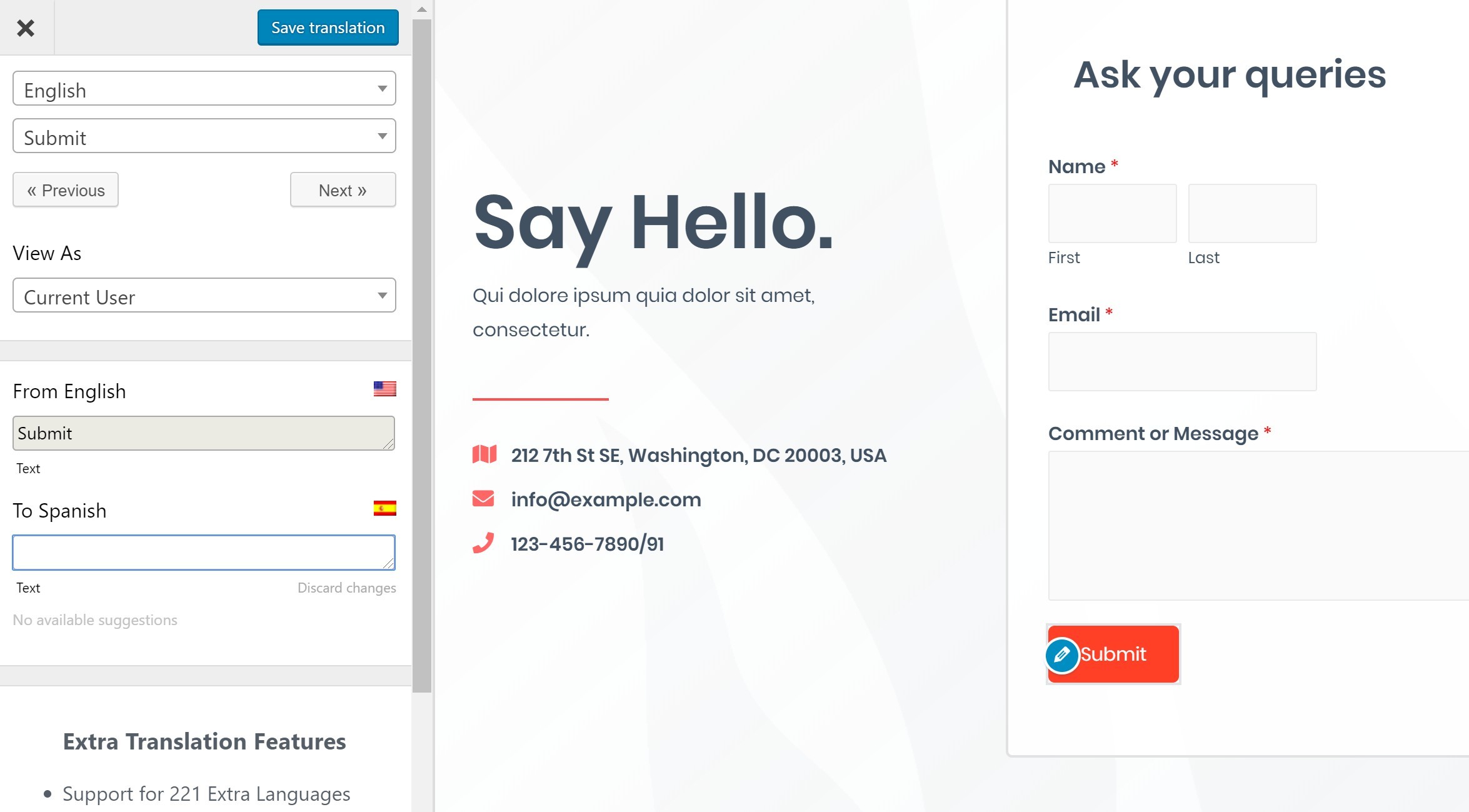 A popup that you created with your favorite popup plugin…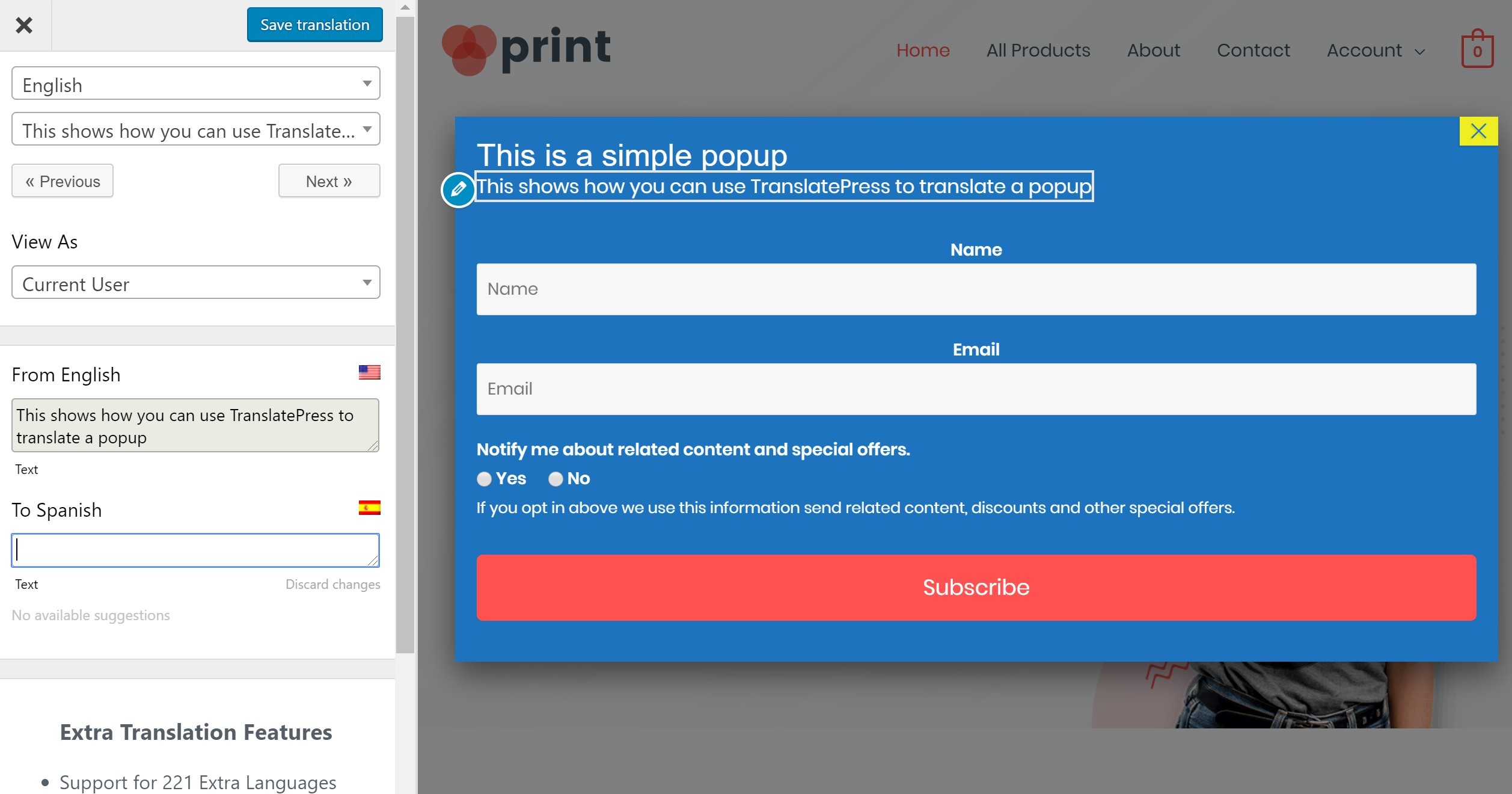 And you can even display different images based on a user's language, which lets you translate image content, too: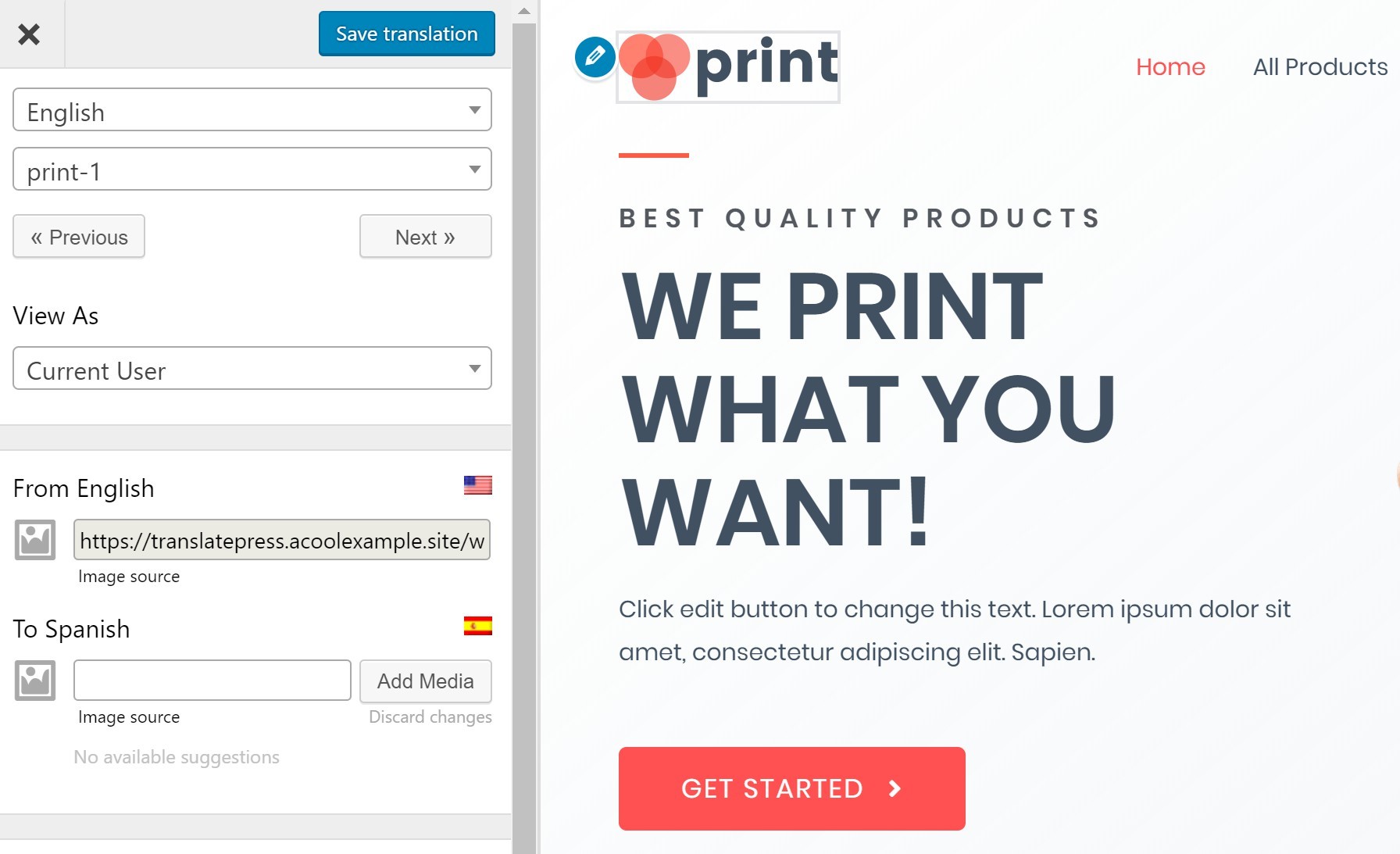 You get the idea – if it shows up on your site, you can use TranslatePress to translate it – it doesn't matter where it comes from.
You can even browse as different types of users, which is super helpful if you're running a membership site or any other situation with registered users.
For example, if you have special content that only logged-in users can see, you can use the View As option to change how you're browsing: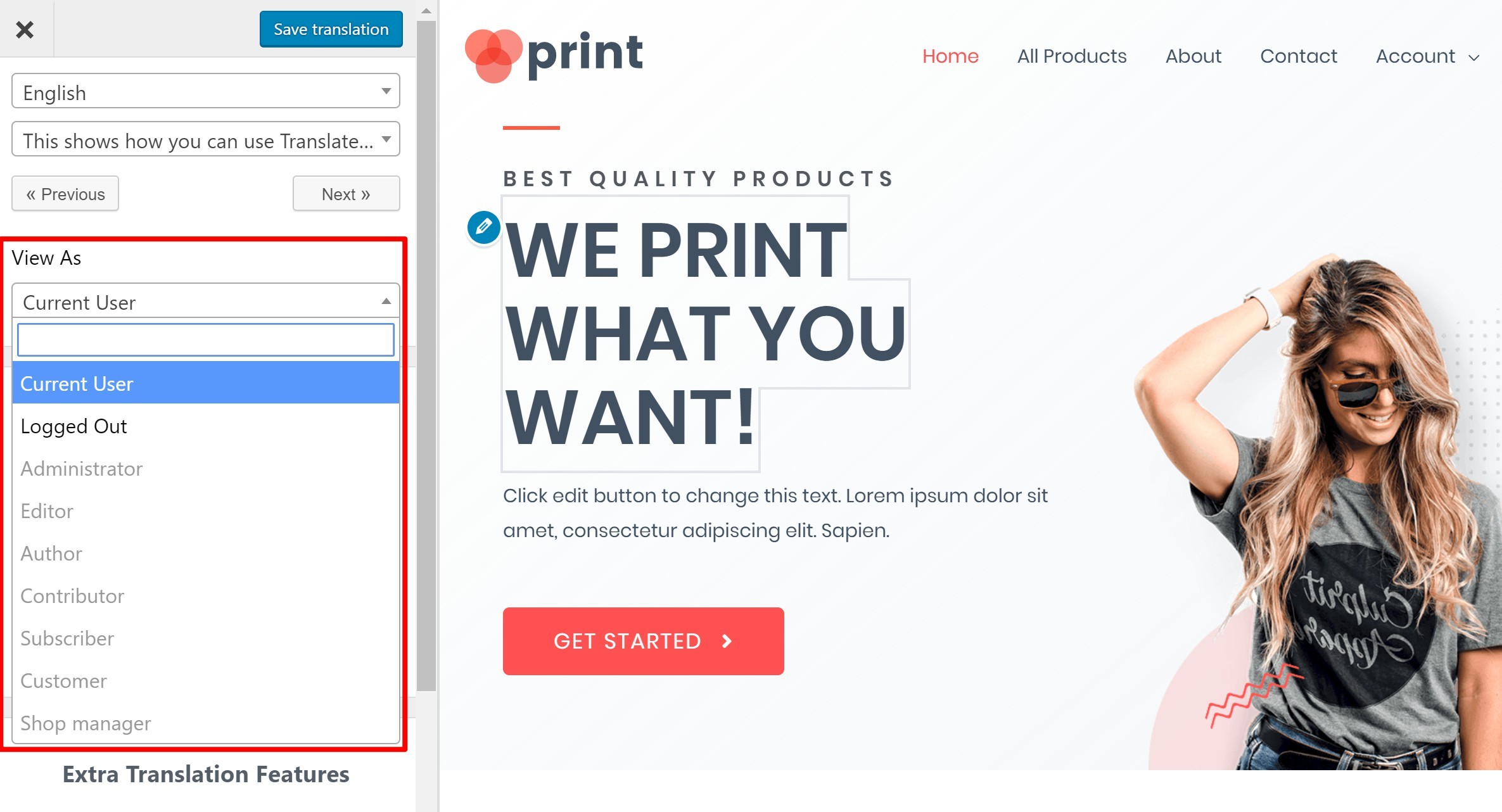 5. Upgrade to Pro for More Functionality (Optional)
At this point, you have a totally working multilingual WordPress site without spending a dime.
However, there are some big benefits to considering the premium version of TranslatePress.
First, you get access to the SEO Pack add-on. While the free version still creates an SEO-friendly version of your site, the SEO Pack lets you go further with the ability to translate your URL slugs, titles, social media graph tags, create multilingual sitemaps and more.
You'll also get the ability to add multiple languages to translate your site's content into, as well as other add-ons for:
Automatic User Language Detection – automatically redirect visitors to their language based on their IP address.
Translator Accounts – let special translator users translate your site's content without having to use the WordPress backend.
Browse As User Role – browse your site as different user roles, in addition to the logged-in/out option in the free version.
Navigation Based on Language – show different menu items based on language, rather than just translating your existing menu items.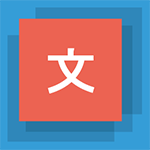 TranslatePress Multilingual
TranslatePress is the easiest way to translate your WordPress site. It's fast, won't slow down your website, works with ANY theme or plugin and it's SEO friendly.
Get the plugin
Get Started with a Multilingual WordPress Site Today
With the right WordPress translation plugin, creating a multilingual WordPress site doesn't have to be intimidating.
TranslatePress offers a non-technical way to translate 100% of your next multilingual WordPress site. Using its visual interface, you'll be able to search for strings, or just click on the part of your website that you want to translate.
It works with regular WordPress content, as well as all themes and plugins, including page builders, popup plugins, form plugins, eCommerce plugins, custom fields plugins, and more.
To get started and create your multilingual WordPress site, install the free version from WordPress.org and start translating.