Looking for a cost- and time-effective way to get your website translated – and have it done properly? The following list of the best translation companies on the market today might come in handy.
But before we get into that, let's address most people's main objection first:
Why would you even bother hiring a translation company when you can translate your website by yourself, using tools like Google Translate?
Yes, a valid point, and for some users this will indeed be the right path to take. By the way, we have a guide on how to translate your site using Google Translate here.
However, going the agency route has its advantages:
Why Working With a Translation Agency is Worth it
There are three main points to consider when thinking of hiring a translation company vs translating website content yourself:
Translating your site with Google Translate and leaving it as is can be a bit problematic. In most cases, Google Translate will take you about 90% of the way when it comes to translation quality. To go the other 10%, you have to be proficient enough yourself to be able to check those automated translations and do corrections where needed. Hiring a translation agency solves that.
Another problem that users often stumble upon when translating their own site content is that the volume might be just too big for one person to handle. For example, if you have more than 20 pages to work on, then getting them translated basically becomes a full-time job on its own. Working with an agency almost certainly means faster completion.
Lastly, there's the issue of certified translation (you don't want to be facing legal trouble for having badly translated company info), being context-appropriate, adapted to the local culture, and so on. Basically, a pro agency has all the credentials to get those things right. For instance, translating things like a Terms of Service page can be tricky, so you best leave it to the pros.
At the end of the day, the benefits of working with a translation agency are what you'd probably expect them to be:
What you get is professionalism, quality, (often) certified work, and a much faster turnaround time vs going DIY. 🤷‍♂️
How Translation Companies Deliver Their Work
Based on the translation company you choose, the stages of the project and delivery can be different, so we're just going to focus on what's important from your point of view at the end of this process.
There are two main types of translation delivery that you'll come across:
A translation company will either deliver translations to you as a Word file or Google doc
or
they will submit the translations right to your website.
Before you get excited, that second scenario is not likely – and you don't necessarily want it to be.
Basically, an hour of work by an agency can be costly, so ideally you don't want to waste your budget on having them copy and paste translations onto your site. It's much more efficient to handle that step on your own. Plus, it's not hard at all – which we'll show you at the end of this post.
Then there's also the issue of compatibility and the agency's experience adding content to different types of websites. In other words, the agency will probably have their preferred plugin or solution for making a website multilingual. This solution might not be the optimal one or the easiest to use from your point of view – and your point of view is key here since it's you who's going to be working with that site on a daily basis.
Therefore, if the company you're hiring asks if you want them to also then save translated content to your site, you can be confident in saying no.
All you need from your translation agency is a set of Word files or a Google Doc as the final deliverable of the translations.
However, if the company you're hiring does not charge extra for uploading the translations to your site, and is comfortable working with the WordPress CMS, we'll give you a great solution for this option as well at the end of this article.
With the basics out of the way, let's now look at what the market has to offer:
Best Translation Companies for Your Website Project
Here's a shortlist of 10 companies that have been picked based on the ratings given by their clients on TrustPilot and other rating portals. Here are the best translation companies of 2023:
TranslationShop is a translation agency with a clear pricing model ($23.99 per page), fast turnaround, and a big catalog of translation services.
| | |
| --- | --- |
| 🎓 | 65+ languages |
| 🕧 | 24-hour turnaround, also offers rush option for $10 extra per page. Delivery time is expedited, so orders arrive 50% sooner. |
| ⚖️ | Certified translations available |
| 🗄️ | Translations for legal, marketing, mobile applications, medical/health, business, finance, gaming, scientific/academic, travel/tourism |
| 🇮🇪 | Company based in Ireland |
Tranlanguage specializes in certified translations for legal and other official purposes. The prices start at $10 per document.
| | |
| --- | --- |
| 🎓 | Not specified but the company claims they can deliver translations for all languages |
| 🕧 | One workday turnaround |
| ⚖️ | Certified translations available |
| 🗄️ | Translations for USCIS – immigration, passport services, consular processes, federal student aid, school applications, foreign nationals insurance, foreign national loans, foreign notarizations, legal documents |
| 🇺🇸 | Company based in the US |
Apex Translations has been on the market for nearly 25 years at this point – established in 1998. They specialize in certified translation services for professional use cases.
| | |
| --- | --- |
| 🎓 | 200 language pairs |
| 🕧 | Turnaround based on project scope |
| ⚖️ | Certified translations available |
| 🗄️ | Translations for medical, legal, and intellectual property docs, technical, apps, websites, virtual learning consulting, financial, consumer products, and marketing |
| 🇬🇧 | Company based in the UK |
Highly experienced agency providing certified translation services to over 10,000 businesses around the world. They also brag about being the choice of Fortune 500 companies.
| | |
| --- | --- |
| 🎓 | 140+ languages |
| 🕧 | Turnaround time not disclosed |
| ⚖️ | Certified translations available |
| 🗄️ | Translations for business, blockchain, eLearning, financial, government, legal, user manuals, manufacturing, marketing, media, medical, software, technical |
| 🇺🇸 | Company based in the US |
This company is likely your choice for professional document attestation, translation, and apostille services.
| | |
| --- | --- |
| 🎓 | 20+ languages |
| 🕧 | Turnaround based on project scope |
| ⚖️ | Certified translations available |
| 🗄️ | Translations for medical, technical, legal, website, academic, business, financial, literary |
| 🇮🇳 | Company based in India |
LingvoHouse is said to be one of the UK's leading translation agencies. They offer work in a wide range of languages and are ISO 9001 and 17100 certified.
| | |
| --- | --- |
| 🎓 | 120+ languages |
| 🕧 | 24-hour turnaround |
| ⚖️ | Certified translations available |
| 🗄️ | Translations for business, automotive, immigration, e-learning, marketing, public sector, bioscience and pharma, charity, finance, technical, e-commerce, healthcare, legal, procurement, travel |
| 🇬🇧 | Company based in the UK |
This agency specializes in standard translation services, but also dictation and transcriptions. They deliver their services on ultra-fast turnaround, which can be a huge benefit.
| | |
| --- | --- |
| 🎓 | Not specified |
| 🕧 | 1-hour turnaround for small files |
| ⚖️ | Certified translations available |
| 🗄️ | Translations for business, medical, legal, academia, financial, public sector, construction |
| 🇬🇧 | Company based in the UK |
Absolute Translations can help you with different kinds of translation projects, not just standard text-to-text translations. They also cooperate with professionals in interpreting, voice-over, typesetting, and proofreading.
| | |
| --- | --- |
| 🎓 | 200+ languages |
| 🕧 | Turnaround time not disclosed |
| ⚖️ | Certified translations available |
| 🗄️ | Translations for business, financial, government, legal, marketing, medical, technical |
| 🇬🇧 | Company based in the UK |
As the name would suggest, Day Translations will provide you with on-point translation work on a fast turnaround. They offer standard translations, audiovisual work, interpreting, localization, and more. A quality entry on our list of the best translation companies.
| | |
| --- | --- |
| 🎓 | 100+ languages |
| 🕧 | Customer support available in under 10 minutes |
| ⚖️ | Certified translations available |
| 🗄️ | Translations for business, automotive, banking and finance, healthcare, manufacturing, retail, travel, technology, legal, gaming, e-commerce |
| 🇺🇸 | Company based in the US |
This is a more original entry on the list. The company specializes in AI-powered translations. If you're skeptical, their excellent TrustPilot rating proves that they actually know what they're doing.
| | |
| --- | --- |
| 🎓 | 133 languages |
| 🕧 | Five times faster delivery then regular trnnslation services. |
| ⚖️ | General translations |
| 🗄️ | Translations for business, enterprise, media, individual, plus interpreting services |
| 🇳🇿 | Company based in New Zealand |
How to Add Translations to Your Website?
ℹ️ The method we're going to show you here is for websites built on WordPress. WordPress is the most popular website engine on the market, used by more than 40% of all sites. There's a good chance your website runs on WordPress already.
The first thing you'll need to do is install the free TranslatePress plugin.
TranslatePress is a WordPress translation plugin. It extends WordPress' abilities by letting it handle multilingual content – aka. it allows you to display your website content in multiple languages.
Installing TranslatePress
To get started, go to your WordPress dashboard (usually can be found at YOURDOMAIN.com/wp-admin), and then into Plugins → Add New.
In the search bar, enter "TranslatePress" and click on the Install Now button next to the plugin's name. Then, click on Activate.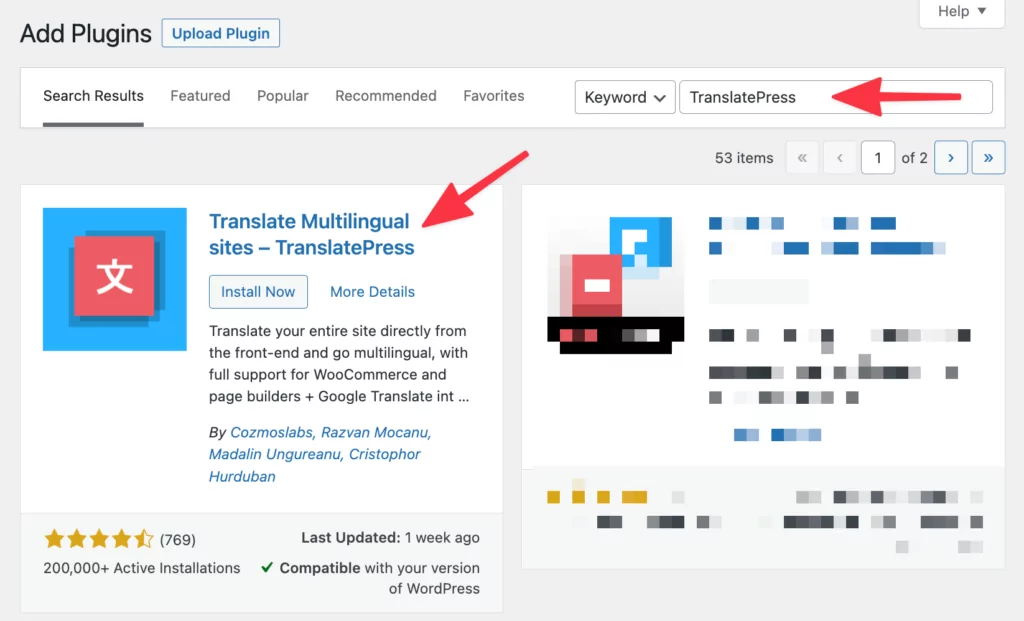 Next, you have to tell TranslatePress which languages you want to use on your site. You can do that in Settings → TranslatePress. The first language on the list is your site's default. You can add your second language directly beneath it.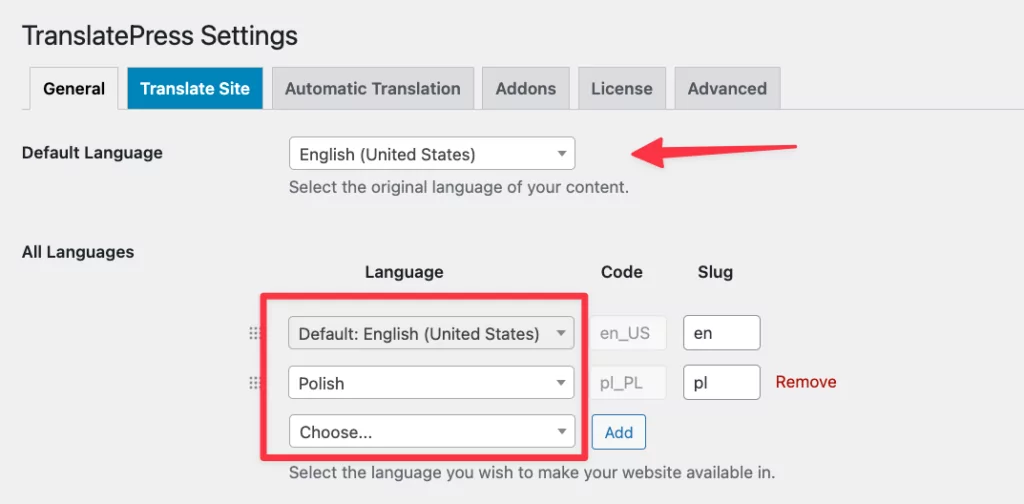 💡 The free version of TranslatePress allows you to add one additional language using the setting panel above. If you need more languages, upgrade to one of the premium versions.
Adding Your Translations
With the previous step done, your site is now ready to receive translated content.
Adding translations works by going to any page on your site and clicking on the Translate Page button you can see in the top bar: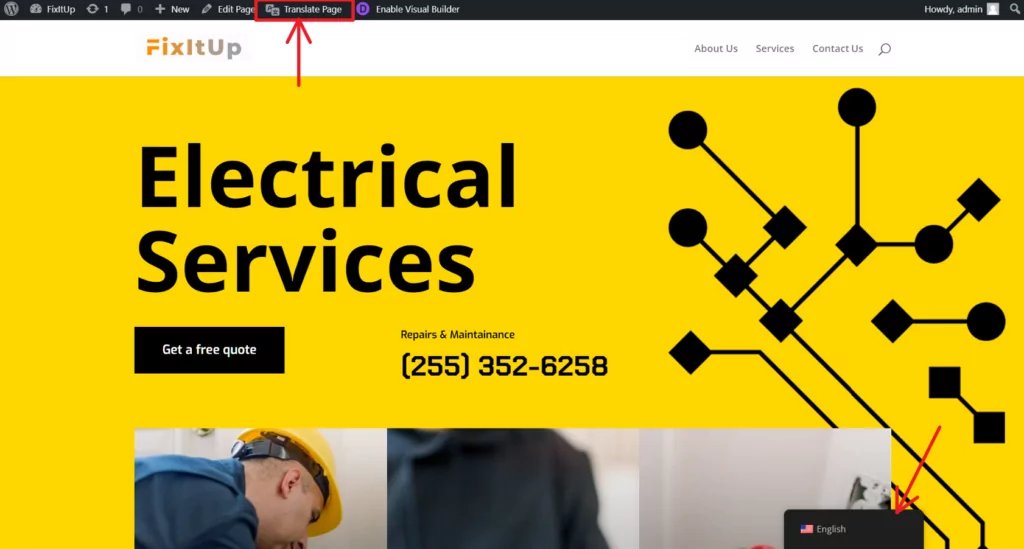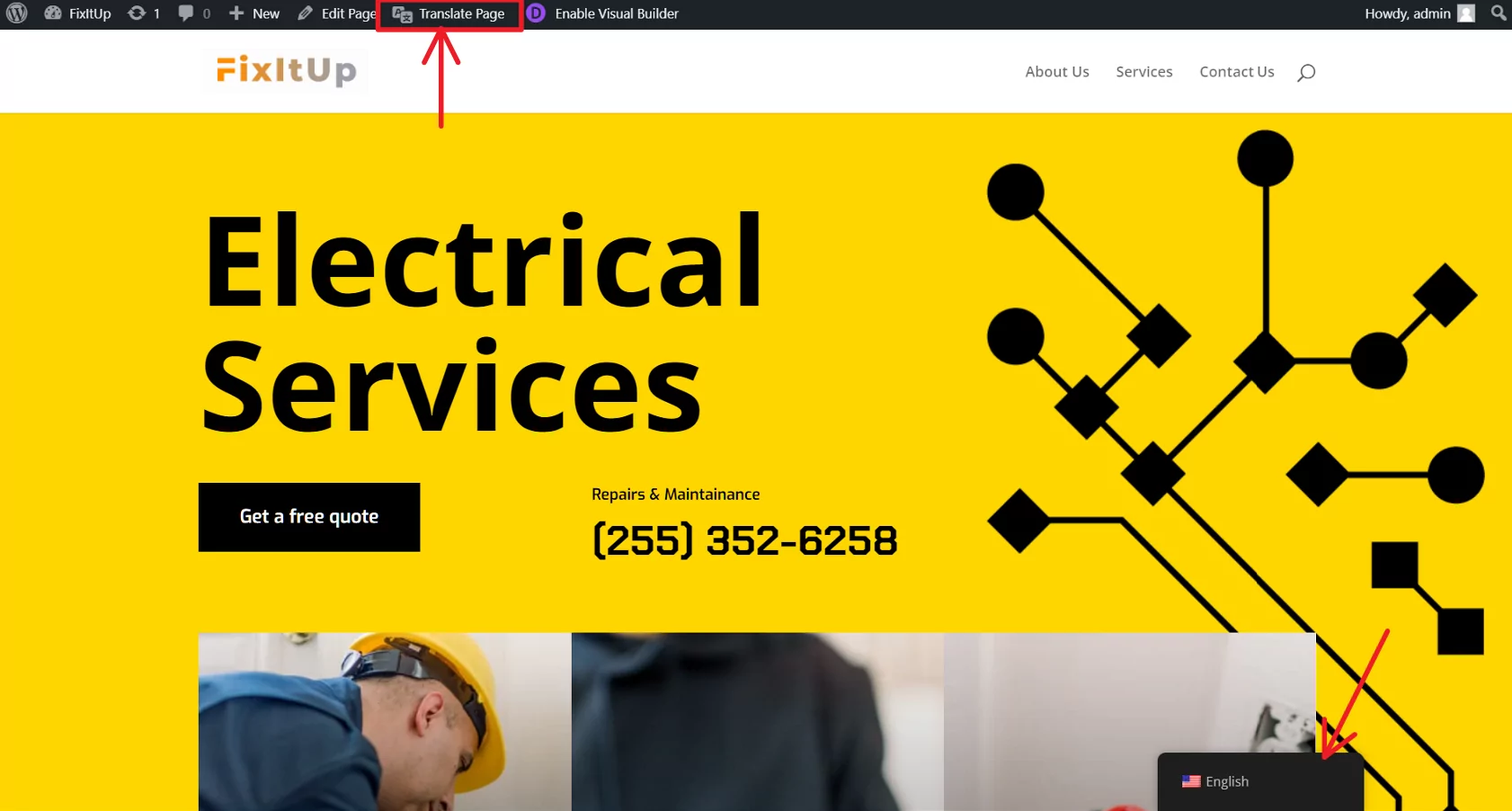 This will open up TranslatePress' translation interface. It'll look something like this: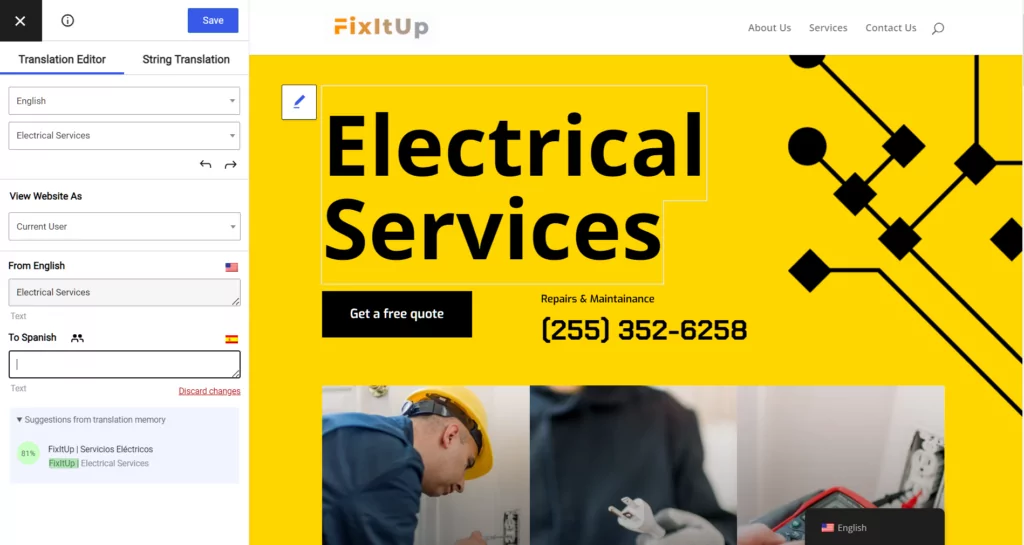 As you can see, it's just an extra sidebar added on the left and your site's preview on the right.
Now, to add a translation, just hover your mouse cursor over a piece of text and click on the pencil icon that's going to appear alongside. Then, in the sidebar, add your translation for that given piece of text: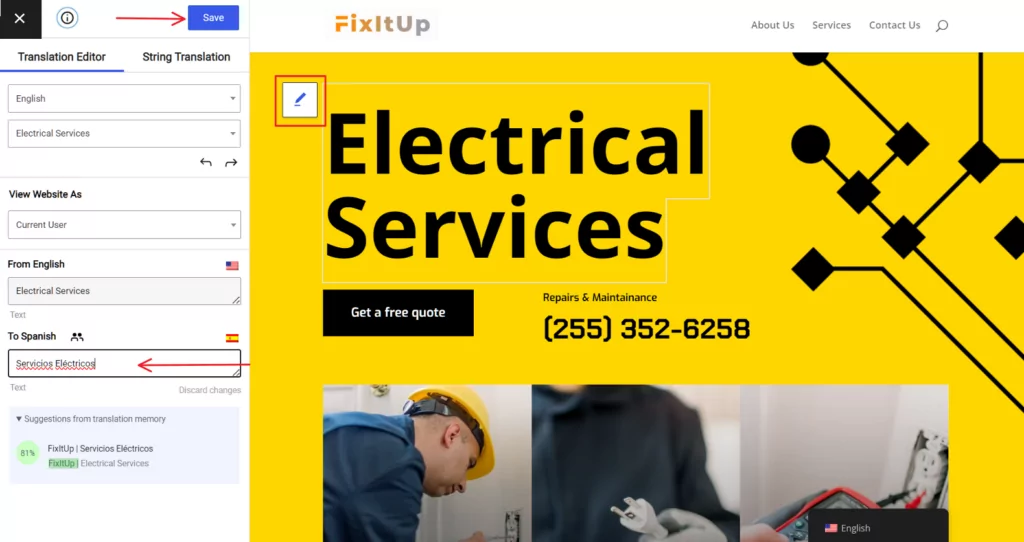 With the translation added, click on the Save translation button you can see up top.
This is how, paragraph by paragraph, you can take translations from the doc given to you by the agency and save them to your site.
The last step would be to add language selection to your site so that readers can switch between different language versions of content. Here's an example of something like that: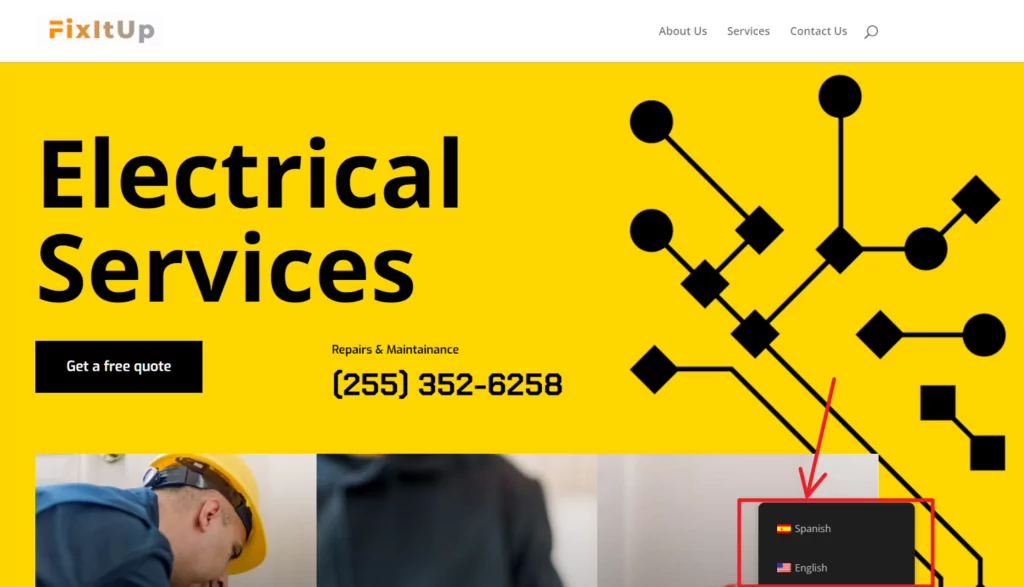 👉 We have a guide on how to add a language switcher to your site here.
Translator Accounts
Now, as mentioned before, if you'd like to be fully detached from this process, we have another solution for you.
The Translator Accounts add-on, included in any pro version of TranslatePress, lets you create dedicated user roles for the professional translators you hire. These are custom user roles, limited to only access the translation interface, and not any of your WordPress admin dashboards.
This way, the translators can add the content themselves, using the same user-friendly interface, with no risk of messing up your site's setup.
Your Move!
Now that you know what the best translation companies are – plus even a couple of best-certified translation services – all that's left is to go ahead and get your website content translated professionally.
The best part is that you can then take those translations and add them to your site by yourself – without needing developer's help, all thanks to TranslatePress.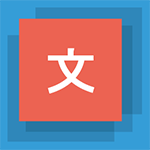 TranslatePress Multilingual
TranslatePress is the easiest way to translate your WordPress site. It's fast, won't slow down your website, works with ANY theme or plugin and it's SEO friendly.
Get the plugin
Let us know if you've had any experience with either of the best translation companies listed in this post, in the comments section below. Also, don't forget to check what else TranslatePress can do for you in terms of turning your site multilingual (especially the pro version). For example, did you know that you can "translate" your images?
And lastly, if you found this post helpful, please check out our YouTube channel, where we constantly upload short & easy-to-follow video tutorials. You can also follow us on Facebook and Twitter to be the first to know each time we post.