There are a lot of ways to bring more traffic to your website. You can create new content, purchase ads, and use social media to drive visitors. One approach you might not have considered, however, is adding more languages to your website.
Translating a full WordPress site takes work, but it can be a lot easier than you might imagine. If you take the time to perform Search Engine Optimization (SEO) for multiple languages as well, you may be surprised by how much additional traffic it will drive to your pages.
In this article, we'll break down how adding more languages to your website can increase traffic. Then we'll walk you through five tips to improve your site's SEO for multiple languages, so you can reap the full rewards of translating your site. Let's get to work!
Why Adding More Languages to Your Website Can Boost Traffic
A lot of the web's best content and websites are in English. However, there's a lot more to the internet than those sites. In fact, some of the biggest social media platforms and e-commerce sites in the world barely use English at all.
The more languages you add to your website, the more people you can reach. Including Spanish gives you access to an audience of about 437 million people, and that's just one example. Italian will let you connect with about 63 million users, Korean enables you to communicate with over 75 million, and so on.
It's important to understand, though, that merely translating your website isn't enough to increase traffic. If you want to get access to those audiences, you need to take Search Engine Optimization (SEO) into account as well. That means translating your pages' metadata, targeting keywords that you might not have considered for your site's original language, making it easy to switch between different versions of your website, and much more.
Translating your website into even a single additional language is a big leap. With the right plugin, the process becomes much simpler, but it still takes time to localize every aspect of your site. The more complex your site is, the more work this entails. So you'll want to make sure you get to reap the rewards of your efforts, and that can come down to proper SEO.
5 Tips to Improve SEO for Multiple Languages
If you're not sure how to perform multilingual SEO, don't worry. In the following sections, we'll introduce five of the best strategies you can implement right away.
For each of these tips, we'll show you how to carry them out using the TranslatePress multilingual plugin and its powerful SEO Pack add-on. They're built with all the multilingual SEO best practices in mind.
If this is your first time using TranslatePress, you'll first want to check out our tutorial on how to create a multilingual WordPress site. Then, you'll be ready to start working on your multilingual SEO.
1. Translate Your URLs (slugs)
One element a lot of people overlook when translating their websites is URLs. For example, if you translate your 'shop' page, and its URL is currently yourwebsite.com/shop, it should appear as yourwebsite.com/tienda when someone browses the Spanish version of your site.
The easiest way to do this is to modify the slug for each page you translate. By slug, we mean the identifier for the page that comes after the domain name. In the two examples we mentioned above, the slugs would be "shop" and "tienda" respectively.
When using TranslatePress, you can modify any page's slug just as you would any other element. If you take a look at the menu below the language you're currently using, you'll see a list of all the strings on that page. The Slug option should be near the top of the menu: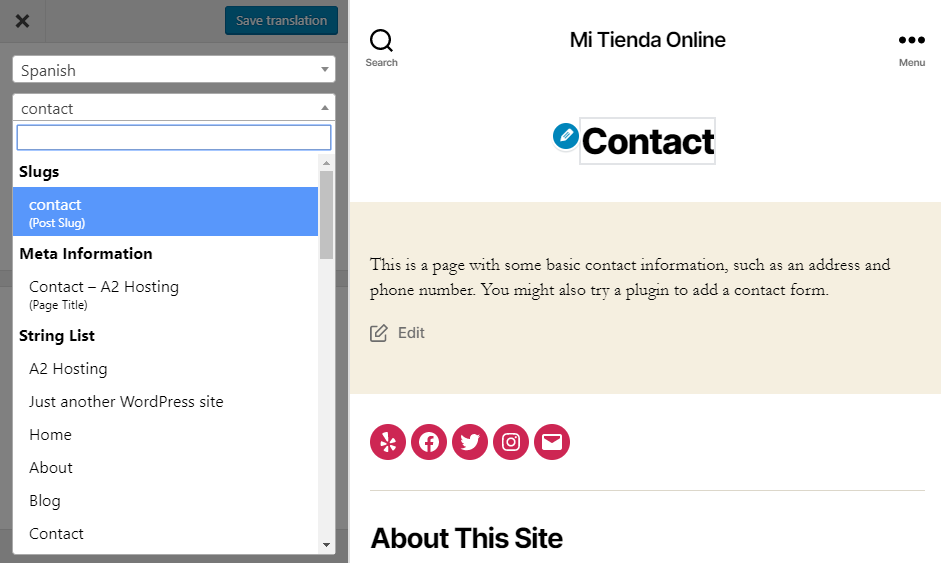 Remember to translate the slug for each page you want to localize, and you'll be well on your way to attracting more traffic.
It's also a good idea to consider your sitemap. Fortunately, TranslatePress can automatically build new files for every language you add to your website. However, that feature is only available in the SEO Pack add-on.
With it, you can generate multilingual sitemaps for all of the popular SEO plugins, including Yoast SEO, All in One Pack ,SEOPress, and Rank Math.
If you don't want to translate your pages' slugs manually, the SEO Pack add-on also includes an automatic localization feature. To enable it, go to Settings → TranslatePress → Automatic translation. Once you enable the feature, more settings will be displayed on the page. Look for the Automatically Translate Slugs section and set it to Yes.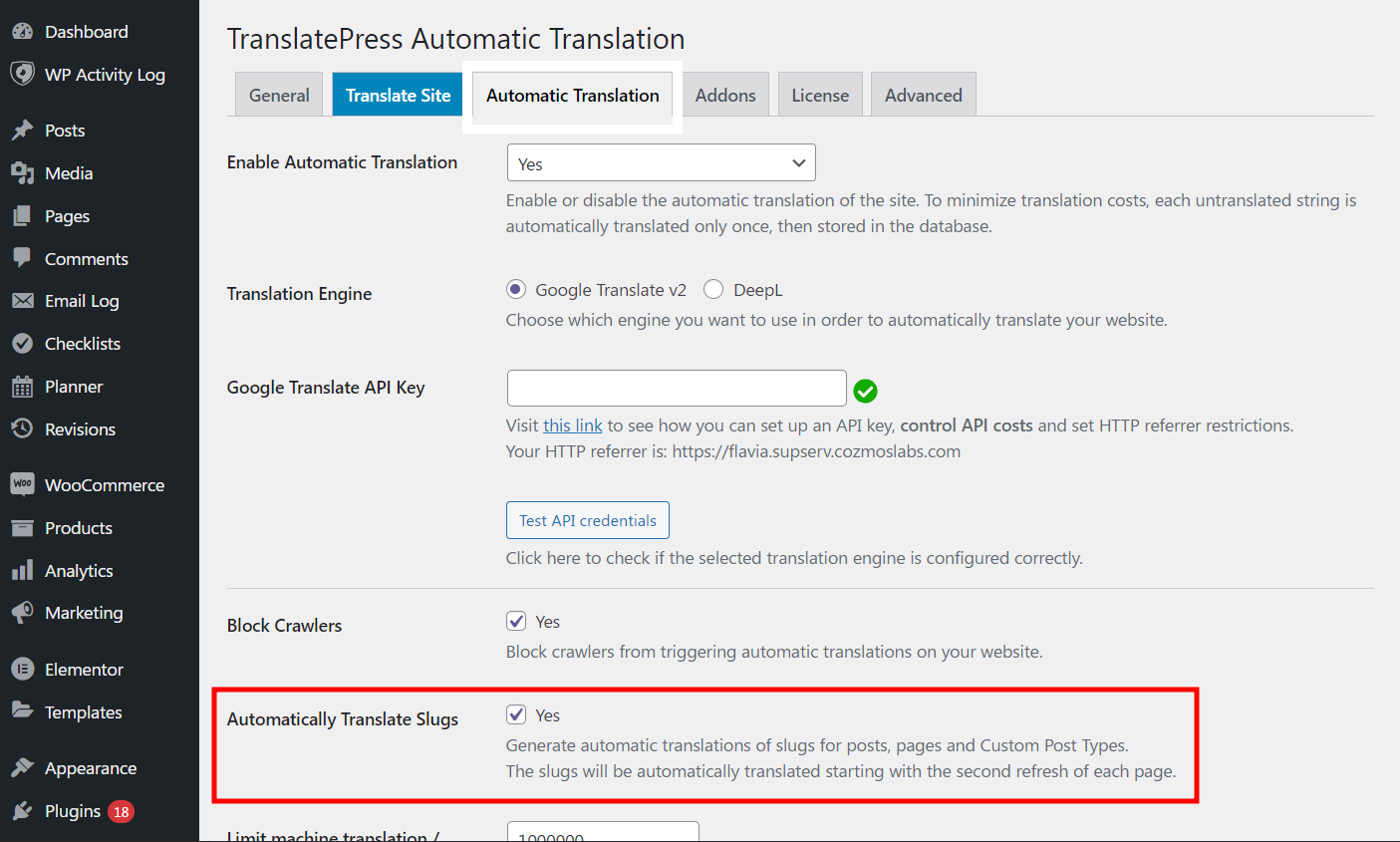 There, you can also enable a setting that will exclude translated links from your sitemaps, in case you're still in the process of localizing your website.
2. Use hreflang Tags
Hreflang tags are snippets of code that tell search engines what language you're using on each page. They're a must for websites that have multiple languages since they help Google and other search engines differentiate between each version of your content.
For a quick example, let's see what an hreflang tag for a page in English looks like:
hreflang="en" 
Adding these tags to your pages is simple, and there are several ways you can go about it. However, it can be rather time-consuming to edit the code for each page on your website individually, particularly if you're going to translate it into multiple languages.
If you're using TranslatePress, however, you don't have to worry about that problem. The plugin automatically adds hreflang tags to your pages for each language you add. That's one less task to worry about when performing SEO for multiple languages.
3. Translate Your Metadata
For every page on your website, there are a lot of elements that visitors can't see because they're meant for search engines only. That collection of elements is called "metadata", and it encompasses everything from meta descriptions to tags and image alt text.
Translating your website's metadata is perhaps the most important thing you can do to bring in more traffic from users in other languages. Without that metadata, it's unlikely that your pages will rank highly in languages other than English.
With TranslatePress, you can easily localize those elements for each of your pages. To do so, open the page you want to translate, and click on the menu below the language selector in the top-left corner of your screen: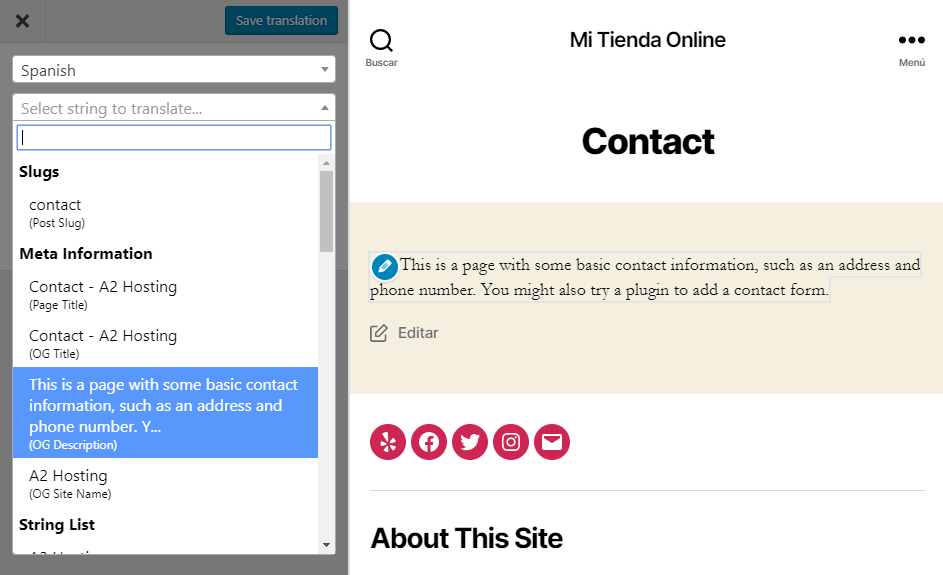 What metadata elements appear in this menu will depend on how well-optimized your page already is. If you want to edit the metadata for your website in its original language, you can use an SEO plugin such as Yoast SEO, which works out of the box alongside TranslatePress.
In any case, it's essential that you translate as many metadata elements as you can for each page. This can be time-consuming work, but it's necessary so that your website will rank well in search engines for other languages.
4. Review Your Keyword Usage
Proper keyword usage is a tricky thing to master, even in your native language. You have to make sure you're not forcing awkward keywords into your content, overusing them, or ignoring them altogether. Now imagine doing that in languages you don't speak.
Whenever you're translating your website into other languages, however, you do need to be mindful of keywords. If you're not sure where to get started, we recommend that you look up your site's most popular English keywords. You can use free services such as Moz's Free Domain SEO Metrics tool to help you identify what those keywords are. All you have to do is create a free account, enter your site's URL, and look for the Keywords by Estimated Clicks section: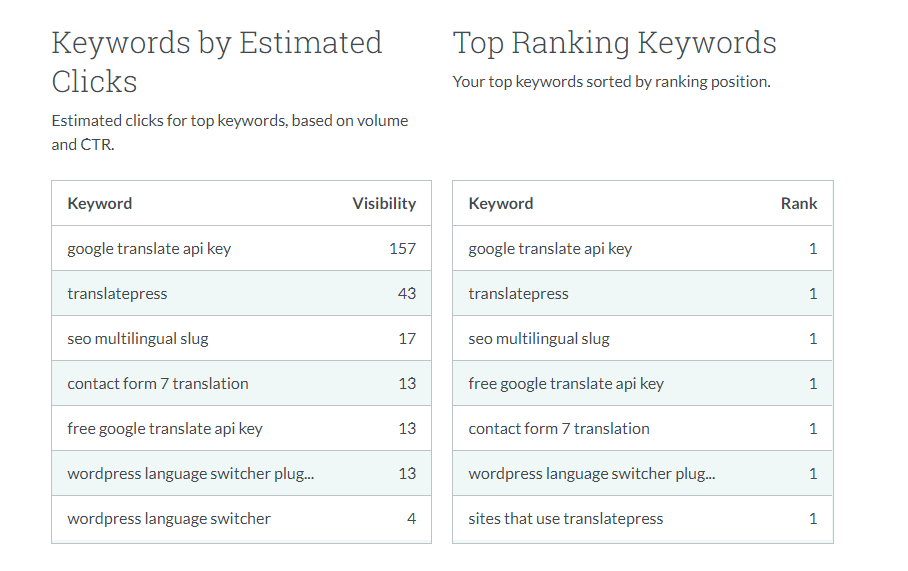 Keep that list handy while you work on localizing your website, and make sure you get perfect translations for each keyword. In many cases, it can be easier to rank for popular keywords in other languages, because there may not be as much competition. However, that only works if you get the translations right.
If you're using TranslatePress' automatic translation functionality, it's still important to review each page manually. Machines aren't perfect when it comes to translation, even though they can save you a lot of time. You may even consider hiring a professional to look at this key element, which can be much more cost-effective than hiring a translator for your entire website.
5. Research Popular Keywords in Other Languages
Although it can be easier to rank well for certain keywords when you translate your website, there are some cases where search interest just doesn't cross the language barrier. To give you an example, if we look up the keyword search volume for "how to install wordpress plugin", you can see that this is a popular query in English: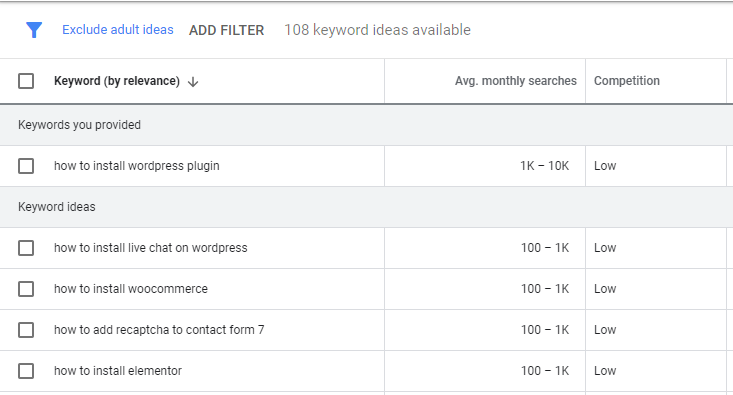 For whatever reason, that level of interest doesn't hold for Spanish audiences. A quick search for "como instalar plugin wordpress" for Spanish audiences reveals a very low search volume. On top of that, our keyword research tool returns a worryingly low number of related query ideas: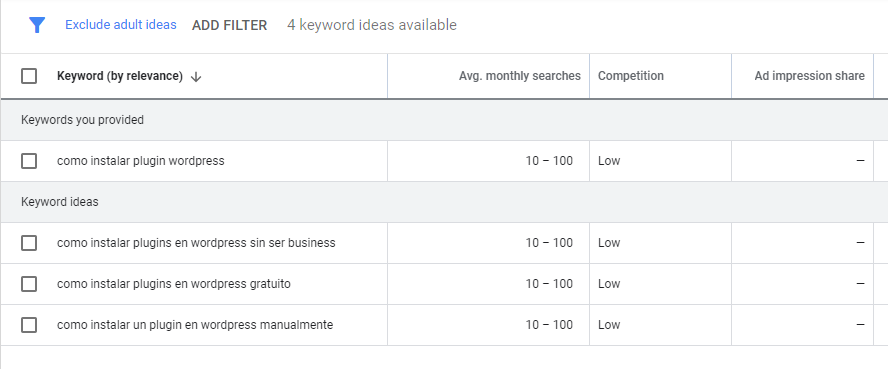 This means that if you run a blog about WordPress tutorials in English, and you want to translate it into Spanish, your first focus probably shouldn't be translating articles about how to install WordPress plugins. Ideally, you'll focus first on whatever content has higher search volumes among your potential Spanish-reading audience. That way, you can guarantee more traffic for your website in the short term, and work on translating the rest of your content down the line.
The best tool to research keyword search volume is Google Keyword Planner. To get access to it, you'll need to register for the Google Ads platform (but don't worry, you don't have to pay to use it). Once you have access to Keyword Planner, you can enter words or search queries, and the tool will give you an estimate of their search volume as well as related suggestions:

You can look up keywords in different languages, and get access to search volume data from various countries and regions. Keep in mind that you can also seek to target keywords that perform better in other languages besides English, with the intent of gaining that traffic. After all, if you're going to build a multilingual website, that means you have a more diverse audience to target.
Take advantage of Multiple Languages SEO today!
The more languages you add to your website, the bigger your potential audience becomes. Even translating your site into one other language is a fantastic step. It's important to remember, however, that translating your content is only the start – you also have to think about multilingual SEO.
If you want to tackle SEO for multiple languages, here are five tips to keep in mind:
Translate your URLs.
Use hreflang tags.
Translate your metadata.
Review your keyword usage.
Research popular keywords in other languages.
This short video sums up all the SEO tips and steps we covered to translate the most important SEO elements and rank in multiple languages:
TranslatePress along with its SEO Pack add-on will help you get the most out of multilingual SEO, making sure your translated content ranks in multiple languages.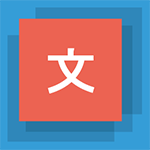 TranslatePress Multilingual
TranslatePress is the easiest way to translate your WordPress site. It's fast, won't slow down your website, works with ANY theme or plugin and it's SEO friendly.
Get the plugin
Do you have any questions about how to translate your WordPress website? Let's talk about them in the comments section below!
If you found this post helpful, please check out our YouTube channel, where we constantly upload short & easy-to-follow video tutorials. You can also follow us on Facebook and Twitter to be the first to know each time we post.