English is the most common language on the web. However, it's smart to consider users who prefer other languages as well. For instance, Russian users have grown considerably in the last few years. Therefore, deciding which languages you should add to your WordPress site could be crucial to your conversion rate.
Fortunately, you don't need to cater to all languages in the world. Instead, you should focus on a few strategic ones. With a few simple tricks and guidelines, you can choose the ones to feature on your site to maximize its reach.
In this article, we'll talk about why you should add languages to your WordPress site in the first place and help you pick the right ones. Let's go!
What Are The Benefits of Adding Languages to Your Website?
Running a multilingual website has many benefits. Firstly, catering to multiple languages can become your significant competitive advantage in the aftermath of the pandemic. Many businesses will be struggling economically due to the impending recession. Therefore, it's smart to put your eggs in a few baskets and look to expand your website's reach globally.
According to research, non-English speakers are more likely to purchase a product based on the information provided in their native language. While many Europeans are multilingual, studies suggest that a staggering 42 percent would never buy products or services in a language that's not their own. Furthermore, over 50 percent of consumers are willing to pay more for an item available in their native language.
However, translating your website is not just about reaching an international audience. By communicating in English only, you might be alienating a large group of domestic customers, too. For instance, the United States is the largest Spanish-speaking country after Mexico, with 41 million native Spanish speakers and 11.6 million bilingual ones. Looking at the numbers alone, adding Spanish to a website is a no-brainer for any US-based company.
The Benefits of Having a Multilingual Website
Let's zoom in on the benefits and see how adding languages can help you succeed online:
Higher conversion and lower bounce rates: Since your website is available in multiple languages, foreign visitors will be less likely to leave. Also, for the reasons stated above, they will be more likely to convert to paying customers.
Better Search Engine Optimization (SEO): translating your site's contents, including the metadata, can help boost your international search engine rankings.
Improved customer experience: Providing information in several languages gives your visitors a degree of personalization. Having a multilingual site can set you apart from your competitors, and your non-English speaking visitors will greatly appreciate the effort.
New marketing opportunities: Translating your website gives room for international content marketing, which is more cost-efficient than traditional marketing strategies.
Establishing trust and professionalism: Having a multilingual website strengthens your brand image and makes you look more legit in your customers' eyes.
Finally, while English may seem to dominate the web, its use has shrunk to around 30 percent, giving rise to other languages that are quickly taking over the internet. To illustrate, the usage of Chinese on the web grew by 1277.4 percent between 2000 and 2010. Therefore, it's smart to future-proof your business as this landscape is likely to evolve in the coming years.
Which Languages Should You Add to Your WordPress Website? (3 Ways to Decide)
Now that we've discussed the benefits of translating your website into several languages, doing so may seem overwhelming. Don't worry; you don't need to be as multilingual as Wikipedia. The three approaches below should help you decide which languages to add to your WordPress site.
1. Stick to Popular Languages
If you're in doubt, you can refer to the list of the most common languages currently used on the internet. Excluding English, these are:
Chinese (649.6 million users)
Spanish (222.4 million users)
Arabic (135.6 million users)
Portuguese (121.8 million users)
Japanese (109.6 million users)
Russian (87.5 million users)
Looking at the statistics alone, you can't go wrong with these languages. However, they may not be relevant to your business, so it would be smart to conduct prior research of your target audience. For instance, you might find that translating your website into Chinese hardly makes sense for your product, so it's something to consider before investing in pricey translation services.
2. Add a Language That You Can Translate Manually
The most cost-effective approach is to focus on the language you, or someone in your team, speaks fluently. This method requires some time investment as you will have to translate your entire website manually. However, it's technically free, which can be a good option for budget-conscious businesses.
The downside is that you're limited to the languages spoken by your team, which may not always be of interest to your target audience. Also, speaking the language well does not automatically mean that the person can translate it, which is why it's always better to consider hiring a professional.
Language localization is a fascinating field of linguistics, which considers the cultural context, societal norms, and more. Translating a phrase directly from one language to another could have disastrous effects sometimes.
A famous linguistic fiasco was KFC's 'finger-licking good' campaign, which literally translated into Chinese resulted in the equivalent of 'eat your fingers off.' Therefore, you should be very careful if you decide to attempt this task yourself.
3. Research Potential International Audiences for Your Content
This method is by far the best and should be the starting point for the two approaches above. To communicate with your customers effectively, you need to know who they are and what languages they speak.
The easiest way to find out is to use tools like Google Analytics, which gives you insights into where your visitors are from, their demographics, preferences, and behaviors. If you're not already using Google Analytics to measure the effectiveness of your online marketing efforts, you can sign up and add a tracking code to your website so you can start collecting this data.

Once you've been using this tool for a while, log in to your Google Analytics account and go to Audience → Geo → Language. You will get access to a detailed report of where your users come from and which languages they use. Doing this will give you a solid understanding of how your audience communicates, so you will be able to make your decision based on evidence rather than the popularity of languages.
The biggest drawback is that it's time-consuming, as you'll likely have to wait until Google Analytics has collected sufficient data. You will start seeing the first results between 24 and 48 hours from signing up. However, this time frame may not be the most accurate reflection of your visitors' linguistic preferences.
You might also find that you're not able to provide an in-house translation of these languages, making it necessary to hire a translator. However, it's the best approach to adopt, and it will likely have the most significant pay-off.
What Plugin Should You Use to Translate Your WordPress Website?
An excellent way to maximize the accuracy, speed, and cost of the translation process is by using translation plugins like TranslatePress. This WordPress translation tool enables you to translate your website in minutes, directly from the front-end, thanks to its intuitive visual interface.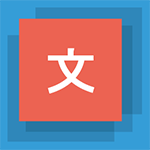 TranslatePress Multilingual
TranslatePress is the easiest way to translate your WordPress site. It's fast, won't slow down your website, works with ANY theme or plugin and it's SEO friendly.
Get the plugin
As everything happens in the front-end, you save time by not switching back and forth between the editor and other translation software. You can translate everything you see, directly from the front-end. It looks something like this: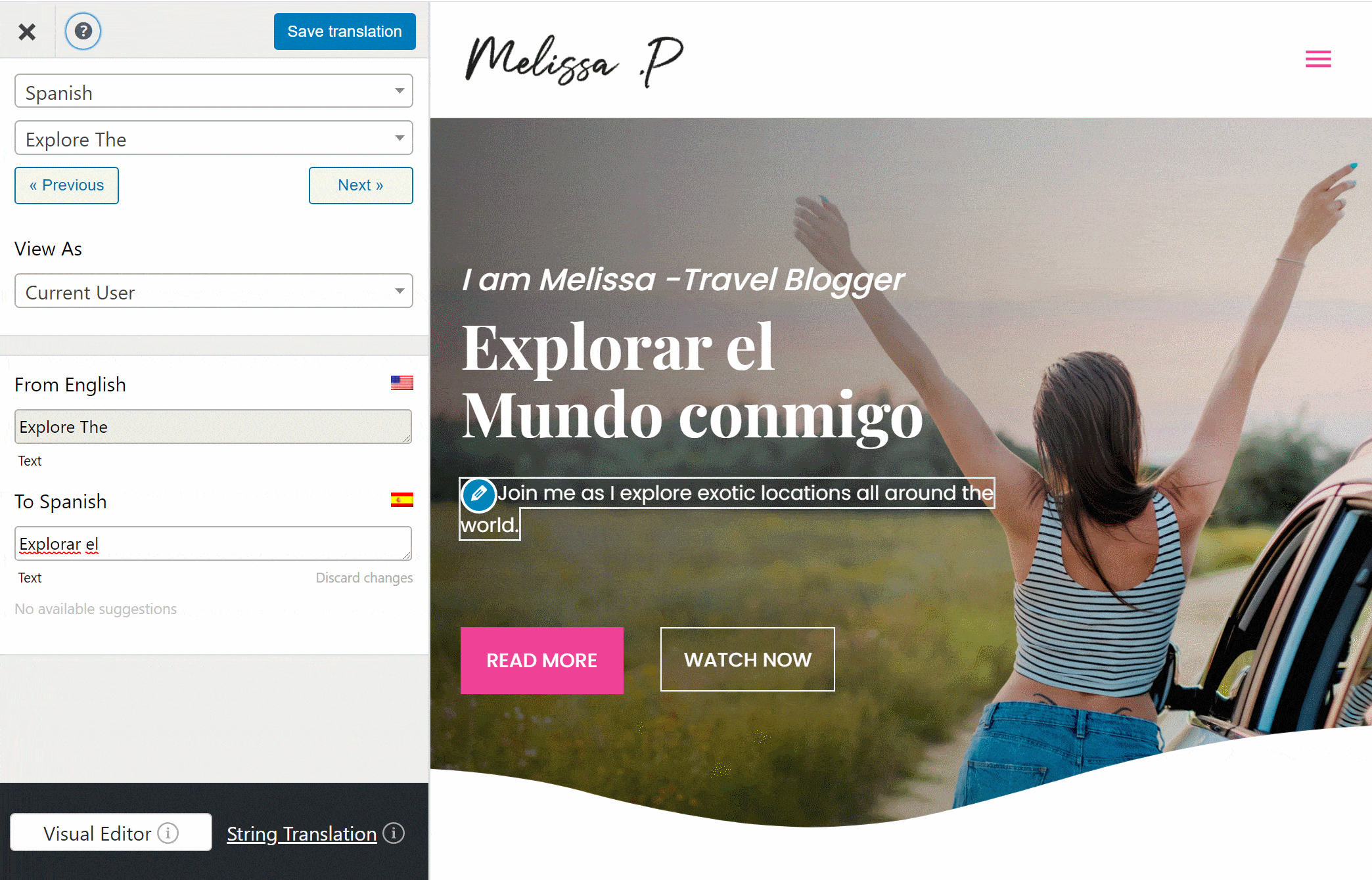 All you have to do is hover over a certain element or text you want to translate, click the pencil icon to select it, and enter its translation. Save and move on to the next one. This approach makes it really easy to translate everything you see.
Besides standard text, you can also translate images, sliders, popup-us, or forms. TranslatePress works out of the box with any theme or plugin, so if you're using a page builder like Elementor or want to create a multilingual WooCommerce store, you're all set.
To speed things up TranslatePress also lets you automatically translate your entire site using services like Google Translate or DeepL. You can afterwards manually tweak everything that sounds off.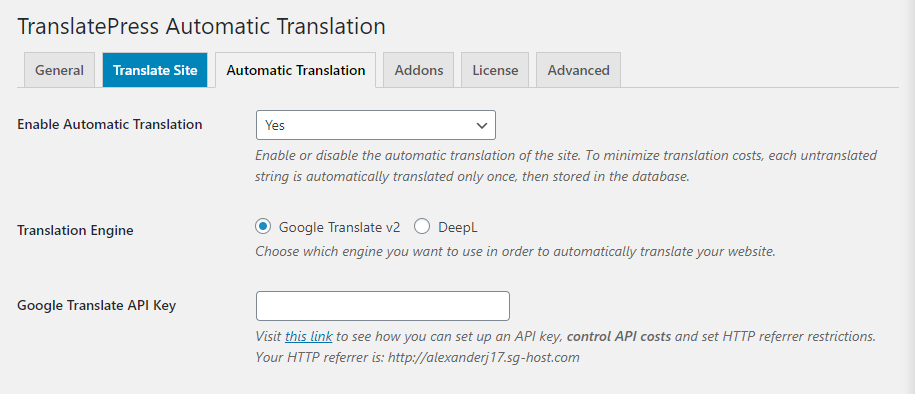 Hiring a translator is also an option if you prefer, which will give you the best of both worlds. You can start with automatic translation, and afterwards have a professional review the changes. This method makes the total cost of hiring a translator considerably lower than doing so for your website's entire contents.
TranslatePress will make this process super easy for you. It gives you access to the Translator Accounts add-on, enabling you to invite collaborators to work on your site, without giving them full access.
Besides this, the TranslatePress SEO Pack addon helps you translate the most important SEO elements on each page (like page title, slug, description, etc.). It also integrates with all popular SEO plugins, making sure your translated content ranks in multiple languages.
Conclusion
Translating your WordPress site can help you reach a wider audience and boost your traffic. Research suggests that most users prefer to purchase products in their native languages, even if they speak English. That's a massive incentive for adding more languages to your website immediately.
To recap, we've discussed three strategies to help you decide which languages you should add to your WordPress website:
Stick to popular languages;
Add a language that you can translate manually;
Research potential international audiences for your content.
Once you discovered which languages you should add to your WordPress site, you can use a tool like TranslatePress to set them up and go multilingual. By using its intuitive visual translation interface and combining it with automatic translation support, you'll have your website translated in no time.
Do you have any questions about adding languages to your WordPress site? Let us know in the comments section below!
If you found this post helpful, please check out our YouTube channel, where we constantly upload short & easy-to-follow video tutorials. You can also follow us on Facebook and Twitter to be the first to know each time we post.