Looking for the best WordPress multilingual plugin?
Multilingual plugins can do a lot for your website – especially if you want to take your business international and start publishing your pages in more than one language.
In this comparison, we take you through the landscape of the best WordPress multilingual plugins and show you how to pick the ideal one for your specific needs. We cover their features, pricing, and pros & cons.
Let's dive in. 👇
What to Look for in Your Best WordPress Multilingual Plugin
When you first think about it, the main thing you'd expect from a multilingual plugin is simply letting you translate your website content. Straightforward enough, right? Well, I'm afraid there's more to talk about here.
Most users will benefit from these features and overall characteristics that some of the best WordPress multilingual plugins come with:
1. Front-end Translation Interface
There are three main ways in which multilingual plugins go about letting you translate your content:
in the back-end – translation is done through the wp-admin – directly in the WordPress dashboard;
in the front-end – translation can be done when looking at your site preview as it appears to visitors;
in the plugin's cloud interface – translation is done in a third-party interface provided by the plugin.
The most user-friendly and intuitive type of interface is the front-end option.
2. Manual vs Automatic Translations
Your ideal, best WordPress multilingual plugin will let you work on your translations in either of two ways (or both):
write them by hand – the most natural and intuitive approach;
get them done automatically – using tools like Google Translate or AI-powered translators like DeepL.
Apart from that, you also want to be able to adjust all your automatic translations, since they are never 100% perfect. Make sure that your multilingual plugin allows for that.
3. Control of Your Translations
There are two questions that come up in relation to control:
Where are your translations stored?
What happens when you stop paying for service?
Ideally, you want your translations to be kept locally on the site's web server. This is the only way to have complete control over them and be sure that they're not going to vanish.
You should also avoid plugins requiring you to continue paying for a subscription to keep your translations working.
4. SEO Features
We all know how important SEO is to every website's visibility. However, not everyone realizes that each of your site's language versions is more or less another website in Google's eyes.
This means that each of your language versions should have its own SEO settings and metadata that you can adjust.
The best WordPress multilingual plugin will allow you to tune those up.
👉 You can learn about multilingual SEO here.
5. WooCommerce Compatibility
Not every multilingual website needs WooCommerce compatibility. But if yours does, then it really really needs it.
It's simple, actually, if you sell your products internationally, then you need a multilingual plugin that works with WooCommerce.
👉 We've covered this topic in a separate guide. Check it out to learn how to choose the best WooCommerce multilingual plugin.
6. Theme and Plugin-Generated Content Translations
Every WordPress website has a fair bit of content that the user hasn't authored but was generated by the theme or the plugins you have installed on the site.
Those can be all sorts of small text snippets or messages. Maybe it's a label next to a widget, maybe a "last updated" note next to your posts, etc.
The problem with this type of texts is that some multilingual plugins don't even touch them. Meaning you can be stuck with the same text across all your different language versions. And, believe me, those texts then do stick out like a sore thumb.
You really want your best WordPress multilingual plugin to be able to handle that.
Best WordPress Multilingual Plugin: TranslatePress vs WPML vs Polylang vs GTranslate
With the above out of the way, let's now look at the best WordPress multilingual plugins available out there and how well they deliver on our wishlist of features.

Translation interface: front-end
Translation type: manual and automatic
Translation control: stored in your database, full control
Multilingual SEO: yes
WooCommerce compatibility: yes
Theme and plugin-compatible: yes
Free or paid: free + a paid upgrade
First, a quick disclaimer. This shouldn't be a surprise considering where you're reading this post, but TranslatePress is our own plugin. It's our flagship solution and our answer to the issues that multilingual WordPress websites have been struggling with for a long time. We believe this plugin is one of the top solutions available, and that's why it's made it onto this list. This is why:
TranslatePress checks basically all boxes from the list of must-have or even nice-to-have features.
It's an all-in-one solution that integrates with the native WordPress panels and gives you an intuitive translation interface.
You can work on your translations from the front-end – meaning that you're looking at your site the same way your visitors look at it. To translate any element, just click on the pencil icon next to it and enter your translation in the sidebar.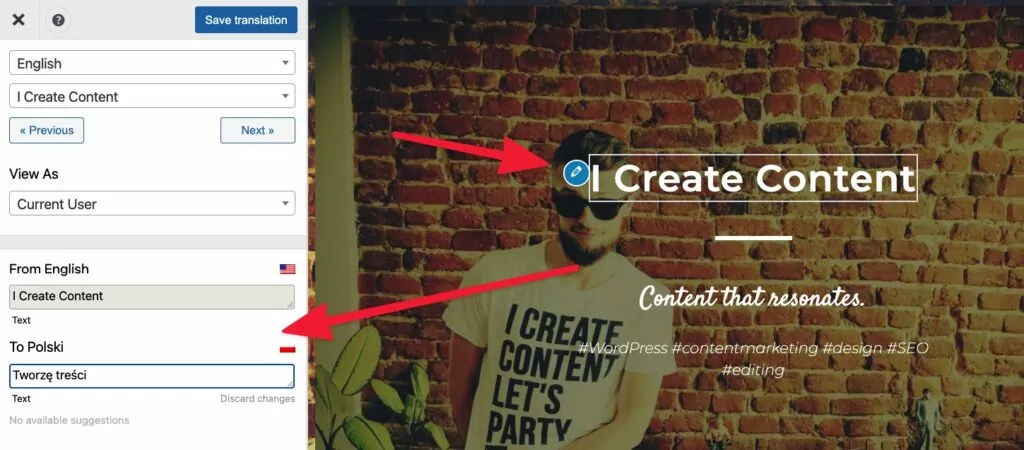 I'm saying that you can translate any "element" with TranslatePress because the plugin works not only with the standard text content of your site but also lets you do a lot of other things, such as:
TranslatePress also gives you a choice of writing your translations manually or integrating the site with popular automatic translation APIs (works with Google Translate and DeepL).
The important detail about this automatic translation module is that it lets you adjust all those automatic translations later on, too. That way, you're not stuck with some odd-sounding sentences.
The language switcher box itself is also quite neat, giving you multiple options to choose from, such as having a floating box with the language switcher that's always visible or using a classic menu link.
Lastly, you retain complete control over your translations since everything is kept in your site's local database.
💳 Best of all, TranslatePress offers a free version that doesn't force you into paying for anything if you don't want to. All the basic features are there, and you can build a 100% functional multilingual website with two different language versions.
If you need more languages, or you'd like to take advantage of some of the more advanced features, like multilingual SEO, "translator" user roles, DeepL integration, and more, TranslatePress Pro starts from 89 EUR per year.
👉 Read this to learn about the differences between TranslatePress Free vs Pro and how to pick which one is right for your project.

Translation interface: back-end
Translation type: manual
Translation control: stored in your database, full control
Multilingual SEO: yes
WooCommerce compatibility: yes
Theme and plugin-compatible: no
Free or paid: free + a paid add-ons
Polylang is another popular solution for those who want to turn their WordPress sites multilingual. Working with this plugin is a bit different than working with TranslatePress.
First, you do all your work on the back-end of the site – in the wp-admin – rather than by looking at it through the visitor's eyes.
Adding the translations themselves is also a lot different. Polylang focuses on letting you create completely new versions of each of your pages, filling them with translated content, and only then pointing them out as new language versions of already existing pages.

This means that you can use Polylang to create a completely separate language version of your website where not every page has to have its counterpart in the new language. Polylang is therefore a sound option for websites that need different language versions that are much more independent from one another.
The fact that you're creating new pages for each language version of your site also gives you more freedom with customizing layouts, deciding where to put images in different language versions, which images to replace, etc.
This also means that Polylang has built-in compatibility with popular SEO plugins.
💳 There is a free version of Polylang that's fully functional, and you can use it for basic multilingual websites with no problem. Polylang even supports multiple languages in that free version.
The pro add-ons start from 99 EUR. You'll need that pro upgrade if you want to translate your WooCommerce store content (products, shopping cart, other core pages).
👉 More on cheaper Polylang alternatives for WooCommerce here.

Translation interface: back-end
Translation type: manual and automatic
Translation control: stored in your database, full control
Multilingual SEO: yes
WooCommerce compatibility: yes
Theme and plugin-compatible: some
Free or paid: paid only
WPML is another back-end-based plugin on this list of the best WordPress multilingual plugins. It's also one more original take on how translating a WordPress website can be done that's different from the plugins featured above.
WPML gives you more of a step-by-step process of translating your site rather than forcing you to go to different areas in the admin dashboard and trying to figure out stuff there.
There's a nice onboarding sequence that takes you through all the stages of turning your site multilingual. First, you get to pick the site's main language and then the languages you want to add. Next, you can pick the type of language switcher that you want to use and set some compatibility options.
With that done, you can start working on your translations. WPML adds a new column to your listing of pages that indicates which translations are missing and which are already there. Looking at this interface, you can easily see which pages need to be worked on.
Once you select a language version to create next, WPML will show you side by side all the strings of text that appear on that given page, along with empty input boxes where you can add your translations.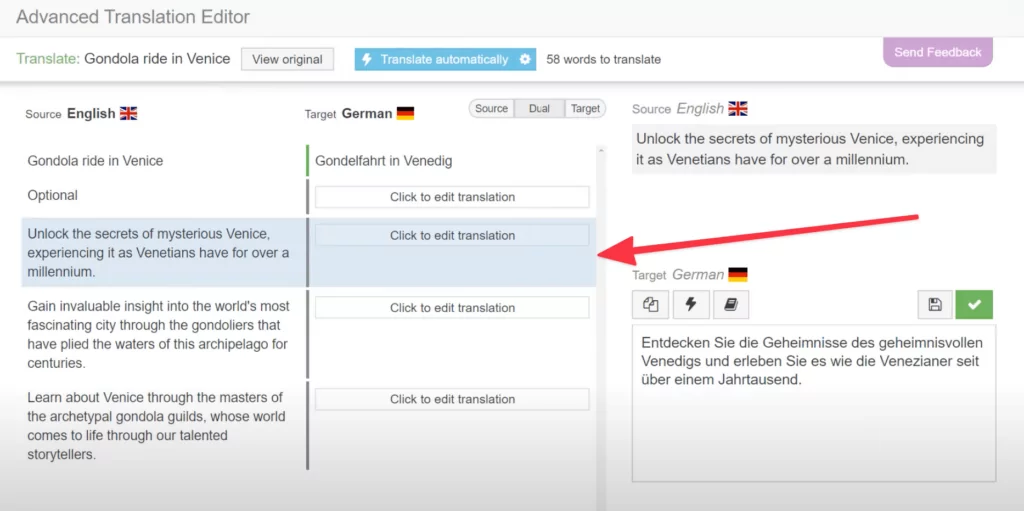 At this stage, you can also enable automatic translations if you don't want to do everything by hand.
WPML works with SEO plugins and lets you adjust your SEO meta and the URLs of your translated pages. It works with WooCommerce too.
One of WPML's most interesting features is the integrated network of professionals who can translate your content for you. Right from within your site's interface, you can pick the pages to be translated, the languages you want to translate them to, add everything to a basket, and then send that over to translators who will write the translations for you.
WPML marketing material says that the plugin is compatible with most of the popular themes and plugins. However, that compatibility actually depends on the theme/plugin developers adding extra code to make their products compatible. Not all developers take the effort.
💳 WPML is a premium-only plugin. The prices start from $39 for the "Blog" tier. This one supports basic websites with no WooCommerce support, no support for page builder plugins, no translations of widgets, no theme and plugin content, and a couple more limitations. To get a more functional version suitable for most business sites, you'll have to pay $99.
👉 Read more about the best WPML alternatives here.

Translation interface: cloud interface
Translation type: automatic
Translation control: translations stored on GTranslate servers, works as long as you're subscribed
Multilingual SEO: yes
WooCommerce compatibility: no
Theme and plugin-compatible: some
Free or paid: free + a paid upgrade
GTranslate is not only original when compared to the other WordPress multilingual plugins on this list, but it's actually completely different.
It's the only SaaS solution on this list, and it's entirely cloud-based. This has its pros and cons.
The pros are that you're not putting a load on your servers to handle the translations. Instead, everything is fetched from the GTranslate servers and their Translation Delivery Network.
GTranslate also provides you with one of the fastest ways to make your site multilingual – as long as you don't mind not having much control over those translations.
The way GTranslate works is quite unique. Basically, all translations happen on the fly. This means that whenever a visitor requests a different language version of one of your pages, GTranslate takes your content and quickly puts it through Google Translate. This only takes a fraction of a second. When the translation is ready, it gets replaced automatically via JavaScript, and your visitor can see it.
The free version of GTranslate doesn't store those translations anywhere. Again, this all happens on the fly each time a new visitor requests a different language version. It also means that the search engines do not index the translations.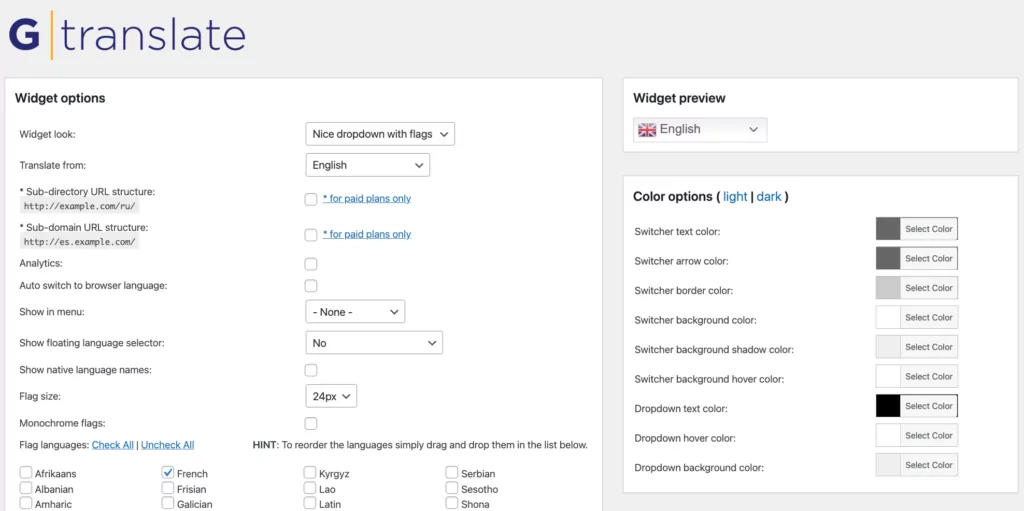 In short, if the above sounds okay to you, and you don't need the option to adjust your translations by hand, then the free version of GTranslate might be all you need.
💳 However, if you do want more control, plus you'd like the option to fine-tune your translations, you'll have to upgrade to one of the paid versions of GTranslate. The prices start from $7.99/mo. This entry-level tier gives you support for two languages, search engine indexing of your translated content, and the ability to edit translations through GTranslate's cloud interface.
If you need more than two languages, or you'd also want control over your URL structure for translated pages, then the price grows pretty rapidly to $17.99/mo, $27.99/mo, and even $37.99/mo.
Albeit a bit expensive compared to the other best WordPress multilingual plugins on this list, GTranslate is still an interesting solution for users who appreciate more of a hands-off way of taking care of their website translations.
Which is the Best WordPress Multilingual Plugin?
As you've seen above, the landscape of multilingual WordPress plugins has a lot to offer. Interestingly, each of the top solutions isn't a copy of one another, but rather a completely new take on how translating a WordPress website can be done.
No matter whether you prefer working on the front-end and looking at your site through the visitor's eyes or you appreciate the back-end interface more, you'll find a plugin that matches your needs on this list.
This won't be a surprise to you, but we think that TranslatePress is the optimal solution for most common scenarios when people need "their website translated." The plugin is easy to use, gives you the most useful features for free, and doesn't require you to understand what's actually going on under the hood.
If you want to give it a go, you can download TranslatePress for free here or install it directly from your WordPress dashboard.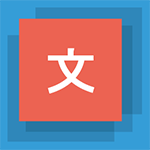 TranslatePress Multilingual
TranslatePress is the easiest way to translate your WordPress site. It's fast, won't slow down your website, works with ANY theme or plugin and it's SEO friendly.
Get the plugin
Do you still have questions on what is the best WordPress multilingual plugin for you? Let us know in the comments!
If you found this post helpful, please check out our YouTube channel, where we constantly upload short & easy-to-follow video tutorials. You can also follow us on Facebook and Twitter to be the first to know each time we post.