Looking for some viable Polylang WooCommerce alternatives? You're in the right place! We have one such alternative for you here.
In this post, we show you what the main challenges are when building a multilingual WooCommerce store, how Polylang tackles them, and why considering TranslatePress as an alternative might be a good choice for many users.
The challenges of building a multilingual WooCommerce store
There are a couple of things that you should take into consideration when attempting to make your WooCommerce store multilingual.
Chiefly, the main decision on your plate is whether you want to offer the same range of products across all countries and languages.
If you're selling digital products (such as downloads, ebooks, software, etc.), then you can probably deliver them everywhere with no restrictions.
However, if we're talking larger, physical products, then you might want to reconsider and evaluate your options/shipping restrictions.
So that's one thing! Then, there's also the challenge of tracking your inventory across different language versions of the store, having the orders and customer info all in one place plus all the right shipping labels ready.
Next, there are payments and payment options. As it turns out, customers in different countries prefer different methods of payment. In other words, going credit-card-only won't always work.
Okay, that seems like a lot to think about, so why even bother? Do you really need a multilingual WooCommerce store?
Well, you don't necessarily have to make your store multilingual, but it is in your best interest.
For instance, according to a survey, 75% of people prefer to buy products in their native language (data). This means that if they have the choice between two competing products – one described in their native language and one not – guess which one they're going to buy.
Buying products from a foreign-looking website just seems risky. You're never sure if they're even shipping to your country. General terms and conditions or shipping info are hard to find in most stores, so people don't bother to look.
However, once a customer sees product descriptions in their native language, there's no better indication that the store is ready to do business with buyers in the customer's country.
That brings us back to Polylang and Polylang WooCommerce alternatives.
What you need to create a multilingual store with Polylang
Polylang is one of the popular translation plugins for WordPress sites and therefore for WooCommerce sites as well.
However, there's just one problem – building a multilingual WooCommerce store with Polylang is rather expensive. I guess you've seen the price tag on the Polylang WooCommerce add-on. That's what probably brought you here in the first place – a search for viable Polylang WooCommerce alternatives.
Here's what you need to run your WooCommerce multilingual store with Polylang:
The free Polylang plugin
Either the Polylang for WooCommerce or the Polylang Business Pack extension (99 EUR and 139 EUR, respectively)
Polylang for WooCommerce is the essentials-only extension – meaning that it will allow you to turn your WooCommerce store multilingual, but you won't get some of the more advanced features. These come in the Polylang Business Pack extension.
The advanced features are things like:
Synchronization of the shopping cart across language versions
Slug customization for translations
Premium support, and a couple of other things
Oh, and did I mention that the 99 EUR price tag is for one site only?
Don't get me wrong, Polylang is a great translation plugin for the right kind of user, but just not every user – especially if you're on a budget.
Speaking of the right kind of user, in the next section, we talk more about how Polylang approaches the process of making your WooCommerce store multilingual and why considering TranslatePress as an alternative makes sense.
What TranslatePress does differently as a Polylang WooCommerce alternative
In short, Polylang is a great plugin if you want to create completely independent language versions of your website.
For example, you can create one set of pages to be your English version and then a completely different set of pages to be your Spanish version.
This strategy can be great for websites that need dissimilar content structures between individual language versions.
At the same time, Polylang allows you to make connections between pages in different language versions. For example, you probably want to have an About page in all your languages.
Polylang uses the same approach when it comes to WooCommerce.
In order to build a multilingual WooCommerce store with Polylang, you will need to create a duplicate version of each of your products and then translate them to the new language. Then, Polylang will take care of making sure that those products still operate on the same database – considering product availability and inventory.
Building a normal multilingual WordPress site with Polylang is pretty straightforward. You basically create your posts/pages one by one and then create new versions of them in the other language. You then get to connect the two together, so that the reader can switch between each language version if so they wish.
However, if you attempt to build a multilingual WooCommerce store without that paid Polylang extension, you'll find that it creates kind of a mess.
While you can create duplicates of your WooCommerce pages just like any other WordPress page, making them work error-free is a challenge.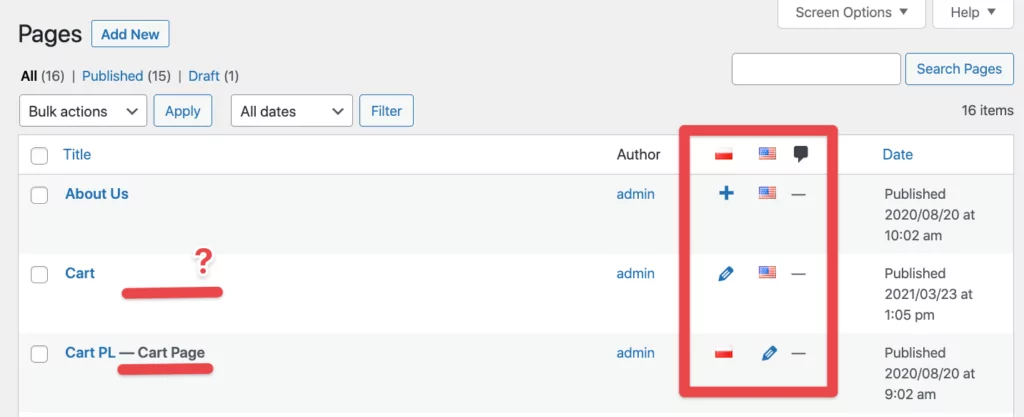 Then, if you go into products, you can't add different language versions for them.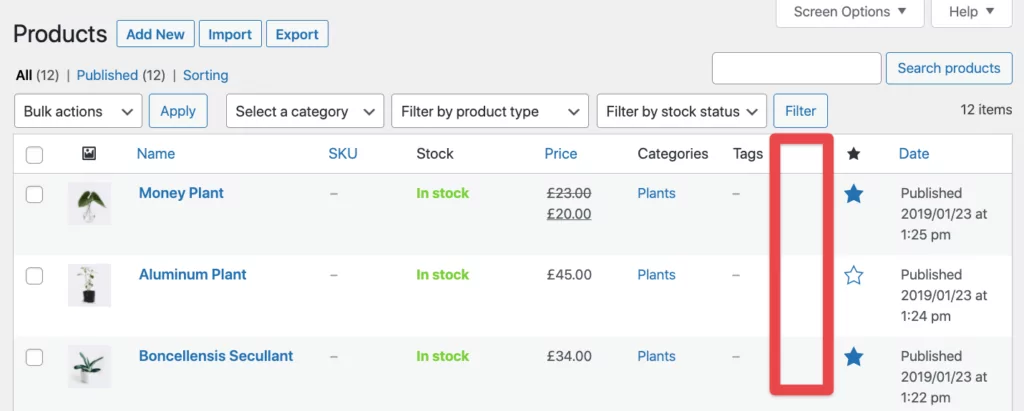 And we're not even touching on payment settings, currencies, and all the fun under-the-hood stuff. The only way to make that work is with the paid add-on.
Comparing Polylang to TranslatePress, the latter has some advantages:
First off, with TranslatePress, you can build a multilingual WooCommerce store for free. No add-ons needed, at least for the basic setup.
Second, TranslatePress doesn't force you to duplicate your pages in order to create individual language versions of them. Instead, it hooks to the existing version of the page/product and assigns translated content to it without modifying the original page.
Here's a more detailed list of the things TranslatePress does differently as a Polylang WooCommerce alternative:
Polylang vs TranslatePress

| Polylang | TranslatePress |
| --- | --- |
| Paid add-on needed to run a multilingual WooCommerce store (from 99 EUR). | All the required features are already built into the free version of the plugin. |
| You have to duplicate each translated page and product. | You can enable additional languages on existing pages and products without duplicating them. |
| Doesn't let you translate custom fields (from ACF) in the free version. | Full compatibility with ACF custom fields right out the box. |
Let me show you how all this works in practice:
How to create a multilingual WooCommerce store with TranslatePress
💡 Note. What I show below is a general overview of how to build a multilingual WooCommerce store. If you'd prefer more detailed instructions, read our in-depth guide here.
1. Build your WooCommerce store normally
The first step is straightforward: Build your WooCommerce store like you normally would. This means:
Install the WooCommerce plugin
Get all your store settings in line
Pick a theme that's optimized for WooCommerce
Add your products
Set up your shipping and payments details
Create additional pages that your store needs (About us, Contact, etc.)
With all that out of the way, you can now begin making your store multilingual.
2. Install TranslatePress and add your new language
You can get the TranslatePress plugin for free from the WordPress directory.
The easiest way of installing it on your site is to go to your wp-admin, into Plugins → Add New and use the search box up top: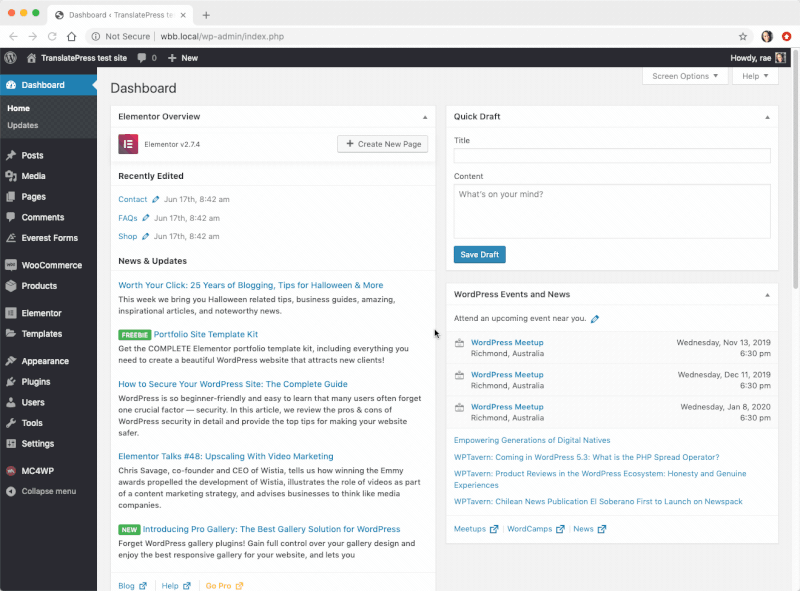 Activate the plugin once it finishes uploading.
Next, go to Settings → TranslatePress to add your new language to the site.
In the General tab, set your default language and add additional languages that you need on the site.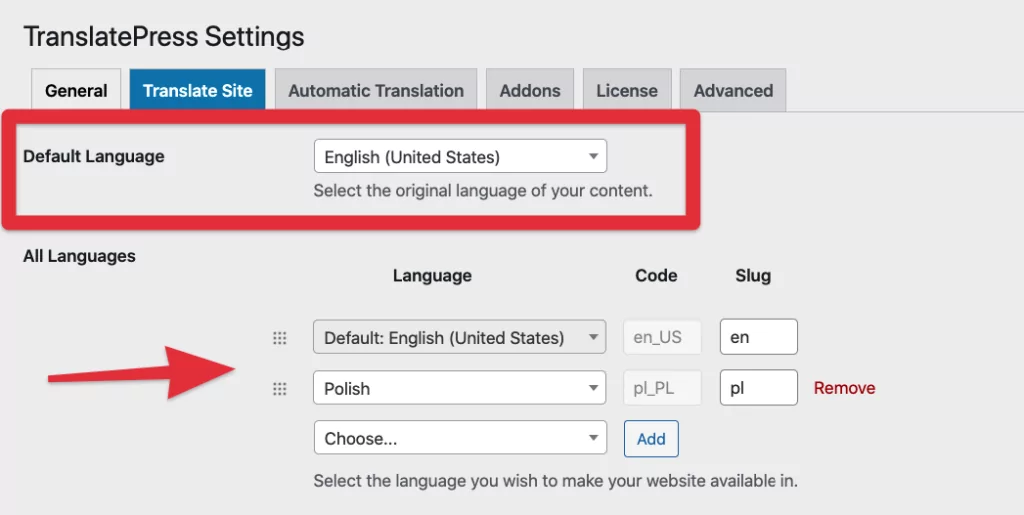 You can also pick the type of language switchers you want to use and where you want them to appear.
Click on Save Changes when you're done.
3. Enable automatic translations
💡 This is optional, but it will speed up the overall process of launching your multilingual WooCommerce store to the public.
Switch to the Automatic Translation tab on the settings page.
Once there, enable automatic translation through the drop-down and select Google Translate v2 as the translation engine.

Enter your API key to integrate your site with Google Translate.
👉 Here's a detailed guide on how to translate WooCommerce automatically.
4. Translate your product info where needed
With the automatic translation enabled, all your products will be translated by Google on the fly as soon as the first visitor attempts to switch to your new language.
However, you still might want to tune up those translations by hand here and there. Let's face it, Google Translate is not always spot-on.
Below is how to do that for any product.
Visit the product normally, and click on the Translate Page link in the top bar: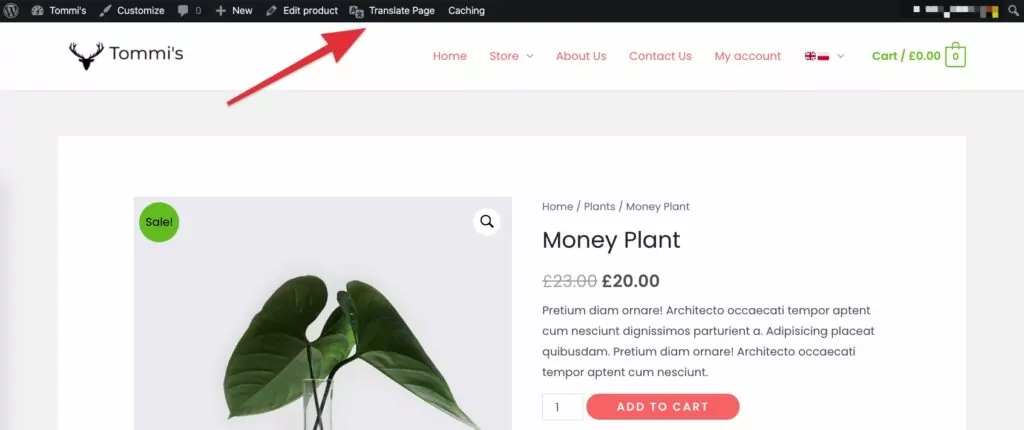 This will open up a visual translation interface similar to the familiar WordPress Customizer.
Once there, click on the pencil icons next to the texts that you want to translate. A translation box will appear in the sidebar where you will be able to add a translation.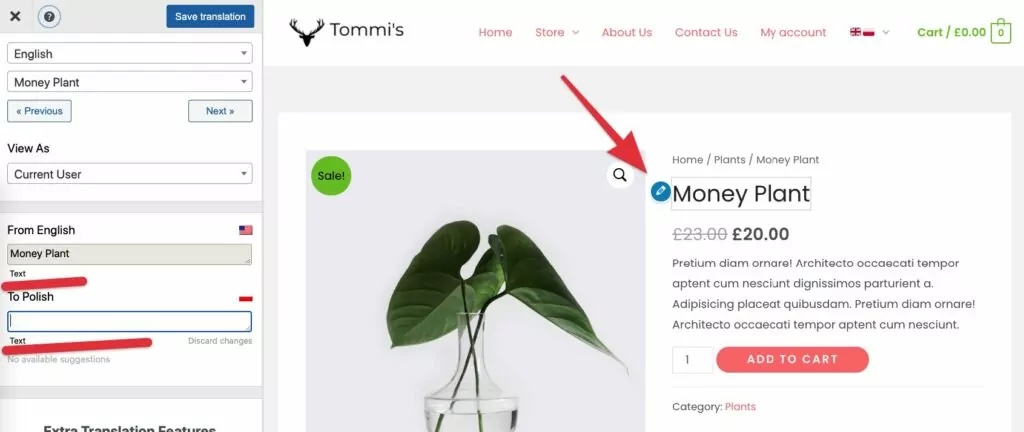 Go through the descriptions and other parameters of the product and make sure it all sounds good in the new language.
⚠️ Important! Don't "translate" the price. We'll handle that later.
When done with each translation, click on Save translation up top.
👉 Here's more on how to translate your WooCommerce products.
5. Translate your cart and checkout pages
These two pages are very important to guarantee your customer's comfort when buying from your store.
Basically, if your store switches back to the main language all of a sudden – precisely when the customer is checking on the shopping cart, they will get confused and probably leave immediately, abandoning the cart.
Luckily, translating the cart and checkout pages with TranslatePress is quite simple.
First, add a couple of products to the cart and then visit the cart page itself. Once there, click on that Translate Page link in the top bar again.
When in the translation interface, look through all the texts on the page and adjust them if needed.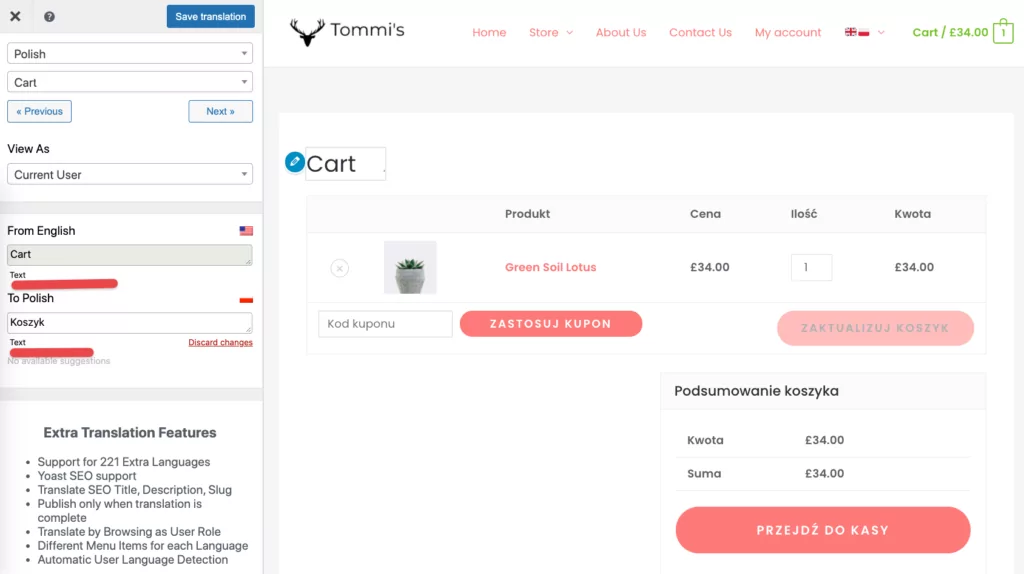 Next, go to the checkout page and do the same thing – work through the texts there making sure that everything sounds as it should.
6. Set up your shipping zones and payments
Shipping zones are a native feature in WooCommerce that lets you control sets of shipping methods available in certain geographic regions.
WooCommerce will basically match the customer to a specific zone based on the shipping address they enter on the checkout page.
This is a great feature since it lets you offer different shipping options that are tailor-made for specific areas of the world.
Here's an official guide on how to set up shopping zones.
Next up, payment gateways and payment options. As I said earlier in this guide, customers in different countries have their favorite methods of payment. If you're really hoping to get international sales, you should enable them to use those payment methods.
Here's an official guide on picking payment options.
Last but not least, currencies!
Unsurprisingly, people will want to pay in their local currency. There are a couple of ways to make that possible, for instance:
Your product prices are going to be converted on the fly based on the current rates and your defined price rules.
7. Optionally, limit your product catalog
Finally, think about whether you want to limit your product catalog and offer certain products only to customers in specific countries.
If you do indeed want to do that, you can use a plugin called Country Based Restrictions for WooCommerce to set that up.
That is all!
With these steps, you can build a fully multilingual WooCommerce store with TranslatePress and not have to pay for the expensive Polylang WooCommerce add-on.
The great thing about TranslatePress is that 100% of the features that a beginner might need are available for free.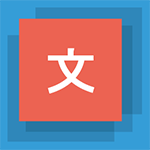 TranslatePress Multilingual
TranslatePress is the easiest way to translate your WordPress site. It's fast, won't slow down your website, works with ANY theme or plugin and it's SEO friendly.
Get the plugin
Do you still have questions about Polylang alternatives for WooCommerce? Let us know in the comments!
If you found this post helpful, please check out our YouTube channel, where we constantly upload short & easy-to-follow video tutorials. You can also follow us on Facebook and Twitter to be the first to know each time we post.