You've probably used machine translation in one form or another at some point. There's a lot of software that enables you to translate content into almost any language you want. These tools do their jobs 'automatically', so you get results near instantly.
However, machine translation doesn't work by magic. Some services do a better job of localizing difficult words or capturing nuances that others miss. Knowing which platform to use can make a huge difference in the quality of your multilingual website.
In this article, we'll talk about how machine translation works and its pros and cons. Then we'll compare multiple machine translation services to help you pick which one to use for your WordPress website. Let's get to it!
How Does Machine Translation Work?
The concept of machine translation is fairly simple. You take some text, input it into your chosen software, and it's converted into your target language. It's fairly easy to do, but the underlying science behind machine translation is a wonder unto itself.
Computationally speaking, there are several approaches you can take when it comes to machine translation, including:
Interlingual translations: This involves a type of 'rule-based' translation that simulates text in an intermediate language before localizing it.
Statistical translation: This approach uses statistical methods to help arrive at the right interpretation.
Neural machine translation: This is the type of software most people envision when you talk about machine translation, as it involves neural networks.
In a nutshell, machine translation has made amazing leaps since its inception in the 1930s (yes, it goes that far back!). With online machine learning services such as Google Translate, more people than ever have access to localization tools.
These days, people can translate entire pages within their browsers with only a few clicks. That applies to your own projects as well – if you want to create a multilingual website, machine translation enables you to do so with relative ease.
We say relative because, as you might have experienced for yourself, machine translation isn't perfect. That applies particularly to languages that are less common since there's not as much data to help improve their translations. With that in mind, let's talk about the pros and cons.
The Pros and Cons of Machine Translation for WordPress Websites
The main draw of machine translation is easy to explain – it's usually far cheaper to use software than it is to employ an army of translators. If you plan on adding multiple languages to your website, costs can pile up quickly, particularly the more content there is.
Not only does manual translation take time, but it can be hard to implement from a technical standpoint. In many cases, translators may be able to localize your website, but you'll have to input their work manually: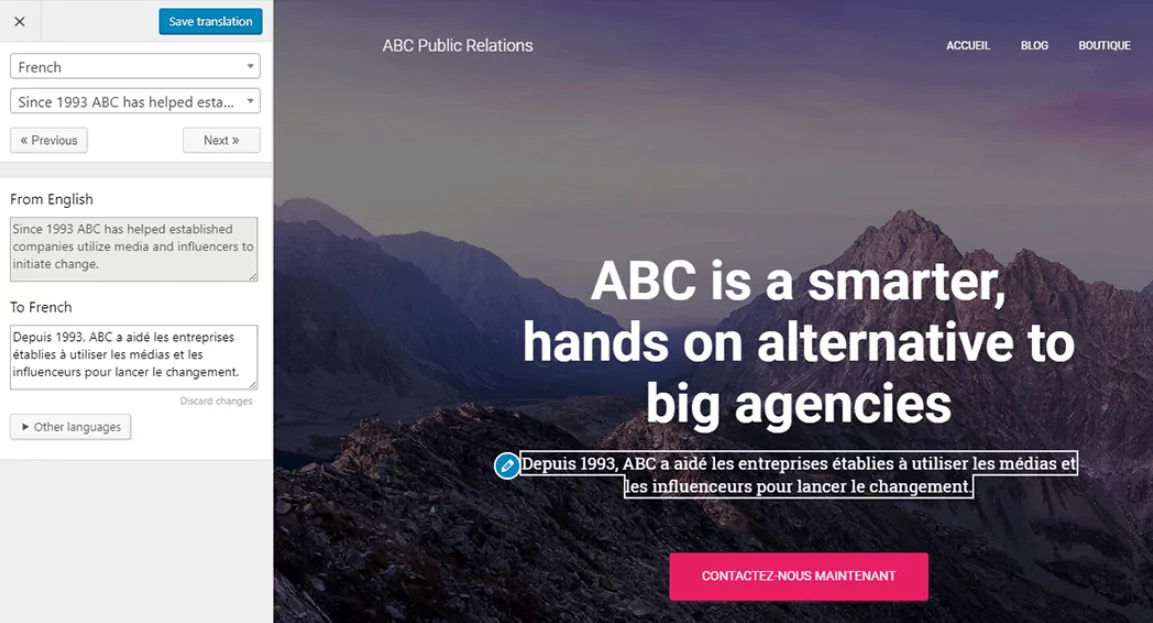 Machine translation can make short work of that problem. With the right tools, you can add new languages to WordPress with only a few clicks. Then, you can use machine translation services to take care of the heavy lifting.
By 'heavy lifting', we mean translating all your website's content. Once that job is done, however, it's still recommended that you either review the translations yourself or hire someone to take care of edits.
Although machine translation has come a long way, it's still nowhere near perfect. Even with popular language pairs, you'll find a lot of small errors. That might not sound like a big deal, but it's the kind of thing that can impact your website's credibility with users from other regions.
If you're going to translate your WordPress website, you need to approach that project the right way. That means using the best machine translation software you can and ensuring its output is accurate.
What's the Best Machine Translation Service for WordPress Websites? (4 Top Solutions Compared)
In this section, we're going to introduce you to four of the best machine translation services for WordPress and other types of websites. Keep in mind that your experience with these services can vary depending on which language pairs you use.
For popular language pairs, most of these platforms should be able to deliver high-quality translations. However, we encourage you to test them yourself before subscribing.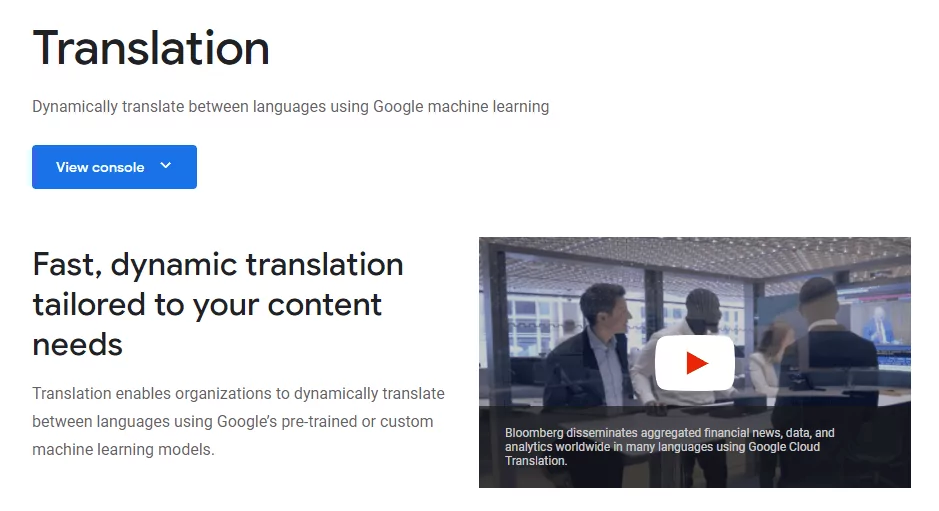 When people hear the words "automatic translation", their minds usually jump to Google Translate. It's the free version of Google's machine translation service, which anyone can use without restrictions:

Google Translate is a powerful tool, but it's not the service you want to use for professional translation needs. If you need to translate an entire website, you're not going to want to copy and paste every line of text into Google Translate, then copy back into WordPress.
In that scenario, you'd want to use Google Cloud Translation. This is a Google product that you can use to do the following:
Create custom translation models using Google's machine learning tools.
Use the service's translation API to power third-party tools.
Take advantage of the platform's media translation tools through its API.
For translating a WordPress website, Google's Cloud Translation API is your best option. It enables you to tap into Google's existing models and instantly localize your website into hundreds of languages. If you're using TranslatePress, for example, the plugin integrates with Google Cloud Translation out of the box.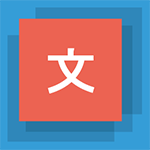 TranslatePress Multilingual
TranslatePress is the easiest way to translate your WordPress site. It's fast, won't slow down your website, works with ANY theme or plugin and it's SEO friendly.
Get the plugin
More importantly, this service covers all the basics. It supports over 100 languages and includes automatic detection. Google Cloud Translate can also import documents and manage voice and image translations.
As far as cost goes, it charges you per character. The platform's 'basic' translation API lets you translate up to 500,000 characters for $10. New accounts get $10 in credit, which is often enough to translate an entire website.
As far as translation quality goes, Google is near the top of the food chain. Since we're talking about machine learning, the service improves as more people use it. Considering it's by far the most popular machine translation service on the market, you're in capable hands.

DeepL Translator is another popular option for file and website translation. The platform works through a subscription model and it supports 24 languages with 552 language pairs.
In our experience, DeepL Translator produces some of the most natural-sounding translations among similar services. Where Google Translate, for example, offers literal localization, DeepL is better, in most cases, at 'understanding' context.
The result is translations that often require less editing work. However, unlike Google Cloud Translate, DeepL doesn't support voice or image translation. That makes it a somewhat less versatile, but perfect for text-heavy websites.
When it comes to pricing, the subscription model is perfect for websites with a lot of content. The DeepL API Pro plan (which you'll need when using it with WordPress) costs $5.49 per month + usage-based pricing, and it enables you to localize an unlimited number of characters. A free version is also available, but it restricts you to a maximum of 500,000 characters/month.
In theory, you can pay for a single month of translations and then cancel your subscription. However, keep in mind that if you use TranslatePress, you'll need a Business or Developer plan to connect the plugin with DeepL Translator.

Microsoft Translator may not offer support for as many languages as our previous two suggestions, but it makes up for it in terms of pricing. The Translator service is part of Azure's suite of cognitive services for the cloud, which you can test for free for up to 12 months.
With Microsoft Translator, you can localize up to two million characters for free. That's a lot more than what you get for free with Google Translate, for example.
If you're looking to translate your website into a somewhat popular language, then Microsoft Translator shouldn't let you down. The downside is there are few plugins that enable you to connect WordPress with Microsoft Translator when compared to other services.
Depending on how many languages you want to translate your site into, you might want to take advantage of Microsoft Translator's pay-as-you-go model. It's by far the cheapest machine translation service on the market, costing only $1 per million characters for standard translations.

Translate is part of the Amazon Web Services (AWS) suite of tools, which you can use for everything from hosting a website to launching scalable applications. With Amazon Translate, you get access to a similar set of features as the other cloud services we've explored so far.
Those features include automatic language identification, real-time translations, as well as access to an API. You can use that API to connect Amazon with WordPress tools that enable you to translate your website on the fly.
The downside, in this case, is that Amazon Translate supports fewer language pairs than any of the other options we've talked about so far. With this service, you can translate content between 55 languages.
To be fair, those options include all the most popular languages in the world, which means you should be covered. Amazon Translate comes with a similar payment model to Microsoft Translator. That is to say, you get a 12-month free trial which enables you to translate up to two million characters.
For additional characters, Amazon Translate bills you $15 per million. It's not as cheap as Microsoft Translator, but it still costs a lot less than hiring a professional translator.
How to Get Started With Machine Translation for WordPress
As we mentioned in the last section, Google Translate and DeepL Translator offer the easiest integration options with WordPress. If you use TranslatePress, both are available if you navigate to the Settings > TranslatePress > Automatic Translation tab.
Here you can enable automatic translation from a drop-down menu and select which of the two machine learning services you want to use: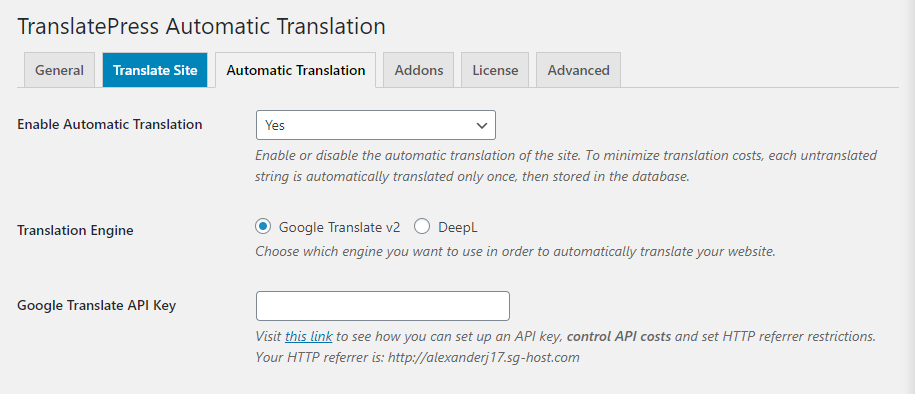 Keep in mind that DeepL Translator integration is only available as an add-on with TranslatePress Pro. If you use the free version of the plugin, you're limited to using Google Translate.
To connect Google Translate with TranslatePress, you'll need a unique API key from the service. Translation costs will vary according to the prices we discussed earlier, but with Google Translate you get to translate up to 500,000 characters for free.
Using TranslatePress, you can limit the number of characters the plugin translates. That gives you full control over your translation budget, regardless of which service you're using.
Conclusion
Machine translation can do an amazing job when it comes to helping you localize a website. However, it still isn't as accurate as experienced human translators. In the vast majority of cases, you'll need a professional to review the service's output to ensure that you don't publish a website filled with translation errors.
Even so, the software can make the translator's job a lot simpler. As far as which machine learning services to use, here are our top recommendations:
Google Cloud Translation: On the more expensive side, but tends to produce fairly accurate translations and includes support for media and file translation.
DeepL Translator: One of the favorite services of our TranslatePress user base, this service offers plans starting at $6.99 per month.
Microsoft Translator: By far the cheapest machine translation service on the market at $1 per one million characters, but WordPress integration can be tricky.
Amazon Translate: This service charges $15 per million characters, but is relatively lacking in available languages.
Do you have any questions about how to use machine translation services? Let's talk about them in the comments section below! And if you're looking for an easy way to automatically translate your WordPress site, check out TranslatePress.