You've probably just completed your website project and are looking to translate it into multiple languages. The quality of your multilingual site depends largely on the translator service you choose. If you opt for automatic machine translation, then you may want to know what your options are and how they compare to each other. This is why, in this post, we'll talk about Microsoft Translator vs Google Translate, two of the available solutions.
Both services are offered by major brands that have remarkably large footprints in the tech space. But it's safe to admit that Google Translate enjoys more patronage in the translation niche. The gap is even more noticeable when it comes to website translation.
Almost 350,000 websites offer their visitors a language switch widget powered by Google Translate. And of the top 1 million sites worldwide, nearly 5% use Google Translate technology for translation. In contrast, only 0.02% use Microsoft Translator.
But this Microsoft Translator vs Google Translate comparison is not a popularity contest. To make the right choice for your unique translation project, there are a good number of factors you need to consider carefully.
In this article, we'll compare Google Translate vs Microsoft Translator in a few key areas such as accuracy, supported languages, third-party integrations, and pricing.
This detailed analysis will be focused mostly on website translation. But in the end, you'll have a wholesome idea of what to expect employing either service for almost any use case.
Before we get to it, let's talk a bit about the concept of machine translation for developers and end-users.
Machine Translation for Users and Developers
In this age of expanding globalization, speech and text translation have become an integral part of our everyday life. Translation services are now no longer restricted to multinational corporations or diplomatic missions only.
Increasingly, more consumers want to be able to shop from any part of the world or access information in any language of their choice. Small businesses, online publications, and software developers also recognize this need and try to adapt to it.
But users (netizens) and business owners or product developers approach automatic machine translation in different ways. This means consumers and developers have different perspectives when comparing Microsoft Translator vs Google Translate.
For example, a non-developer will only need to interact with Microsoft Translator using a mobile or web application exclusively. Using either application, they'll be able to translate plain text, photos, and even entire documents in different formats.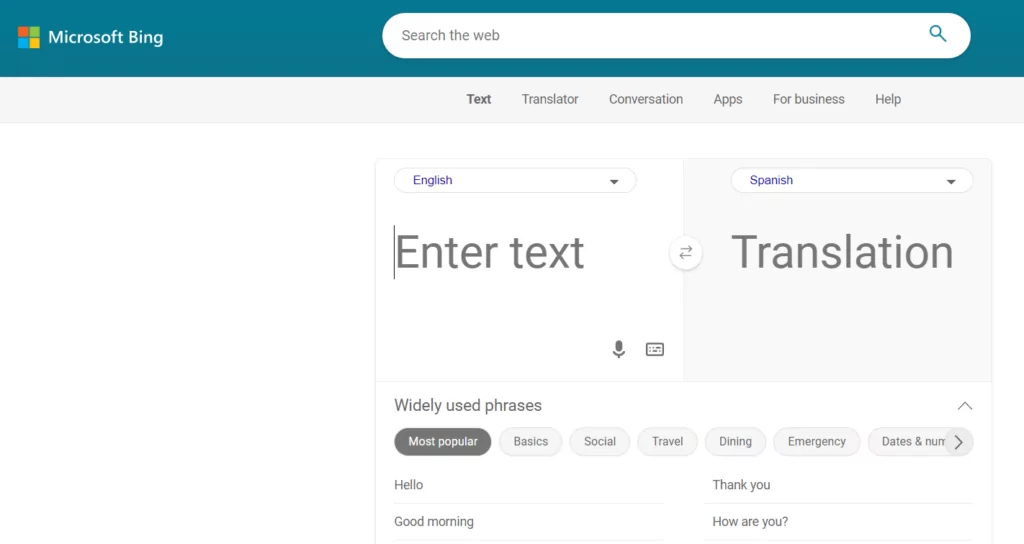 With Google Translate, you get very similar options. But this time, you can also translate voice conversations, handwriting, and even drawings.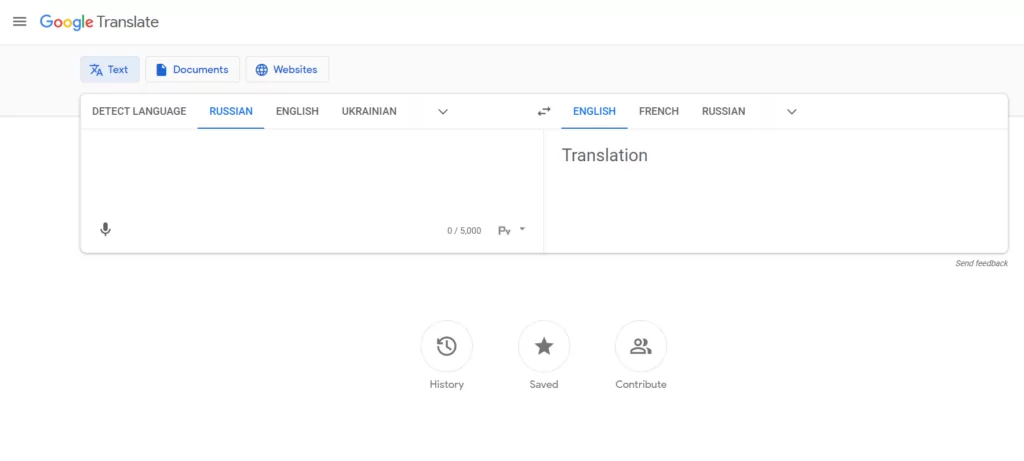 Fortunately, Microsoft Translator makes up for this with its excellent chat-based experience for text and voice conversations. The efficiency of this particular feature is what attracts developers in a couple of niches to the service.
Microsoft Translator vs. Google Translate for Advanced Translation Needs
For both Microsoft Translator and Google Translate, the approach to translation is quite different for development and business purposes. This includes website translation and eCommerce localization. To implement translation solutions, you'll need more than just a web or mobile app with a simple user interface (UI).
Using Microsoft Translator, the ease of translating your website depends on the platform or framework you're using. For example, you can either download a plugin in WordPress or Shopify or add a JavaScript code snippet to the HTML page. But it's important to note that fewer WordPress plugins support Microsoft Translator vs Google Translate.
Otherwise, you may have to write code to integrate Microsoft Translator directly into your Content Management System (CMS). You also get the option to use Custom Translator. This version gives you extensive control over your translation in terms of tone, style, and other important elements.
With Google Translate, developers get two major Application Protocol Interface (API) plans: Basic and Advanced. Each focuses on different factors in terms of features and pricing. Then, you also get AutoML and Media Translation. If you're looking to create custom translation models, then AutoML Translation is for you.
But since we're focused on website translation, let's compare Microsoft Translator vs Google Translate based on the 5 most important factors.
Microsoft Translator vs. Google Translate (Detailed Comparison)
Not sure which translator service is best for your multilingual website project? To help you decide, we'll pitch Microsoft Translator vs Google Translate.
Google Translate is well known as a favorite for both end-users and developers. But is Microsoft Bing Translator a valid alternative to Google Translate? We'll see the advantages and disadvantages of using either service in 5 key areas. We'll then declare a winner in each department.
Translation Speed and Accuracy
No doubt, the most important factor to consider when choosing a translation service is accuracy. You don't want a translator that consistently gets the translation or context wrong. This type of error may completely defeat the purpose of localizing your website and even cost you customers.
In my experience, it's pretty hard to determine which service offers more accurate translations. Test results often depend on the unique language pairs used for the test. For example, most automatic translators have little or no problem with popular European language pairs. But when it comes to less popular languages, the case may be different.
I decided to translate a couple of 'business-case texts' using Microsoft Translator vs. Google Translate. The translations were from English to Russian (I speak both languages fluently).
I found that both services delivered pretty identical results in almost all the scenarios tested. Both translators followed the same grammatical logic.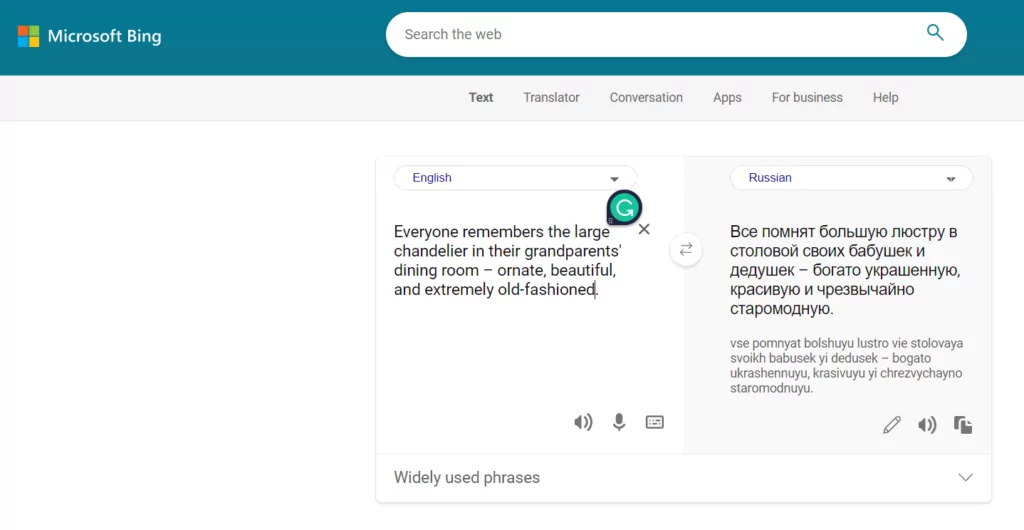 In some cases, like this one, the translations even matched word for word.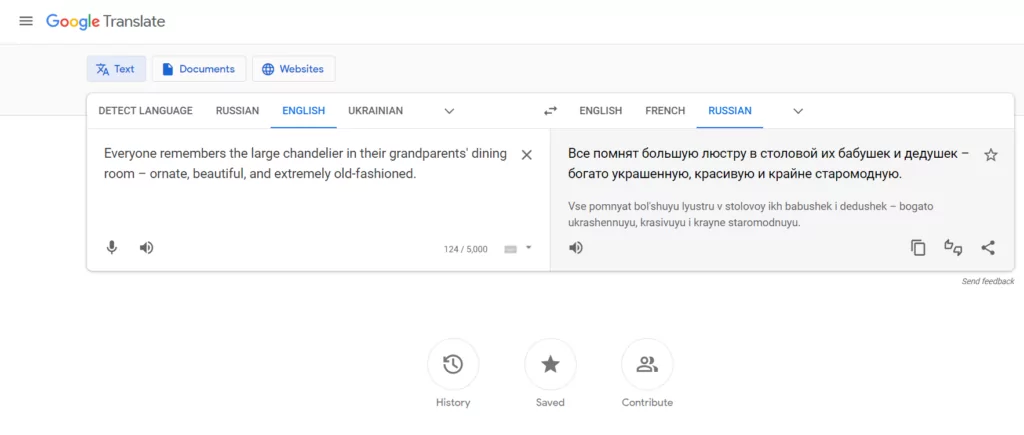 For non-European languages like Afrikaans, the translations from Google Translate were a little more accurate and closer to native speech. But the difference wasn't monumental.
To further put things into perspective, let's consider a third-party test conducted by another competitor, DeepL. In DeepL's comparison of 4 top translation services, Google Translate was rated higher than Microsoft Translator in terms of accuracy. This was consistent for all the language pairs tested (English, German, French, and Spanish).
When it came to translation speed, Microsoft Translator was a bit faster with longer blocks of text. This becomes even more evident when translating voice conversations. Microsoft arguably outperforms all other competitors here. But when you're translating your site, this difference in speed will be hardly noticeable.
Verdict: A tie. Google Translate is more accurate with non-European languages but Microsoft Translator is slightly faster.
Languages Supported
This is one department where there's a clear winner in this Microsoft Translator vs Google Translate comparison. Of all the automatic machine translation tools anywhere, Google Translate supports the highest number of languages. No doubt, this is one of the key factors behind its market dominance.
At the time of this review, Google Translate offers text translations in over 130 languages. That's the widest variety you'll find anywhere in the market. You can find the complete list of Google Translate supported languages here.
In contrast, Microsoft Translator supports about 100 unique languages. Microsoft Translator recently updated its list of supported languages. The new list now showcases 109 "languages". But many of these new additions are only language variations. For example, the Chinese language has the "Literary", "Simplified", and "Traditional" variations. The list includes "Cantonese (Traditional)" as well.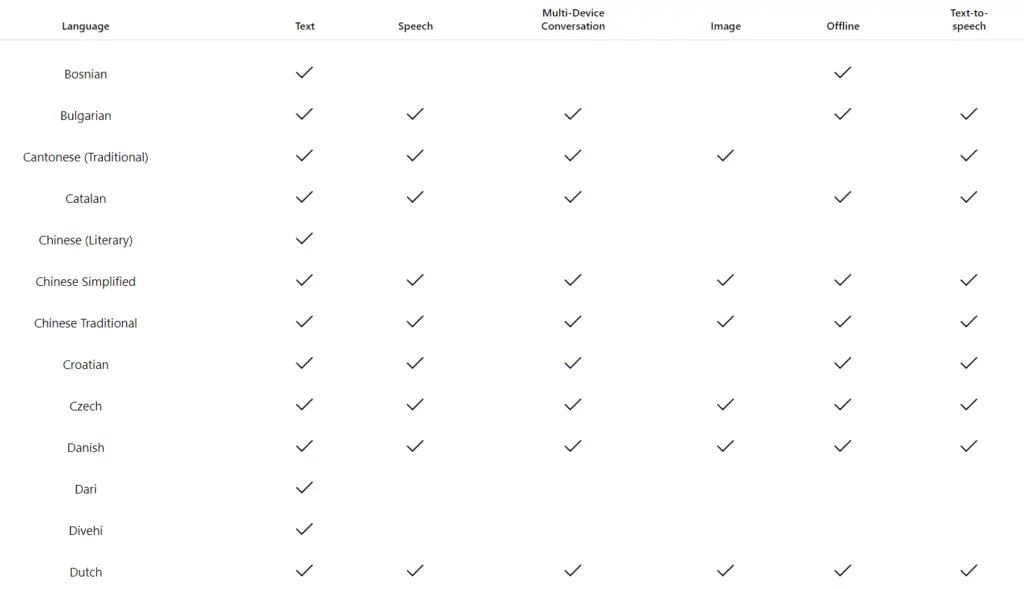 Google Translate also includes language variations. But it has significantly more unique languages than Microsoft Translator. For example, Microsoft doesn't support languages like Yiddish and Xhosa.
In essence, if you're looking for as many language pairs as possible, Google Translate is the way to go. But it's very interesting to see how much Microsoft Translator has improved its language offerings in the last 2 years.
It's important to also note that each service offers different levels of support for different languages. Not every translation feature works with all the available languages.
For example, both services can translate speech and images into popular languages like Russian and German. But you can't translate photos into Yoruba (West Africa) and even into a common language like Arabic.
Fortunately, both services support text translations in all available languages. So, this shouldn't be a concern for multilingual site owners.
Verdict: Google Translate wins narrowly.
User Interface
There isn't much to say in this section. In terms of aesthetics, the decision between Microsoft Translator vs Google Translate will be mostly subjective. Both services use web apps with simple minimalistic designs. They both make it very easy to add source text and select languages.
Microsoft Translator's user interface includes text-to-speech and speech translation features. You can also suggest a custom edit to the translation or simply copy the translation.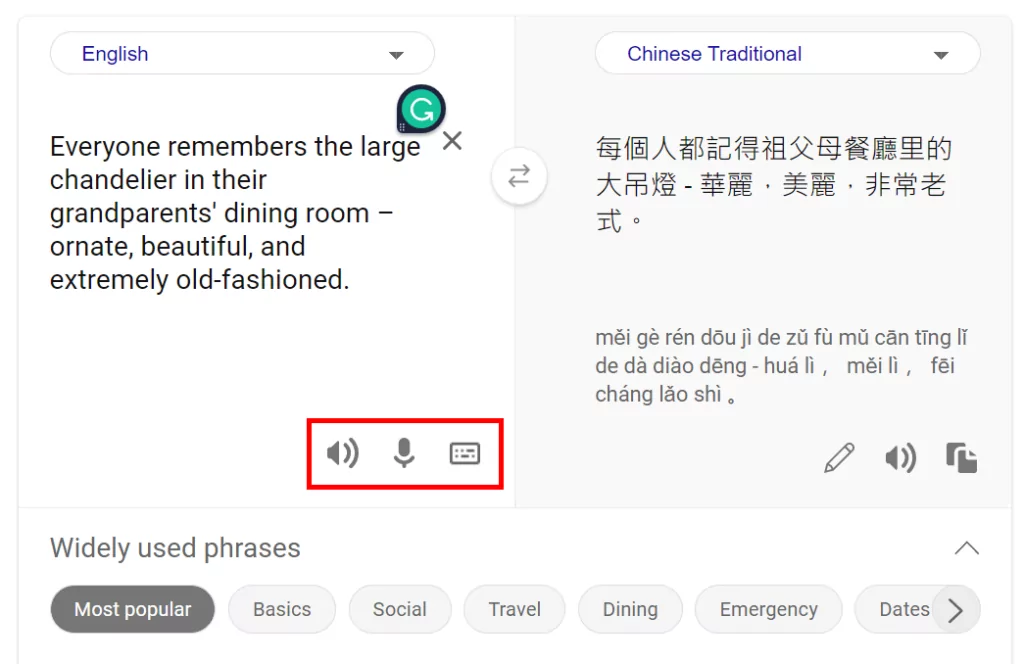 Google Translate's user interface offers the same features and a few others to gain some advantage. The web app goes beyond translating text and speech only. It also allows you to translate entire documents and websites too.
All you need to do is switch to a different tab on the same page. To translate websites, simply enter the URL of the website you want to navigate in another language. Google Translate will then display a translated version of the website in a new tab.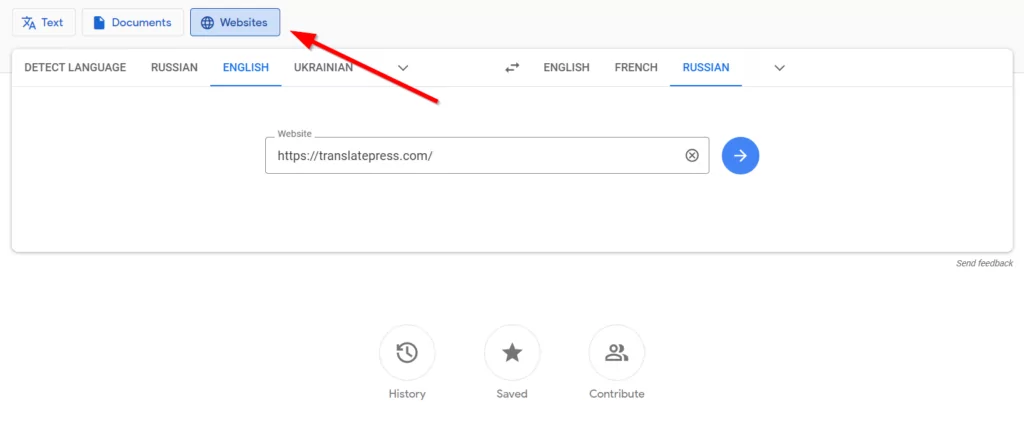 This means end users can now see almost any website in their preferred language. Of course, the quality of the translation is highly reliant on Google's algorithm. In certain cases, the translation may miss out on the context or communicate the wrong emotions to your audience.
This can be quite tricky for a site owner. If you want more control over the translation results, it's best to create a multilingual website. In this case, the translation interface will depend on the tool you choose.
For WordPress site owners, we highly recommend TranslatePress. It's a very easy-to-use WordPress translation plugin with an intuitive WYSIWYG interface. Using this tool, you'll be able to translate your site's content directly from the front end.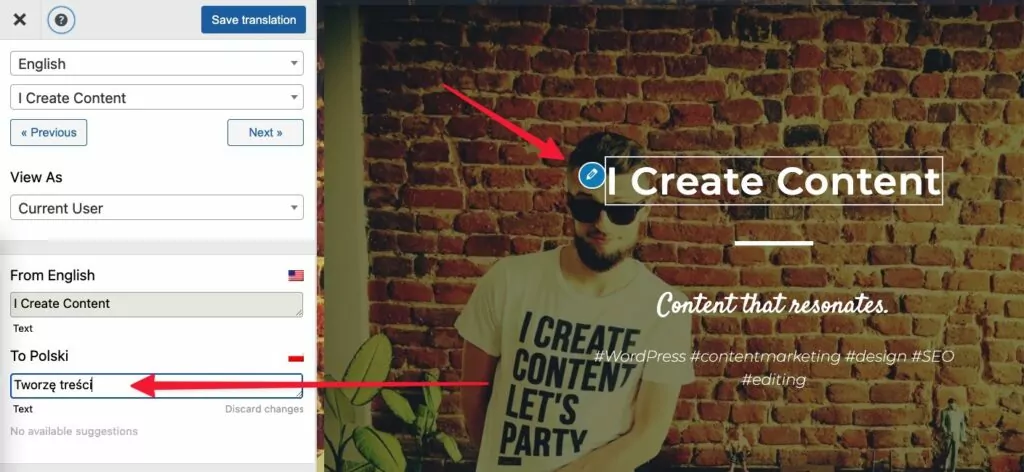 It also integrates easily with the Google Translate API for automatic machine translation. You can learn more about how to use TranslatePress and Google Translate to translate your WordPress site.
Verdict: Google Translate wins with website translation within the web app.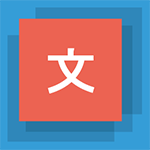 TranslatePress Multilingual
TranslatePress is the easiest way to translate your WordPress site. It's fast, won't slow down your website, works with ANY theme or plugin and it's SEO friendly.
Get the plugin
APIs and Other Features
For most translator services, business owners and developers localize their websites and products using an API. This is the most important integration you'll need for your website translation needs. Both Microsoft Translator and Google Translate offer APIs over the cloud.
These API connections make it easy to translate not only your website content. You can also use them for all types of software applications and tools.
Microsoft Translator cloud API focuses mainly on text translation but offers document translation too. With this integration, you'll be getting the same translation technology that powers tools like Microsoft Office and Bing. The API uses neural machine translation (NMT) technology. It automatically detects the language of the source content and translates it into any of the supported languages.
The Google Cloud Translation API is significantly more flexible. You can either choose between the Basic or the Advanced plan.
The Basic plan translates both text and HTML content. If you want to translate more content types like DOCx, XLSx, and PPTx files, you can upgrade to the Advanced plan. To add audio or speech-to-text translation to your apps, then you'll need the Media Translation API. This particular feature is still in beta mode.
In terms of website translation, Microsft Translator vs Google Translate has fewer integration options. For example, Google Translate integrates with more WordPress multilingual plugins. This is largely thanks to its popularity in the market.
Verdict: Google Translate wins with its flexible integrations for website translation.
Pricing
Finally, let's talk about the department where Microsoft Translator has a clear advantage vs Google Translate.
For both services, you can enjoy free translation services at a certain scale. The easiest way to do this is to copy-paste text translation from the web app interface. You can use this approach for sites with a small amount of copy.
But for sites with more text, you can adopt translation APIs. Even when you opt for APIs, both services offer free tiers for API usage. But Microsoft Translator vs Google Translate is way more generous with its free tier offerings.
For absolutely free, you can translate:
Microsoft Translator API – up to 2,000,000 characters per month
Google Translate API – up to 500,000 characters per month
This means the Microsoft Translator API allows you to translate 4 times as many characters every month for free vs Google Translate API.

When you exceed these monthly limits, Microsoft Translator will still charge you significantly less for the same number of characters. Here's what to expect:
Microsoft Translator API – $10 per one million characters monthly
Google Translate API – $20 per one million characters monthly
This pricing applies to both the Google Translate Basic and Advanced plans. But if you manage to translate more than 1 billion characters in a month, you'll need to contact a sales representative. Google Translate also translates PDF, DOCX, and PPT documents at $0.08 per page.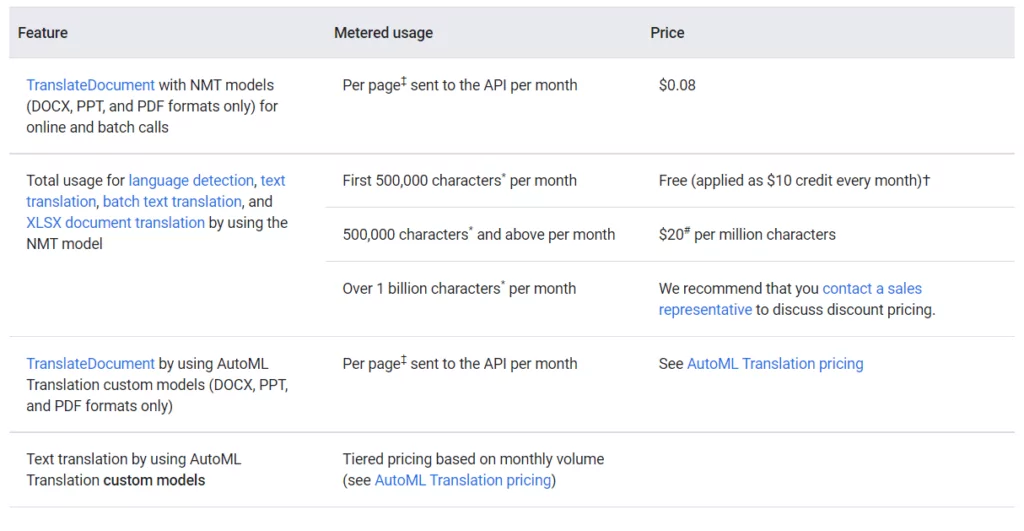 Whether it's paid or free translation API usage, Microsoft Translator offers a more affordable alternative to Google Translate.
Verdict: Microsoft Translator wins with its more affordable plan.
Final Verdict: Which Service Is Better?
In a nutshell, the final choice here depends on your preference. You need to first decide which area you prioritize for your project.
In all the 5 areas we considered, Google Translate wins 3 emphatically. It supports more unique language pairs, has more integration options, and offers more accurate translations for non-European languages.
The major advantage of using Microsoft Translate vs Google Translate is in its pricing. For half the price, you can translate the same 1 million characters every month. Even on the free tier, Microsoft Translator offers 4 times as many translation characters monthly.
To sum it all up, Google Translate is hands down a more robust translation solution. If you have a WordPress site, TranslatePress makes it super easy to integrate it into your site.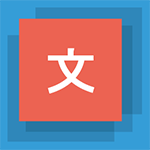 TranslatePress Multilingual
TranslatePress is the easiest way to translate your WordPress site. It's fast, won't slow down your website, works with ANY theme or plugin and it's SEO friendly.
Get the plugin
On the other hand, Microsoft Translator has gained significant ground in the past few years. It also remains the perfect option for site owners and developers on a tight budget.
We hope this article has helped you make the right choice between Microsoft Translator vs Google Translate. Also, kindly let us know if you have any questions in the comments section below.
If you found this post helpful, please check out our YouTube channel, where we constantly upload short & easy-to-follow video tutorials. You can also follow us on Facebook and Twitter to be the first to know each time we post.