Machine translation software is a valid option for your translation needs, from documents to localizing your website. It's cheap, fast, and constantly getting better. However, when you choose to use machine translation, especially to translate your website, it is important that you understand what you are getting into.
To help you do so, in this post we are taking a deep dive into the topic of machine translation software. We'll explain what it is, how it works, as well as its strengths and weaknesses. After that, the article covers the seven best options for translation software out there with recommendations for what to use for different purposes. Finally, we'll show you how to use machine translation for translating your website.
What Is Machine Translation and How Does It Work?
Machine translation refers to the automated process of translating text or speech from one language to another using computers. Instead of human translators, it's algorithms and — more recently — artificial intelligence that do all the heavy lifting.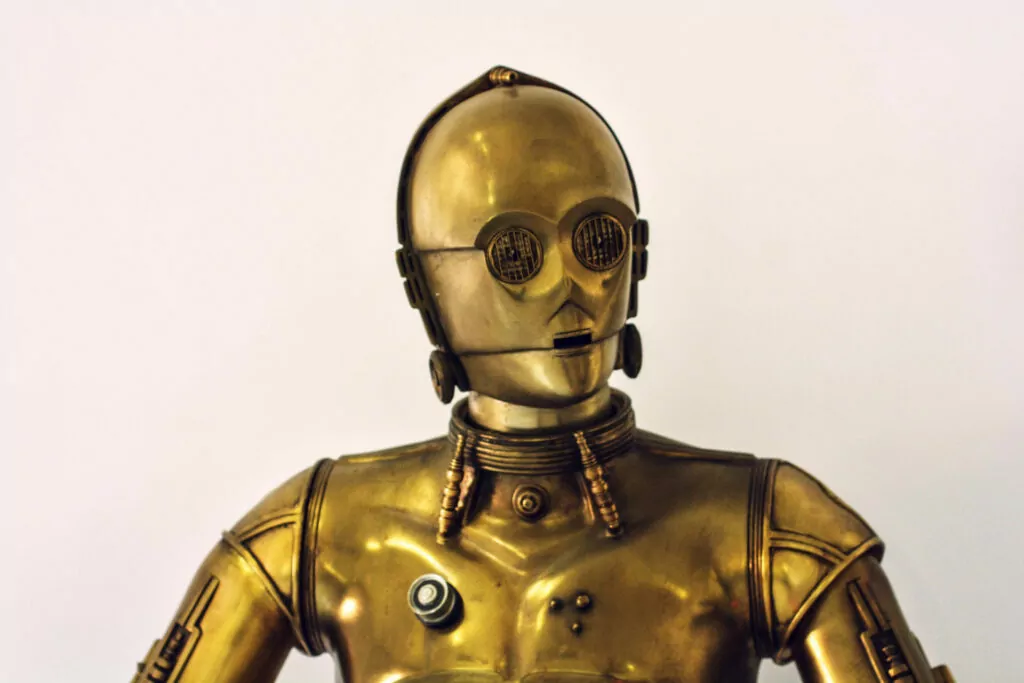 As you will see below, there are many software solutions for machine translation out there. However, before considering using one, it's critical that you understand the implications of doing so.
What You Need to Consider When Using Machine Translation
Not all machine translation providers are created equal. When choosing one, it's important to use a reliable service in order to ensure:
Translation quality — Accuracy and quality are paramount when it comes to translation. Reliable machine translation software has been trained on vast amounts of multilingual data. This ensures that what it produces is accurate and linguistically sound and that it conveys the intended message in the target language.
Consistency — Consistency is vital, especially for businesses and organizations that use specialized terminology across various translated documents or platforms. A good machine translation solution adheres to predefined glossaries, style guides, and includes translation memory. That way, it makes sure that the same terms and phrases are translated consistently throughout for coherent output.
Confidentiality and security — Language translation often involves sensitive information. This is especially true for legal documents, medical records, or business contracts. For that reason, it's paramount that you choose a solution that prioritizes data privacy and security. Look for software providers that offer secure data transmission, encryption, and strict privacy policies to safeguard confidential information.
Customization and adaptability — Different industries and domains have specific language requirements and terminology. Your software solutions of choice ideally allows for customization and adaptation to specific domains, providing industry-specific translations that align with the vocabulary and language conventions of your field. This enhances the accuracy and relevance of the translations.
Ongoing support and improvement — Language is constantly evolving, and new phrases, idioms, and expressions emerge all the time. Reliable machine translation software providers offer regular updates and improvements to their systems, That way, they can ensure the translations remain up-to-date and reflect the evolving language trends. Additionally, they provide ongoing technical support to address any issues or concerns that users may encounter.
Benefits and Limitations Compared to Human Translation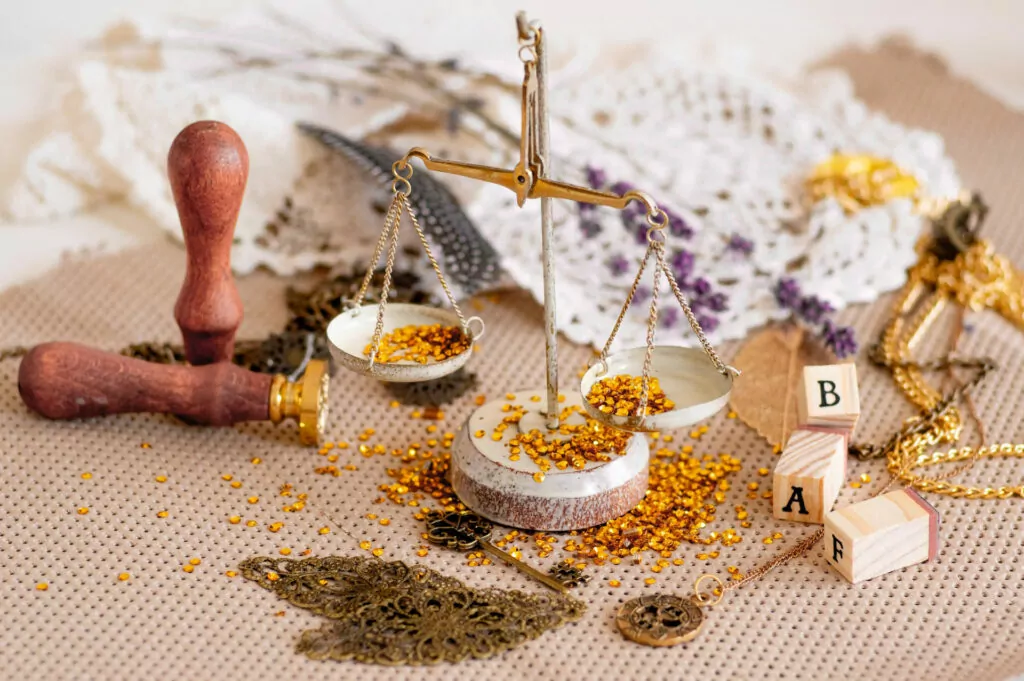 Compared to translation done by an actual person, machine translation offers several benefits but also shortcomings. Let's go over those now.
Advantages of Machine Translation
First, the benefits:
Easy to use — You don't need a lot of technical skill to make use of machine translation software. In most cases you simply pick your source and target languages, input the content, and you are good to go. Automatic translation is also easier to scale than hiring more human translators.
Fast — Just like mathematics or other complex mental tasks, machines tend to be faster at them than human beings, especially when you deal with a lot of content. Machine translation software can process thousands of words almost instantly, humans usually take a little longer than that.
Cheap — Another consideration is cost. Machines can do translations at a fraction of the cost of human translators. The latter starts at around $0.10/word at the low end, on the other hand, you can get 100,000 words translated by a machine for just $20. This makes it cost effective especially for high volume translations.
Integrate with other platforms — Most of the available machine translation software offer APIs to connect to other platforms and make their services available within different translation workflows. We'll talk about an example for website translation further below.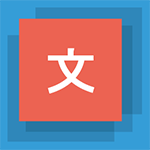 TranslatePress Multilingual
TranslatePress is the easiest way to translate your WordPress site. It's fast, won't slow down your website, works with ANY theme or plugin and it's SEO friendly.
Get the plugin
Drawbacks of Using Machine Translation
Of course, machine translation also has areas where it's not as good as human translations and that is:
Accuracy — While machine translation has gotten a lot better over the years, the highest accuracy it usually achieves is only about 90-95%, less if you have difficult language pairs. While that's enough for some cases, for things like contracts, marketing material, or other content where language accuracy is absolutely crucial, it's simply not enough. Human translators are also better at capturing original intent, not just converting words (see the difference between translation, transcreation, and localization).
Nuance — Machines don't understand context and may struggle with accurately capturing the subtleties, nuances, and ambiguities of languages. Human translators, with their contextual and cultural knowledge, can provide more accurate and succinct translations.
Specialized knowledge — Finally, machine translation software often lack domain-specific knowledge and vocabulary. Translating specialized texts, such as medical or legal documents, requires a deep understanding of the subject matter, which machines may not have. Human translators with expertise in specific domains can do a better job here.
As is probably obvious from the above, for the best results, it makes sense to use both of these techniques together. That's why these days machine translation is usually integrated into the tools that human translators use for their work. If you want to learn more about this topic, check out our post on machine translation vs human translation.
7 Best Machine Translation Software Options
Alright, now that we have settled on what machine translation software is and what it can do, let's talk about which options there are.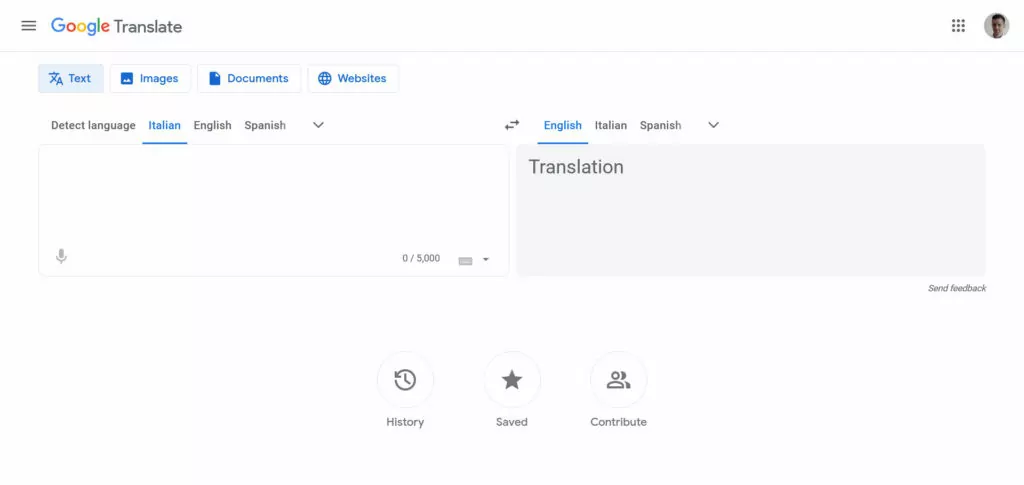 Google Translate is probably the most well-known machine translation solution out there. While its translation quality was the butt of many jokes when it just started out, it has greatly improved over time. By now it uses machine learning and neural networks to translate text, documents, websites, and speech across multiple languages pretty accurately.
For example, you can simply enter the URL of a website and it will automatically provide you with a translated version.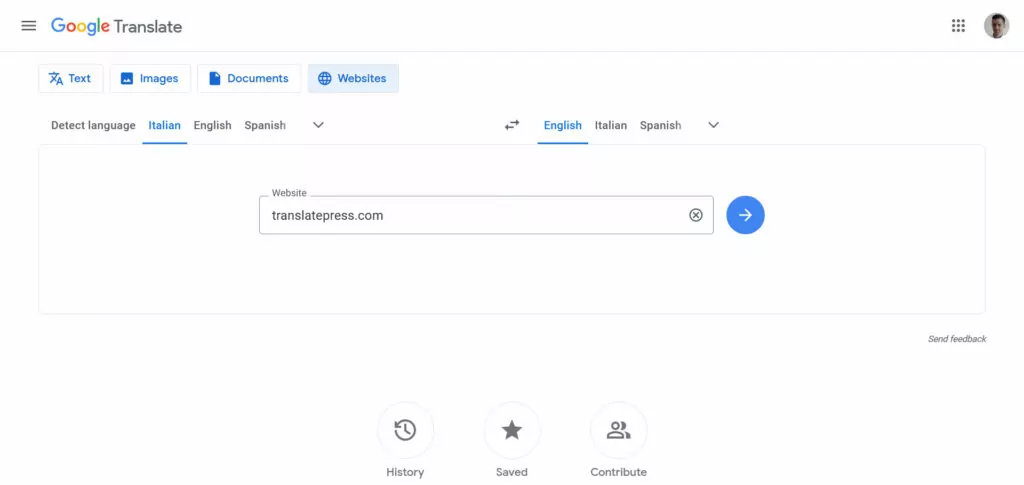 When you download the app on your phone, you can even have it translate text out in the wild just by pointing your camera at it. The software is also very easy to use and supports a multitude of languages (100+) and language pairs. Finally, it offers an API to make it available in other software, including TranslatePress.
Pricing
The basic usage of Google Translate is free, however, there is also a cloud translation service that requires payment. After the first 500,000 characters it costs $20 per million characters. You can also have your own custom model trained, e.g. for specialized industries that you need translation for.
Use it for: General, document, text, and website translation.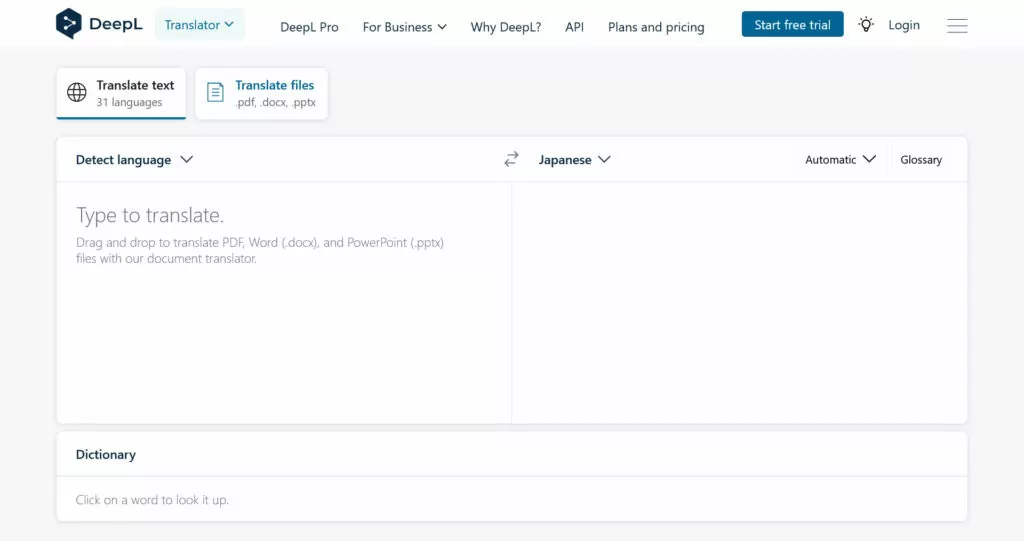 The next machine translation software we want to talk about is DeeplL. It was developed by a company that focuses on improving machine translation through deep learning. The software is known for its advanced neural machine translation technology resulting in high precision and nuance. For example, for applicable languages, you can choose between formal or informal tones.
DeepL offers fewer languages than Google Translate, 31 at the time of this writing and it can translate text and files such as Word and Powerpoint documents directly on the homepage. You also have the ability to edit translations by picking different word alternatives until you are satisfied. Plus, you can create your own glossary and DeepL has a built-in dictionary.
Furthermore, this machine translation software can integrate with CAT tools and has a strong focus on data security. Besides that, it's also one of the options you can use in TranslatePress.
Pricing
DeepL offers a free version for up to 3,000 words, three files, and one glossary. Paid plans start at $8.74/month and offer unlimited translations and increasing numbers of file uploads, glossaries, team members, and more. The software also offers API access.
Use it for: General and document translation.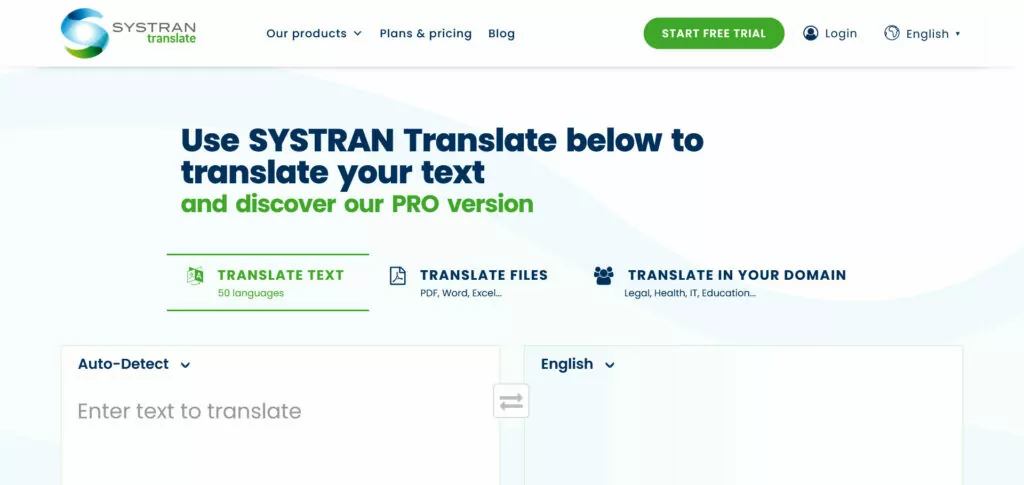 Founded in 1968, SYSTRAN is one of the oldest commercial machine translation services. Naturally, they have updated their capabilities over time with neural machine translation and artificial intelligence.
Like all other machine translation software providers on this list, they offer a free tool on their website. Here, you can translate text up to 5,000 characters and up to three documents.
What's special about SYSTRAN is that they have pre-trained translation models for different industries such as agriculture, health, or energy. That makes the software easier to use in particular areas of business without having to bring in your own dictionary.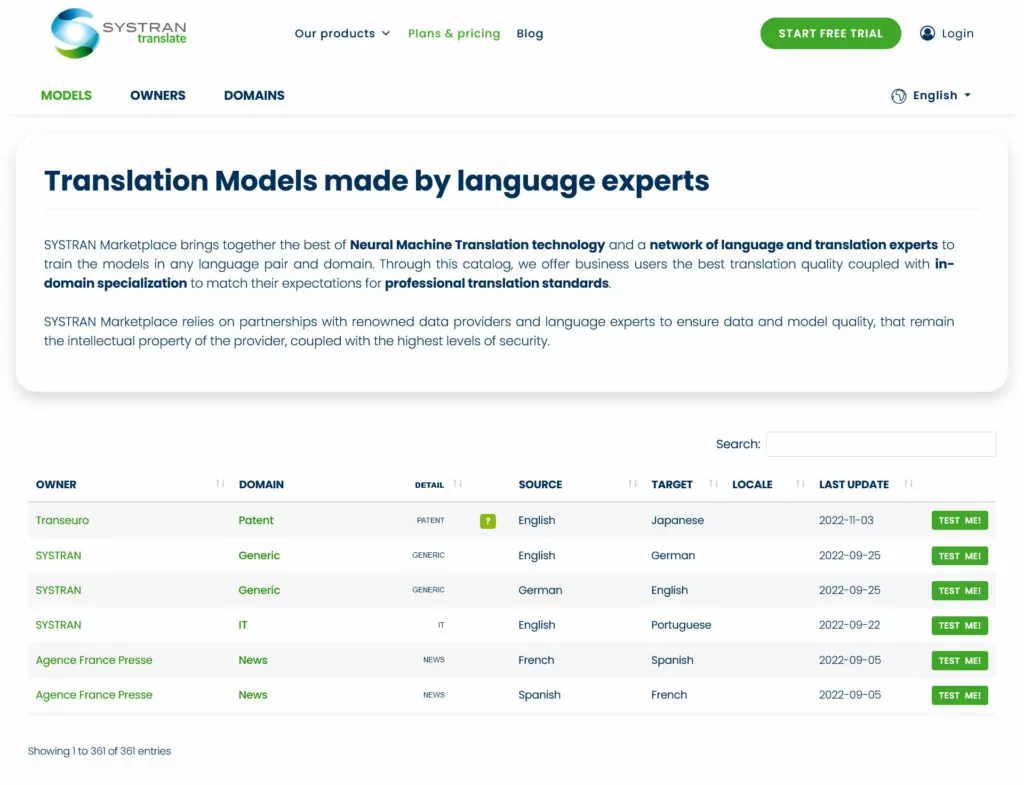 Their service supports 50 languages and 150 language pairs and offers an API to integrate it into other software (500,000 characters for free per month) such as CAT tools. You can also use it for ad-hoc translation inside your browser.
Pricing
Besides the free offer and a 14-day free trial, SYSTRAN has several plans for their Pro product starting at $5.49/month if paid annually. With it, you get unlimited text translation and increasing numbers of document pages per month, which is what SYSTRAN seems to specialize in. However, if you want to translate PDF files, you have to go for at least the mid-tier plan, which is $15.49/month. SYSTRAN also has different offers for developers and enterprise clients.
Use it for: Document translation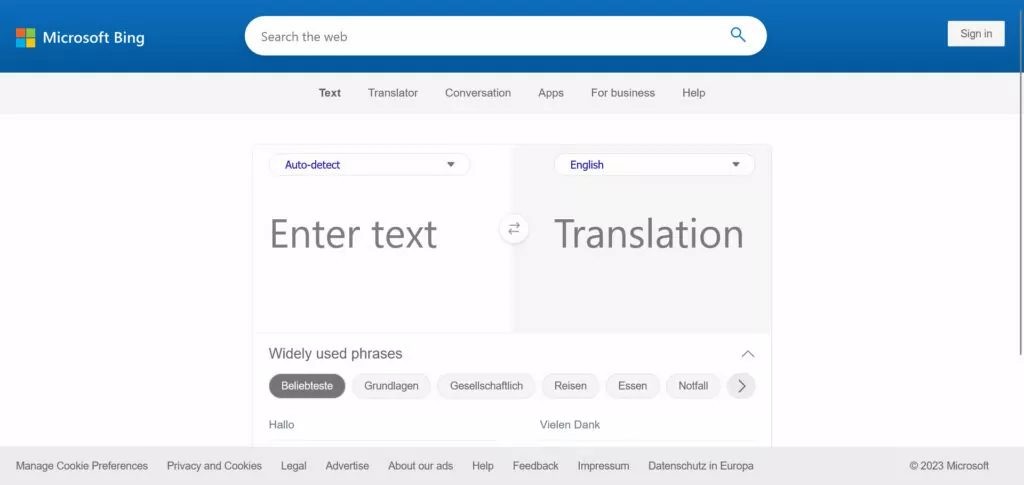 Next up, we have a machine translation cloud service for text and speech translation. Bing Microsoft Translator (the name is really a mouthful) supports more than 100 languages and allows you to translate from images, voice, options, and links.
It has an app that can translate street signs and more out in the world. You can even use it to have your conversations translated instantly and it integrates with Microsoft Word as well. Besides that, the software comes with translation memory, a project management dashboard, and the usual API.
Pricing
Bing Microsoft Translator offers a free version for up to two million characters per month, including custom training for your translation model. After that, it has a tiered pricing structure.
When using the pay-as-you-go option, it costs $10 per million characters of text translation, $15 for documents, and $40 for custom translation. There are also packages where you get a discount for high volume, e.g. 250 million characters per month for $2,055. It gets cheaper per character the more you commit to it.
Use it for: General, real-time translation.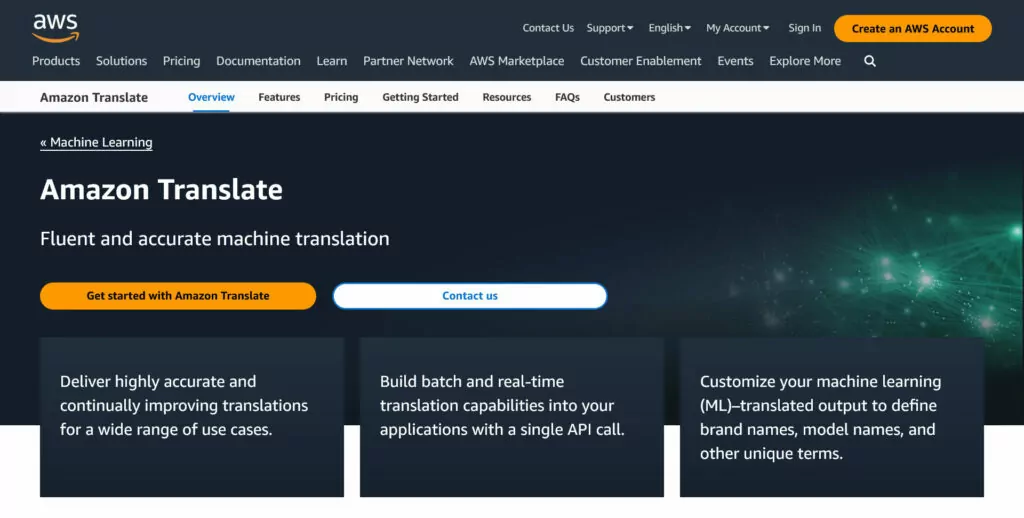 Amazon is not just e-commerce site but also provides a translation tool as part of their Amazon Web Services (AWS) offering. It's a trainable, neural network-based machine translation service via API that supports more than 5,500 translation combinations across 75 languages.
It mostly aims at customer communication such as translating content and customer support. Amazon Translate allows you to build customized models with your own data and terminology. It can also do both batch and real-time translation for documents, web applications, websites, and more.
Pricing
The service has a free tier where you get two million characters worth of batch and standard translation per month for free for a year and 500,000 characters for active custom translation. The latter is what Amazon calls translation models you can train without your own data. After that, it's $15 per million characters for standard, batch, and real-time translation. Active custom translation costs $60 per million characters.
Use it for: Document and website translation.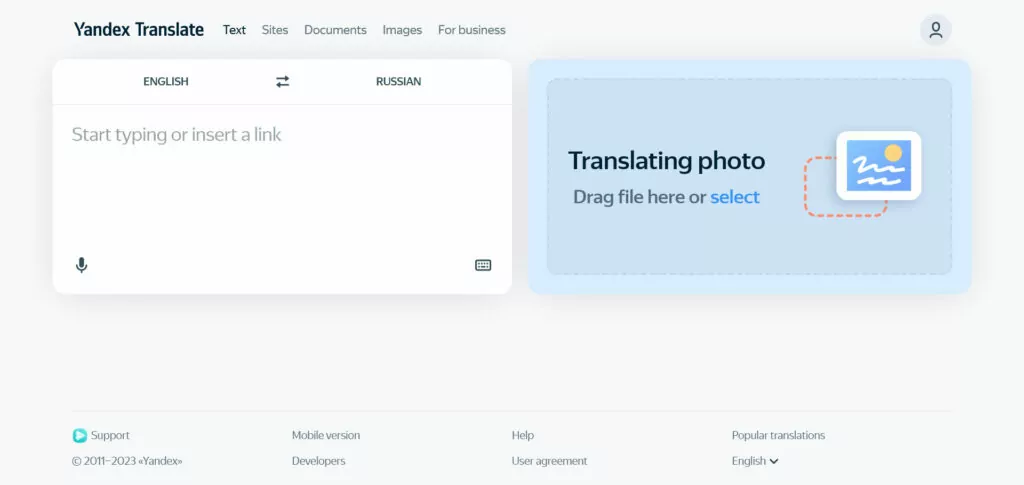 Like other search engines on this list, Yandex also offers its own machine translation software. What's particularly interesting is that it focuses on less conventional language pairs based on the countries the service is most popular in.
The most used language pairs are between English and Afrikaans, Amharic, Azerbaijani, Belarusian, Bulgarian, Bosnian, and other smaller languages. Besides Russian, of course, since that's where Yandex is from. Overall it supports 102 languages.
Yandex Translate can convert text, images, websites from a link, and documents. It also has a cloud translation service for e-commerce, social and communications apps, and news and social sites. By the way, you may want to check how it compares to Google Translate.
Pricing
Using the online service is free. If you want to use the cloud platform, translation costs just $3.94/month for a million characters and plans start at 100,000 characters.
Use it for: Translation of e-commerce sites, apps, and news websites.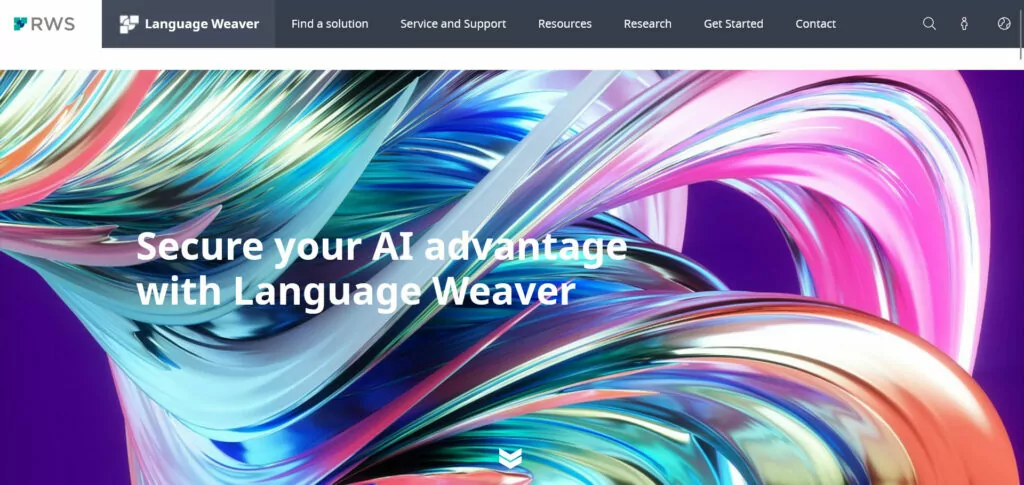 Language Weaver is another provider of automatic machine translation and one that focuses on enterprise clients. It uses neural language processing and offers an API to organizations that have extensive translation needs such as global enterprises and government entities. Besides that, the site offers localization services and international content marketing.
Pricing
Prices are only available on inquiry.
Use it for: Enterprise translation needs.
Using Machine Translation With TranslatePress for Automatic Website Translation
Now that you know your options for machine translation software, the question remains how to best use them to translate your WordPress website? It's not always the easiest, especially if you are not a developer who knows how to work with APIs.
You can, of course, manually copy your content into the tools, translate it, copy it back, then reformat and publish it. However, as you can probably imagine, that's not the most efficient way of doing things.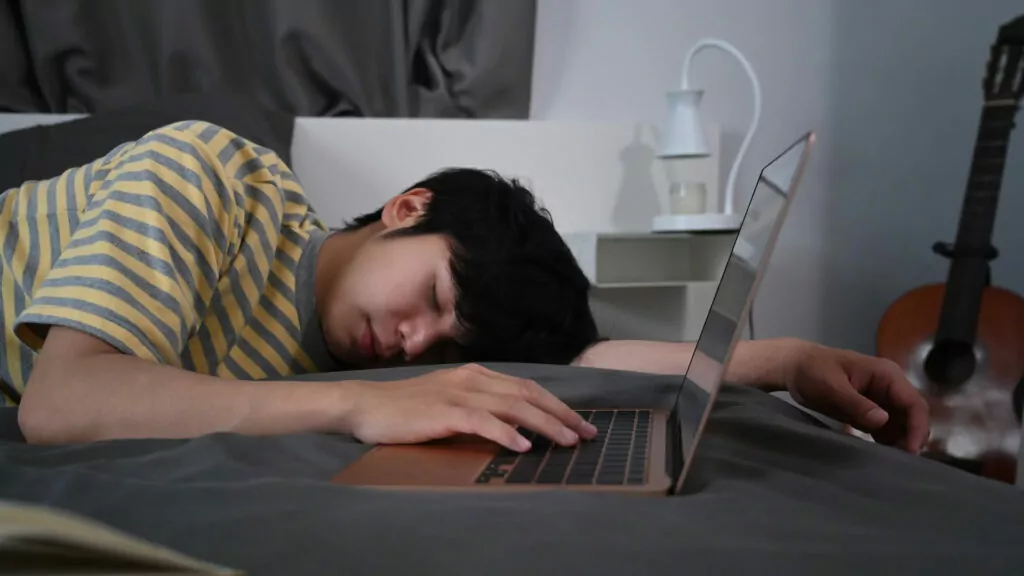 Another option is to use a WordPress plugin that integrates with machine translation software to automate much of the process. Luckily, that's exactly what TranslatePress does. Here's how our plugin can help you make automatically translating your website much easier.
Configure Machine Translation Settings
The first thing you need to do to use machine translation for your WordPress website is to activate it. For that, after installing and activating TranslatePress, go to Settings → TranslatePress → Automatic Translations. Here, the first step is to use the drop-down menu to set Enable Automatic Translation to Yes. Once that is done, you get access to the rest of the options.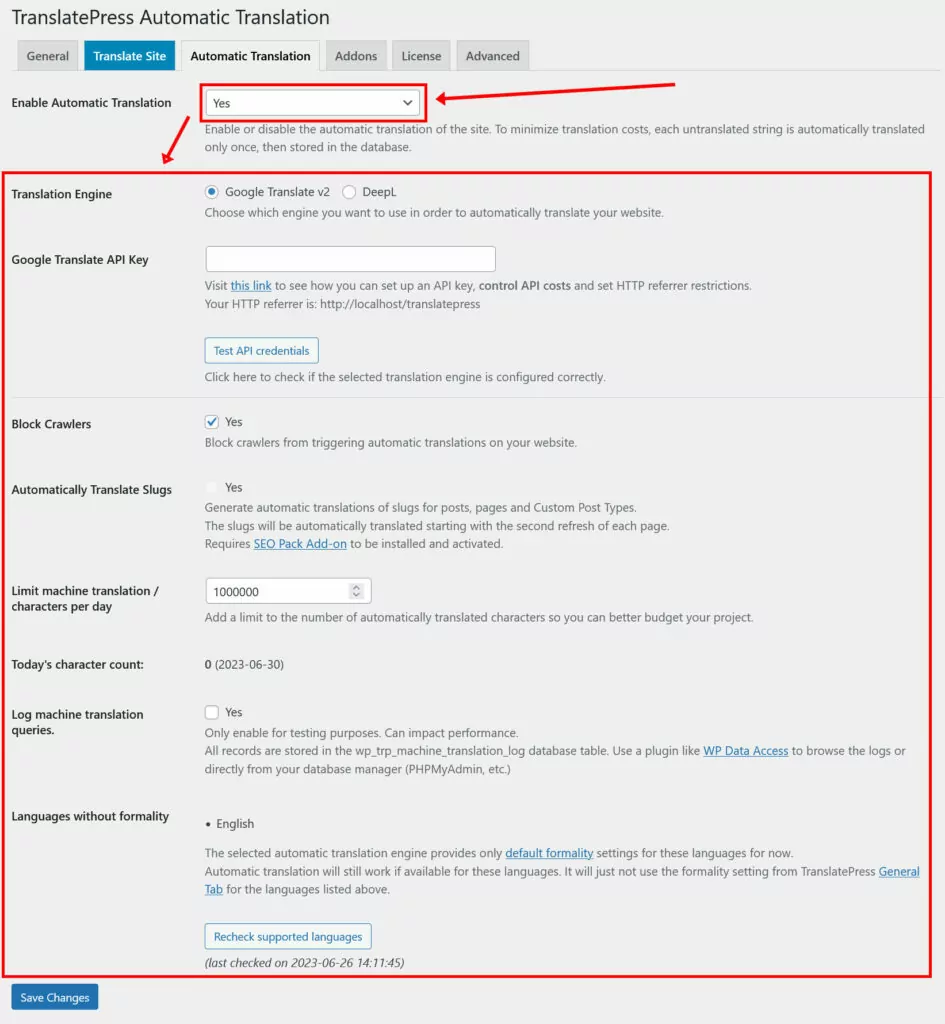 You want to start by choosing your translation engine. In the free version of TranslatePress you only have access to Google Translate. Owners of a Business or Developer license can also opt for DeepL.
Whichever you pick, the next step is to input the API key for your machine translation software of choice. Check the instructions for Google Translate and for DeepL on how to obtain one. You can also use the link underneath the input field to find these.

When you have done that and saved, you are pretty much good to go. However, you might also want to look at the settings further below, where you can limit the characters to translate automatically per day.

This can be important to limit any costs you incur from these translation services as this is not something that runs through TranslatePress but something you arrange with the providers directly. The menu also shows the number of already machine translated characters per day.
Use Automatic Machine Translation
Once done with the configuration, using the machine translation is very easy. Simply click on Translate Site in the WordPress admin bar or TranslatePress settings.

This gets you to the main TranslatePress translation interface.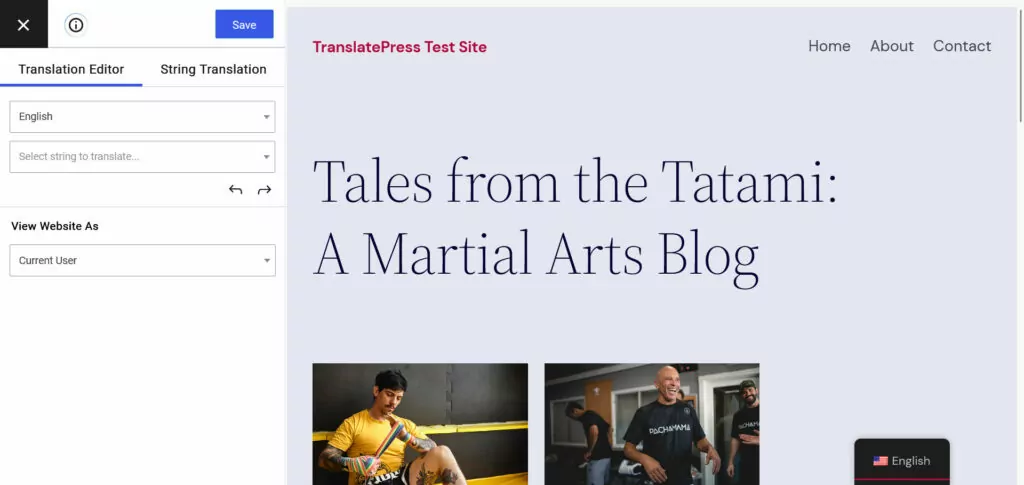 Navigate to the page you want to convert to your target language, then choose your desired content either through the drop-down menu, forward and backward arrows, or by clicking on any string in the preview screen.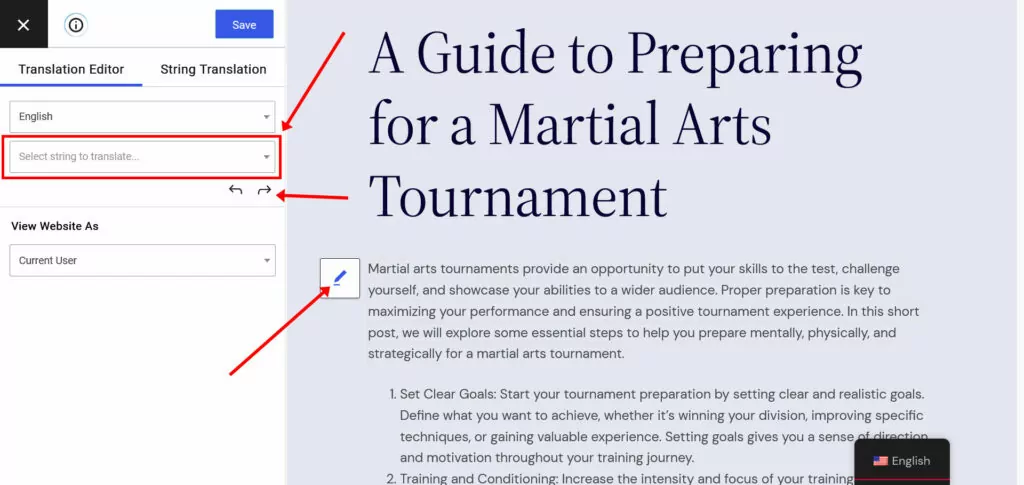 The moment you do, you should immediately see your target-language field filled in with an automatic translation.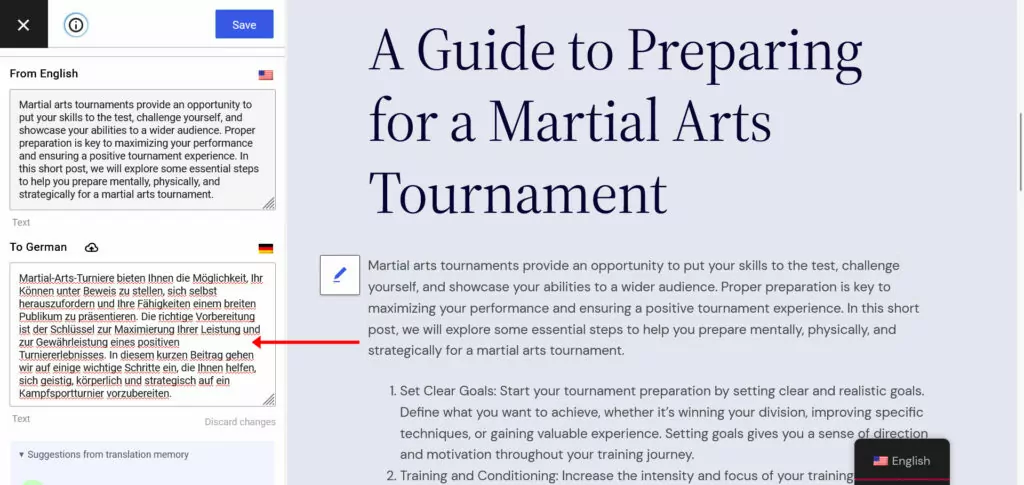 All that's left to do is correct or fine tune it, then click Save (alternatively Ctrl/Cmd+S) to make it permanent – done. Easy, wasn't it?
Final Thoughts: Machine Translation Software
Machine translation can greatly accelerate the time it takes to convert your content or website into another language. By now, models have become so sophisticated that they are able to do the bulk of it for you quickly and easily.
For some types of content, they can even completely replace human translators. However, in most cases, it's best to use a human touch for fine-tuning and review to assure high quality.
Above, we have gone over a few of the best machine translation software providers out there. They are suitable for different use cases including website translation. However, to use them for this purpose, you either need to do a lot of manual work or possess enough technical knowledge to use the APIs they offer.
If neither of that sounds appealing, using a website translation tool like TranslatePress that integrates with machine translation software directly is the fastest way to offer your WordPress website in another language.
What is your favorite machine translation software provider and why? Let us know in the comment section below!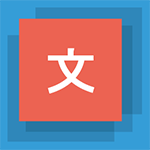 TranslatePress Multilingual
TranslatePress is the easiest way to translate your WordPress site. It's fast, won't slow down your website, works with ANY theme or plugin and it's SEO friendly.
Get the plugin