Website localization can represent a considerable commitment in terms of time and resources. But with the right approach, it can lead to increased traffic, conversions, and revenue 🚀. That's all fine, but to pull it off properly, you need to avoid some common website localization problems.
In this post, we will show you ten of the biggest website localization problems and mistakes, and then give you some pointers on how to not make them. 🙅‍♂️
1. Translation quality
Good website localization starts with high-quality translations. This is crucial to ensuring a successful online presence for your business.
In other words, translation quality is important because it ensures that your website is understood by people in other countries. Those people are your potential customers.
If your translations are inaccurate or not up to par, customers will quickly lose interest.
Okay, so how do you get better translation quality? Let's get the obvious out of the way first; you can hire a professional translation agency (we listed some of the best ones here).
However, this can get costly, so to save money, you can go for a hybrid approach. You can try translating some of your website texts yourself (or with the help of your team), and then hire someone native through Fiverr or Upwork to read through your texts and make corrections where needed.
2. High cost
There's no getting around it, when it comes to cost and quality, they are always intertwined. On the one hand, you want good translations, but on the other, you also don't want to lose your shirt in the process.
If you don't have the ability to translate website content on your own and you also don't want to hire freelancers from Fiverr and Upwork, you should try automatic translations.
Modern website localization tools allow you to integrate your site with Google Translate and DeepL (a more advanced AI translation solution) relatively easily – here's how to integrate your site with Google Translate, and here's how to enable DeepL.
You can use this approach to reduce costs and speed things up by having your website translated faster, and then simply hiring a professional to review the translations.
3. Difficult updating and maintenance
Common among website localization problems that site owners stumble into is keeping their translations up-to-date and maintained alongside the main (native) version of the site.
The core difficulty is in having the tools that allow for easy updates of this kind.
Even if you've worked with a translation agency, they've most likely delivered their texts in the form of a Word Doc. While this is no concern when you're adding the content initially, it becomes impossible to then do smaller translation updates in the same manner.
If your site runs on WordPress, you can use TranslatePress as your translation engine. TranslatePress allows you to edit your translations piece by piece, through an easy-to-use interface.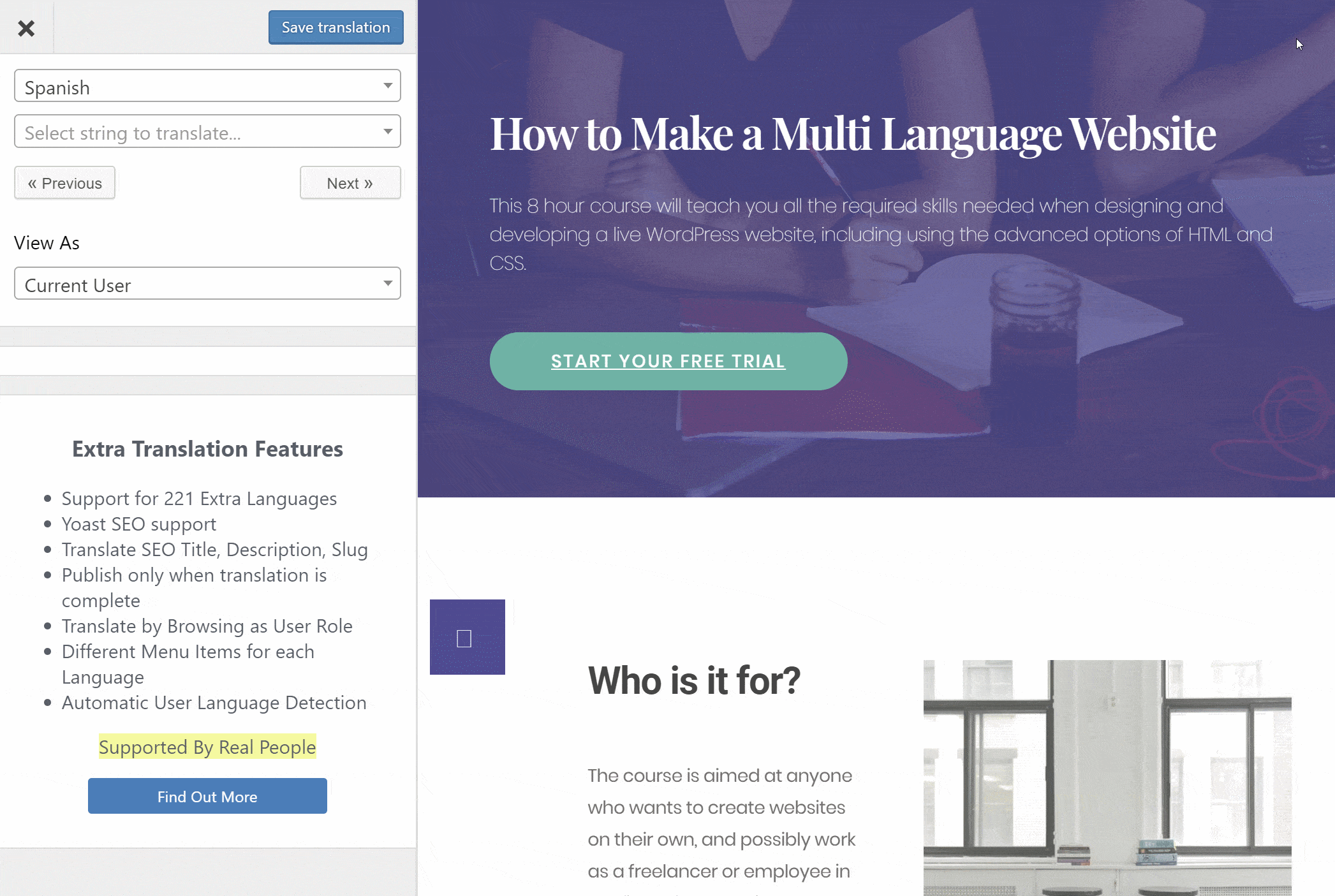 4. Cultural nuance
Localizing your website is not only about getting all your texts and translating them to another language. Or, at least, that's just one piece of the puzzle. 🧩
The thing is, common communication patterns in one language might not translate well to another one. There are multiple expressions that work well only in the source language.
The same thing goes for things like date and time formatting, distance, currencies, etc.
Just one quick example, which you're probably already familiar with:
Let's take a totally random date, like 05/04/2022. For a person in the US, this is May 4 – or, "May the 4th be with you" – the official Star Wars day. For everyone else around the globe, it's just plain old 5 April.
5. Not localizing images
Your images might need some localization treatment to match the cultural nuance of your text. For example, if you're writing for the Spanish market, you might want to use imagery that reflects this and manages to resonate better with the visitor. Or you might have images containing text in a certain language.
What this means in practice is you'll need to show different images in different locales. This might seem difficult at first, but you can add this ability to your site pretty easily with TranslatePress. Here's how to translate your images.
6. Not handling RTL scripts properly
According to W3, more than 2.3 billion (!) people worldwide speak languages using RTL (right-to-left) scripts. With Arabic being the most popular of these languages.
Apart from this number being absolutely stunning, what it also means is that we should be very careful to make our sites compatible with RTL scripts. Again, it's not always a question of simply displaying texts from right to left, but also making sure that the design of the site still makes sense and resonates in the same way.
TranslatePress supports RTL languages by default, plus it also allows you to add custom languages and set them to RTL as well.
7. Broken characters and other technical issues
Computers can handle the Latin alphabet pretty easily. You'll hardly ever find websites that display Latin characters in any broken way.
Many languages, however, use all sorts of accents and diacritical marks (é, ë, ø, ż, æ, č, ŭ, ą), which can create problems for sites that don't support the correct character set.
You really don't want your site to look like this: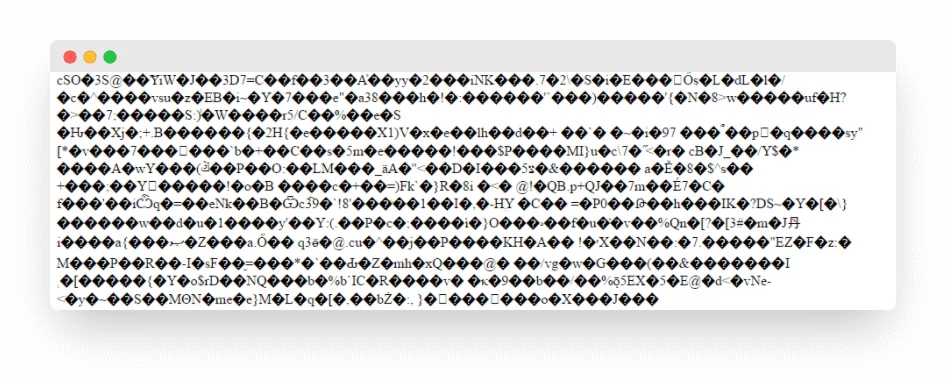 To make sure your site does not suffer from this common website localization problem, switch to a font catalog that supports these extended marks by default. For instance, Google Fonts is very effective at this.
8. Not doing multilingual SEO
We all know that SEO is a key element in making our sites visible online – not to mention successful. However, SEO is not a one-size-fits-all kind of thing. For best results, you should treat each of your website locales separately.
This means that you need specific optimizations in place for your main language version as well as all the additional ones.
However, the ability to do something like this is not usually built into whatever website engine you're using.
For instance, if your site runs on WordPress, you can work on multilingual SEO only through a solution like TranslatePress. The process itself is very approachable. Here's a complete walkthrough.
9. Forgetting about site notifications
Site notifications are an important part of the overall user experience that someone gets when they visit your site. They can provide users with a sense of urgency and help them quickly find out about something that is happening on the site.
This is about things like all kinds of pop-ups that you might have on the site (for email newsletters or new promos), contact form confirmations, cookie banners, etc.
These notifications should be designed in such a way that they are as unobtrusive as possible and do not get in the way of other tasks. And this is where some website localization problems come into play.
Many website owners simply don't remember about having to translate all those elements. So in the end, a visitor might be reading the site's content in Spanish, only to be prompted by an English pop-up trying to convince them to subscribe to a newsletter.
10. Not using the right tools
Your ability to localize your site effectively depends just as much on the localization and translation quality itself as it does on the tools you're using.
The classic way to localize sites some years ago was to simply have different sites for each of the locales. While this did its job, it wasn't the most efficient arrangement, since you basically had to maintain multiple sites instead of just one.
Nowadays, however, you have access to tools like TranslatePress, which make all this much easier and let you localize effectively all within the confines of your original, single website.
TranslatePress also supports a number of localization mechanisms and features natively, such as hreflang tags and multilingual XML sitemaps.
Most importantly of all, TranslatePress doesn't require you to have any coding knowledge in order to make changes to your site. Everything's available through an easy-to-use interface.
There are only a couple of simple steps to getting started with TranslatePress:
Install TranslatePress
TranslatePress is a WordPress plugin, and as such you can install it by going to the Plugins → Add New section of the wp-admin. From there, enter "TranslatePress" into the search box and then install and activate the plugin.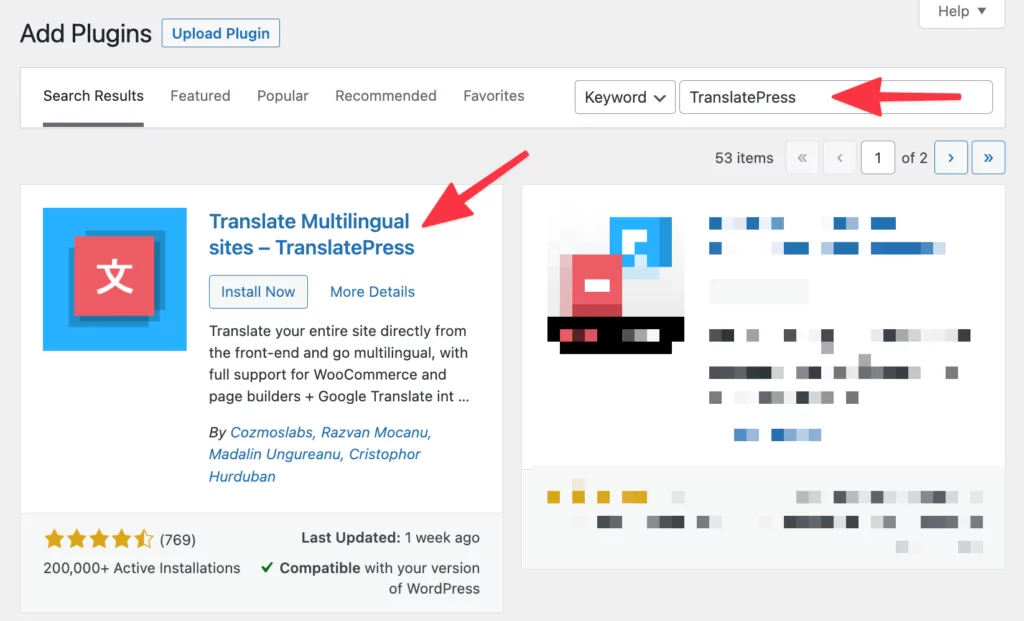 Set your languages
With the plugin active, go to Settings → TranslatePress to set the languages that you want to use for your website locales.
The first language up top is the default; you can set additional ones beneath it: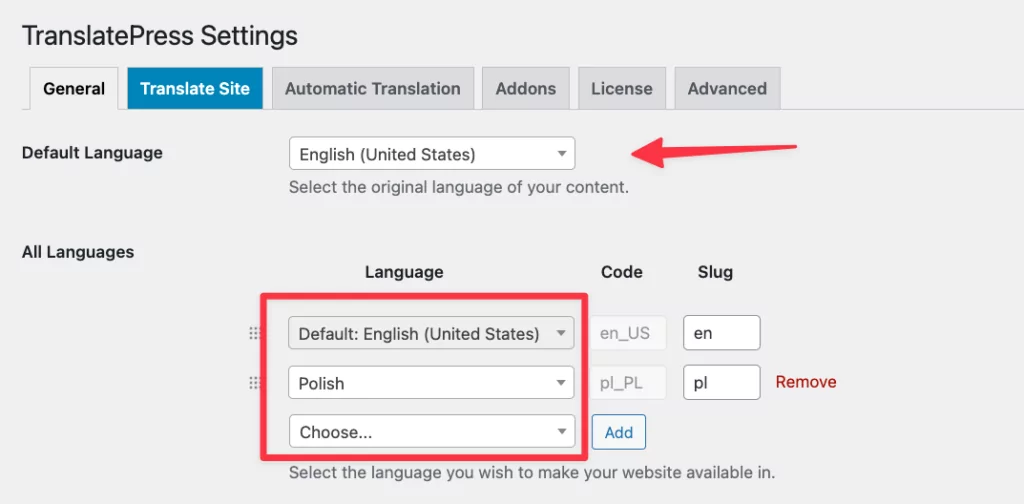 ℹ️ With the free version of TranslatePress you can set one additional language. If you need more, upgrade to one of the pro versions.
Add your translations
At this stage, you can go to any of your pages and add translations. Start by clicking on the Translate Page button up top:

Then enter your translation in the sidebar, and click on Save translation when you're done: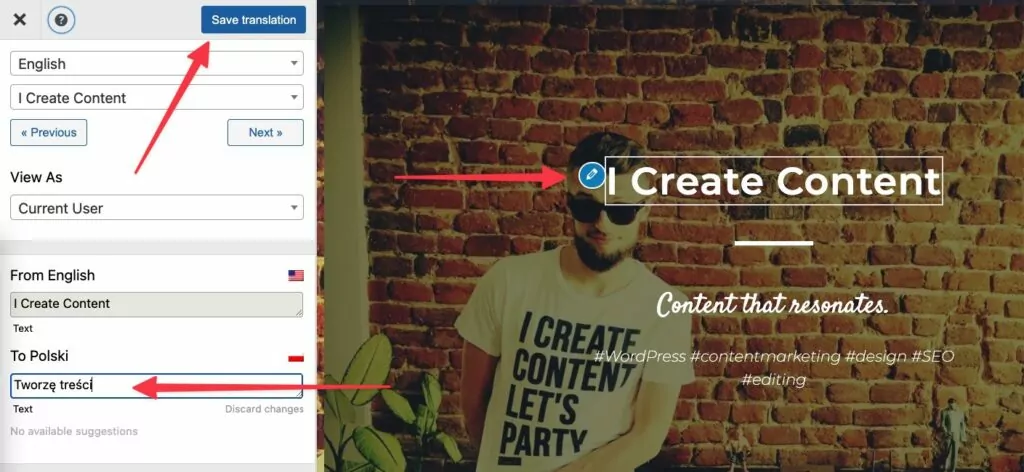 That's it! Website localization problems no more!
We hope that this list of common website localization problems will help you improve your site and make sure that it can be read and enjoyed by audiences around the globe.
If you want to learn more about WordPress localization specifically, read this in-depth guide of ours.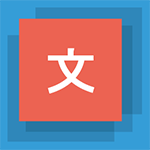 TranslatePress Multilingual
TranslatePress is the easiest way to translate your WordPress site. It's fast, won't slow down your website, works with ANY theme or plugin and it's SEO friendly.
Get the plugin