Searching for the best website localization services to localize your site's content?
Translating your site's content is an important part of website localization, but it's not the only part. Localization is a more holistic process that focuses on fully adapting your website to create an optimized experience for different audiences.
Because proper website localization can be tricky to implement, you might want a helping hand to help you get the job done, which is what this post is all about.
Below, we've collected our picks for the six best website localization services for all budgets and all types of websites, including WordPress sites and other platforms.
What Is Website Localization? What Do These Services Do?
Before we dig into the best website localization services, we think it's useful to quickly run down exactly what website localization is so that you know what to expect from a localization service.
In a nutshell, website localization is the process of fully adapting your site to connect with visitors from different locations.
A big part of website localization is translating your site's content into that local language. But website localization is also a lot more than just website translation.
With localization, you want to tailor everything about your site to that visitor, including what you talk about, your site's images, how you approach content, the date format, units of measure, and so on.
Basically, you want those visitors to feel like your website was natively created just for their region.
By doing this, visitors will have better experiences on your website and they'll also be more likely to convert into leads, paying customers, and so on.
Beyond improving your website itself, localizing your site can also be a great marketing strategy as it lets you benefit from multilingual SEO and social media marketing.
However, fully localizing your website can be difficult by yourself, which is why you might want the help of a website localization service.
Six Best Website Localization Services for All Budgets
Here are our picks for the best website localization services…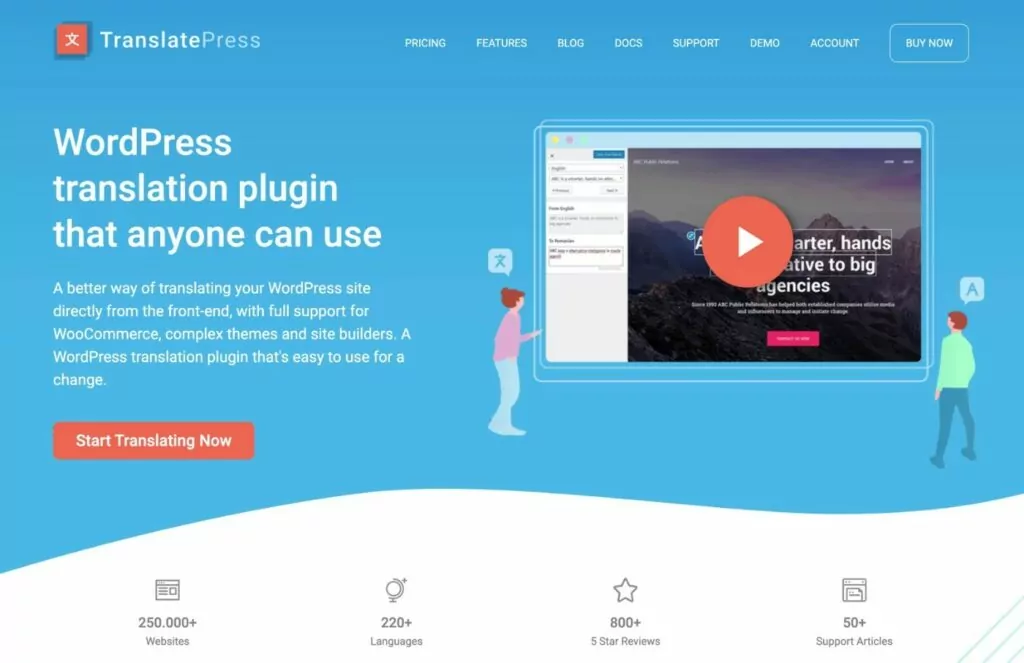 TranslatePress is a WordPress localization plugin that can help with text translation as well as other localization details including images, videos, text adjustments, and more.
If you're specifically looking to localize a WordPress website, TranslatePress offers one of the easiest ways to get started.
To begin, TranslatePress can help you translate all of your site's content using your preferred approach:
Human translation – you (or a translator) can manually translate all of your site's content from scratch.
Automatic translation – you can automatically translate your WordPress site's content using Google Translate or DeepL.
Mixed translation – you can start with automatic translation but then have a human review and adjust those translations where needed.
No matter where your translations come from, you'll be able to manage them from a visual, point-and-click interface.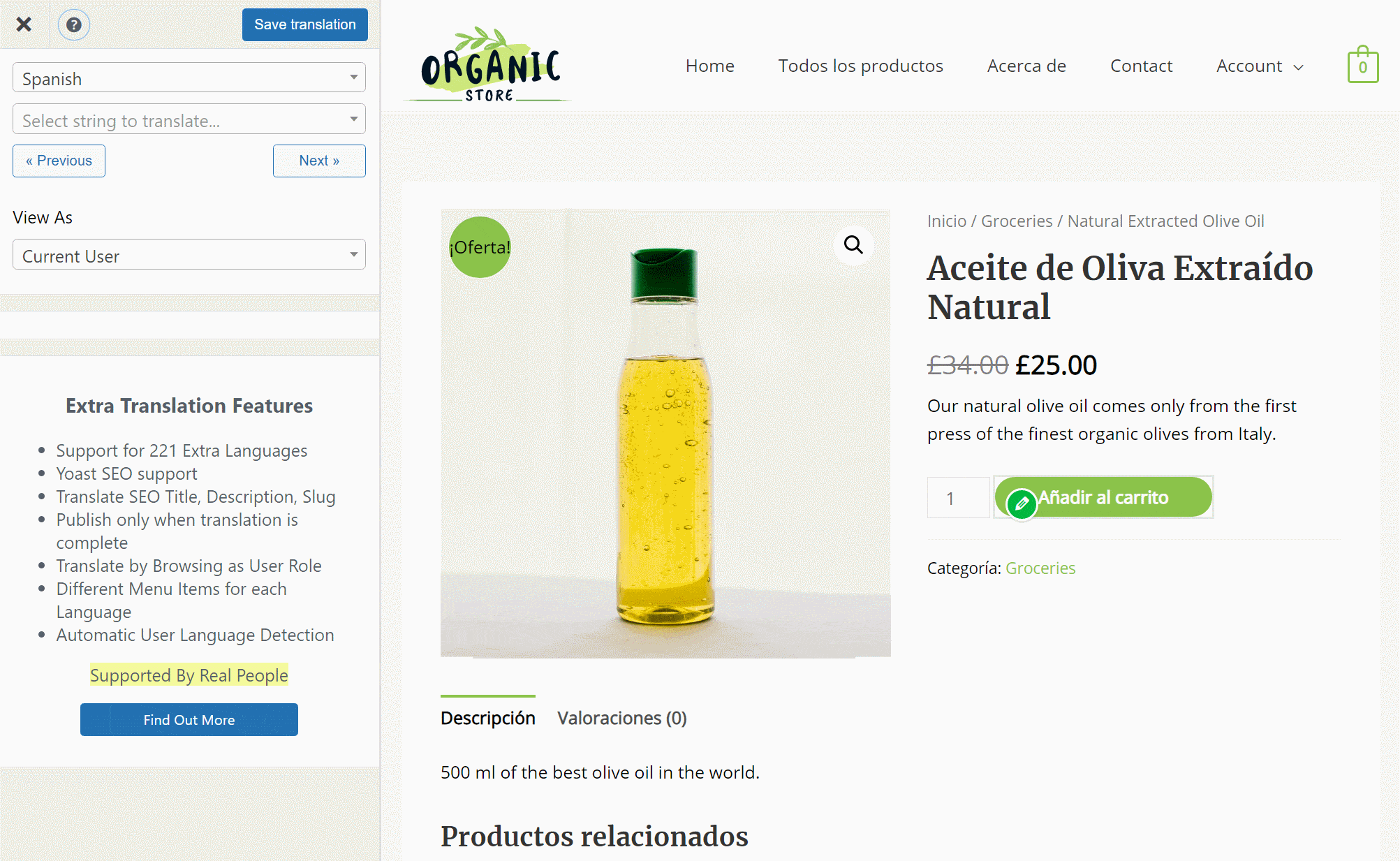 One important localization consideration here is that TranslatePress does not force you into 1:1 translations. You're free to adjust the content in different languages, which helps you adapt it to local cultures and sensibilities.
You can also adjust other details, such as the date formats and currencies referenced in your text.
TranslatePress can handle more than just text translation, though. You can also show different images and videos based on a user's chosen language/locale, which lets you localize those important elements.
Beyond that, you can localize URL slugs, SEO details, navigation menus (show completely different menus based on a user's locale, if needed), and more.
TranslatePress is free to localize your site into one new language. Then, the premium version supports unlimited languages/locales as well as useful features including the following:
DeepL automatic translation support – the free version only supports Google Translate;
SEO and social media metadata localization;
Translator accounts;
Showing completely different menus based on a user's language/locale – the free version only lets you translate the same menu items;
Paid plans start at ​​€89 per year.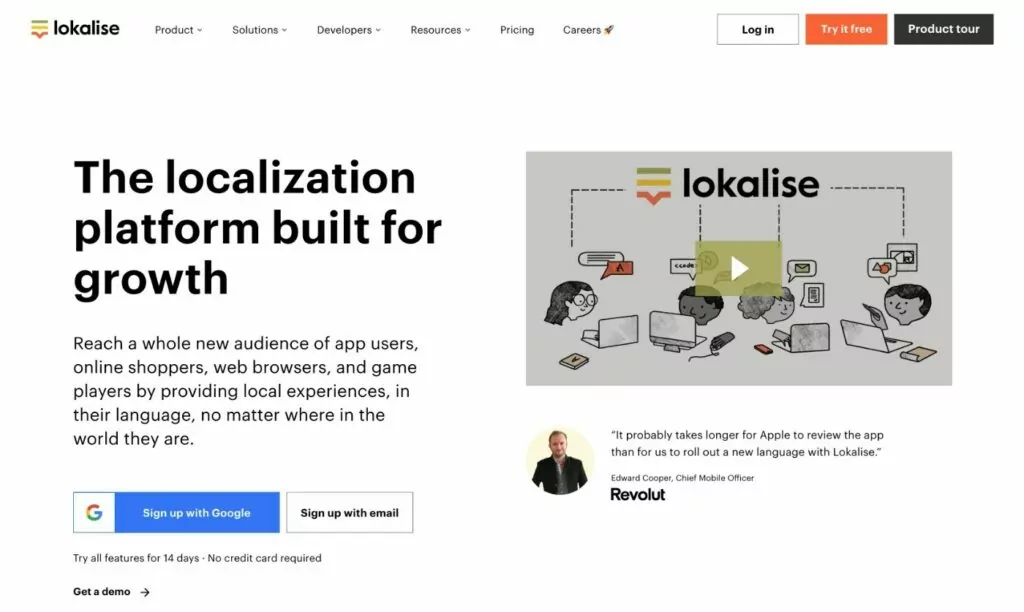 Lokalise is a more enterprise-focused website localization service with plans starting at $120 per month and ranging up to $825 per month (or higher with custom plans).
While those prices might make Lokalise out of reach for the casual webmaster, there's a lot to like about Lokalise if you are running a business that can afford those prices.
You can use Lokalise to localize pretty much any type of content. Beyond website localization, it can also handle mobile apps, documents, customer service, games, marketing assets, and more.
To connect your website to Lokalise, you can either upload your translation files directly or ask your developer to integrate it for you.
Then, you'll get a localization management dashboard complete with translation management, progress dashboards, branching (version control), and more.
Lokalise also gives you a lot of flexibility for integrating it into your existing workflows. For example, you can connect it to Asana, Jira, Trello, and others. You can also set up chained tasks so that certain localization tasks must be performed sequentially.
Overall, if you need a customizable localization tool and your site isn't built with WordPress, Lokalise is a great option to consider (assuming you can afford its prices).
You can test it out with a 14-day free trial, so you're free to play around with it before cracking open your wallet.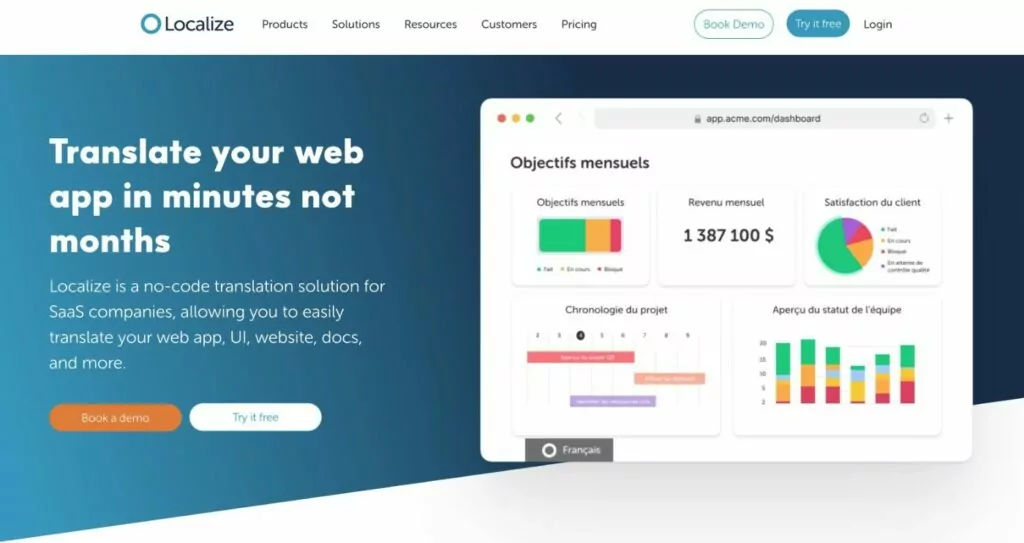 Not to be confused with the Lokalise service above, Localize is a no-code solution for SaaS companies that need to localize web apps, user interfaces, documentation, mobile apps, and more.
If you're not using WordPress but you still want a no-code localization solution like TranslatePress, Localize can be a great option.
Here's a basic overview of how Localize works:
You add the Localize code snippet on your web app, website, documentation hub, and so on;
Localize automatically detects your content and adds it to the Localize dashboard;
You can add and manage translations and localization in the Localize dashboard;
Localize publishes the translations to your website.
In terms of text translations, Localize gives you a few options:
Order translations from professional services like Gengo and textMaster;
Use your own in-house translators or freelancers;
Use automatic machine translation powered by Google, Microsoft, Amazon, Watson, or DeepL.
Beyond text, Localize can also help you localize other elements such as images, videos, and more.
Localize has individual plans that start at $50 per month for one website, one language, and up to 100,000 monthly pageviews.
Localize only counts pageviews where users load the Localize JavaScript SDK.
More business-focused plans range up to $625 per month or higher depending on your needs.
WPML is another website localization service built for WordPress users, as it comes in the form of a native WordPress plugin.
To translate your content, WPML supports both manual human translation and automatic machine translation according to your preferences.
You can also implement other important aspects of localization, such as displaying different images based on a user's chosen language/locale and adjusting date formats for different locations.
WPML doesn't have a free version like the TranslatePress plugin above, but the developer does offer a 30-day money-back guarantee on all of the paid plans.
While there is a basic Multilingual Blog plan that costs $39, you'll want at least the $99 Multilingual CMS to be able to fully localize all of your website's content.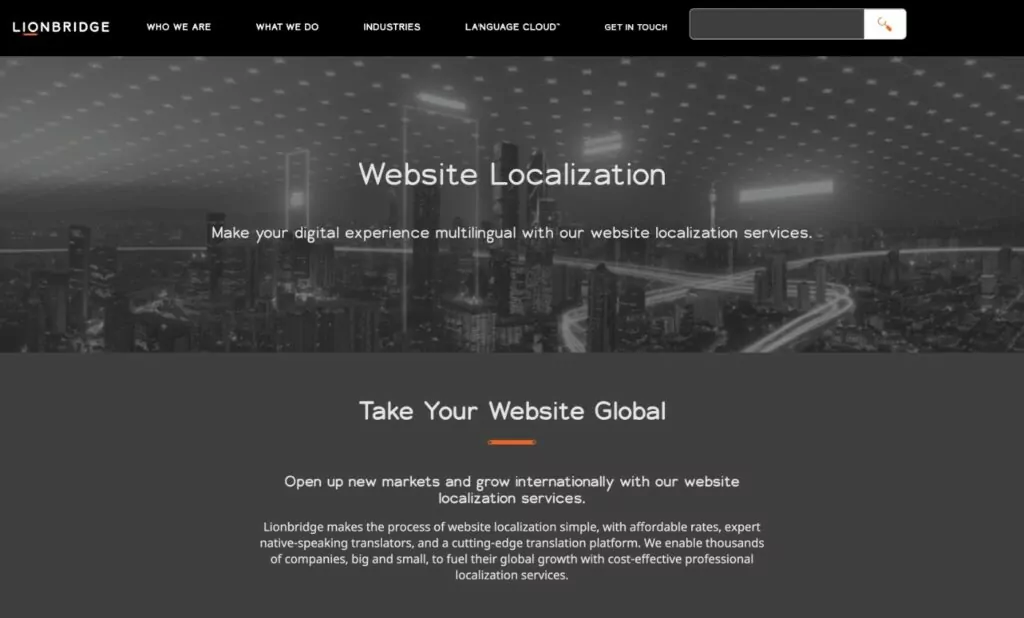 Lionbridge is another enterprise website localization service. It's the biggest localization service on this list by a large margin, with over 6,000 employees in 26 different offices around the world.
Lionbridge can help with all phases of website localization, including project preparation, project execution, and post-localization quality assurance:
Project preparation – Lionbridge will help you identify your goals, including SEO analysis. They can also help you build a style guide and set up any connectors or APIs that are needed to add localization capabilities to your website's content management system.
Project execution – Lionbridge's human translators will get to work on translating your text content, as well as localizing other areas of your site.
Post-localization quality assurance – a second group of reviewers will review all of the translations and localization to ensure that it's contextually and culturally appropriate for your audiences.
Lionbridge can also offer more targeted services including professional human translation, implementing a translation management system (TMS), and localization project management.
Lionbridge does not offer public prices – you'll need to reach out to them to get customized pricing based on your project.
In addition to its bespoke services, Lionbridge also offers an enterprise service called Lionbridge Language Cloud that can help automate some of your website localization efforts.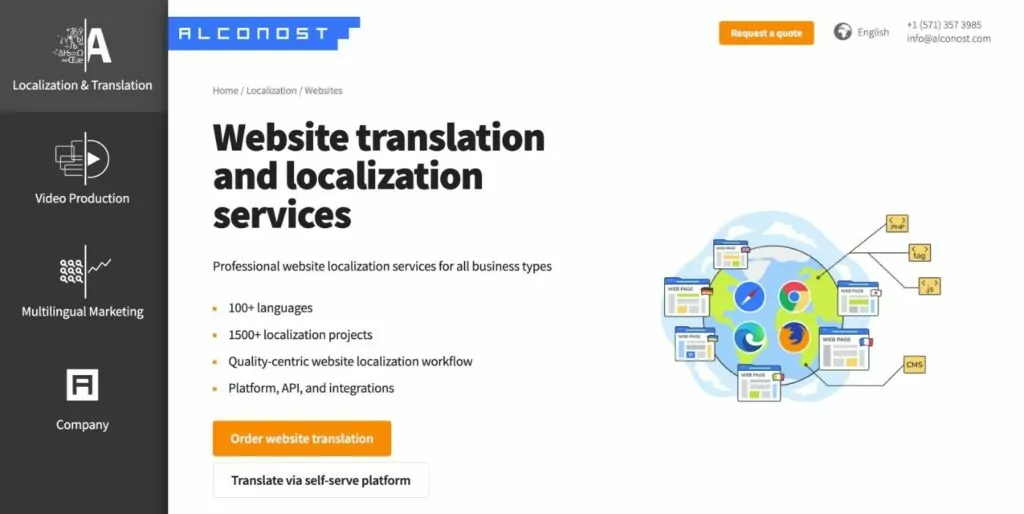 Alconost is one of the best website localization services for people who want more of an agency approach.
You'll work directly with the Alconost team on your localization project. They can help with websites, apps, games, videos, advertisements, and more.
Because Alconost offers a more bespoke approach to website localization, they can match your business's unique needs.
For example, they can perform their localization on a cloud platform, via your API, in your content management system, or by building a custom process for your website.
They also offer a full-service approach to localization, covering everything from basic translation to localization quality assurance and more.
If you use their full-service localization service, you'll even get a dedicated project manager to help you implement everything.
Alconost doesn't post public pricing. If you're interested in working with them, you'll need to contact the Alconost team to get a price quote.
Given the full-service nature of their service, you should expect to pay serious money to get Alconost's help with website localization.
Try These Website Localization Services Today
That wraps up our collection of the best website localization services.
Choosing the right service for your needs will depend on your website platform, your localization needs, your budget, and how much DIY effort you're willing to put in.
If you made your website with WordPress, the freemium TranslatePress plugin offers an easy way to localize your website using a visual, code-free interface.
On the other hand, if you built your website with another platform, you might prefer a platform-agnostic tool like Lokalise or Localize.
Or, for more enterprise-level localization efforts, you might want to go with a more bespoke agency website localization service like Alconost.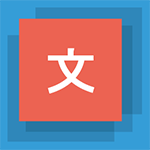 TranslatePress Multilingual
The best website localization service for WordPress websites. Manage everything from a visual interface.
Get the plugin
Do you still have any questions about choosing the best website localization service for your site? Let us know in the comments!