Looking for the best Weglot alternative that's just as functional, plus cheaper? You're in the right place.
In this post, we'll explain some details behind how Weglot works, why that's not always the best approach for some users, and how other tools handle the job differently.
Why You May Need a Weglot Alternative
Compared to other WordPress translation plugins, Weglot has a rather original approach to doing its main job.
Let's start with the similarities first. Here's what Weglot does that most other multilingual plugins do as well:
It lets you translate every individual piece of text on your site;
It enables automatic translations (machine translation) as well as manual edits of translated texts;
It lets you add multiple languages to your site;
It supports URL translations (good for multilingual SEO);
It lets you work on your translated content with other team members.
However, there are some significant differences. Two of them, chiefly:
Some of the above features come with a hefty price tag. In fact, using Weglot gets rather expensive on a live site that's been around for more than a short while. More on that in a sec.
At its core, Weglot is a SaaS product and not what most people think of when they see the "WordPress plugin" label next to it.
Let's start with the latter. So, what does this SaaS thing mean in practice?
In simple terms, it means that the WordPress plugin part of the Weglot ecosystem is only a connection layer between your site and the main Weglot service. In other words, the plugin by itself won't translate anything for you. It's only a tool that allows you to connect with the Weglot mothership, so to speak. 🚢
This also means that all your translations are kept on Weglot's servers and not on your site.
And, lastly, the main consequence of it all is that if you ever stop paying for your Weglot subscription, your site will stop being multilingual and all of your translations will stop working.
Speaking of paying, Weglot's pricing model is based on the number of words that you want to translate each month and the number of languages you want to translate those words into.
There's a free plan that gives you 2,000 words and one additional language. If you need more than that, the premium plans start from €9.90/mo for 10,000 words and one language. If you choose a yearly plan (which starts at €99 for 10,000 words and one translation language), you get a two-month free trial worth 2,000 words.
In case you're wondering, the article you're reading right now is 2,160 words. This means that translating it alone would require getting one of Weglot's paid plans. We have tens of articles like this one here. You be the judge… But it could get real expensive real fast.
These are the key reasons people look for a good Weglot alternative.
How About TranslatePress?
Okay, so you're reading this on TranslatePress.com, and I'm telling you that TranslatePress is a viable Weglot alternative. I might be a bit biased, but hear me out! Here's why TranslatePress makes sense for most users as their translation plugin:
First off, it's a great plugin to try out if you're looking for a free Weglot alternative:
TranslatePress as a Free Weglot Alternative
Here's what TranslatePress gives you for free when you download it from the WordPress repository vs how much it'd cost with Weglot:
With the free version of TranslatePress, you can translate unlimited words on unlimited pages within your site. Weglot doesn't have an unlimited plan, but, for comparison, the 200,000-word one will cost you €49/mo.
You can use TranslatePress on unlimited websites for free, for however long you want. Just install the main TranslatePress plugin on as many sites as you need. Weglot caps its most expensive plan (€199/mo) at 10 sites.
As you can see, TranslatePress has a big edge over Weglot in the free department. While you can download the Weglot plugin for free from the WordPress repository, you will also need to create a 10-day free trial account on their website to be able to actually use it. After the trial period has finished, you will have to either switch to a paid plan or stay within the 2000 words/month limit if you want to continue using the service.
Let's now look at the features overall and how much the upgrades cost with both TranslatePress and Weglot:
Weglot vs TranslatePress: Comparing Features and Pricing
Here's a quick comparison of the full premium offerings of both solutions:
Weglot Pricing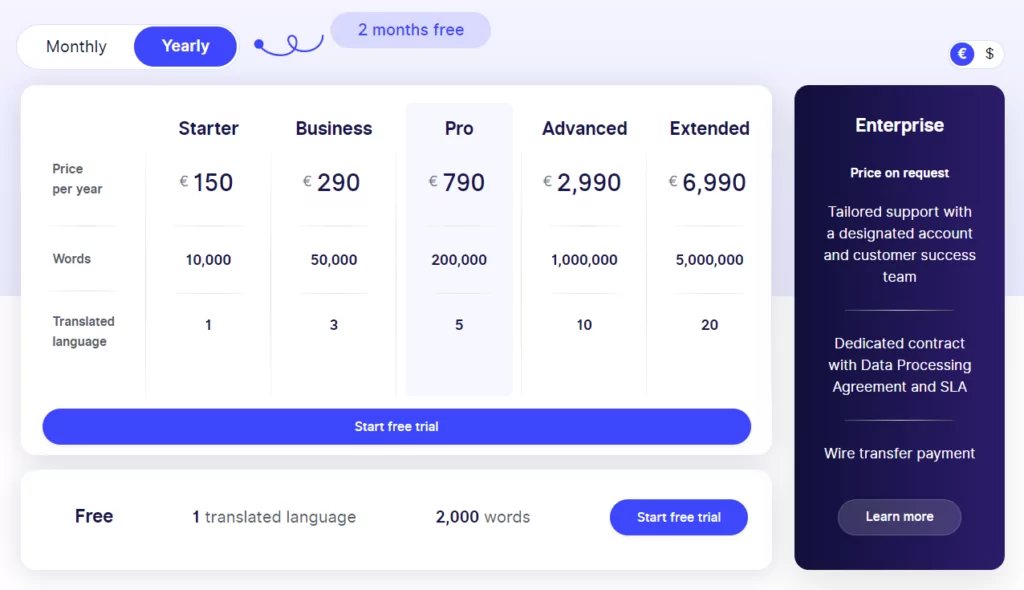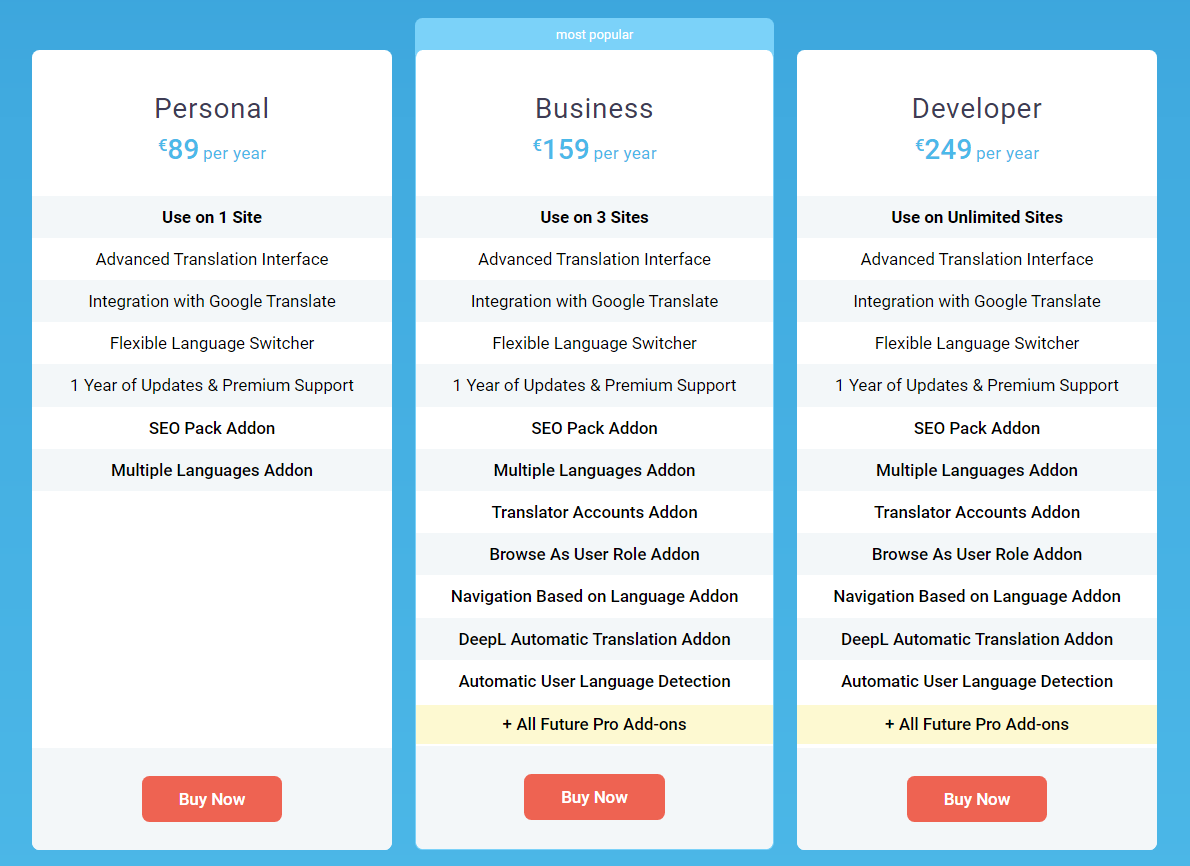 Okay, so these are the numbers. Now let's talk a bit more specifically about how each platform goes about doing its job:
How Weglot Works
Weglot translates things on the fly (the first time) and then stores all those automatic translations for later requests by consecutive visitors.
All translations are kept on Weglot's servers – that's the SaaS thing in play, remember?
Each time someone wants to see your translated content, they make a request to the Weglot service to fetch it. As you can see above, depending on the plan you're using, Weglot gives you roughly the same number of words and translation requests per month.
"Translation request" sounds a bit unclear, so think of them as page views. In other words, if you're on a plan that grants you 10,000 requests a month, this means that you can only welcome 10,000 visits to all your translated pages each month.
Now, one of the most important aspects of Weglot's model of operation is that since Weglot fetches translations from their servers on each request that's made by a visitor, this means that as soon as you stop paying for your Weglot subscription, everything stops working. As in, your site stops supporting multiple languages, and you lose all your translations. This is not ideal, especially if you have a limited budget to spend on your translations – or no budget at all.
How TranslatePress Works
TranslatePress is a standalone WordPress translation plugin.
What this means, first of all, is that your translations are kept in your WordPress site's database and not on some external server.
This approach has its benefits:
You have complete control over all your translations;
You can back up your translations together with the rest of your site data and never lose access to them.
But it gets better! Your page views are not limited in any way. No matter if you have 10 or 100,000 views a month, all those people will see your translated content without additional expenses on your part.
TranslatePress also doesn't lag behind when it comes to the richness of features itself. Here's what you get:
You can translate everything you see on the page. No matter if dealing with standard page content, plugin-generated content, or WordPress' hard-coded texts, TranslatePress lets you translate them all.
There's automatic translation through Google Translate and DeepL.
You can customize the language switcher and pick where it should be displayed.
It's compatible with WooCommerce – allows you to translate your product pages, shopping cart, and other pages.
Supports multiple languages (not limited in all premium plans).
There's automatic user language detection.
You can set up translator accounts – accounts meant for people helping you work on your translations, without giving access to the back-end.
You'll also be happy to know that most of these features are available for free.
👉 You can see the full list of TranslatePress features here.
Weglot vs TranslatePress: Ease of Use
In this section, we'll show you how working with each tool plays out in practice, plus some of the things that our Weglot alternative addresses:
Using Weglot
To start using Weglot, you can begin by getting the official plugin from WordPress.org, then install and activate it. The procedure is normal so far.
However, before you can "turn Weglot on" you'll need to register for an account and get an API key. If you've never used the service before, you can sign up for the 10-day free trial I was talking about.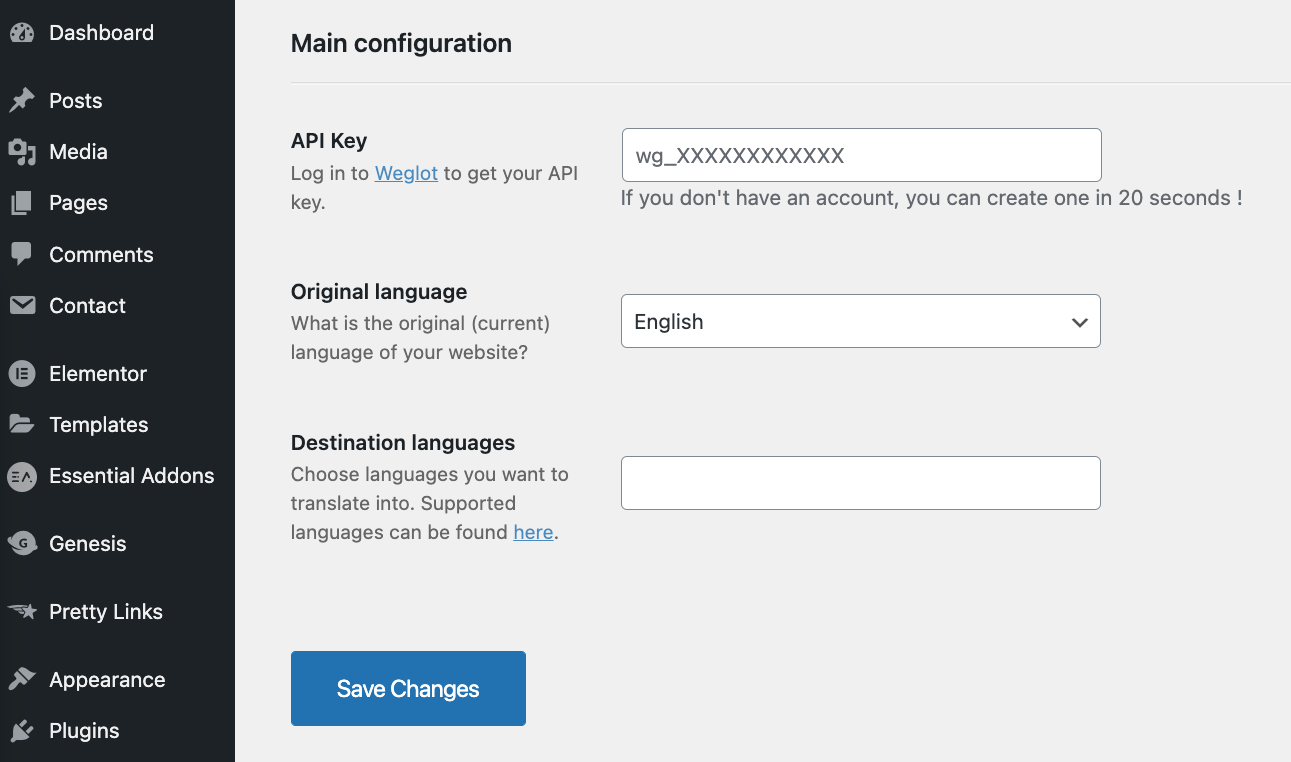 With that done, you can come back to your WordPress dashboard, enter the API key and choose your languages. Weglot will take all of your site's content and translate it automatically.
At this stage, you can go to your homepage and see the translations in action. There's a language switcher dropdown there as well.

Now the important part. From within your WordPress dashboard, you can only customize the language switcher itself. In order to work on your translations, you have to go to Weglot's official site and your account profile there. You'll see one big list of all your translations:

This is okay for small sites, but the more content you have, the longer this list gets and the more daunting the task gets to work through all these translations and verify if they're correct.
However, Weglot does also offer a visual editor you can access from their website in order to more quickly approve or modify any translation that was made and also see each translation in context.

Another thing I do have to give to Weglot is how easy it is to order translations from professional translators—aka actual people who will translate text for you. To do that, just go into a given translation's details and click on Add to order.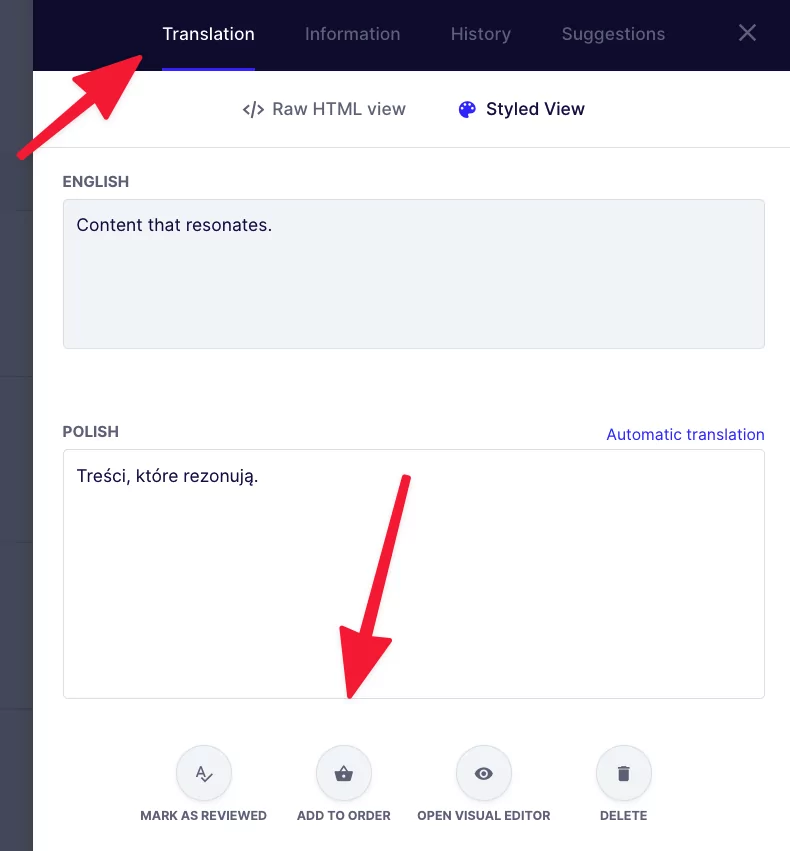 We also can't ignore the fact that the interface is super clean overall, so using the service shouldn't be confusing, even for complete beginners.
Using TranslatePress
TranslatePress installs like any other WordPress plugin. As soon as you activate it, you'll get access to the plugin's settings panel.
From there, you can add your first language and tune up the basic settings. Just go to Settings → TranslatePress: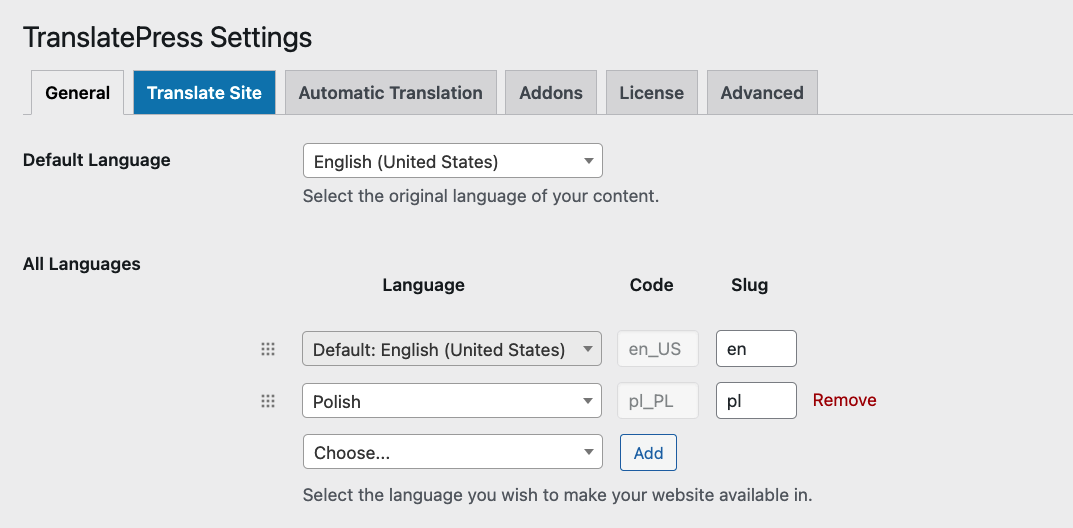 Further down the settings page, you can also customize the language switcher and set its location.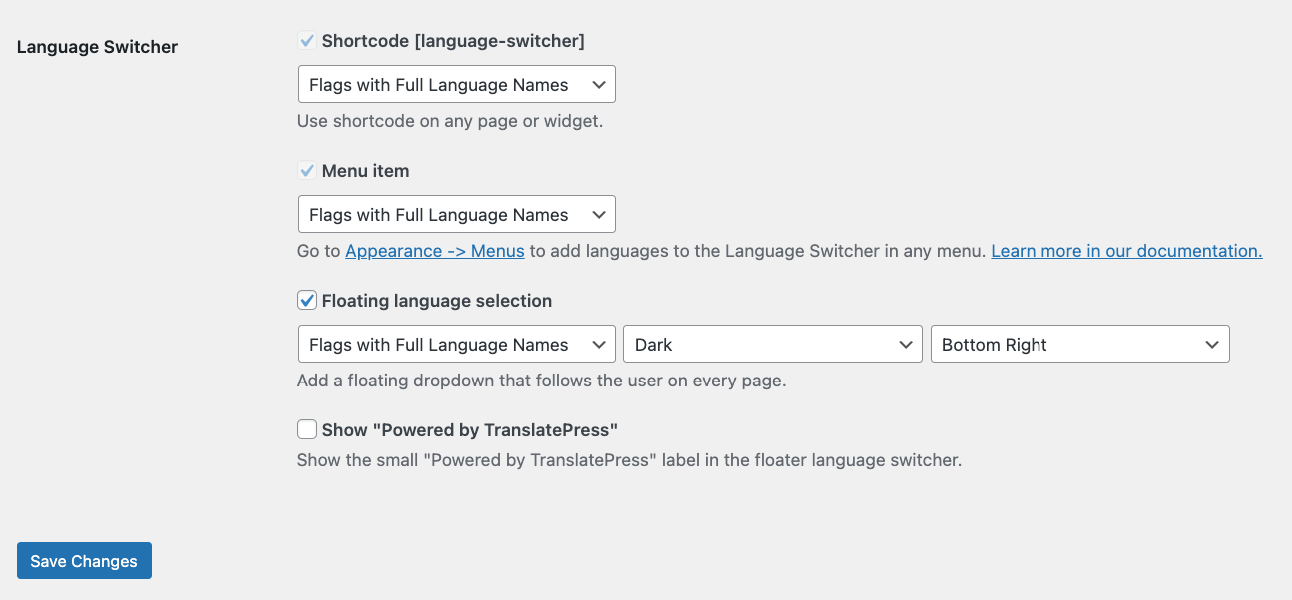 Click on Save Changes when you're done.
At this stage, you can go to your homepage and start translating.
ℹ️ Alternatively, you can go to the Automatic Translation tab in the settings and integrate your site with Google Translate. Here's a tutorial on how to do this.
To begin translating, click on the Translate Page button that's in the admin bar up top.

This will take you to the main translation interface of TranslatePress. It looks very similar to WordPress' native Customizer interface.
To translate any piece of text, hover your mouse over it, click on the pencil icon next to it, and then add your translation in the sidebar: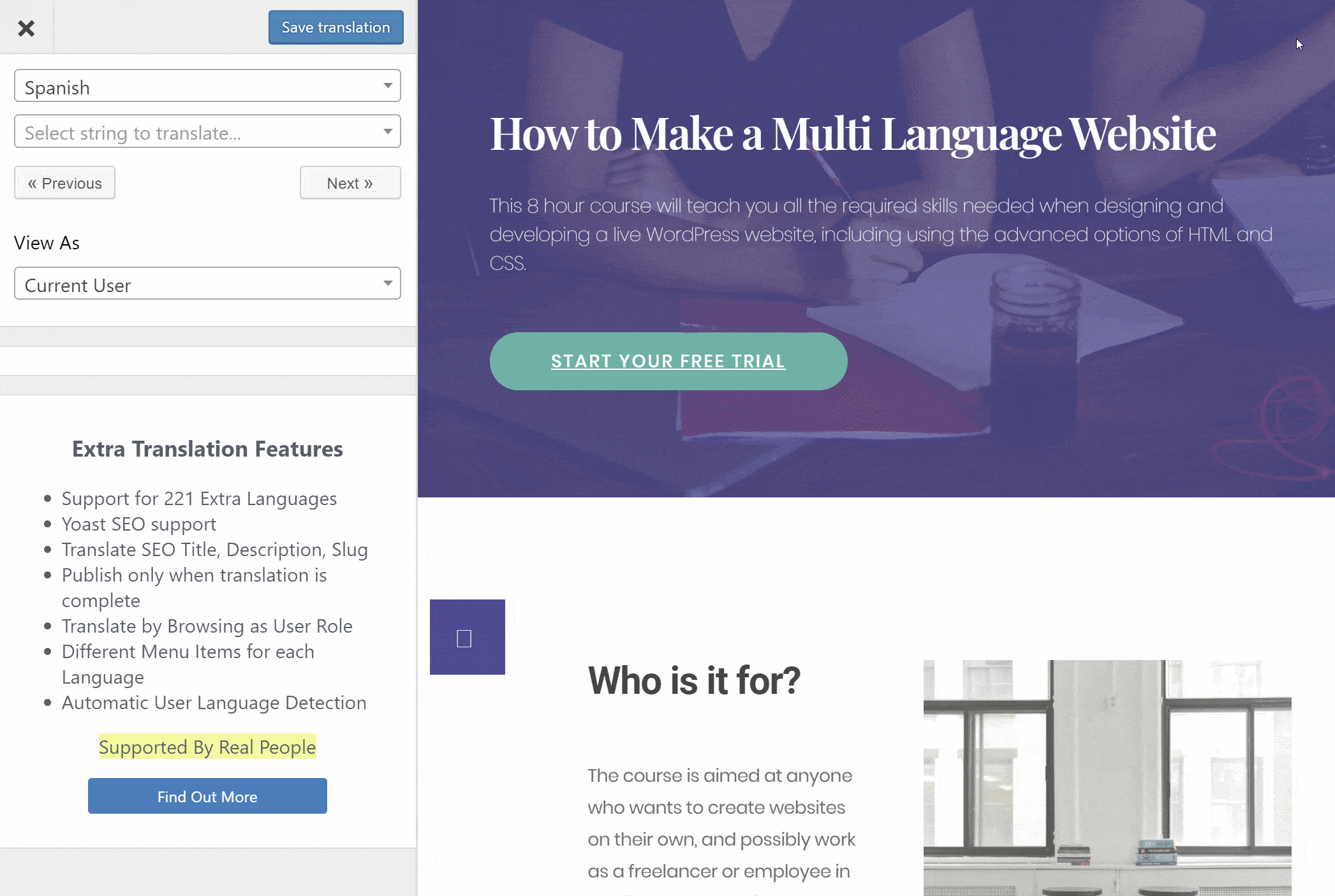 When done, click on Save translation.
That is it! Just like that, you can go through your content and translate whatever needs translating. You get to pick what gets worked on and what doesn't. Or, as mentioned, if you want to, you can enable automatic translation via Google Translate and then just tune up those translations by hand afterwards.
You can use this same interface to also translate your images, SEO meta, WooCommerce data and products, and anything else you see on your pages.
👉 If you want to learn more, here's your ultimate guide on how to translate WordPress using TranslatePress.
TranslatePress vs Weglot: Which One to Pick?
Overall, Weglot does its job very well if you're dealing with a smaller site that doesn't have a lot of pages, nor too many words to translate on each of those pages. It's also great that you get a working translation as soon as you sign up and integrate your site with the Weglot service.
However, if you'd like to have more control over what's going on, and to own your translated content, you might want to look at a Weglot alternative instead.
What makes TranslatePress a great solution is that your translations are not kept hostage by an external service, they are stored in your own database and you have full control and ownership over each individual piece of translated text you've created.
In terms of pricing, TranslatePress is much more affordable and also doesn't impose any limits on your translations based on the scale of your operation or the traffic your site is getting. It will all work the same on all types of sites.
Overall, if you're looking for a good Weglot alternative, check out TranslatePress. With its generous free plan and intuitive interface, it has everything you might need in order to create a multilingual website.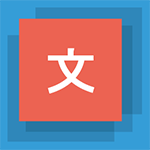 TranslatePress Multilingual
TranslatePress is the easiest way to translate your WordPress site. It's fast, won't slow down your website, works with ANY theme or plugin and it's SEO friendly.
Get the plugin
Do you have any other questions about TranslatePress and how it works? Share them in the comments below.