Are you looking for an alternative to Polylang? Do you wonder if there is another translation plugin out there that is more suitable for your website?
Polylang is one of the most popular WordPress plugins for building multilingual websites. Its users like its versatility and feature list. At the same time, just like everything else, it has its shortcomings and room for improvement. Therefore, depending on your needs and requirements, another alternative to Polylang might be a better option for you.
To help you figure out if that is true for you, in this post, we will first give you a quick overview of Polylang, its features, and pros and cons. After that, we will have a look at several plugin alternatives that you can use instead of Polylang and discuss how they are different or better.
Polylang Overview: The Pros and Cons of the Translation Plugin
Polylang is a WordPress translation that is available for free in the WordPress plugin directory. Before diving into alternative solutions, let's first examine what it has to offer.
Setup and Settings
When you first install Polylang, it guides you through the setup with a wizard.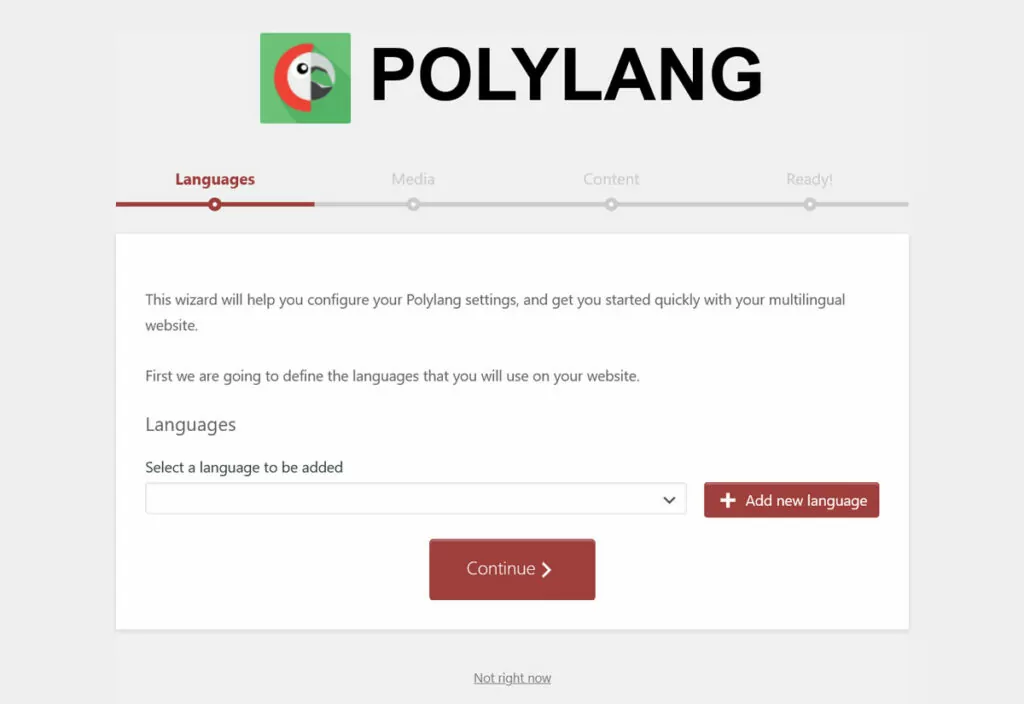 Here, you choose the languages you want to use on your site, whether you want to translate media and assign existing content to a language. After that, you can use Polylang.
Your first stop should be the settings, which you find under their own menu item.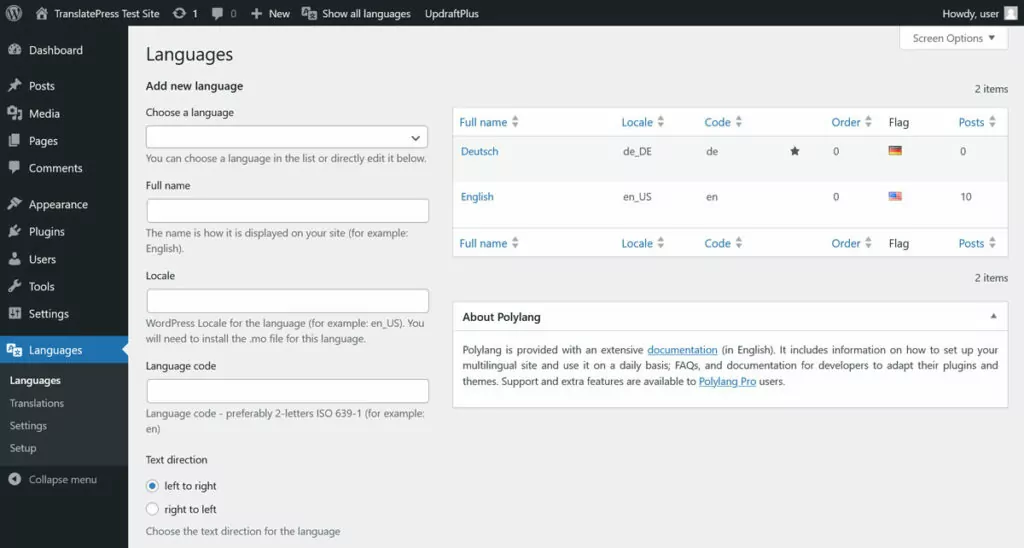 Here, you are able to add or subtract languages on your site and customize their flags and codes. You also find all the settings here. They let you control what your multilingual URLs should look like, whether to automatically detect the browser language, and more.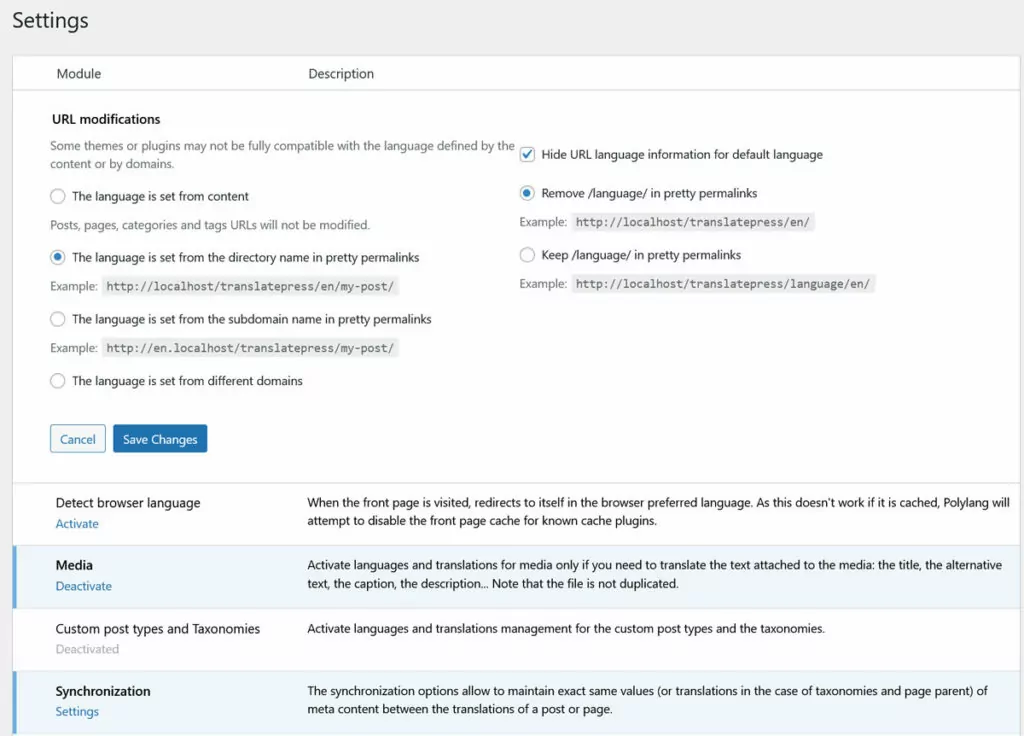 How to Translate Content With Polylang
If you want to translate your site, you have several options. For post and page content, you find a new setting in the WordPress editor that allows you to assign a language to each content piece.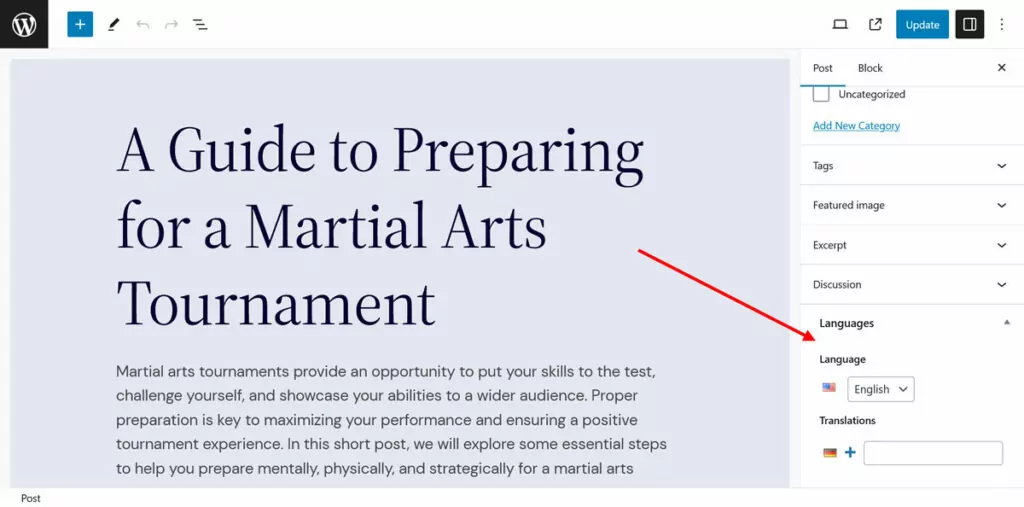 You are also able to create a translation into another language from the same place.
What's important to note is that, in Polylang, translations are independent content pieces that are saved separately. You can not edit them from the same screen but have to switch back and forth to make changes.
Once you have created some different language versions, you are able to see them in the post and page lists. You are also able to add more translations from here.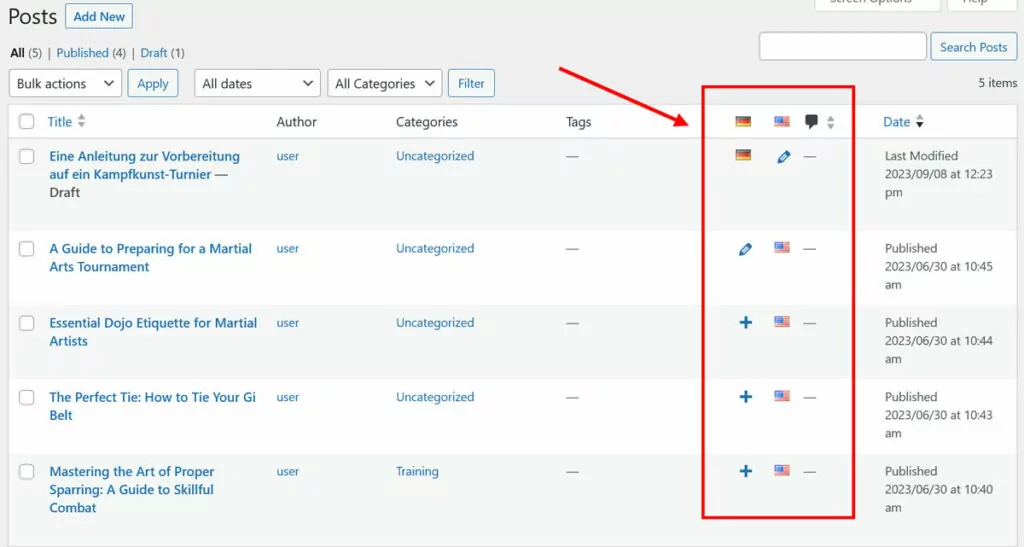 Similar options exist for taxonomies like categories and tags, custom post types, as well as media, if you switch on that option. Polylang can also translate menus and widgets as well as custom fields.
Note that for theme and plugin strings, you need to use the separate Translation menu.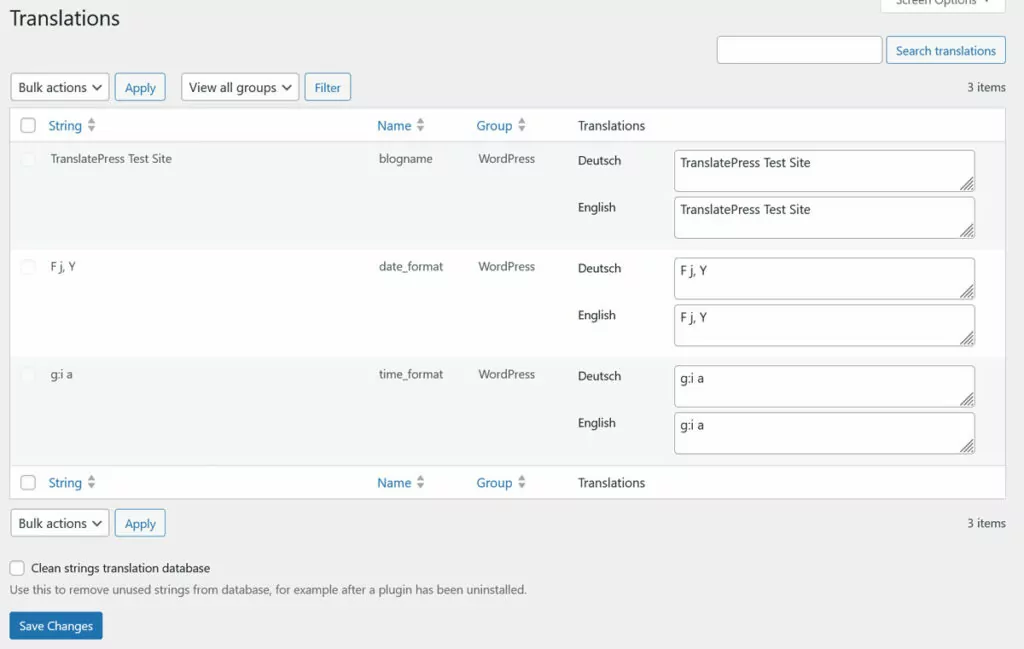 Displaying a Language Switcher
That leaves the question, how do you make it possible for users to swap between languages in Polylang?
For that, the plugin offers a language switcher in the form of a widget, menu item, or, if you are developer, PHP template tag.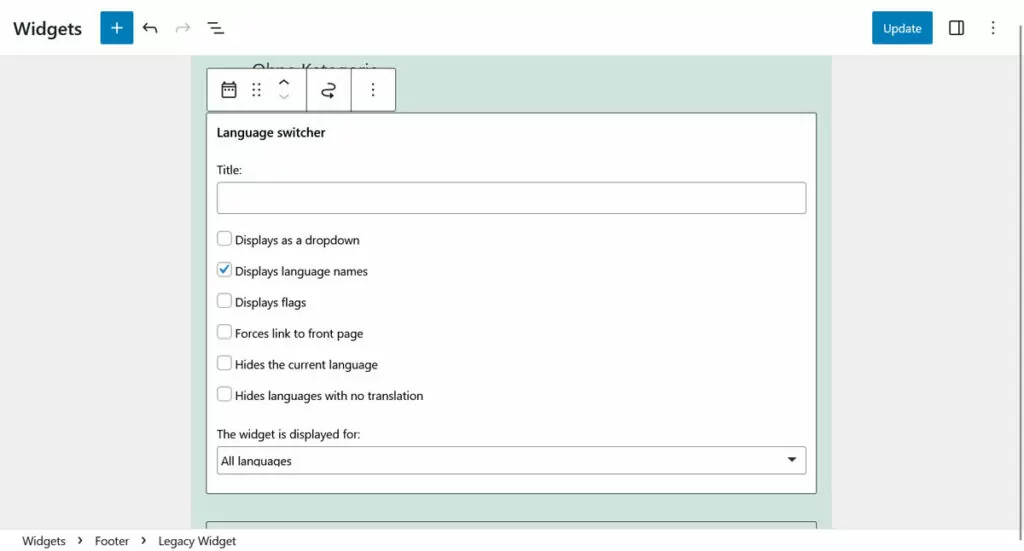 There is also a language switcher block you can use with the WordPress block and Site Editor. However, that one is reserved for people who buy the premium edition.
The Paid Version: Polylang Pro
Speaking of which, besides the free base plugin, Polylang also offers a Pro version. Its main difference from the free version is basically that it opens up the plugin to the WordPress block editor. That means you get a language switcher block as well as language options in the widget block editor. Template parts in the Site Editor become translatable as well.
The Pro version also lets you synchronize content across translations, translate URL slugs, and it has better compatibility with other plugins.
If you want to go for the paid version, you basically have a choice between three different editions:
Polylang Pro (€99.00)
Polylang for WooCommerce (€99.00)
Polylang Business Pack (€139.00)
Polylang Pro comes with the features already mentioned, Polylang for WooCommerce makes the plugin ready to build multilingual online shops, and Polylang Business Pack combines both of them into one. The prices above are all for single-site licenses for a year. They become more expensive if you want to use the plugin on more than one website.
Polylang: Pros and Cons
So, overall, what does Polylang do well and where could it be better? On the plus side:
It offers unlimited languages out of the box
Integrates well with the WordPress user interface
Translates most content that can be on a WordPress website
Has strong content language division
On the other hand, there are some shortcomings:
It's really not that usable with the WordPress Site Editor unless you buy the premium version
Keeping track of all the individual content pieces in different languages can be difficult
It's database intensive, which might become a problem on large websites
There are no automatic translations available, only using a third-party plugin that hasn't been updated in a while
Lack of multilingual SEO features
No WooCommerce integration out of the box
The Best Polylang Alternatives
Alright, now that we know more about what Polylang has to offer, let's see what alternative solutions there are and how they compare.
1. TranslatePress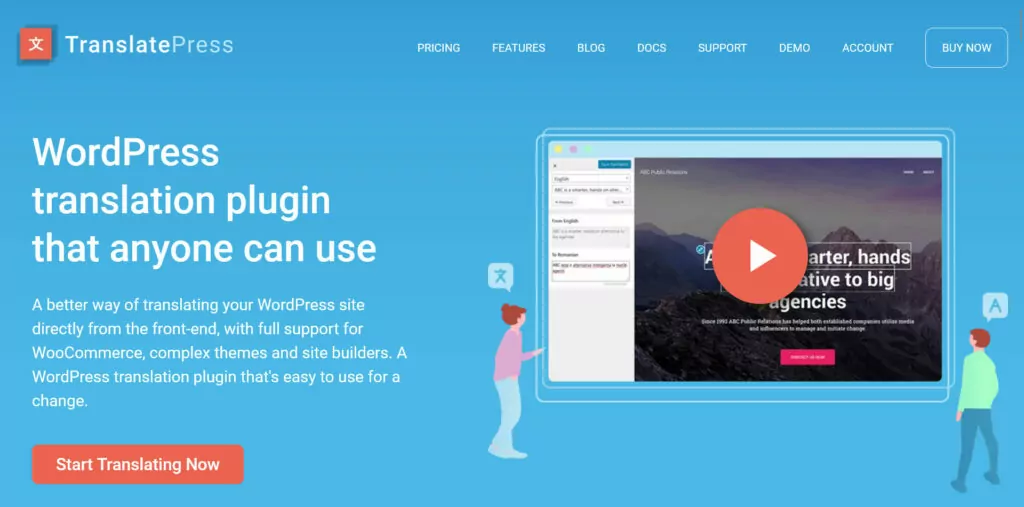 As the first Polylang alternative, we want to throw our own plugin, TranslatePress, into the ring. While we are certainly a bit biased, we really think it makes for a great option with some advantages.
Translating Content in TranslatePress
In TranslatePress, pretty much all the translation happens in a single interface. It shows you the front end of your website and you can choose content to translate directly from the user interface.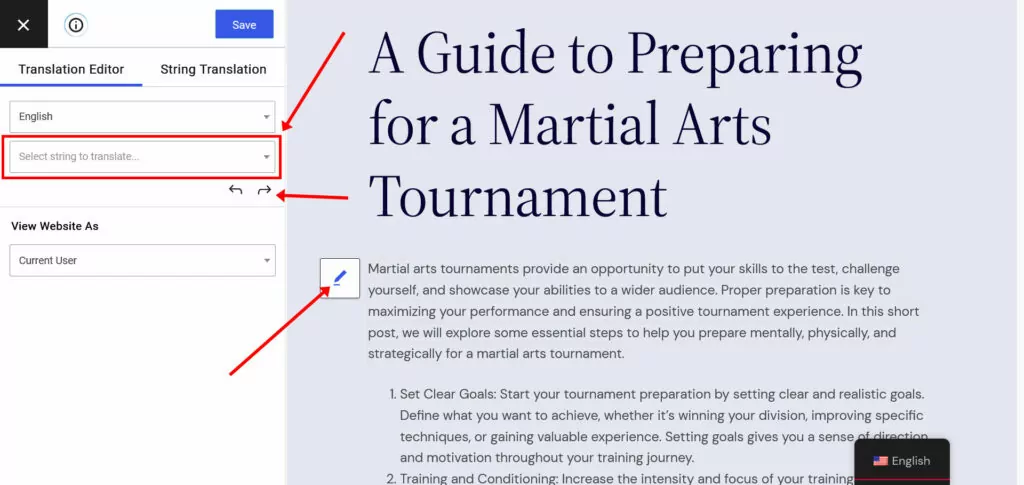 After that, simply input your translation into the translation field, save, and you are done.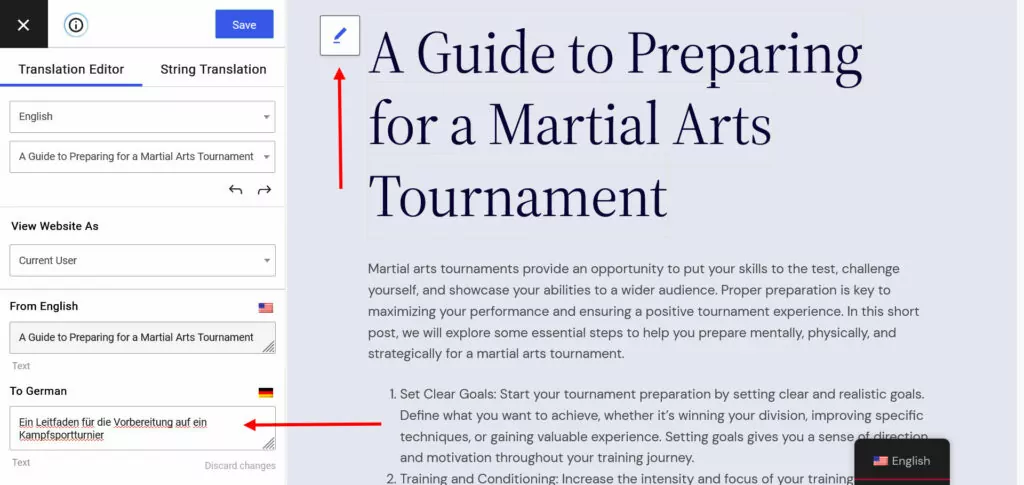 No need to take care of separate content pieces. Everything happens in the same place and you can also update your content from the same interface.
TranslatePress translates everything, post and page content, menus, shortcode output, page builder content, forms, custom fields, even popups. That's because the plugin takes the content from the rendered website HTML instead of searching the WordPress database.
You can even translate images in the same interface. That way, you can update your image text or even simply use an image that is more culturally appropriate for a different language.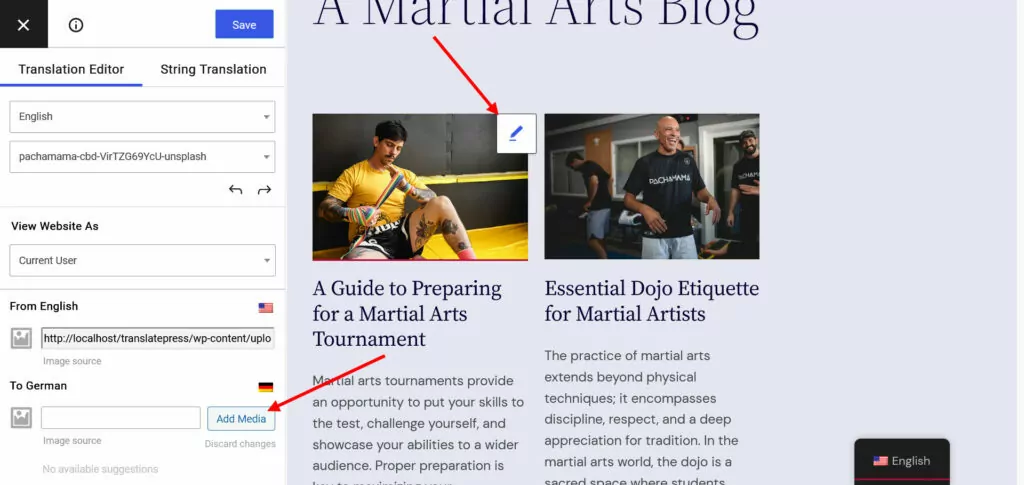 The only thing that happens in a slightly different interface is translating hidden strings that come from themes and plugins as well as the website URLs. All of that you can take care of in the String Translation tab.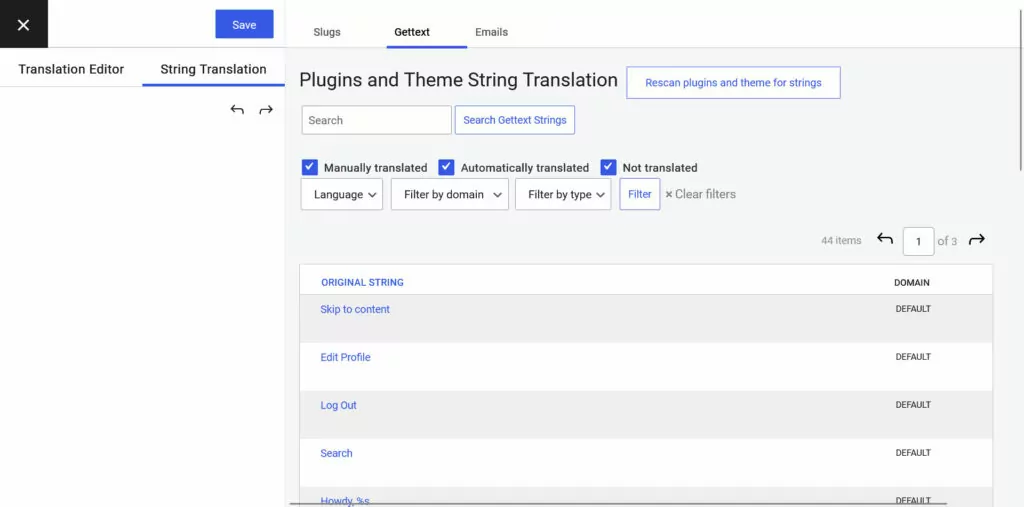 You can either do translations manually or combine them with machine translation for a bit of speed and convenience. In the free version of TranslatePress, you can use Google Translate, the paid version also gives you access to DeepL.
When you have set it up (you pretty much just need to obtain and paste an API key) and choose content on the page to translate, TranslatePress will automatically fill in the translation field with the machine-translated content.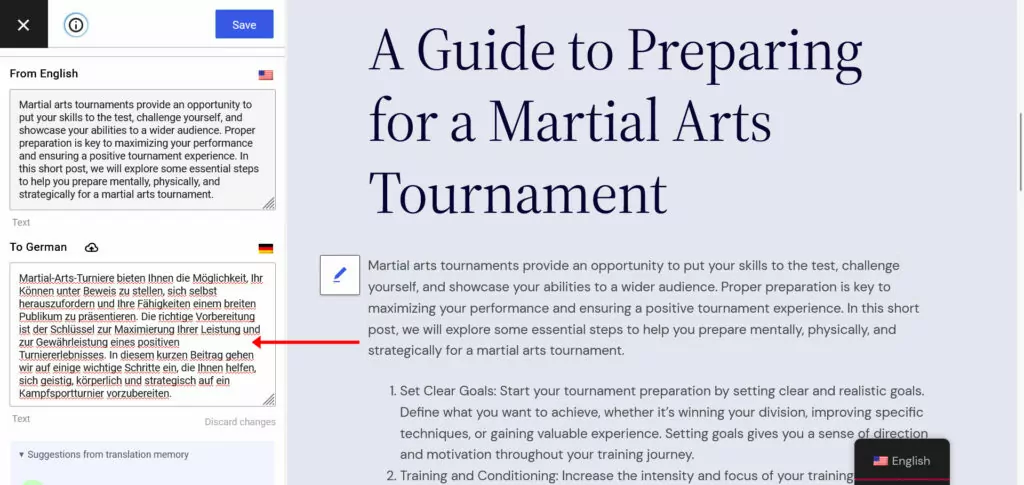 Naturally, you can change it to your liking before committing it.
Language Switcher Options
To allow people to change your website to their desired language, naturally, TranslatePress comes with a language switcher. There are several ways of placing it on your site.
First of all, you can add it anywhere you want as a shortcode or include it in classic menus as a menu item. The plugin also has a language switcher block you can add to your page templates and template parts.
Finally, there is a built-in floating language selector that appears on your site automatically in the configured position once you switch it on.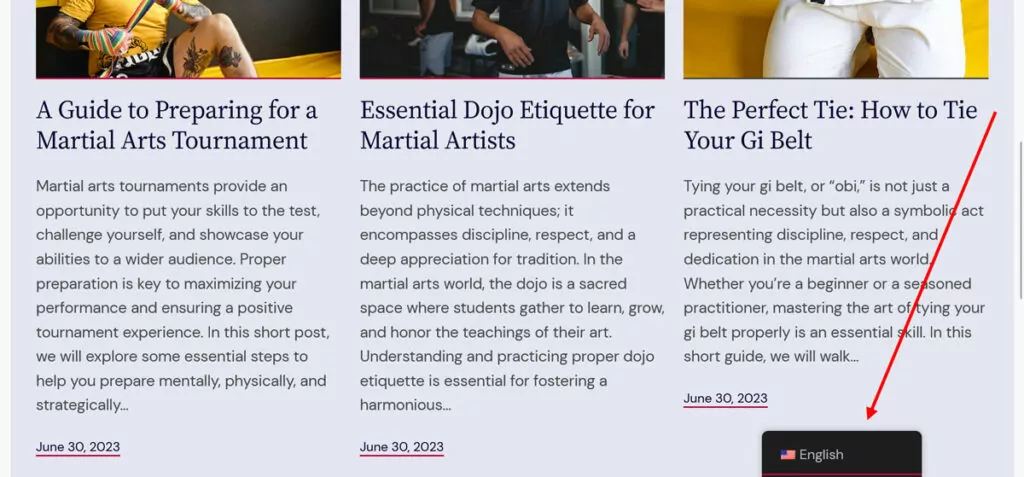 For all of these options, you find extensive customization settings in the TranslatePress settings.

TranslatePress: Premium Version
TranslatePress is available for free in the WordPress plugin directory. You can use it to add one additional language to your site and it has no limits on the number of translated words or page views you can use it for. It also supports automatic translation via Google Translate.
If you upgrade to the premium version, you gain access to these features:
Unlimited languages – add as many languages as you need to your website, even custom ones.
Multilingual SEO – Translate your SEO metadata, create a multilingual sitemap, and more. (Note: Even in the free version, translated content is already fully indexable by search engines.)
Navigation based on user language – While the free version lets you fully translate your menu items, the premium version allows you to use different menus depending on the chosen language.
Automatic user language detection – Automatically detects visitor browser language or location and redirects them to the right version of your site.
Dedicated Translator accounts – Work with freelance translators or translation services and allow them to do their work directly on your site.
There are several different versions and pricing plans available:
Personal (€89/year)
Business (€169/year)
Developer (€269/year)
The Personal plan adds multilingual SEO capabilities and the ability to add more than one language to one website. The Business plan contains translator accounts, browsing as a user role, DeepL automatic translation, language-specific navigation, and automatic user detection. It works for up to three websites. The Developer plan is identical in features but you can use it on unlimited websites.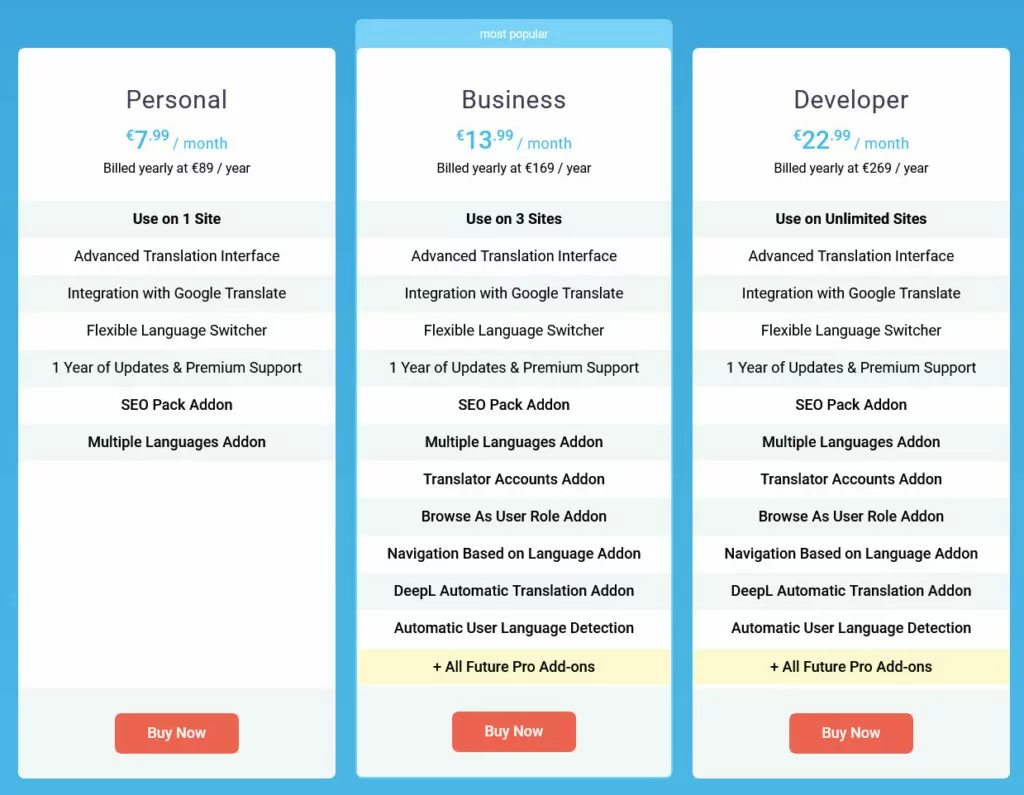 Quick note on automatic translations: There are no extra costs for automatic translations from the side of TranslatePress. However, be aware that Google Translate and DeepL both charge money if you exceed 500,000 characters per month. So keep that in mind.
2. WPML

Next up is WPML, one of the most well-known WordPress multilingual plugins. Let's see how it performs as a potential Polylang alternative.
Translating Content in WPML
Like Polylang, WPML divides translated content into different content pieces. You add translations inside the WordPress editor, of which it offers several versions. One is pretty much the standard editor with just additional functionality to determine the language and other translation options of a post or page.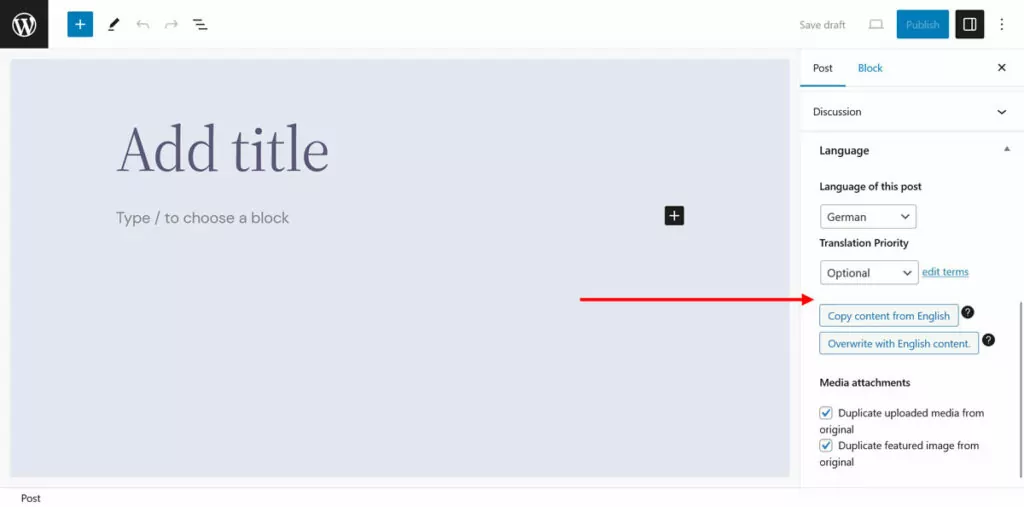 However, you also have an advanced version that not only places the original and translated content side by side but also includes the option to use automatic translation.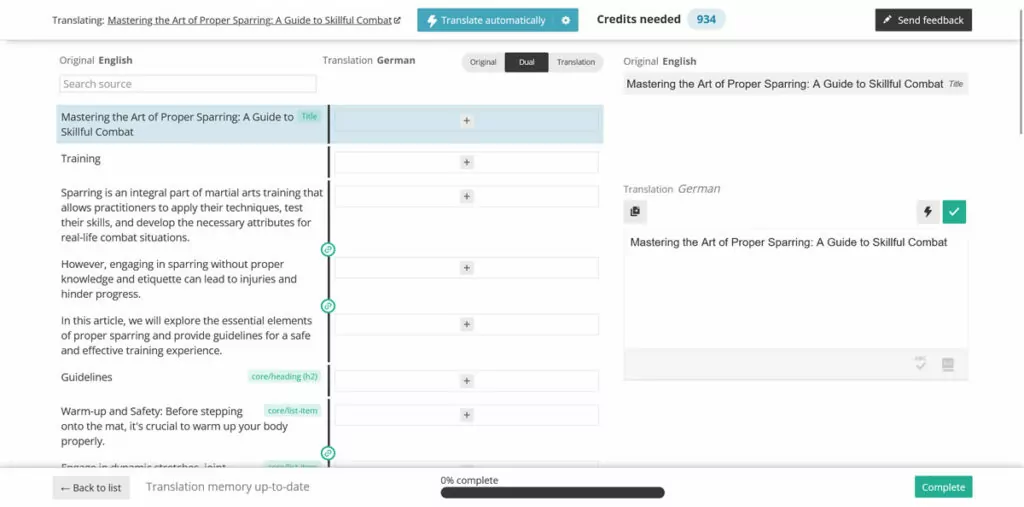 WPML offers machine translation via DeepL Translator, Google Translate, and Microsoft Azure Translator. You can choose to either translate your entire site or single pieces, however, you need to purchase credits in order to do so. More on that below.
The plugin can also translate everything else about your site, including taxonomies, plugin and theme strings, shortcodes, images, metadata, etc. The downside is that with this plugin pretty much all of that happens in different interfaces and menus, so you need to be aware and keep track of it.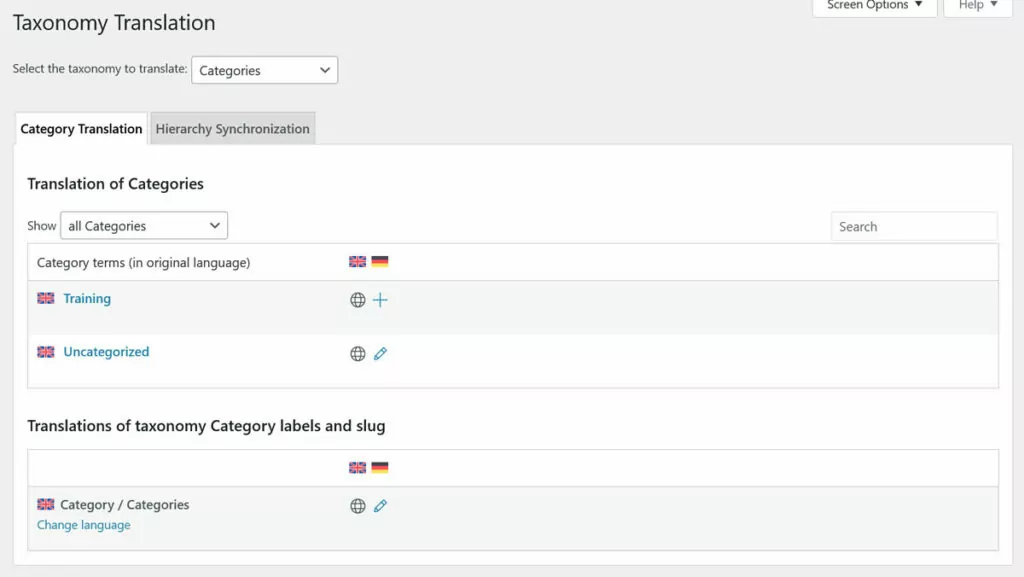 However, the plugin offers an overview of the state of your site translation under Translation Management.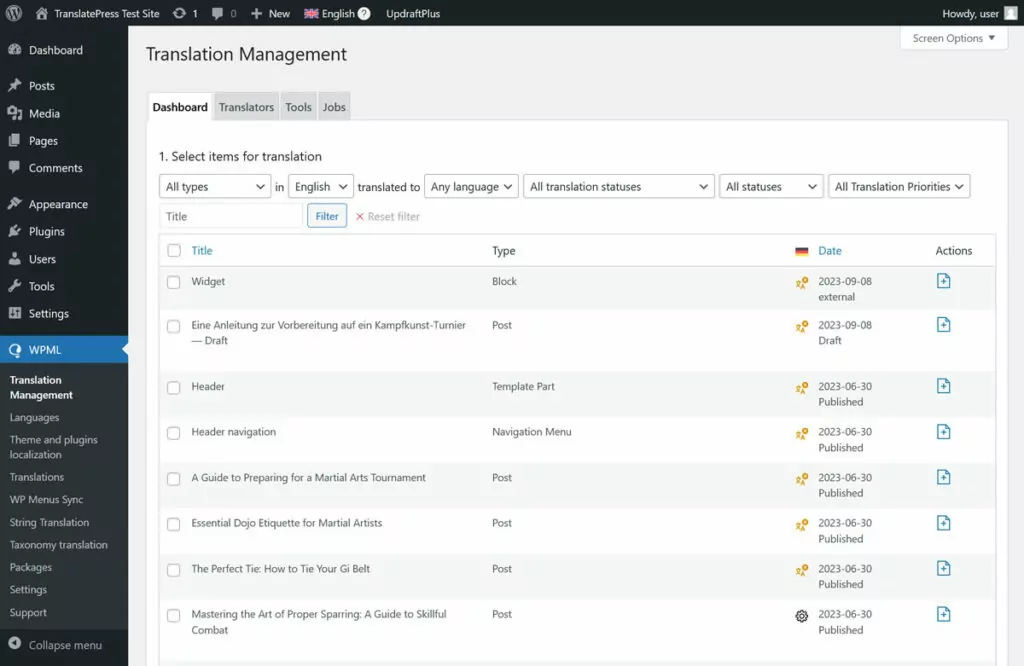 Finally, a way to translate your content that is special to WPML is that it automatically integrates with a number of professional translation services. That way, you can send your content to them from right inside the WordPress dashboard and receive the results automatically integrated into your site. No other Polylang alternative offers this.
Language Switcher and Other Features
Of course, WPML has its own language switcher solutions. You can tell the plugin to place it in your menu, footer, widget, and above or below your post content. It also has a language switcher block that you can place in your templates wherever you want via the WordPress Site Editor.
One of the other main features of WPML is that it's quite SEO-friendly. It offers several different formats for multilingual URLs, implements hreflang tags, has the option to edit SEO titles and meta descriptions, and multilingual sitemaps.
WPML: Premium Version
What makes WPML stand out on this Polylang alternatives list is that there is no free version. It's a premium-only plugin, albeit with a 30-day money-back guarantee. It comes in three different versions and pricing models:
Multilingual Blog (€39) — One year license for one website
Multilingual CMS (€99) — One year license, three websites, 90,000 translation credits
Multilingual Agency (€199) — One year license, unlimited sites, 180,000 translation credits
Of these, Multilingual Blog comes with such few features that it's not really that useful. Therefore, you will most probably go for at least the CMS version.
If you are using automatic translations, you get 2,000 free credits per month as long as you have a license. After that, you either pay as you go or can purchase prepaid credit packages.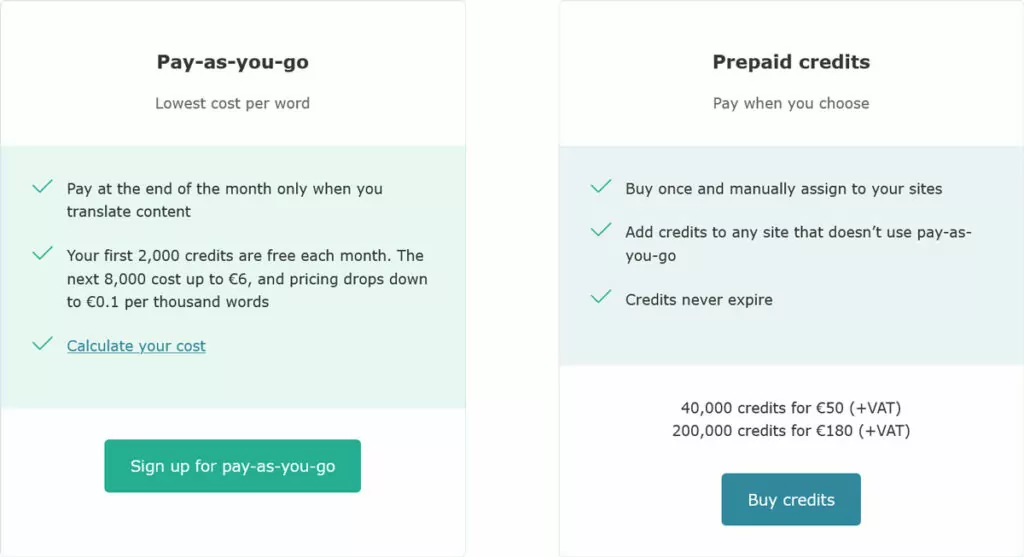 For Google Translate and DeepL, WPML charges two credits per word, for Microsoft Azure only one.
If you want to know more, we also have a detailed comparison of WMPL and Polylang.
3. WPGlobus

WPGlobus is another WordPress solution for multilingual websites that is worth looking at.
Translating Content with WPGlobus
WPGlobus is in the camp of plugins that handle translations manually. However, instead of separate content pieces, all language versions are saved in one post or page. The plugin tags them with special markup that allows them to display the content depending on the chosen language.
Because of that, you can also work on your languages in the same editor. At the same time, it means you can't unpublish only one language version if you want to. It's also best if you use WPGlobus with the classic WordPress editor, I honestly couldn't get it to work with the block editor.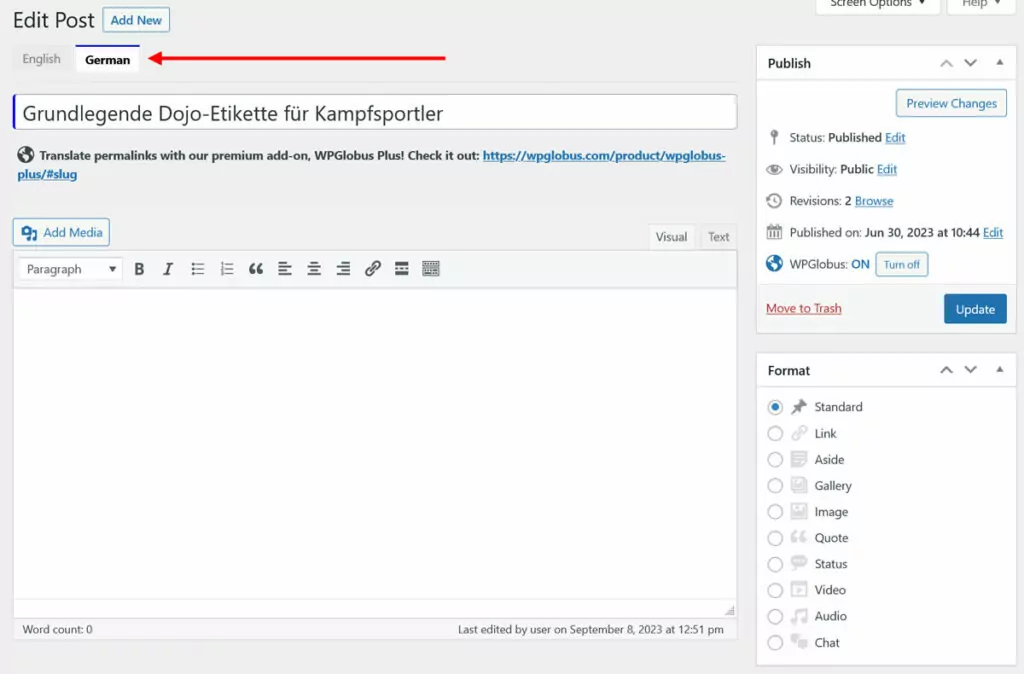 Use the tabs on top of the editor to enter your multilingual content and save it. When you go to the front end afterwards and use the language switcher, you can see the translated content there.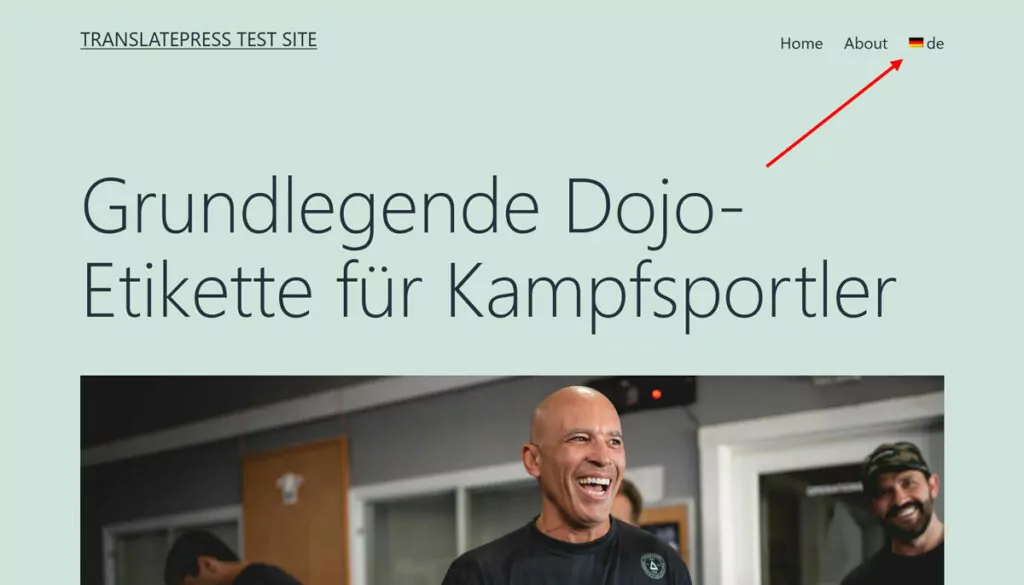 The language switcher goes automatically to a menu or you can put it wherever you want via a widget. Here, too, it's better if you are on a classic menu than using the WordPress Site Editor.
Because of the way that WPGlobus is set up, it's important that you use the uninstall function should you want to get rid of it. If you simply switch it off, you will be left with extra markup in your content that won't make sense to visitors or search engines.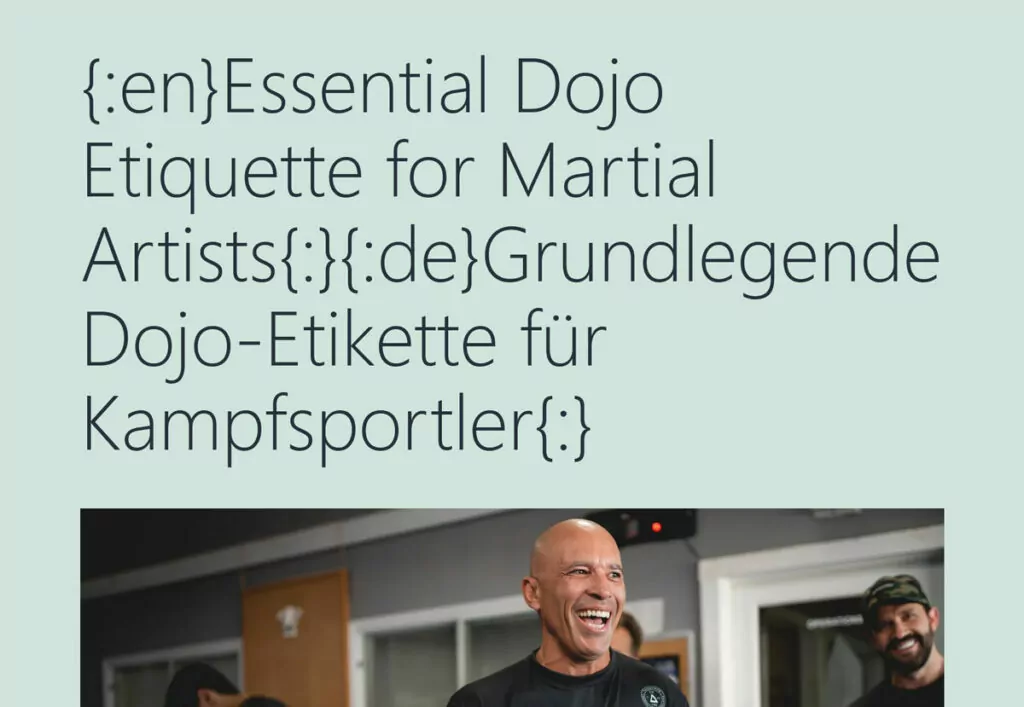 WPGlobus: Premium Version
WPGlobus is a free plugin, however, it also has a premium version with additional features for $99/year:
Support for Advanced Custom Fields, TablePress, and Yoast SEO Plus
Ability to publish singular language versions that don't have a translation yet
Translate taxonomies, URL slugs, and set up different menus for individual languages
Advanced settings for the language switcher
The plugin also has individual premium add-ons where you can add more features or use some of the functionality of the pro plugin on your site. Here's what they offer and how much they cost
Multilingual Popups ($15/year) — Translate popups from plugins like Popup Maker.
WPGlobus for WooCommerce ($119/year) — Use the translation plugin together with WooCommerce.
Language Widgets ($15/year) — Control the appearance of widgets depending on the chosen language.
Menu Visibility ($19/year) — Like the widgets add-on but for menus.
Mobile Menu ($14/year) — Create a multilingual mobile menu.
Header Images ($19/year) — Offer different header images for different language users.
There are also some add-ons to make WPGlobus work with certain plugins, themes, and payment providers. Overall, a lot of functionality that you get for free in other Polylang alternatives.
4. Multilanguage by BestWebSoft

Now it's time to talk about Multilanguage by BestWebSoft. It, too, allows you to add more than one language to your website.
Translating Content
The first thing need to do in this plugin is to add to and enable a new language on your site. You can do that in the settings.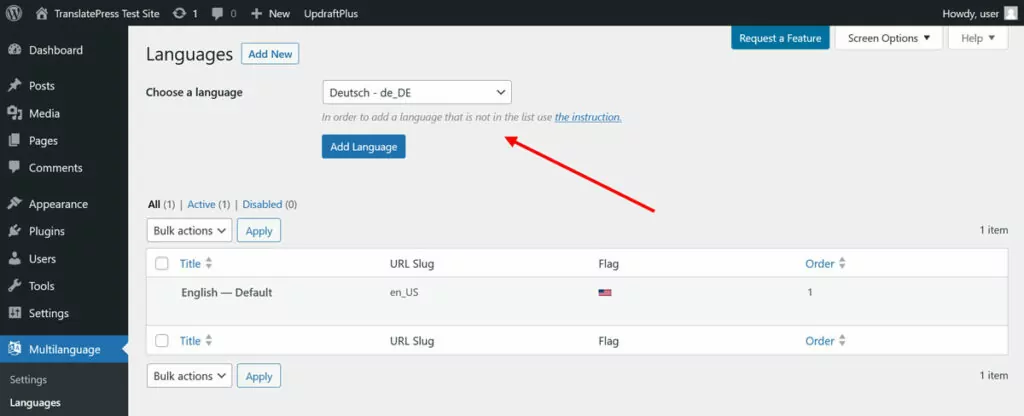 Once finished, when you go to the WordPress editor, you will notice a new icon in the user interface.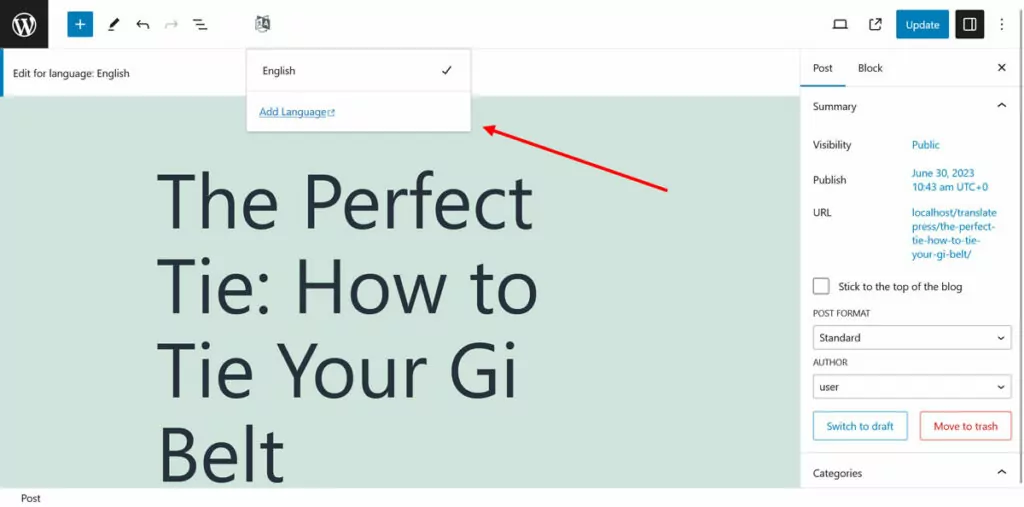 It allows you to switch between different language versions of your content that you can manually create. The process is pretty quick and seamless.
However, in order to make your translations available, you first need to show a language switcher. This you can do either in the form of a widget or menu item (for classic themes) or using a shortcode.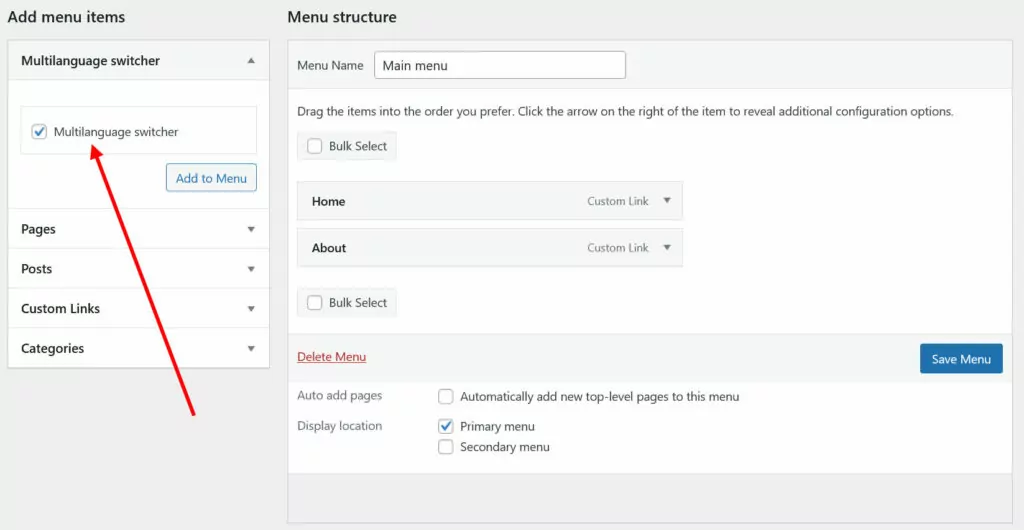 What other WordPress content can Multilingual by BestWebSoft translate? Categories and tags as well as menus. It also has automatic translations via Google, can translate Open Graph data, and can customize the language switcher to your needs (flags, format, names, etc.). That's it for the free version.
Multilingual by BestWebSoft: Premium Version
If you decide to spring for the paid version of Multilanguage by BestWebSoft, this is what you get:
Ability to translate custom post types, taxonomies, and fields, post category, and tag descriptions, post slugs in the Classic Editor, widget titles of legacy widgets, as well as your website title and tagline
Compatibility with popular plugins like Elementor, Advanced Custom Fields, and Yoast SEO
Ability to customize the language slug in the website URL
Option to create separate menus and display different (legacy) widgets for different languages
Functionality to switch language automatically based on a user's IP
You can get all of the above for $43/year.
5. GTranslate

GTranslate is another Polylang alternative for building a multilingual website. Let's see what it has to offer.
Translating Content in GTranslate
It turns out the "G" in GTranslate stands for "Google". Because all this plugin provides is machine translation for your website via Google Translate. After you install it, basically the only things you need to adjust are which languages you want to offer as well as the look and position of the language switcher.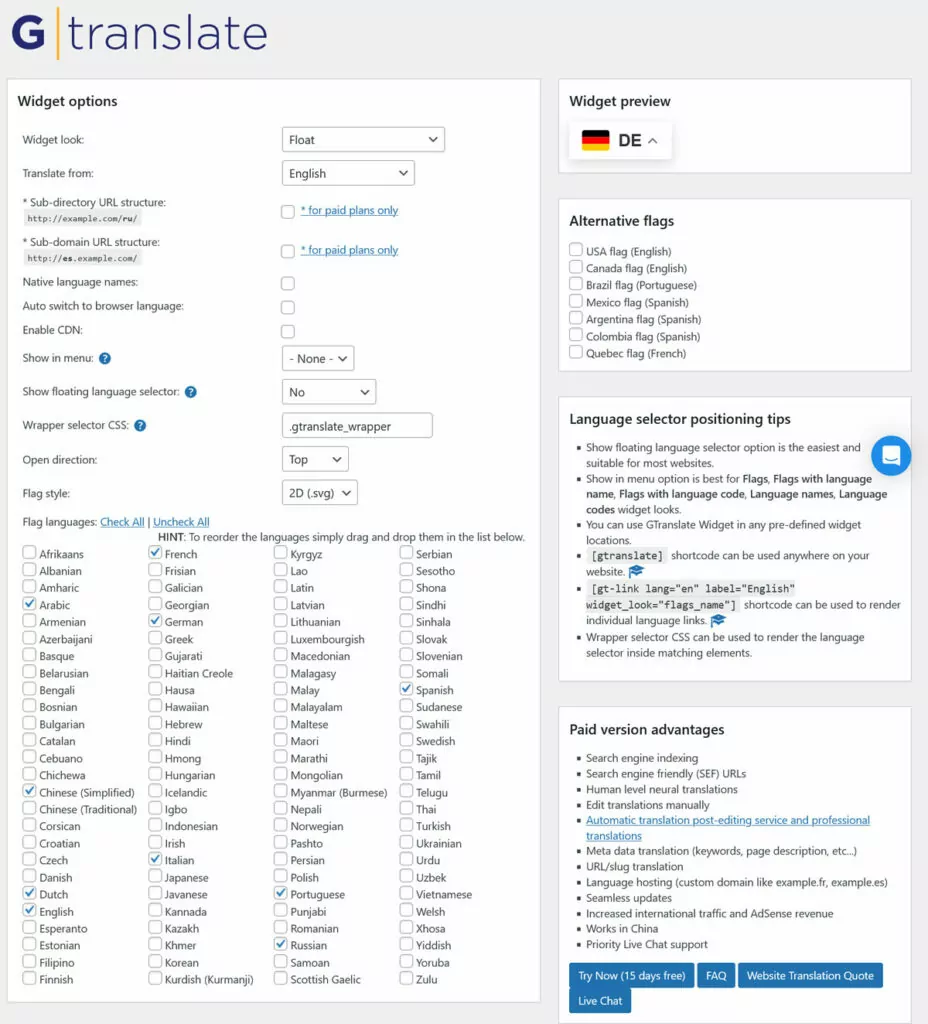 After that, when you go to the front end of your website and use the language switcher, it automatically translates your content.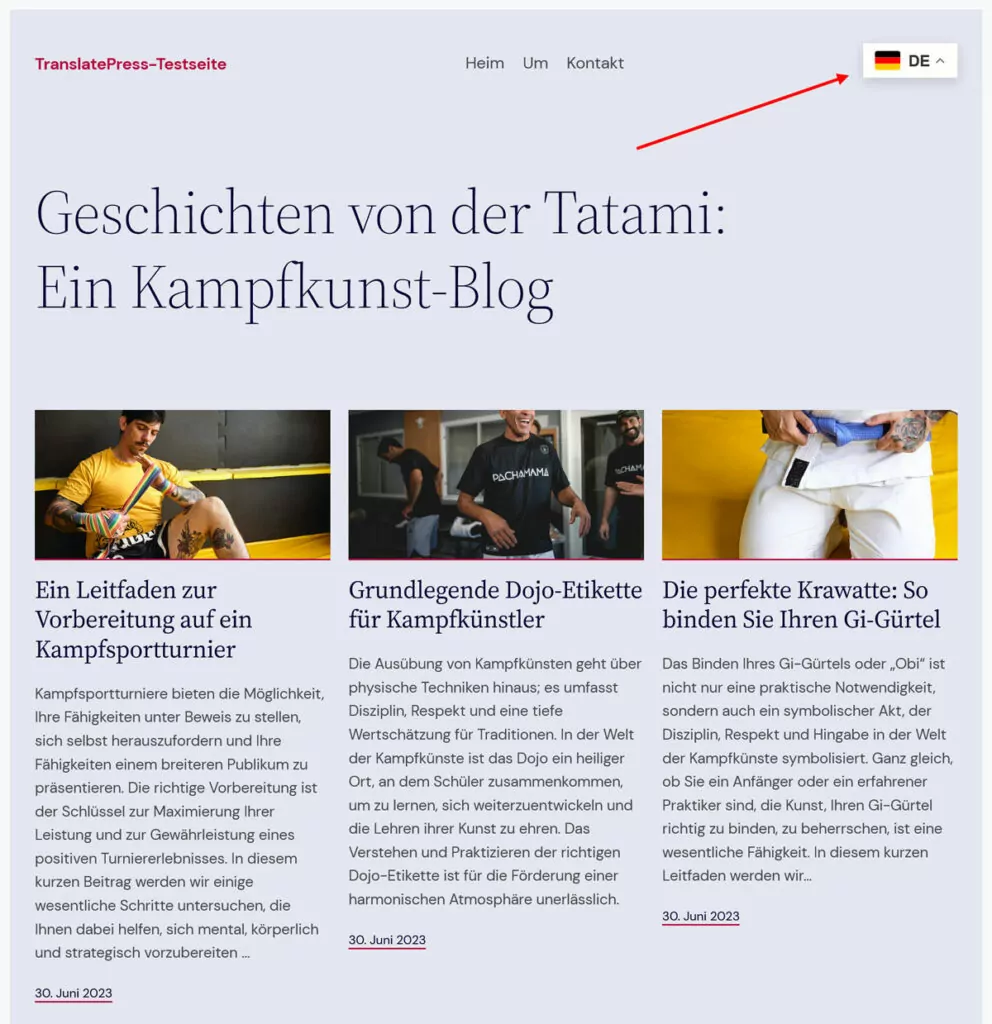 This is similar to Google's own service, however, GTranslate makes it look more professional by removing the usual browser frame.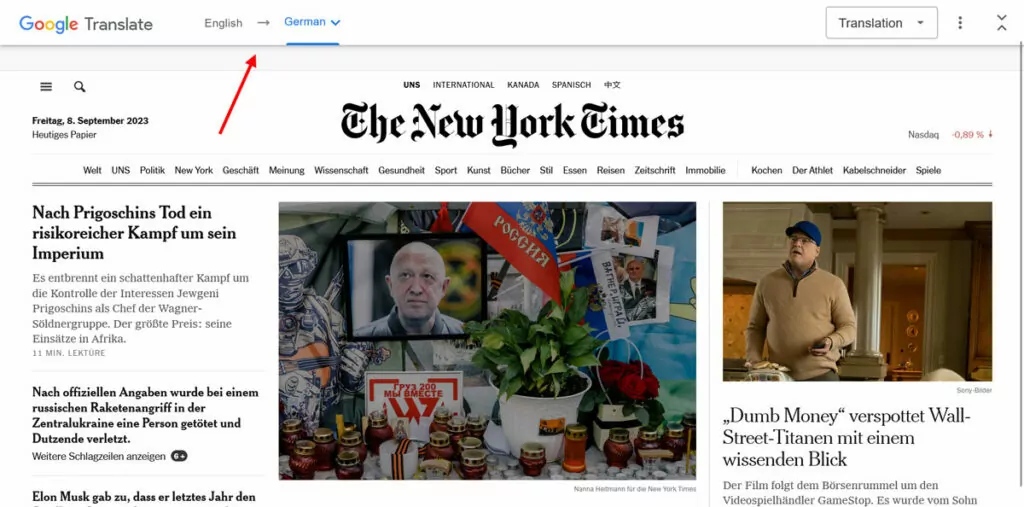 The only other option this plugin offers is placing the language switcher in the navigation menu or wherever you desire via a shortcode.
GTranslate: Premium Version
If you are looking for other features, that's mostly it. Should you want more advanced functionality, you have to go for the paid version. Notably, it offers the following things:
Improved automatic translation technology
Indexable, search-engine friendly URLs as well as metadata translation (meta description, etc.)
The ability to edit translations manually and connect your site with professional translators
Language-specific domains
Priority live chat support
Automatic plugin updates
Paid plans start at $9.99/month or $99.90/year and there is a 15-day free trial.
6. Bogo

The last Polylang alternative we want to talk about is by the author of Contact Form 7, one of the most popular WordPress plugins of all time. It also has a unique approach to website translation.
Translating Content
Bogo takes advantage of the fact that WordPress already allows you to switch the language in the back end. This is in order to use WordPress itself and themes and plugins in different languages. This plugin expands on that by extending it to post and page content.
After the installation, the first thing you need to do is download the language packs for the languages you want to use on your site in the plugin settings.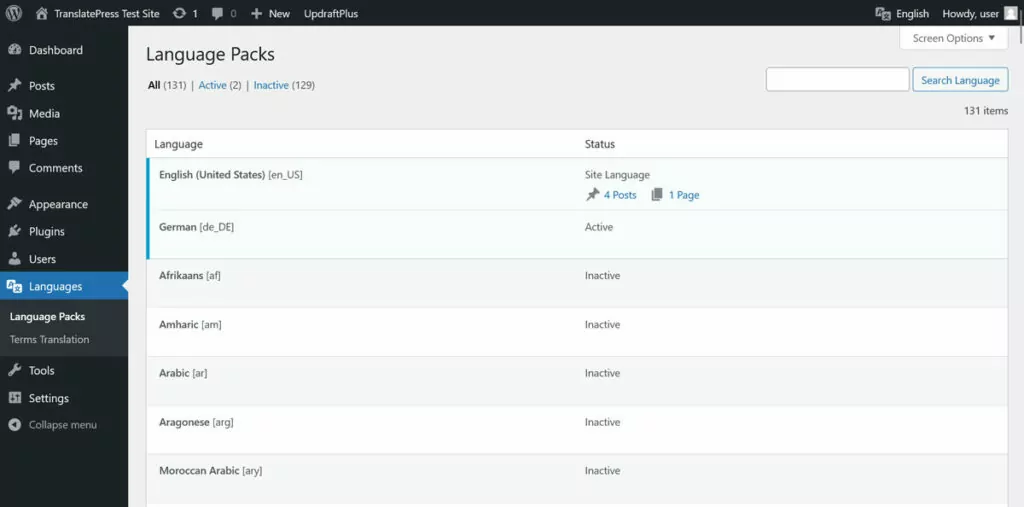 After that, when you open a post or page in the editor, you find a new Language section in the options sidebar.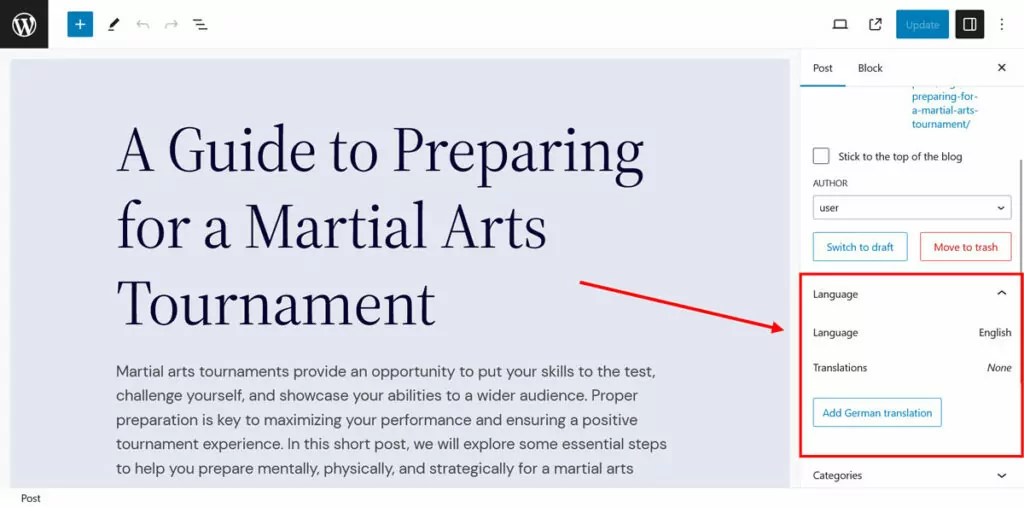 When you click the button to add a translation, Bogo creates a copy of the original content that you can use as a basis to manually convert it into a new language. Because it's a separate post, you can also customize the URL to whatever you need. However, Bogo has no options to create language-specific URLs.
The plugin also shows different locales in the post and page lists and you can use the native tools to filter them.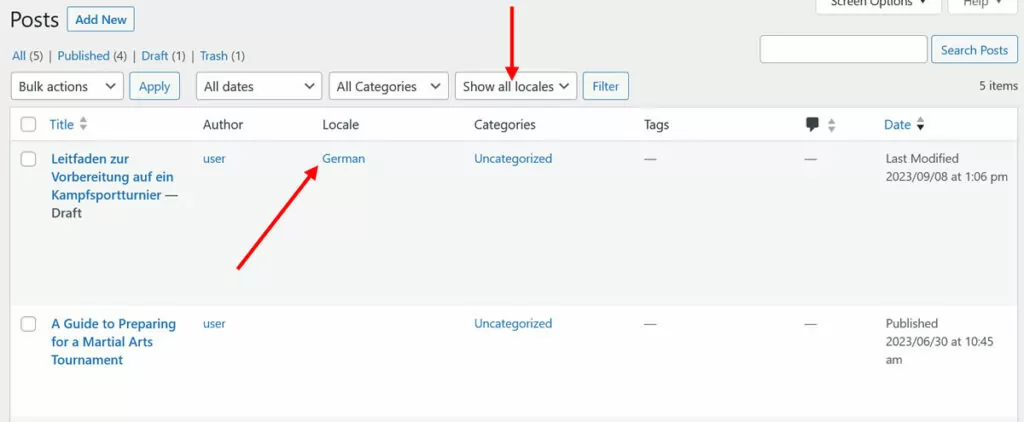 Once you have published your content, the only thing left to do is to add the Bogo language switcher widget to wherever you want it to appear.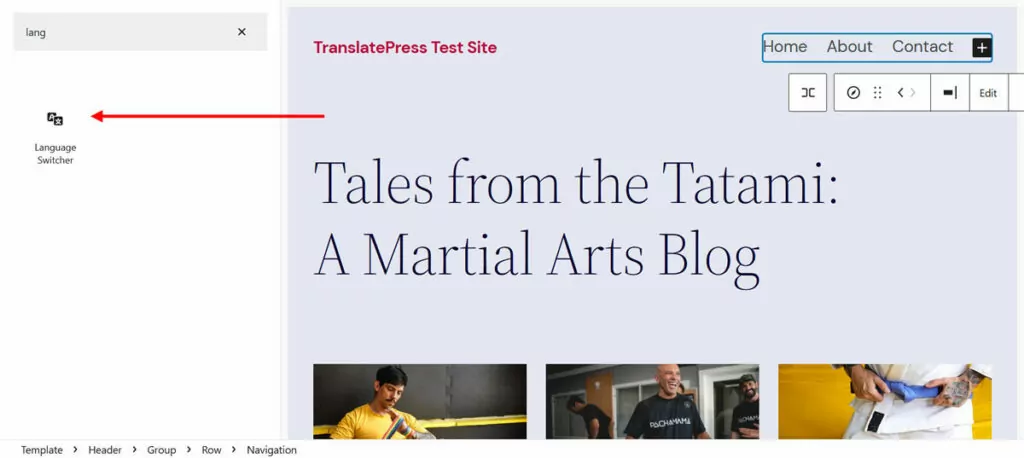 Other Features
In itself, Bogo is a very elegant solution that takes advantage of native WordPress functionality. There is also no premium version and nothing hidden behind a paywall.
On the other hand, unfortunately, this Polylang alternative stands out more by what is missing and less by what it provides. Here's some of the stuff you can't do with Bogo:
Automatically translate content or integrate with machine translation
Translate anything other than post and page content, not even taxonomies or your site title and tagline
Create an SEO-friendly URL structure that divides content into different language versions
In the end, it's great at what it does, however, that's it. It does not come with a lot of the additional functionality that other translation plugins offer.
Polylang Alternatives: Final Thoughts
Polylang is a popular translation plugin for a reason, however, that doesn't mean that there aren't good alternative solutions out there. Above, we have gone over how Polylang works, what it does well, and where it could improve. We have also covered six alternative plugins you can use for translating your website.
Which one is the best for your website is up to your particular needs. We'd like to think that TranslatePress stands out through its ease of use, integration with automatic translations, and thoroughness. We hope you give it a try and would love to hear from you with any questions or comments you have.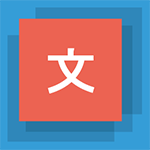 TranslatePress Multilingual
The most user-friendly Polylang alternative for your multilingual site.
Get the plugin
What is your favorite Polylang alternative and why? Let us know in the comments!