Trying to decide between Polylang vs WPML to create a multilingual WordPress site?
While these two plugins aren't the only quality WordPress translation plugins, they are two of the most popular options.
As such, you might be struggling to choose between WPML and Polylang.
To help you make the right choice, we're going to objectively compare these two plugins in a few key areas:
Translation options – beyond manual translation, what other options do you have? E.g. automatic translation, professional translation services, and so on.
Translation interfaces and user-friendliness – what's it like to manage your site's translations?
Translation completeness – are you able to translate 100% of your site's data? What about content from other WordPress plugins? Backend SEO metadata? Images? Etc.
SEO-friendliness – can you rank your translated content in Google and other search engines?
Pricing – how much does it cost to create an effective multilingual website?
After we cover our detailed Polylang vs WPML comparison, we'll also share a third alternative that you might want to consider (TranslatePress), as well as how TranslatePress stacks up in the same areas.
Let's dig in!
Polylang vs WPML Translation Options
To kick things off, let's go over the options that Polylang and WPML offer when it comes to translating your site's content.
Manual Translation
To kick things off, both Polylang and WPML let you manually translate your content.
With Polylang, manual translation is pretty much the sole focus.
With WPML, however, manual translation is just one option you have in your toolbelt.
Automatic Translation
If you want to use automatic machine translation, WPML has a big advantage over Polylang.
With WPML, you can automatically translate your entire site or individual pieces of content using your choice of three different machine translation services:
DeepL Translator
Google Translate
Microsoft Azure Translator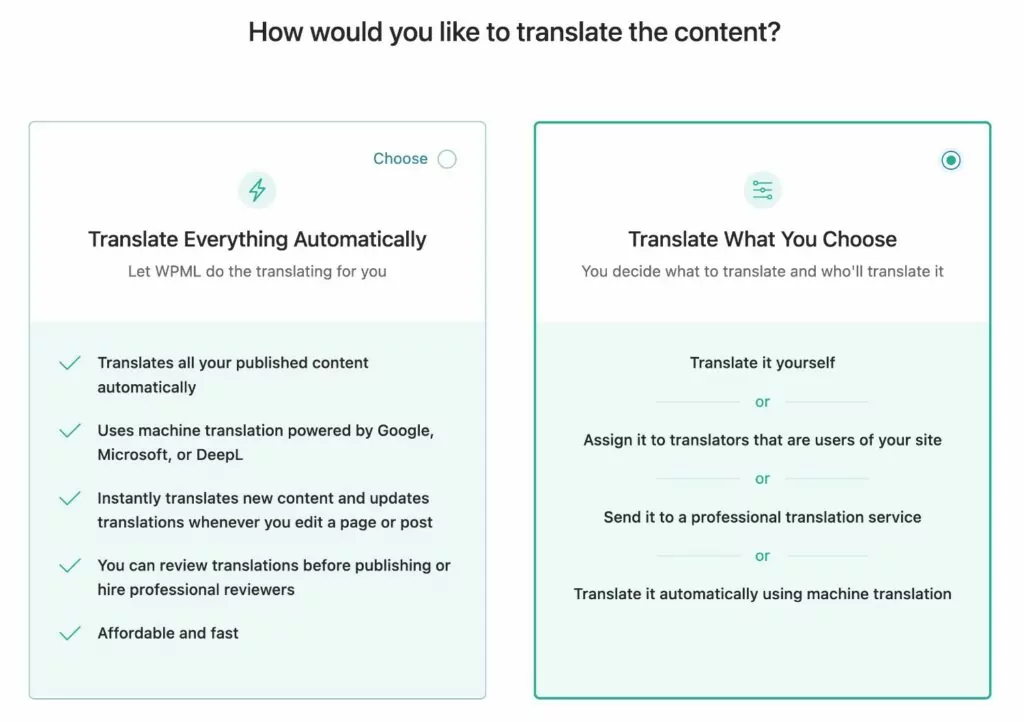 Polylang, on the other hand, does not support automatic translation in the core plugin. If you use Polylang by itself, your only option is manual translation.
With that being said, there are ways to add automatic translation to Polylang with third-party plugins. Most notably, Ray Enterprise Translation (formerly known as Lingotek Translation).
However, since rebranding from Lingotek Translation to Ray Enterprise Translation, the plugin's reviews are not very good and some users report issues integrating it with Polylang.
Overall, if you want to use automatic translation, WPML is most likely a better option than Polylang. Or, you might want to consider other translation plugins like TranslatePress, which supports Google Translate and DeepL – more on that later.
Professional Translation Services
Beyond manually translating your content, you also might consider using a professional translation service or a freelance translator.
Here again, WPML surpasses Polylang (and most other translation plugins).
WPML offers dedicated integrations with a number of professional translation services – you can find a full list here.
If you use one of these services, you can send your content for translation right from your WordPress dashboard. Once the service translates your content, they can also add the translations right to your site, which saves you from needing to manually do it.
As with automatic translation, Polylang does not have any built-in support for integrating with professional translation services.
The same Ray Enterprise Translation plugin from above can also help with connecting with professional services. But again, you'd be relying on a third-party tool that has been receiving a lot of negative reviews since its rebranding.
Polylang vs WPML Translation Interfaces and User Friendliness
Next, let's go over the interfaces in Polylang vs WPML. That is, what it's actually like to use both plugins to translate your content.
Both plugins require you to manage your translations in multiple different interfaces. While it's not very convenient to do that, it's also not a huge deal once you get the hang of things.
Let's go through the different options to manage your translations…
Polylang
Note – we're using the premium version of Polylang for these screenshots. You might not have all of these options in the free version. More on pricing later.
To translate the content of an individual piece of content, Polylang essentially just creates a duplicate of the WordPress editor for each language.
There's nothing connecting the actual content together on the backend. The posts are associated in a general sense – but it's not like you'll see a side-by-side comparison of the original content and the translated content (this will make more sense once you see WPML).
To start, you'll open the editor for the existing piece of content that you want to translate. Then, you can click the "plus" icon next to the language version that you want to create: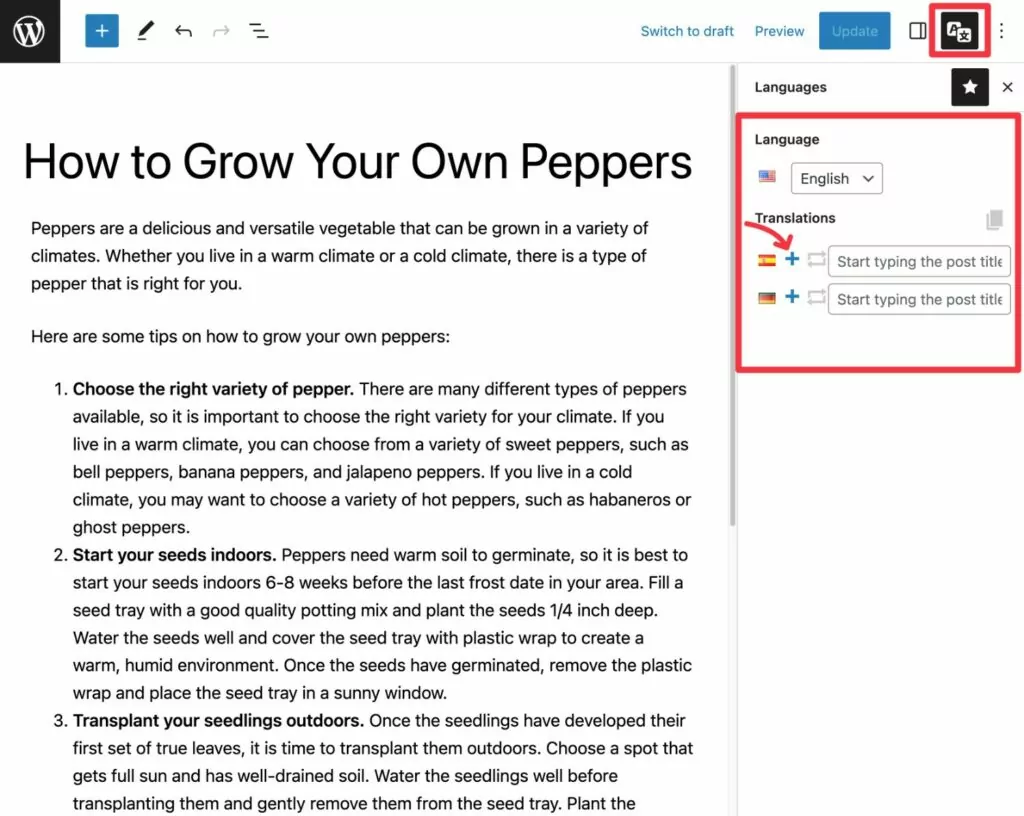 This will launch a new version of the WordPress editor for that language version. You can now add your translated content from scratch.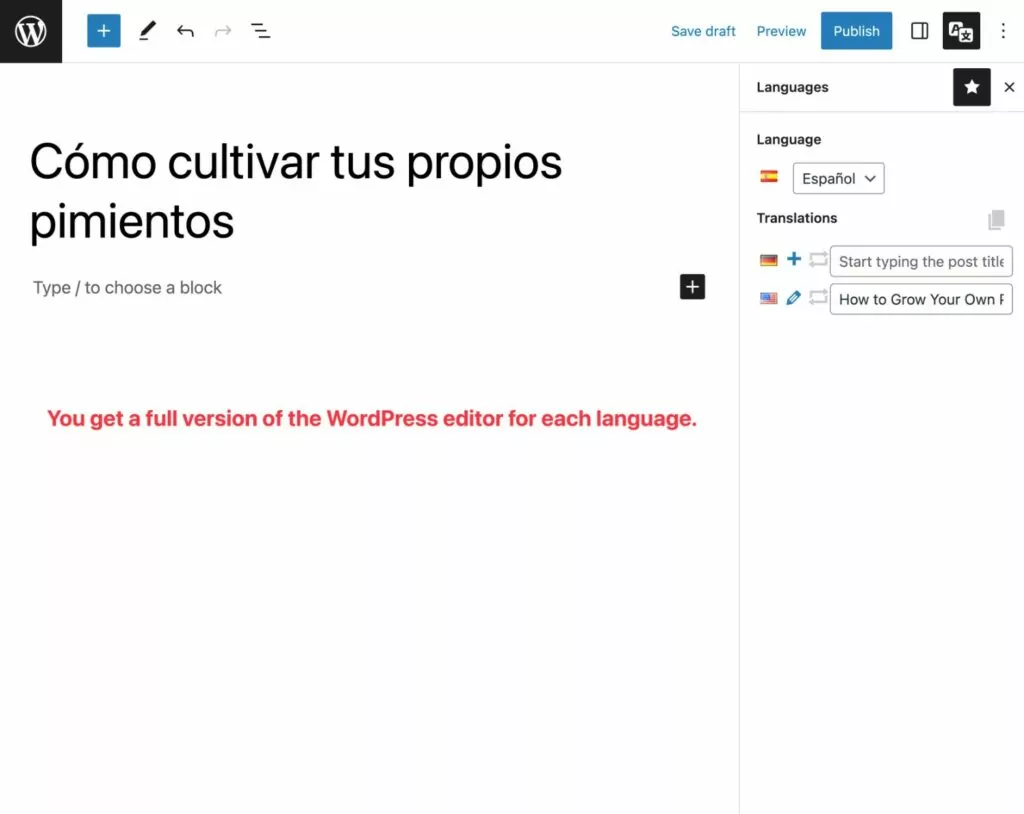 Polylang will also integrate with some, but not all, plugins to let you translate content in a similar way.
To translate other content on your site – e.g. non-supported plugin content, theme strings, menus, widgets, and so on – you'll work from a separate string translation interface that you can access by going to Languages → Translations.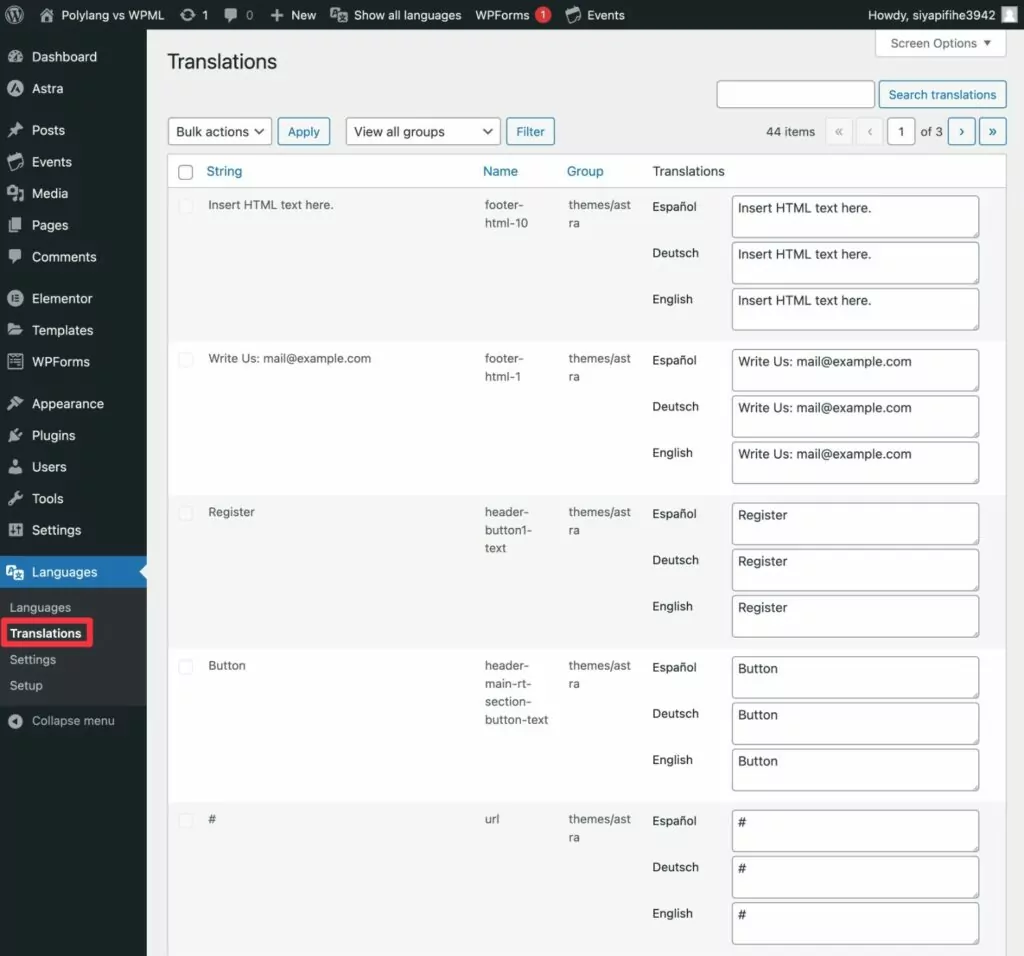 While this interface is easy enough to use, it can feel a bit overwhelming if you have a large site (though the filters can help you focus on specific content).
WPML
With WPML, you'll also work from different interfaces depending on the content that you want to translate.
To translate individual pieces of content, you can choose from two different editing experiences:
Advanced Translation Editor (recommended) – this is a custom interface that gives you a side-by-side view to manage translations. This is also where you can access automatic machine translation.
Classic Translation Editor – this lets you work very similarly to Polylang, in that you basically get a duplicate of the native WordPress editor for each piece of content. Or, you can also use a slightly different version of the side-by-side editor.
Here's what the Advanced Translation Editor looks like: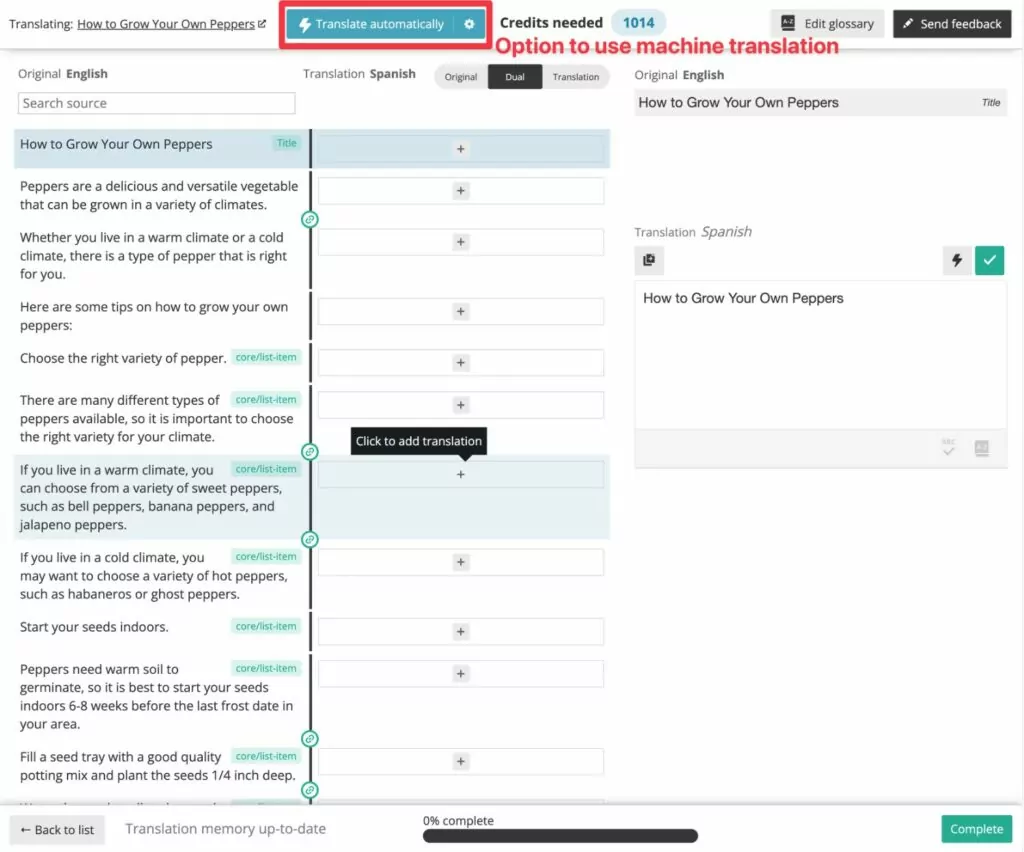 And here's what the Classic Translation Editor looks like when you choose to use the WordPress editor instead of WPML's editor: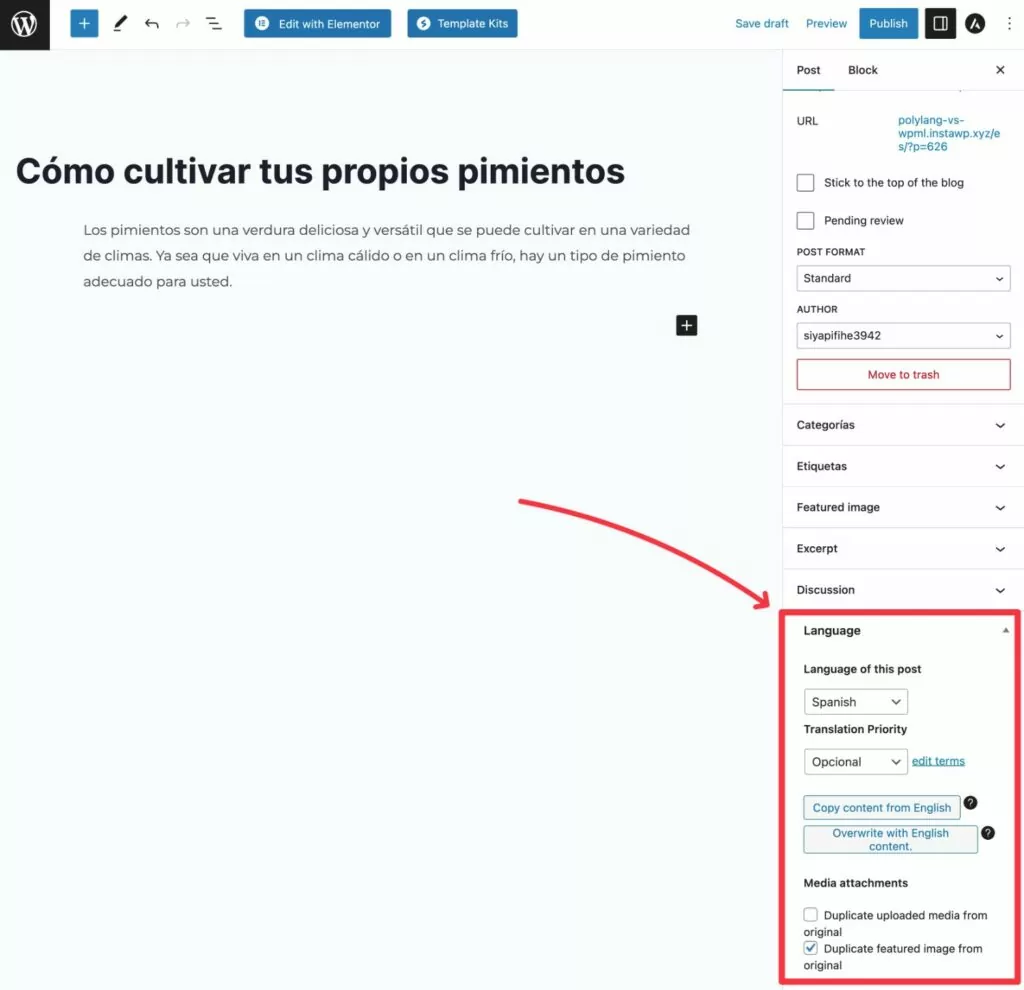 However, to manage the translations for other types of content on your site – theme strings, plugin strings, menus, etc. – you'll often work from different interfaces.
If a plugin uses custom post types, you might be able to work from a similar interface. For example, if you were using The Events Calendar, you could use the same Advanced Translation Editor to translate the title and description of your events.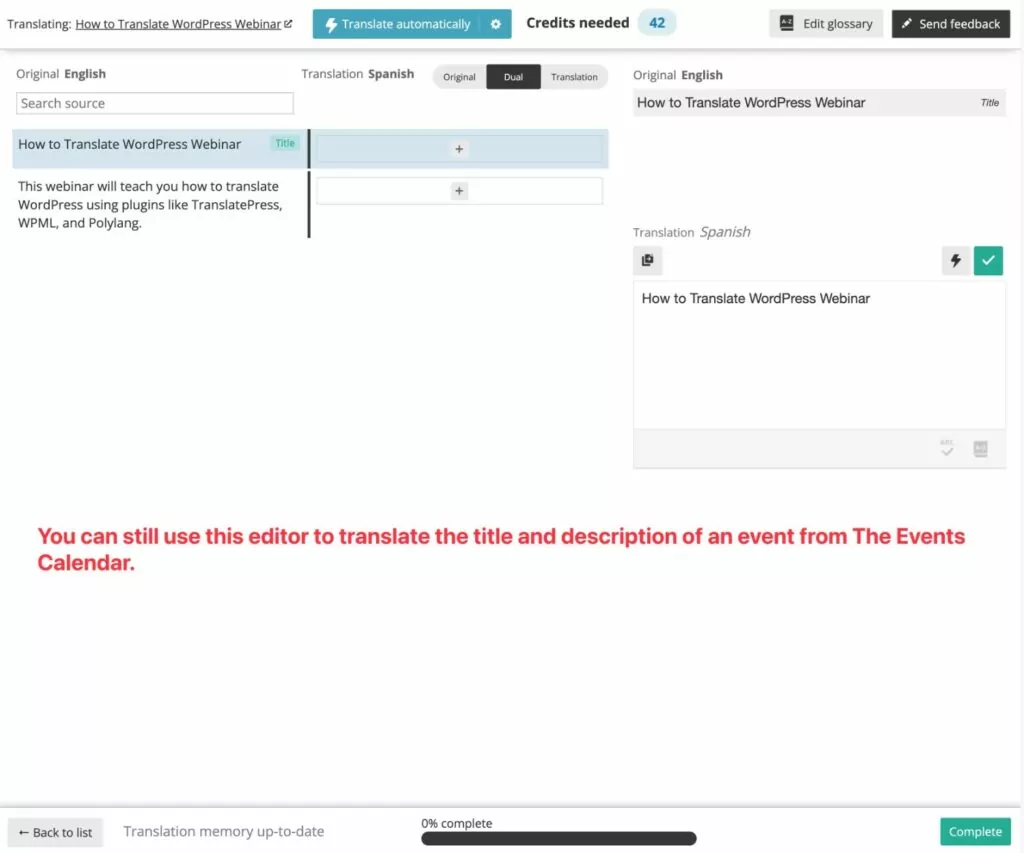 However, to translate plugin strings from outside the editor, you'll need to use the separate string translation interface.
For example, here's what it looks like to translate the strings from the WPForms plugin: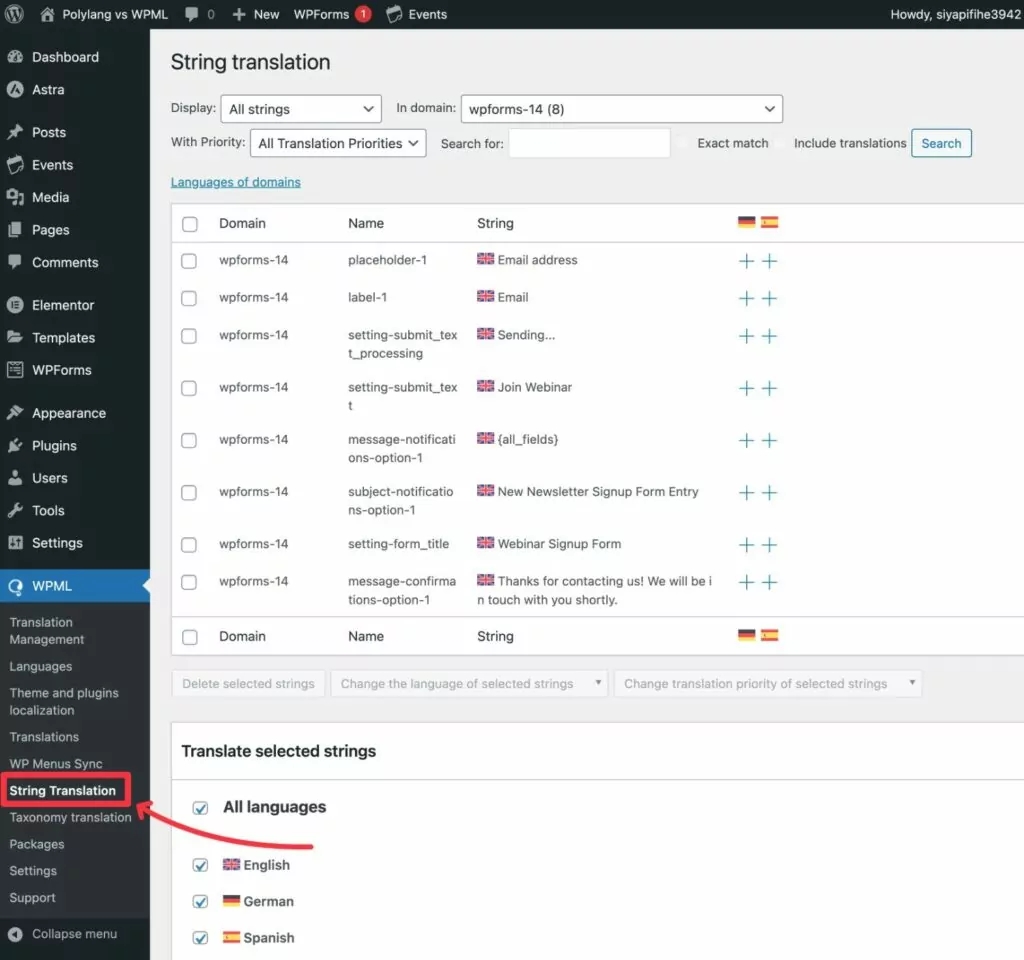 There's also a separate interface to translate taxonomies: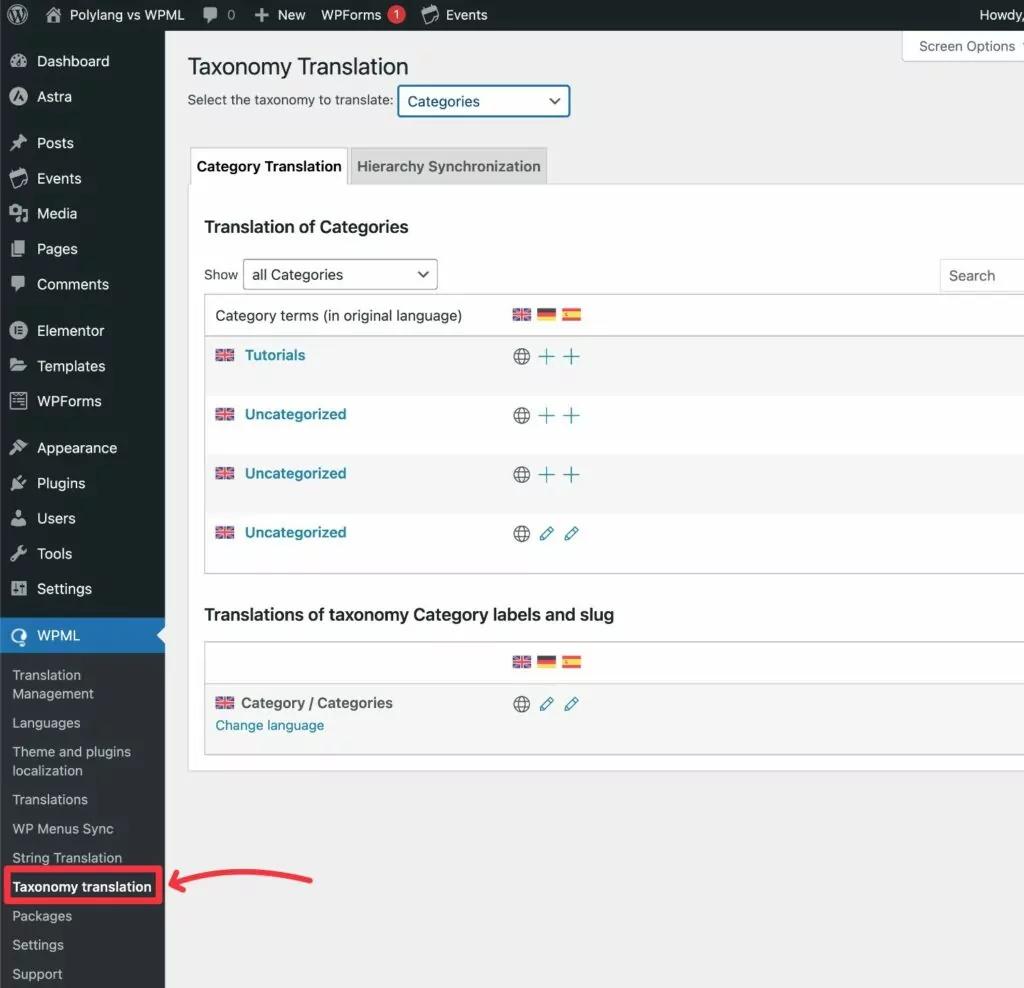 One nice thing about WPML is that it also gives you an overall translation management interface that lets you see the translation status of all the content on your site.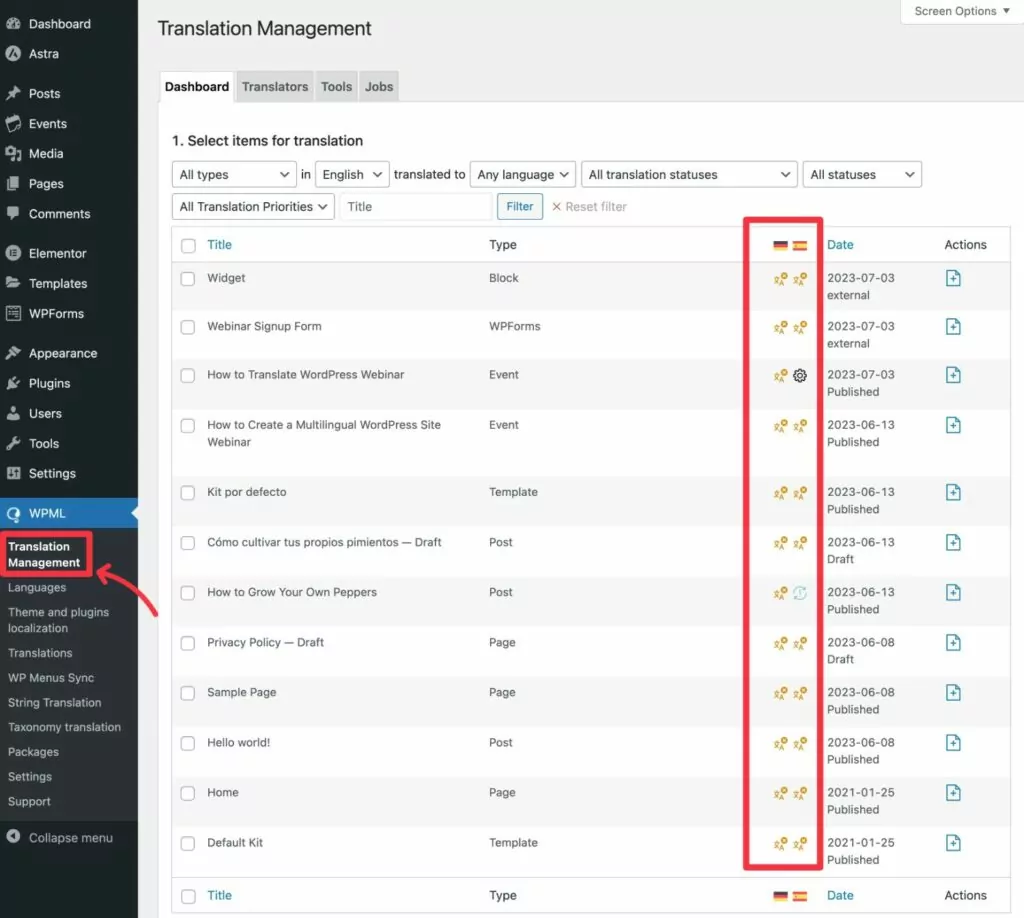 Having this flexibility gives WPML an advantage over Polylang because you're able to choose the editing experience that works for you.
However, because there are so many different areas to manage translations, it can also feel a bit overwhelming when you're just getting started.
Polylang vs WPML Translation Completeness
Beyond having a user-friendly way to manage your site's translations, it's also important that your chosen translation plugin can help you create comprehensive translations.
Your WordPress site will have content coming from a lot of different places. Here are some examples:
Text content from the native WordPress editor (Block editor or Classic editor).
Text content from your theme.
Images.
Videos.
Frontend content from plugins (e.g. a page builder plugin, WooCommerce, a membership plugin, and so on).
Backend content/metadata from plugins (e.g. the SEO title and meta description from your SEO plugin).
URL slugs.
Shortcodes and shortcode output.
Taxonomies (categories, tags, etc.)
Etc.
If you want to create a completely localized multilingual experience for your site's visitors, you need a tool that lets you translate everything.
Polylang and WPML generally support comprehensive translations, but it's not always straightforward.
Oftentimes, you'll need to rely on the string translation interfaces to access content like text strings from plugins, which isn't the most user-friendly way to manage things.
In some cases, you might need to install an integration plugin to improve translation capability.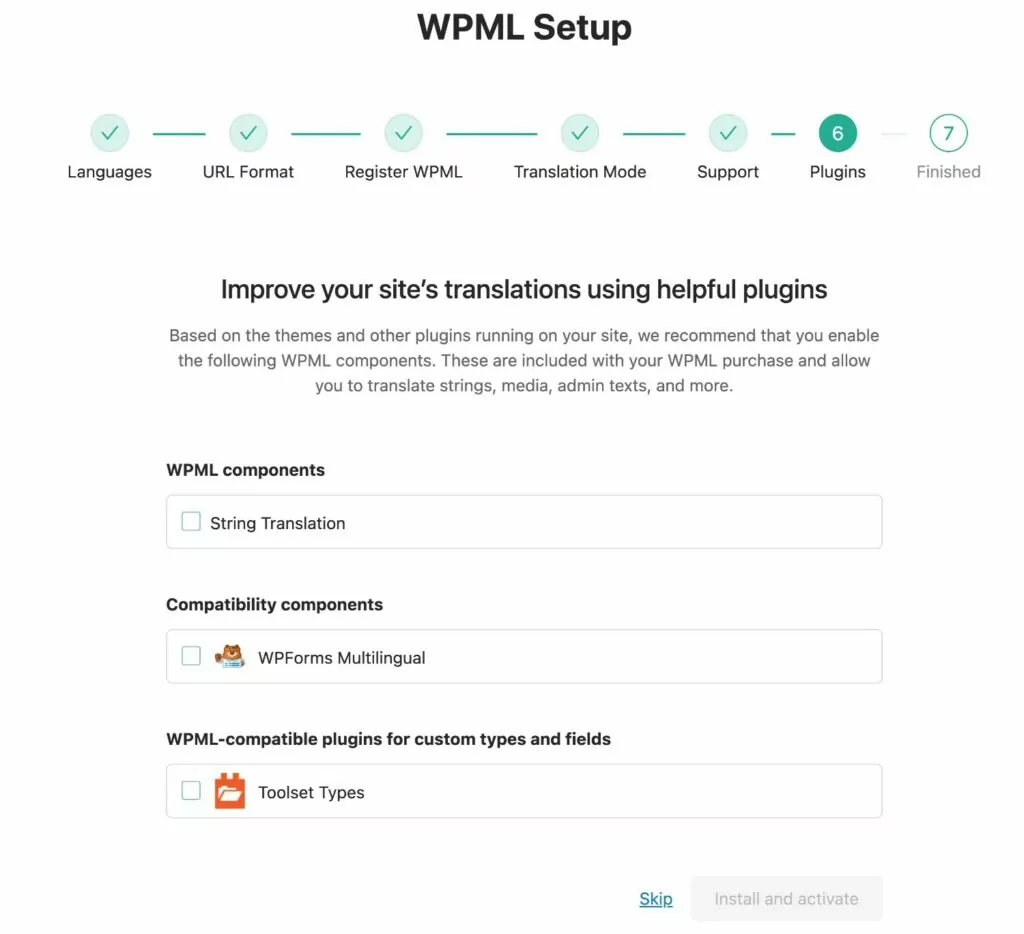 Or, in rare cases, you might need to manually define certain strings, which can happen if the plugin developer isn't following WordPress coding conventions.
If you're worried about this, WPML maintains a directory of plugins that are confirmed to be compatible with WPML. Polylang doesn't have as centralized a database, which can make it a little more difficult to assess compatibility.
There is a category on the Polylang site for plugin and theme compatibility, but you'll largely need to test things yourself.
If you want to avoid plugin compatibility issues, you might want to choose a translation plugin that looks at your site's rendered content to manage translations. This makes it much easier to ensure comprehensive translations when it comes to content from plugins, shortcode output, etc.
Popular options that use this approach include TranslatePress and Weglot – more on this later.
Polylang vs WPML SEO Friendliness
If you want to implement an international SEO strategy and have your site benefit from multilingual SEO, it's important that your chosen multilingual plugin can help you implement SEO best practices.
Here's a quick rundown on important SEO considerations for Polylang and WPML – you won't notice any major differences either way:
Polylang
WPML
Fully Google-indexable translations
✅
✅
Supported URL formats
– Subfolders
– Subdomains
– Separate domains
– Subfolders
– Subdomains
– Separate domains
Automatic hreflang tags
✅
✅
Translate SEO titles/descriptions
✅
✅
Multilingual XML sitemap
✅
✅
Supported plugins
Polylang vs WPML Pricing
If you have an unlimited budget, you might not care about pricing. But for most people, the cost of each plugin will be another important factor when it comes to a WPML vs Polylang comparison.
First off, one big difference is that Polylang has a free version, whereas WPML only comes in a premium version.
So if you're looking for a free WordPress translation plugin, that instantly shifts things in Polylang's favor (though you can find other quality free translation plugins like TranslatePress).
When it comes to the premium versions, WPML is generally a bit cheaper for most use cases, though the price will be similar if you only have a single site and you're not running a WooCommerce store.
Let's go through the paid plans…
Polylang Premium Versions
The core Polylang Pro plugin starts at €99 for use on a single site, with prices going up if you need licenses for multiple websites.
This is all that most sites will need to pay. However, if you're creating a multilingual WooCommerce store, you'll also want to purchase Polylang for WooCommerce. Polylang for WooCommerce also starts at €99 for use on a single site.
You can also access both Polylang Pro and Polylang for WooCommerce via the Polylang Business Pack, which starts at €139 for use on a single site.
WPML Premium Versions
WPML, on the other hand, offers three different license options. There are three types of differences between the plans:
Features – the cheapest plan has a limited feature set and it's not an option for most serious use cases.
Automatic translation credits – on the higher two licenses, you get a different number of automatic translation credits. More on those next.
Supported websites – each plan lets you use the plugin on a different number of websites, with the highest tier supporting unlimited websites.
Here's a screenshot of the three different plans, along with the feature differences between them.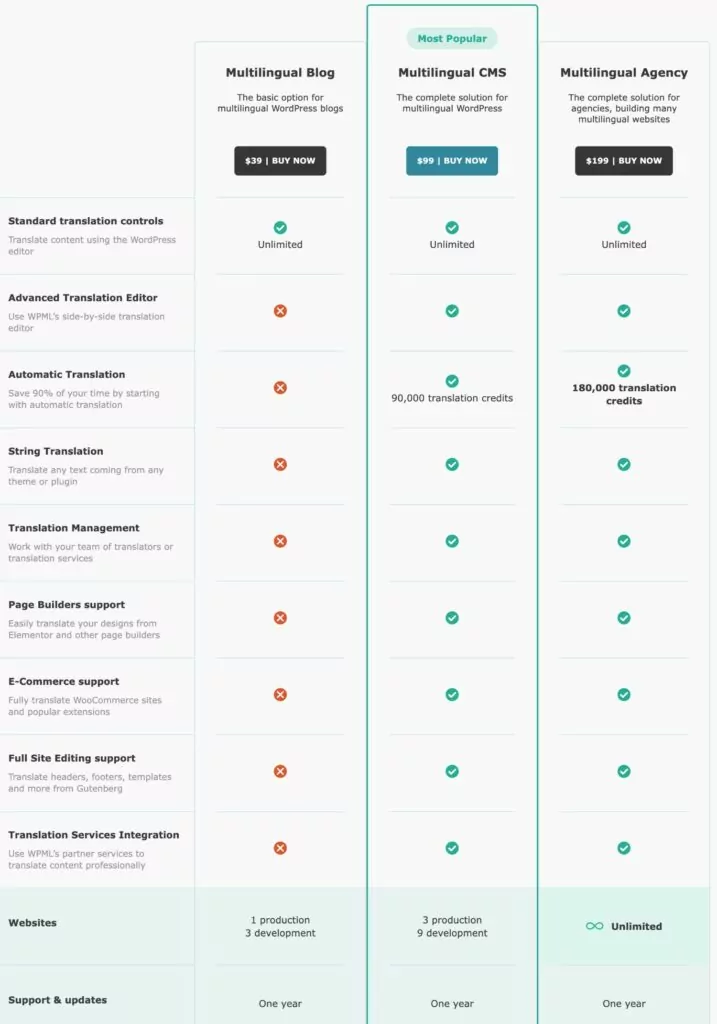 While the Multilingual Blog plan does start at just $39, you'll want at least the $99 Multilingual CMS plan for any serious use case.
The Multilingual Agency plan doesn't add any new features, but it does give you more translation credits, along with support for unlimited websites. Polylang does not have an unlimited site license, so this might be one big advantage if you're using WPML in an agency setting.
Automatic Translation Costs
In addition to the plugins themselves, you also might need to pay for your site's automatic translation usage, if you want to utilize automatic translation.
This applies to WPML directly, and it might apply to Polylang if you're using a third-party plugin to add automatic translation support (such as the Ray Enterprise Translation plugin that we mentioned).
With WPML's Multilingual CMS and Multilingual Agency plans, you get a certain number of credits for free with your purchase
Each word that you translate will cost a certain number of credits, depending on the service:
DeepL (default) – two credits per word
Google Translate – two credits per word
Microsoft Azure Translator – one credit per word
In addition to the large one-time number of credits that you get with your purchase, you also get 2,000 free credits per month for as long as you have an active WPML license.
If you need to exceed the free credits that come with your license, you can utilize pay-as-you-go pricing or purchase prepaid credits in advance (which never expire).
Pay-as-you-go pricing – after the 2,000 free credits, the next 8,000 credits cost $0.75 per 1,000 credits. The price per 1,000 credits goes down based on volume, bottoming out at $0.10 per 1,000 credits if you're using 10+ million credits per month.
Prepaid credits – you can save some money by purchasing prepaid credits that never expire. These cost $50 for 40,000 credits or $180 for 200,000 credits.
With Polylang, the automatic translation cost will depend on your solution. However, you should almost certainly budget some money for it if you plan to use automatic translation.
Final Thoughts on WPML vs Polylang
Overall, while both Polylang and WPML have their own strong points, WPML probably makes a better option for more serious multilingual websites for two main reasons:
It gives you more options for translating your content – manual, automatic, or professional service integrations.
It gives you more flexibility when it comes to the interface that you use to translate your content, which lets you choose the experience that best matches your workflows.
The downside, however, is that WPML doesn't have a free version. So if keeping costs down is paramount to you, you still might want to go with Polylang because it has a functional free version.
Of course, WPML and Polylang are not the only two options to create a multilingual WordPress site, so you also might want to consider other plugins to translate your site.
TranslatePress: Another Alternative to WPML and Polylang
Our main goal in this Polylang vs WPML comparison is to help you choose between these two plugins. We tried to honestly highlight the pros and cons of each tool to help you pick the right one for your situation.
However, we'd be remiss if we didn't mention our own plugin – TranslatePress – because we think TranslatePress can be a great alternative to both WPML and Polylang for a lot of sites.
TranslatePress was built from the ground up to create the most user-friendly experience for creating a multilingual WordPress site:
You can manage your translations using a visual, point-and-click interface.
TranslatePress offers 100% translation completeness – you can translate WordPress content themes, plugins, and more. You also don't need to look for any special compatibility – it just works with pretty much any plugin out there.
You can choose between manual translation or automatic translation (or a mix of both).
Let's take a quick look at how TranslatePress stacks up in the same categories that we compared WPML vs Polylang.
Translation Options
TranslatePress supports both manual translation and automatic translation via Google Translate or DeepL.
You can also create dedicated translator accounts to help you work with translation agencies or freelancers, though there aren't any dedicated integrations like WPML offers.
You can also mix and match the two different approaches. For example, you could generate your site's baseline translations with DeepL but then manually review and edit those translations (or hire someone to do it for you).
Translation Interface and User Friendliness
To let you manage your translations, TranslatePress offers a unique visual, point-and-click editor that's different from both WPML and Polylang.
When you open the translation editor, you'll see a live preview of your site and a sidebar, much like the native WordPress theme customizer.
To translate any element on your site, all you need to do is hover over that element and click the pencil icon. That will open the translation in the sidebar, where you can make your changes.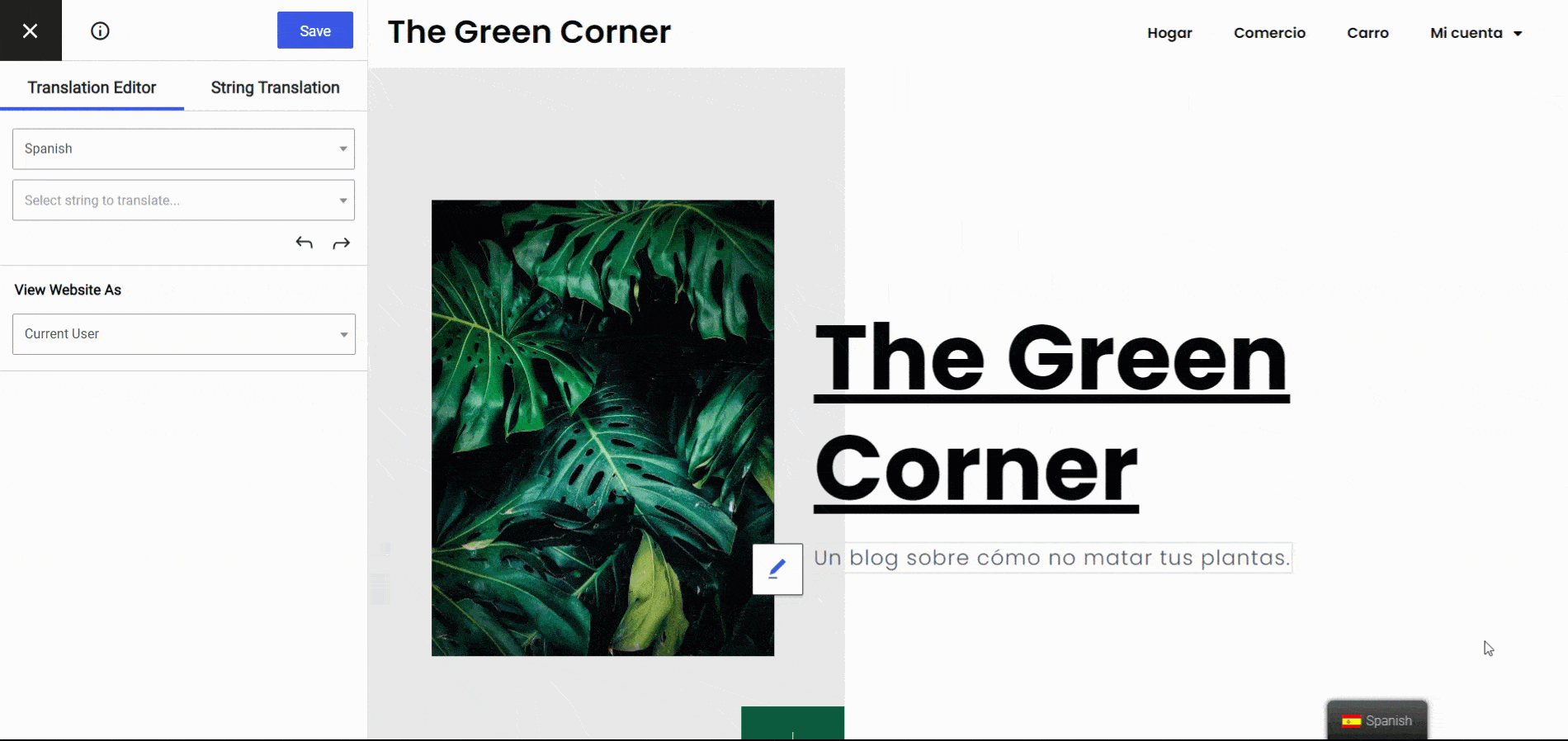 You can use this same point-and-click approach for text from WordPress, plugins, and themes, as well as other elements like images, widgets, menus, and more.
With Polylang and WPML, you would need to use separate interfaces to accomplish the same thing, which can make TranslatePress more convenient if you need to translate different types of content.
Translation Completeness
Another advantage that TranslatePress has is translation completeness.
TranslatePress detects translatable content in a completely different way from WPML and Polylang, which helps it offer out-of-the-box support for pretty much any WordPress plugin and theme.
WPML and Polylang look at the content in your site's database to find content to translate. This works most of the time, but it can cause issues if a plugin or theme isn't following WordPress conventions or has some other quirks.
For example, this is why you'll see "Compatible with WPML" on a lot of plugins.
Rather than using this approach, TranslatePress looks at the rendered HTML on your site to find content to translate. This lets TranslatePress help you translate pretty much any content that appears on your site, regardless of where that content comes from or how it's stored in your site's database.
For example, this approach also lets TranslatePress easily translate shortcode output, popups, and other more edge-case situations that other translation plugins can struggle with.
Here's what it looks like to translate a form from WPForms – there's no need to install a compatibility plugin or scan for strings; all you do is point and click on the visual preview: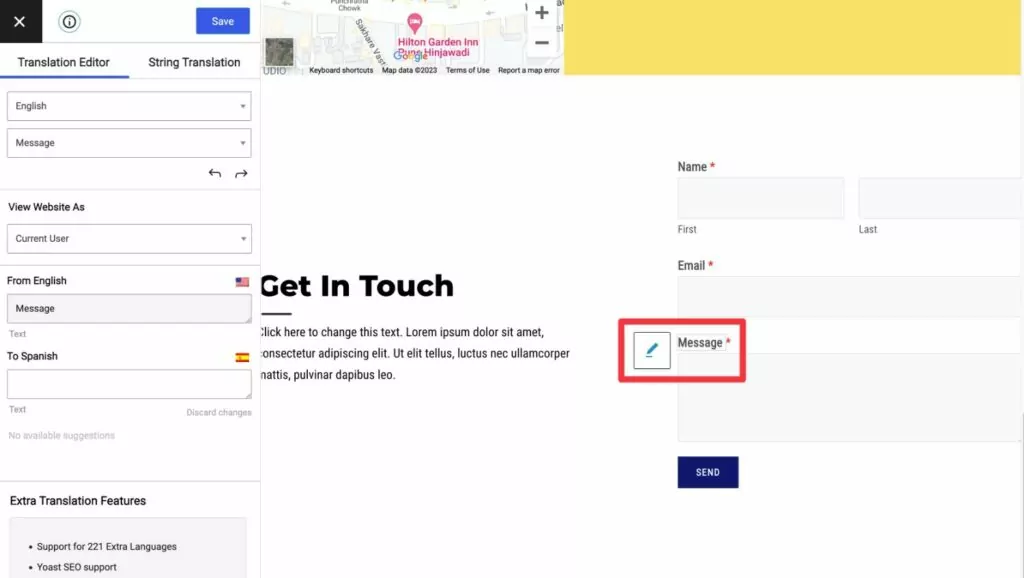 Here are posts demonstrating how you can apply this point-and-click approach to all different types of WordPress content.
Overall, we think that TranslatePress's approach offers the easiest way to ensure comprehensive translations.
TranslatePress SEO Friendliness
With the SEO Pack add-on (available on all paid TranslatePress plans), you get a number of features to help with multilingual SEO.
| | |
| --- | --- |
| | TranslatePress |
| Fully Google-indexable translations | ✅ |
| Supported URL formats | – Subfolders |
| Automatic hreflang tags | ✅ |
| Translate SEO titles/descriptions | ✅ |
| Multilingual XML sitemaps | ✅ |
One thing to note, however, is that TranslatePress exclusively uses the subfolder approach. It doesn't give you the option to use subdomains or separate domains like both WPML and Polylang offer.
While we think the subfolder approach is the best option for most sites, this might be an important consideration for you if you need to use subdomains or separate domains for some reason.
Pricing
TranslatePress comes in both a free version at WordPress.org as well as three different premium plans.
In general, the free version is more functional than Polylang's free version. For example, the free version of TranslatePress still supports automatic translation via Google Translate and offers more comprehensive translations.
However, one limitation is that the free version of TranslatePress only supports one new language, while Polylang's free version supports unlimited languages.
Beyond adding support for unlimited language, the paid versions of TranslatePress also add other features including the following:
Multilingual SEO – translate SEO metadata, create a multilingual sitemap, and more.
Dedicated Translator accounts – work with freelance translators or translation services.
Browse as user role – browse your site as specific user roles in the translation editor.
Navigation based on user language – while the free version lets you fully translate your menu items, the premium version lets you use different menus depending on a user's language.
DeepL support for automatic translation
Automatic user language detection – automatically detect a user's preferred language (via browser settings or location) and redirect them to the right version of your site.
Here are the pricing plans: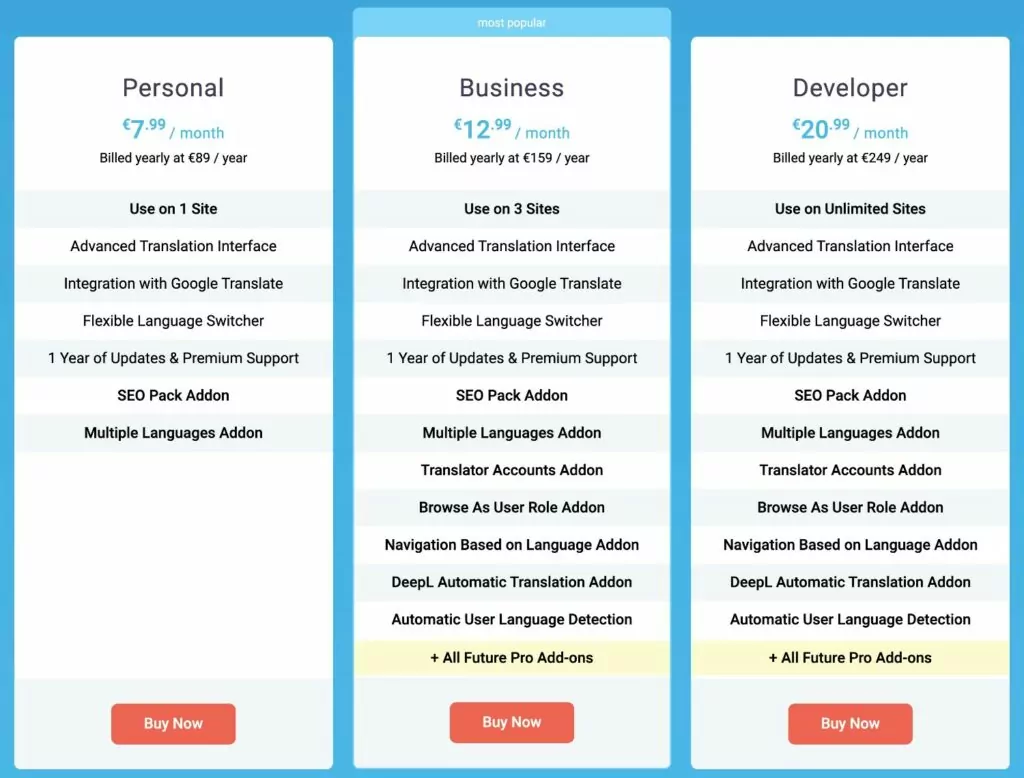 The Business and Developer plans are identical in terms of features – the only difference is how many sites you can activate the plugin on.
Automatic Translation Pricing
Unlike WPML, TranslatePress does not charge you anything extra to use automatic translation. However, you might need to pay Google Translate or DeepL directly if you exceed the limits on their free tiers.
Both services let you translate 500,000 characters per month for free, which is equal to around 80,000-100,000 words. After that, Google Translate costs $20 per one million characters, paid directly to Google.
This means you can translate around ~165,000-200,000 words for ~$20 with TranslatePress. Because Google Translate bills based on characters, the actual rate might be slightly higher or lower depending on your content.
For comparison, translating 200,000 words with Google Translate in WPML would cost you around $360 with prepaid credits. You would need 400,000 WPML credits to translate 200,000 words, because each word in Google Translate costs two WPML credits.
To help you control your budget, TranslatePress also lets you set limits on automatic translation usage for your site.
Pick the Right WordPress Multilingual Plugin
That wraps up our Polylang vs WPML comparison, as well as some bonus thoughts on how our TranslatePress plugin stacks up against them.
All three of these plugins have their own pros and cons, so there's no one size fits all solution that will work for every single site.
For example, WPML lets you connect directly with professional translation services, which is something that neither Polylang nor TranslatePress offer (though TranslatePress does let you create translator accounts).
If that's an important feature for your business, that might make WPML the best option for your site.
Similarly, Polylang's free version lets you use unlimited languages for free, whereas TranslatePress's free version limits you to one new language. So if you have a super tight budget and you want to offer 3+ different languages, that might make Polylang's free version the best option.
With that being said, we wouldn't be developing TranslatePress if we didn't think it was the best WordPress multilingual plugin for most sites.
With a visual, point-and-click translation editor, support for manual and automatic translation (with automatic translation costing much less than WPML), and out-of-the-box compatibility with pretty much any type of WordPress content, we think TranslatePress can be a great option for most multilingual use cases.
If you want to learn more, you can read our tutorial on using TranslatePress to create a multilingual WordPress site or head to the TranslatePress homepage.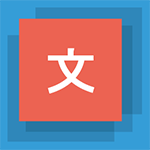 TranslatePress Multilingual
The best alternative to Polylang and WPML for WordPress users who want to create a multilingual website.
Get the plugin