Are you trying to localize your business by creating a multilingual website? Automatic machine translation is one sure way to save a lot of time and money. But to use cloud translation services, you'll usually need to pay per character. This requires you to know your web pages' word and character count. This is where web page word counter websites come in handy.
Creating multilingual sites has become super easy these days. If your site is published on a platform like WordPress, all you'll need is a plugin to translate its pages. You can use plugins like TranslatePress to create translated versions of your site right on the front end and for free.
But translating your site pages automatically requires you to add Application Protocol Interfaces (APIs) from cloud translation services. And unless you're running a smaller site, that doesn't contain a lot of text, you'll need to pay to use these technologies. Popular automatic translation providers like Google Translate and DeepL charge per character, once you exceed their free tier limit.
So, your first step to automatically translating your site is to know the number of words and characters on each page. The easiest and fastest way to do this is to use a web page word counter website.
In this article, we'll share 9 of the best web page word counter websites. Most of these websites allow you to check any web page's word and character count by just entering the URL.
But first, let's take a closer look at the costs automatic web translation entails. Let's get to it!
How Automatic Web Translation Costing Works
We've mentioned earlier that automatic web translation services charge you per character to translate text on your site's pages.
With Google Translate, all the costs you need to worry about are classified under the Google Cloud Translation pricing. Google charges you for using this service every month. The good news is you might never need to pay a dime.
If you have a small site with a few pages, Google allows you to translate your first 500,000 characters every month for free. This refers to every character included in a "detect language" or "translate text" request made via the Cloud Translation API.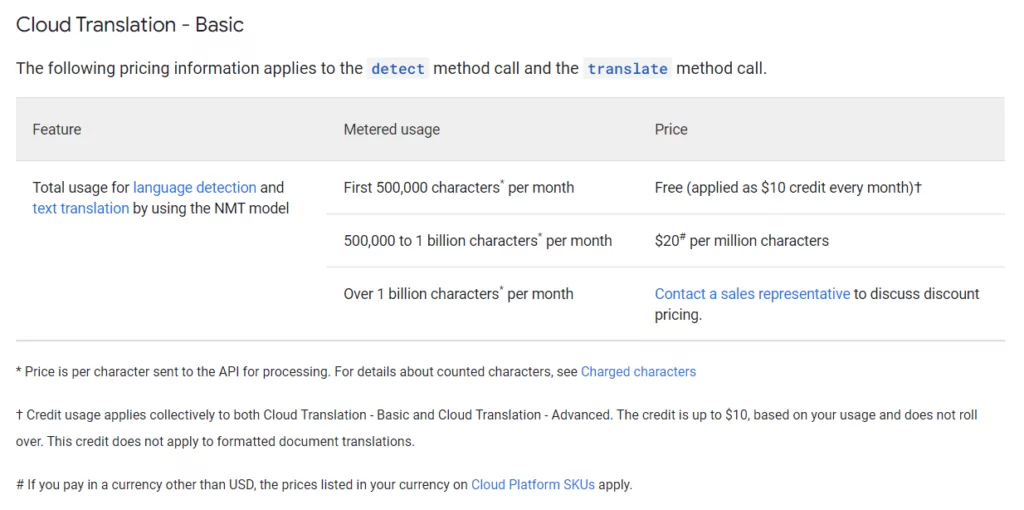 If you request translation for text without specifying the source language, Google will also detect the language but only charge you for translating the text.
Once your translation requests exceed 500,000 characters per month, you'll be charged $20 per million characters. For higher workloads over 1 billion characters, you'll have to contact a sales rep.
DeepL API's pricing model is also very similar. You get the first 500,000 characters you translate every month free. Anything beyond this, you'll have to pay a base fee of $5.49 per month plus an extra $25 per million characters. Significantly pricier than Google's offering. This only applies to the United States as the pricing varies based on your location.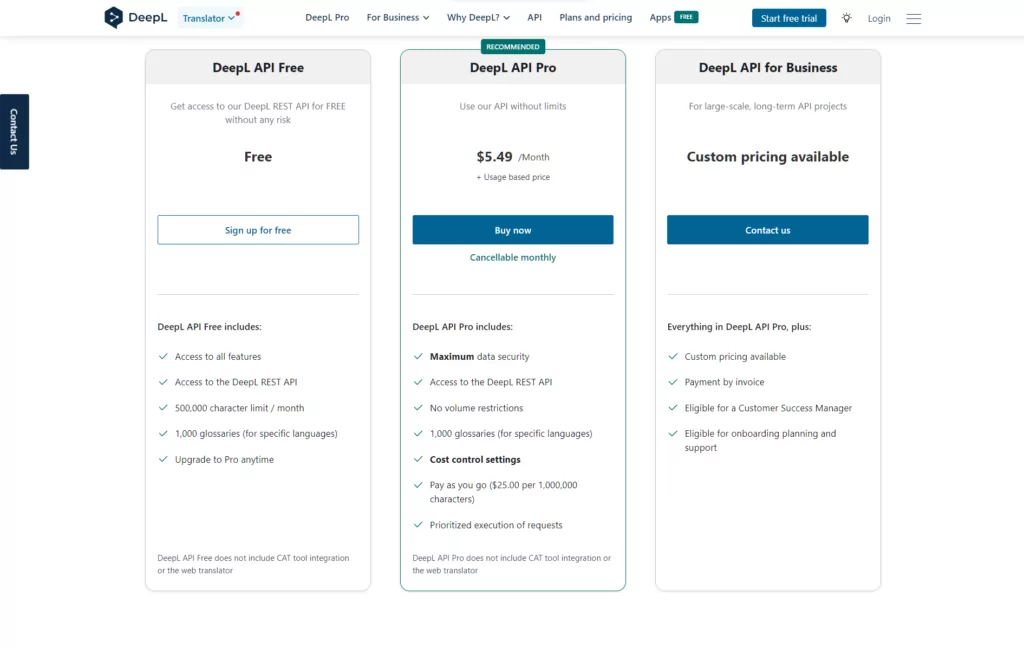 DeepL also doesn't offer discounted pricing for over 1 billion characters translated in a month.
Once you've got your cloud translation subscriptions, you can use a plugin like TranslatePress to integrate the API with your site. TranslatePress helps you to minimize translation costs by ensuring that API requests are sent only the first time a user visits a page that hasn't been translated yet.
Now that we know how automatic site translation works, let's check out the web page word counter websites.
9 Best Web Page Word Counter Websites
Each of the web page word counter websites on this list allows you to calculate the number of words on your site pages quickly and easily. For easier access, we've prioritized the websites that only require you to enter the page's URL. This eliminates the need to copy-paste each page's content.
From experience, URL-based word count often varies on different web page word counter websites. But the margin is often minimal and will hardly make any significant difference.
Also, some of the websites on this list only calculate the number of words on each page. If you're using any of them, you can still easily calculate the number of characters afterward. On average, English language text contains 5 to 6.5 characters per word including spaces and punctuation.
Now, let's get to the list!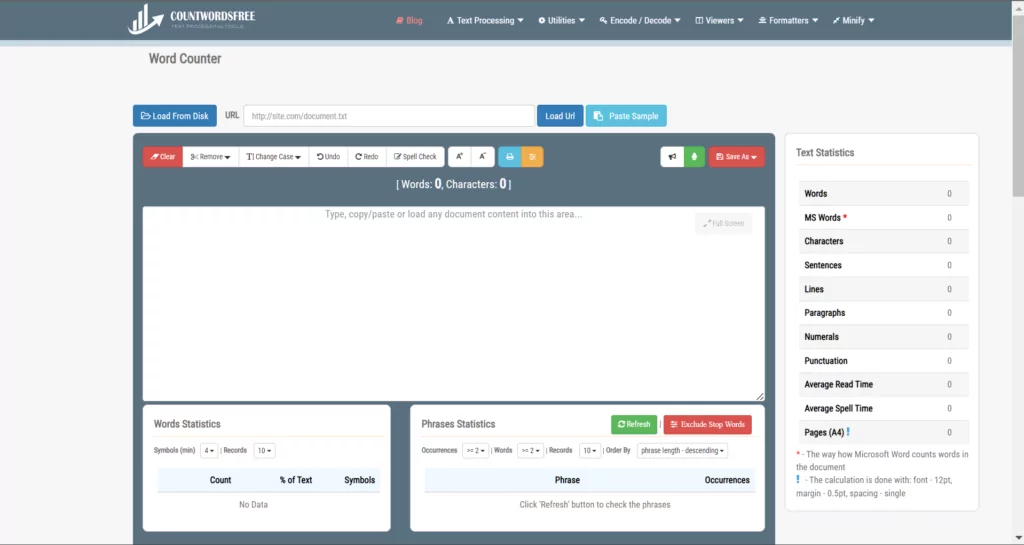 Our number one pick for this list of web page word counter websites is a free tool packed with an extensive collection of features. For ease of use, the website allows you to enter the URL of the web page you want to translate. This makes it very easy to translate multiple ready-made pages one after the other.
If your project is different, Count Words Free also allows you to upload different file formats or simply paste the text into the editor. So, if you have web pages as HTML and CSS files, you can add them as well. The site also makes it possible to remove HTML tags, extra spaces, and redundant lines to ensure a more accurate character count.
Other file types you can upload include text, Word, PDF, PPTX, and epub. This tool is arguably the most efficient and feature-packed web page word counter website online.
Key Features
Word, character, sentence, paragraph, line, numeral, and punctuation count
Multiple file type support
Multiple language support
Spell checker
Average read and spell time
Text cleaner (e.g. HTML tag remover)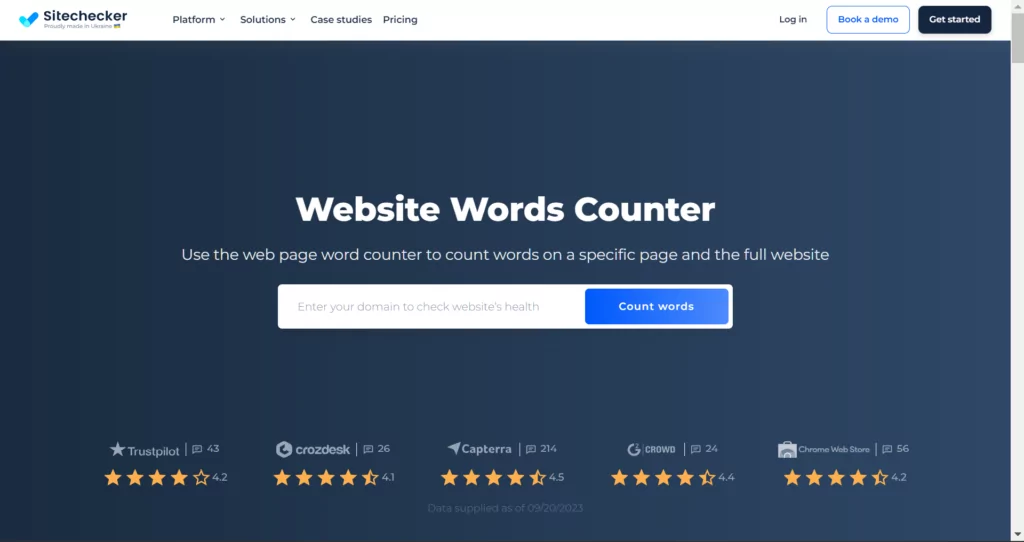 Sitechecker's web page word counter is another useful tool that allows you to simply enter a URL and count the number of words on it. Immediately after entering the URL, the site will provide the character and word count.
As part of Sitechecker's suite of free Search Engine Optimization (SEO) tools, you'll also get a text length recommendation. Having the right number of words and characters on your web page can help you rank better on Google.
Beneath this, you can also click a button for a free SEO audit. If this is something you're also looking for, then Sitechecker's web page word counter website may be ideal.
Key Features
Word and character count
Text length recommendation for SEO
Other SEO tools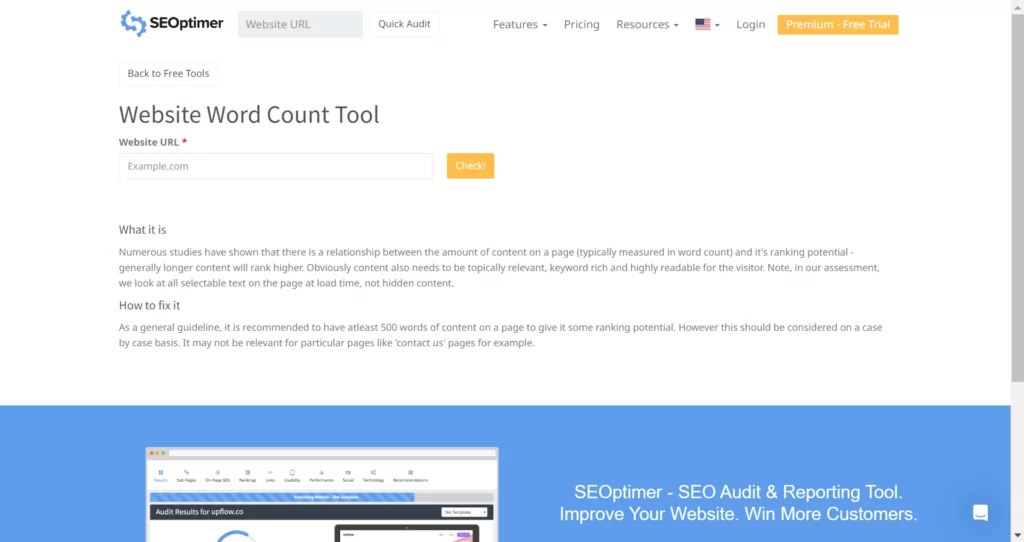 Speaking about SEO tools, SEOptimer's web page word counter is another option to consider. The website is a very simple one with basically one feature. It calculates the word count on any web page once you enter the URL and click the Check button.
Unfortunately, this tool doesn't calculate the character count on the page. If you opt for this tool, you can easily use the formula we mentioned earlier to get an estimated value of the number of characters on the page. (1 word ≈ 5 – 6.5 characters)
For a quick SEO audit, you can enter the page URL in a box in the header.
Key Features
Word count
Quick SEO audit
Simple SEO textual content report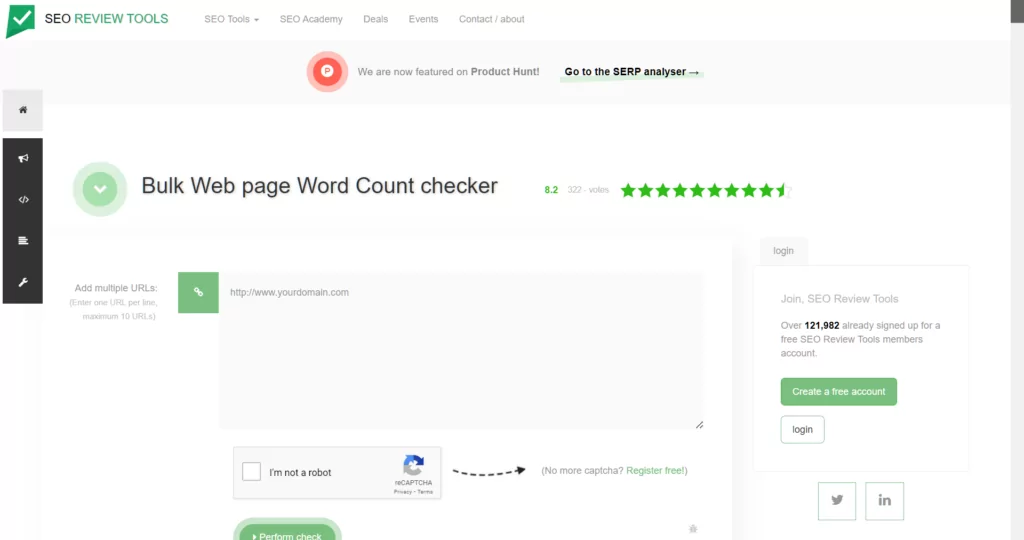 Looking for a much faster way to get your entire site's word or character count? SEO Review Tools' bulk web page word counter is ideal for websites with multiple pages. You can enter as many as 10 URLs (one per line) at the same time.
The only additional step in the way is the CAPTCHA check. But if you register on the site for free, you can even avoid this step as well. Apart from the general word count, the tool also displays the anchor text count and percentage. This gives you an idea of your pages' textual content for SEO performance. You also get a corrected word count which is the difference between the total word count and the anchor text word count.
The service also offers an API connection that you can integrate with Google Sheets. Similarly, SEO Review Tools has other SEO tools like a Keyword Research Tool and Backlink Checker.
Key Features
Basic word count
Anchor text word count
Other free SEO tools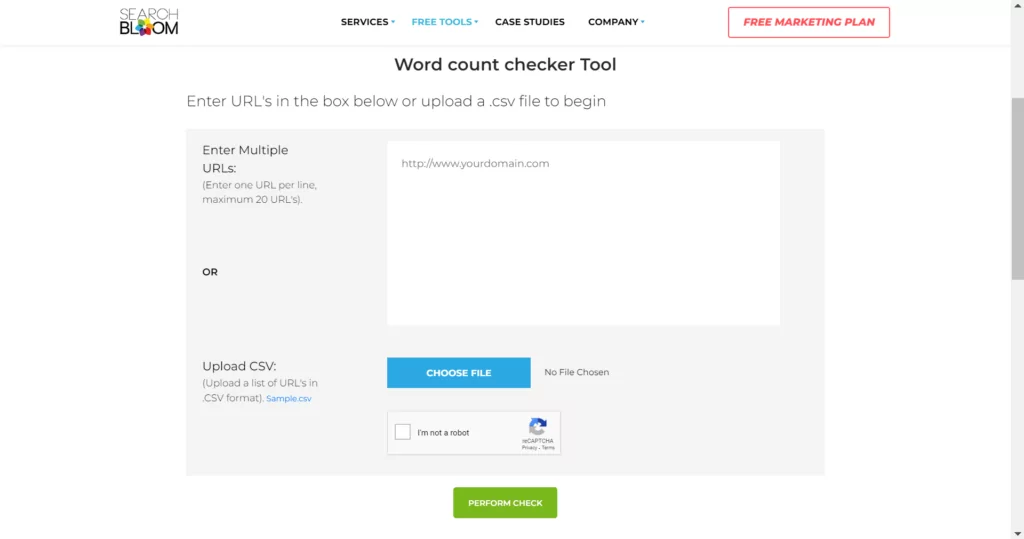 Do you want an even faster tool for checking your site pages' word count? Then this website may be the perfect match for you. Searchbloom's web page word counter website allows you to add up to 20 URLs simultaneously in the editor.
More interestingly, you can even upload a CSV file with a list of as many URLs as you'd like. This way you can get the total word count of all the pages on your site at a go.
After completing CAPTCHA and clicking Perform Check, the results you see are very similar to those from SEO Review Tools' word counter. This makes sense since both tools are focused on the SEO aspect of things.
Key Features
Basic word count
Anchor text word count
Other SEO tools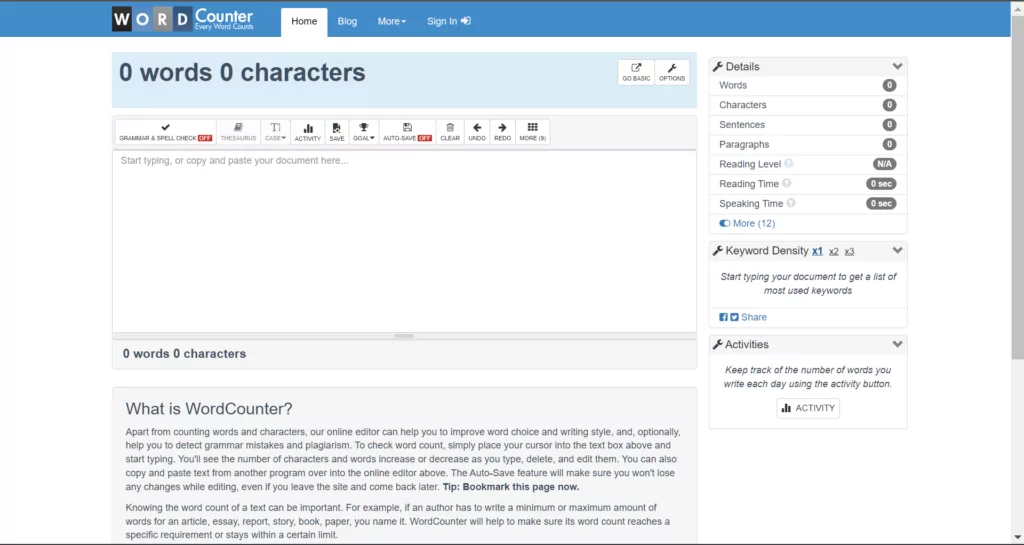 WordCounter.net is another popular web page word counter website that proves highly useful for website automatic translation. The site has so many quick features that it should probably be second on this list. The only major drawback with using it is that it doesn't allow you to enter a web page's URL.
You'll have to copy and paste text from each page of your site to get an accurate word and character count. If you're okay with that, then there are a lot of features you'll enjoy using. At just one glance, you'll be able to see the number of paragraphs, sentences, lines, reading time, and average sentence word count.
Speaking about SEO features, it's the only tool so far on this list with a keyword analyzer. It tells you the keyword density of the most used 1-word, 2-word, and 3-word phrases in your text.
Key Features
Word, character, line, sentence, and paragraph count
Keyword analyzer
Reading/speaking time calculator
Average sentence length analyzer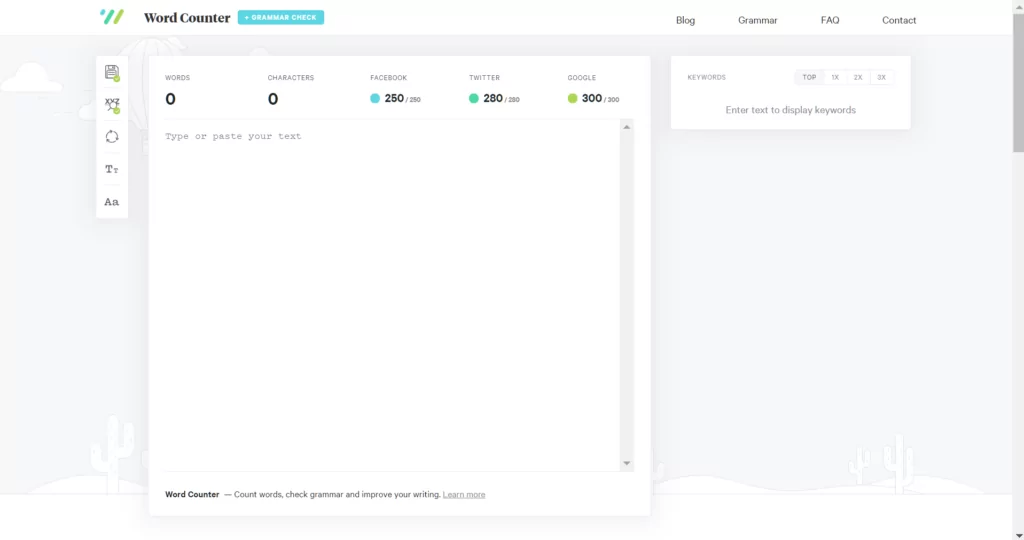 Looking for word counter websites with fancy UIs? Then WordCounter.io will hardly leave you disappointed. The tool has an intuitive text editor that allows you to change the font type and size of your text while doing the word count.
You'll see your word and character count results immediately after pasting your text on this site. WordCounter.io also has some features that are optimized for social posts. You'll see that when you've exceeded the character count limit for Facebook (average post length), Twitter, and Google's meta description.
Additionally, you also get a grammar checker and a handy keyword analysis feature for the most used 1-word, 2-word, and 3-word phrases. The Clear text button can be a great time saver too, especially when copy-pasting text from several pages.
Key Features
Word and character count
Keyword analyzer
'Clear text' button
Grammar checker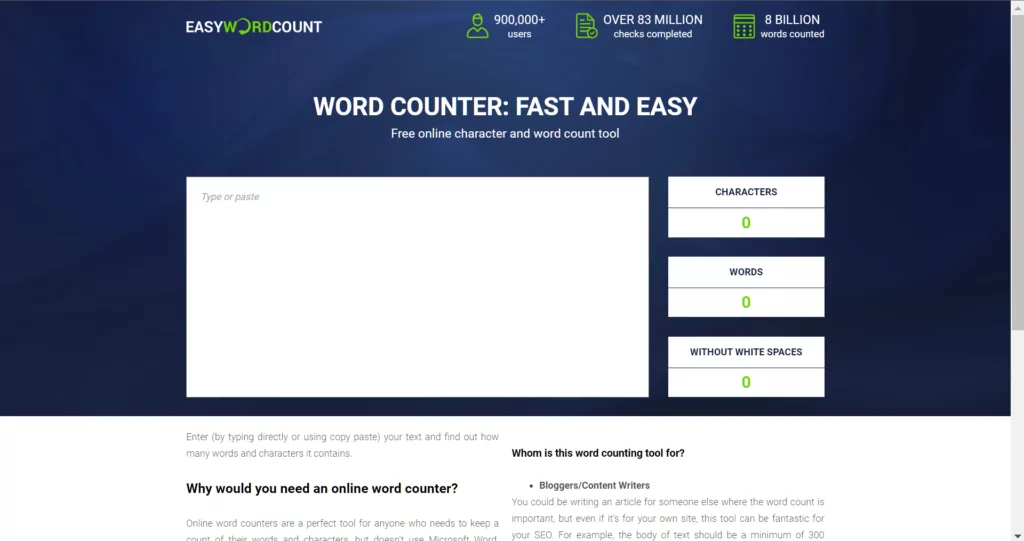 Just like the name implies, this particular web page word counter website is perfect for the most basic word count features. Easy Word Count tells you your text's word and character count. No more, no less!
The only extra information it displays is the character count without spaces. It doesn't support URL input or document upload. So, copy-paste your page's text and you'll be able to see the count results automatically.
Key Features
Basic word and character count
Clean UI
Instant (co-click) results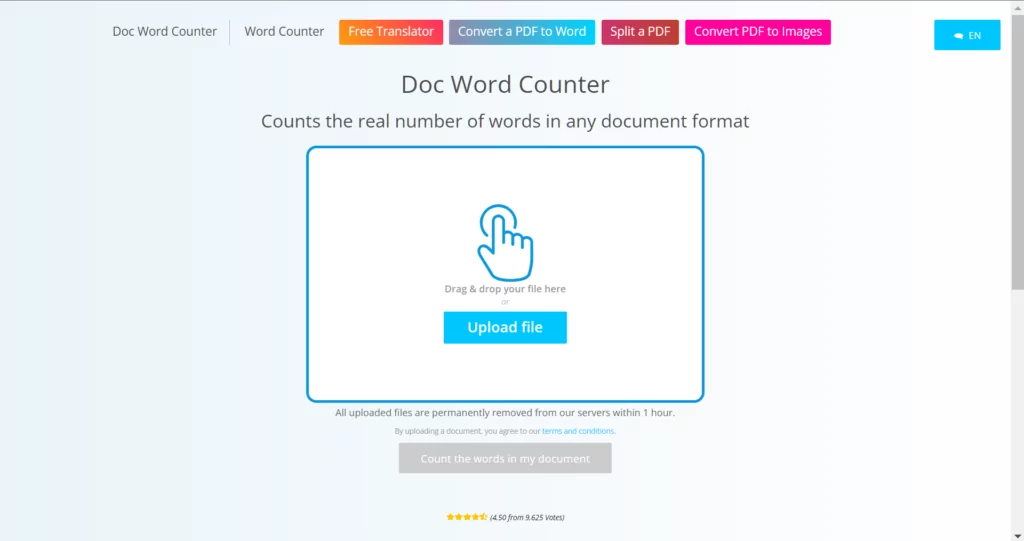 The last tool we've added to this list is an exclusive word counter website for documents only. The tool includes neither a text editor nor URL input field. Some of the supported file formats include PDF, Word, Excel, PowerPoint, and TXT files.
This type of input allows you to tell the number of words in very long blocks of text at the same time. Unfortunately, HTML and CSS files aren't supported. So, the best approach here may be to export your pages in any of the supported file formats and merge them.
Doc Word Counter displays word count only and a comprehensive list of all the dictionary words in the text.
Key Features
Basic word count
Multiple document file type support
Optimized for long blocks of text
Which Web Page Word Counter Is Best for You?
Choosing a web page word counter website for automatic web translating costing shouldn't be a difficult task. In reality, all you need is an online tool that tells you the number of characters on your website. At least seven of the free tools we've shared above can help you with this.
However, some additional features like URL input and document upload support can help you get things done a lot much quicker. This is why we highly recommend our number 1 pick on this list: Count Words Free. The site offers a complete all-in-one solution that will help you determine your cloud translation costs easily.
Once you're website character count is complete, you can count on TranslatePress paired with the Google Translate or DeepL API to automatically translate your site's content.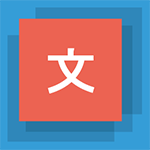 TranslatePress Multilingual
TranslatePress is the easiest way to translate your WordPress site. It's fast, won't slow down your website, works with ANY theme or plugin and it's SEO friendly.
Get the plugin
We hope this article has helped you identify the best online web page word counter tools out here. Kindly let us know if you have any questions in the comments section below.
If you found this post helpful, please check out our YouTube channel, where we constantly upload short & easy-to-follow video tutorials. You can also follow us on Facebook and Twitter to be the first to know each time we post.