If you're looking for a way to translate a whole page from your website to another language, then I do have some good news for you. There's at least a handful of methods you can use, and the best ones are completely free.
In this post, we're going to walk you through the process of how to translate a whole page of your website, how to translate multiple webpages at once, and even how to translate your entire website.
How to Translate Webpages
Before we get into the specific ways to translate webpages, let's list the scenarios that these solutions are meant for. If you're looking up how to translate a whole page, then you're likely interested in:
translating a web page just so you can understand the contents of it;
translating a page of your own website so that you can then send someone a link to that translated version;
translating a page of your own website and keeping it that way – as in, making the translation permanent and keeping it live on your site; this is also known as localizing your web page or making the page multilingual.
We're going to cover all of the above scenarios in this guide. If you need your page translated for another reason, please see our other articles about translating websites.
How to Translate a Whole Page Quickly
The simplest way to take any web page and have it fully translated to whatever language you wish is to put it through this free webpage translation tool.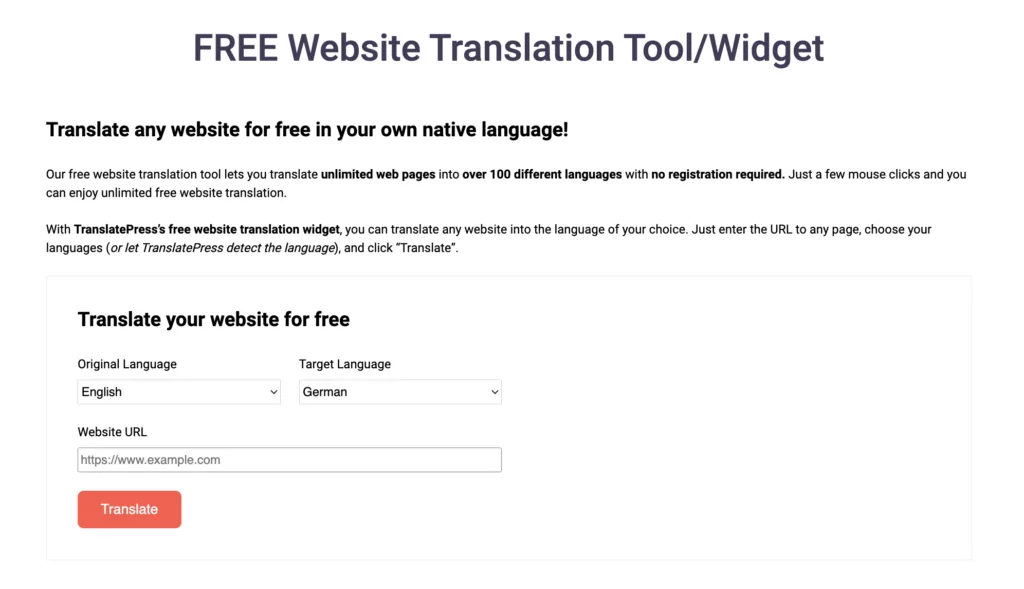 To use the tool, simply copy and paste the address of the page that you want to have translated into the Website URL field. Then, select the Original Language of that page and the Target Language you want to translate the whole page to.
Click on the Translate button to see the translated version of your page. There are at least two things that are great about this tool:
it's completely free;
your page will keep its original design – meaning, the translated content will be displayed in place of the original language content, like so:
That being said, there's one downside to this method. The translated content that you see is visible only to you (or to whomever you send the translation link to). However, this translation is not going to be visible publicly on the web, nor is it going to be discoverable via Google.
How to Translate Webpages Permanently
If you're translating a page of your own website, and you want to then keep that translation live on the site for everyone to see, then this method is for you.
This is what we need in order to make it work:
your site has to be running on WordPress;
you'll need to install the free TranslatePress plugin.
Here's how the process works that will lead you to translate webpages from your website:
1. Install TranslatePress
Installing TranslatePress works like installing any other WordPress plugin – it's super simple!
Go to your WordPress dashboard (YOURDOMAIN.com/wp-admin) and into Plugins → Add New.
Enter "TranslatePress" into the search box in the top right corner, and click on Install Now and Activate next to the plugin's name.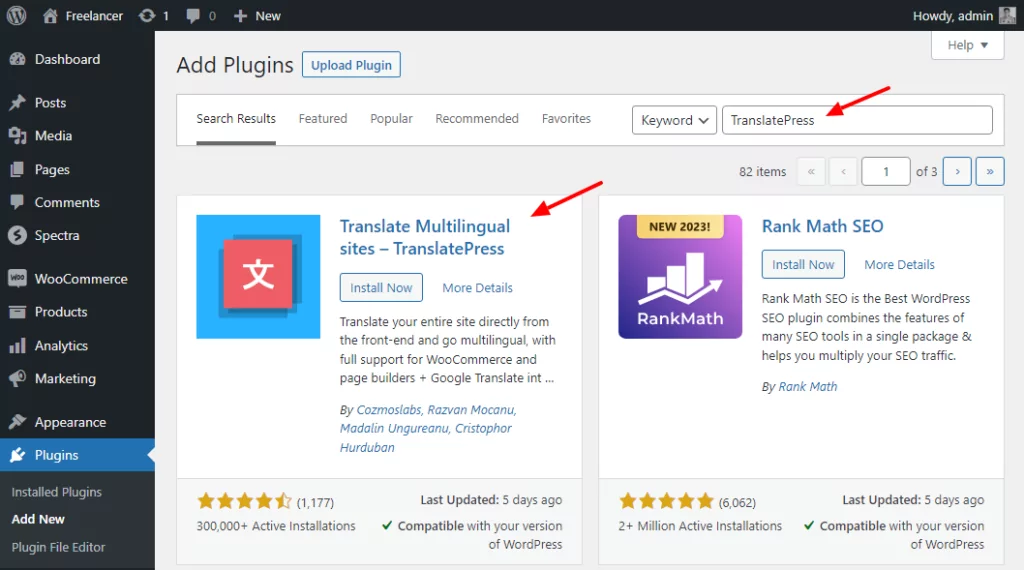 With that done, go to the settings screen of TranslatePress (Settings → TranslatePress). This is where you can set the languages that you want to translate your webpage into.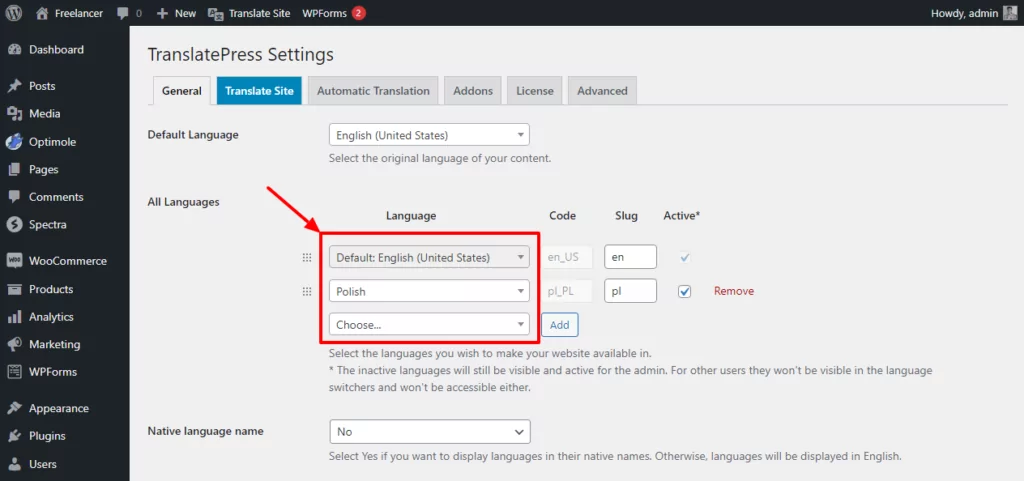 ℹ️ In the free version of TranslatePress, you can have two language versions of your page. If you need more, you can upgrade to the premium version of TranslatePress.
And that's it when it comes to the installation. It wasn't that hard, was it?
2. Translate Your Webpages
With TranslatePress installed, you can now go to any page on your site and translate it from top to bottom. Here's how to do that:
Visit the page normally – like your readers would – and click on the new Translate Page button that you can now see in the admin bar up top: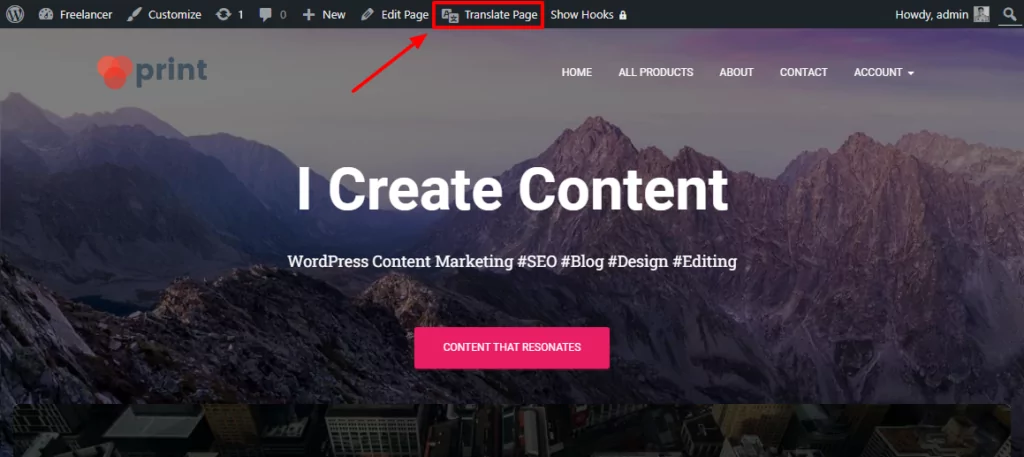 Clicking on this button will launch TranslatePress' main translation interface.
Adding translations to your webpage is really simple. Just hover your mouse cursor over any piece of text that you see on the page and click on the pencil icon that's going to appear next to it.
When you do that, you'll see a new box appear in the sidebar.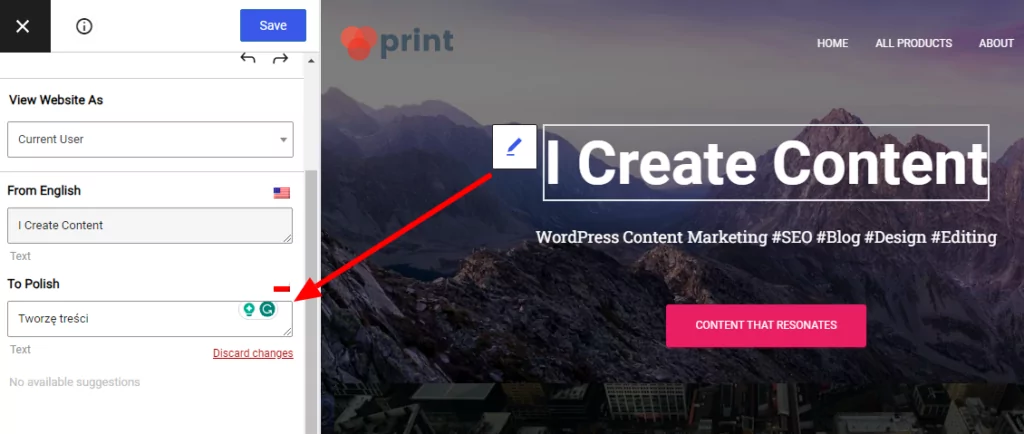 Inside this box, you can see the current piece of text – the one you clicked on – and a blank spot where you can enter your translation. Click on Save translation for your changes to take effect.
Now you can go through your page, piece by piece, and translate each paragraph, menu item, link, and any element you see on it.
You can even replace the images you have on the page so that each language has its original versions (we call this "image translation;" read this to learn more about the process if you're interested).
3. Make the Webpage Accessible to Visitors
TranslatePress comes with a neat language switcher that you can display in a couple of places around your site. Your visitors can use it to switch between the different language versions of your webpage.
There are three main types of language switchers available in TranslatePress. You can find them when you go to Settings → TranslatePress → General: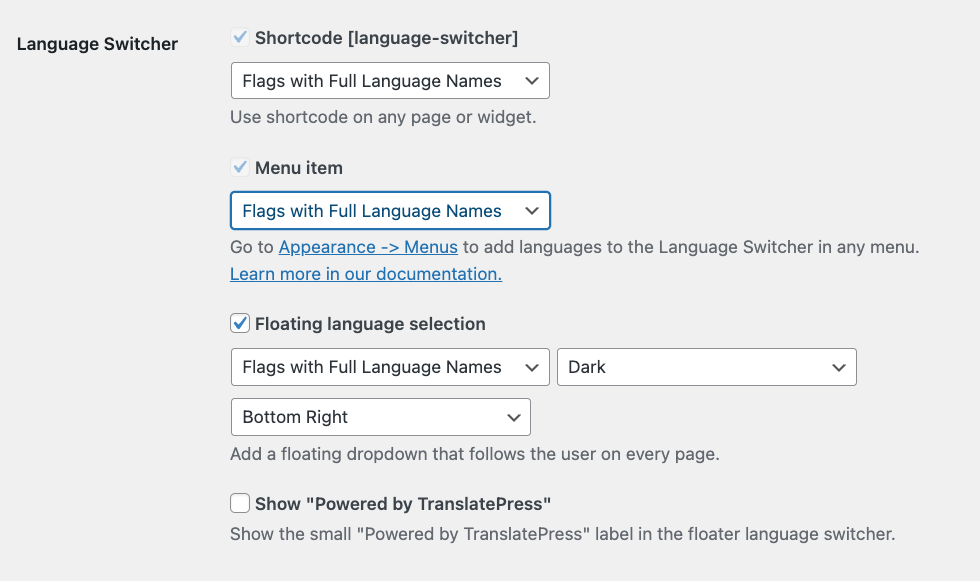 The Floating language selection is my favorite. It's always visible on the screen and sits in one of the corners of your site design. Here's what it looks like in action: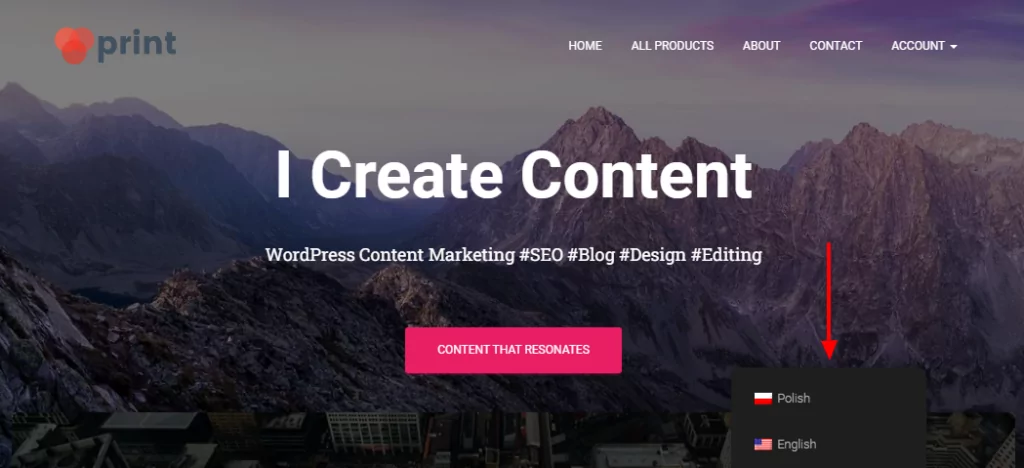 Now that you've learned how to translate a whole page of your site, the next step would be to translate your whole website.
So, here's how to do that!
Translate Whole Website
TranslatePress doesn't only let you work on a single page, but you can also use it to translate your whole site. The process is quite similar to how you've translated that first page:
Simply go from page to page and add your translations accordingly.
If your site is rather sizable – has tons of pages and thousands of words on each – you might want to use TranslatePress' automatic translation feature.
The free version of TranslatePress uses Google Translate to make that happen. The setup takes only a couple of minutes.
From the WordPress dashboard, go to Settings → TranslatePress → Automatic Translation.
Select the option to Enable Automatic Translation, pick Google Translate v2 from the list, and enter your Google Translate API Key (here's how to get it). As soon as you save the changes on this settings page, TranslatePress will go to work and translate your entire site automatically.
Now, here's the best part; you can still tune up and tweak these translations by hand if anything sounds off. Just click on the same pencil icon next to any translation and enter the correct one.
This is How You Translate Whole Page(s)
You've just learned how to translate webpages you've found on the web (to read them), and also how to translate whole pages of your own website and then make these translations available publicly.
These methods are replicable on any website running on WordPress, they're easy to do, and, most importantly, they're free to get started with.
💡 Here's a more detailed guide on how to use TranslatePress to its full potential and build a multilingual website that you can be proud of.
If you want to take your translated site to the next level, add more languages, experiment with multilingual SEO, or use advanced AI translation tools, check out the pro version of TranslatePress.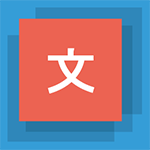 TranslatePress Multilingual
TranslatePress is the easiest way to translate your WordPress site. It's fast, won't slow down your website, works with ANY theme or plugin and it's SEO friendly.
Get the plugin
Do you have any questions on how to translate webpages or even whole websites? Feel free to let us know in the comments section below.
If you found this post helpful, please check out our YouTube channel, where we constantly upload short & easy-to-follow video tutorials. You can also follow us on Facebook and Twitter to be the first to know each time we post.