In this article, I'm going to illustrate how to translate a large piece of text together using TranslatePress. To understand why you would want to do that, let's start with an example.
So you're in the process of translating your website with TranslatePress. Your website is written in English and you plan to make it multilingual. You have installed TranslatePress, quickly set up French as a translation language and you're already translating from the live preview Translation Editor.
Everything is going fine until you encounter the following paragraph:
"Blue eyes are beautiful."
Now, the word Blue is emphasized, making it a stand-alone string. The rest of the sentence is a separate string.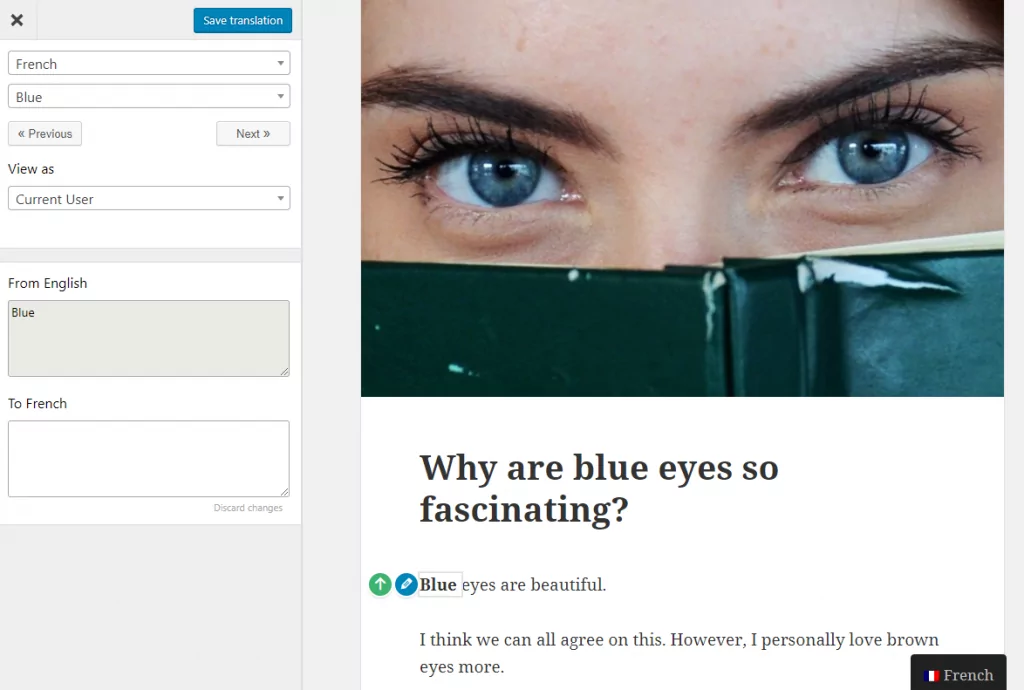 The problem is that the French translation has the noun "les yeux" (eyes) before the adjective "bleus" (blue). The translation looks like this:
"Les yeux bleus sont beaux."
Now the emphasized word has to be in the middle of the string because that's where the word "bleus" is. The structure of this sentence is a bit different for the French language so it would be a lot easier to just translate the sentence all at once.
This is where our new feature called Translation Blocks comes in handy. You can simply click the Merge icon 

 to create a single block out of the whole sentence.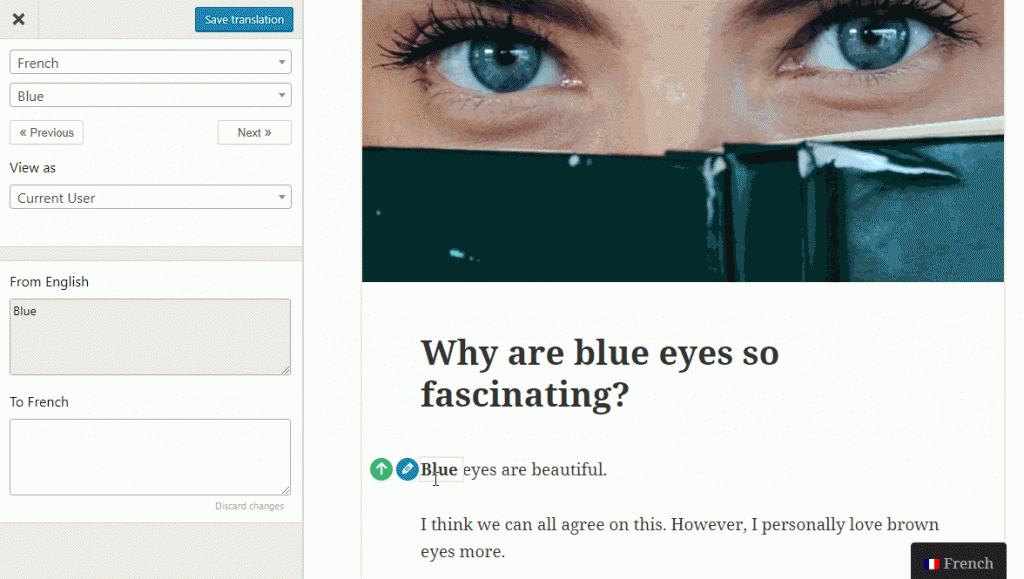 Then you can just add the translation for the entire sentence while adding the emphasized word exactly where it's supposed to be.
This new tool makes it easy to translate larger chunks of text at once, especially since languages can be very different in structure. Merging text together is very useful when the content contains links, underlined words, and other types of enrichment added to the text.
If you later decide to undo this merging operation in order to translate the little pieces individually, you can just click the Split button

. The translation of the entire block will be available at any time by merging it back.
Do you still have any questions about translating entire paragraphs or large pieces of text? Let us know in the comments below!
If you found this post helpful, please check out our YouTube channel, where we constantly upload short & easy-to-follow video tutorials. You can also follow us on Facebook and Twitter to be the first to know each time we post.