Time to build a new website? Then you've probably come across the popular WordPress Content Management System (CMS). The platform has earned quite a reputation as the go-to solution for both bloggers and website owners. But before you dive into the ecosystem, it's important to first examine all the major WordPress pros and cons.
Ultimately, your choice of a web development technology depends largely on the nature of your project, your personal preferences, and other important factors like your budget.
But there are certain reasons why WordPress is powering almost half of the entire internet today. It's relatively cheap, very easy to learn, and sites built with it work well on different devices too.
While all these points look good, it's not all rosy with WordPress. You might have to deal with challenges like software update issues, the high cost of customization, and even possible security vulnerabilities.
If you're unsure whether WordPress is an ideal fit for your project, then this detailed analysis of the most critical WordPress pros and cons should help you make up your mind. But before we get to that, let's consider an overview of what WordPress is.
Brief History of WordPress (Why Is It So Popular?)
The famous feature-rich web publishing platform we all know as WordPress today started as a simple blogging platform.
Back in 2002, b2/Cafelog was one of the few blogging websites around. When they finally decided to discontinue the project, their community of users had to seek other alternatives. Unfortunately, there were hardly any at the time.
Two b2/Cafelog users, Matt Mullenweg and Mike Little then seized the opportunity to develop their version of the software. They launched it in May 2003 on Sourceforge and called it WordPress. This first release immediately gained wide acceptance among old b2/Cafelog users.
The software was significantly better than its predecessor as it offered significant upgrades in terms of features. This somehow explains how the official Subversion (SVN) repository managed to hit nearly a thousand commits.
Thanks to its now-prominent plugin architecture and the fact that it was completely open-source, WordPress continued to increase its user base rapidly. Another factor that influenced WordPress's early success was the new pricing structure that Moveable Type's developers announced in 2004.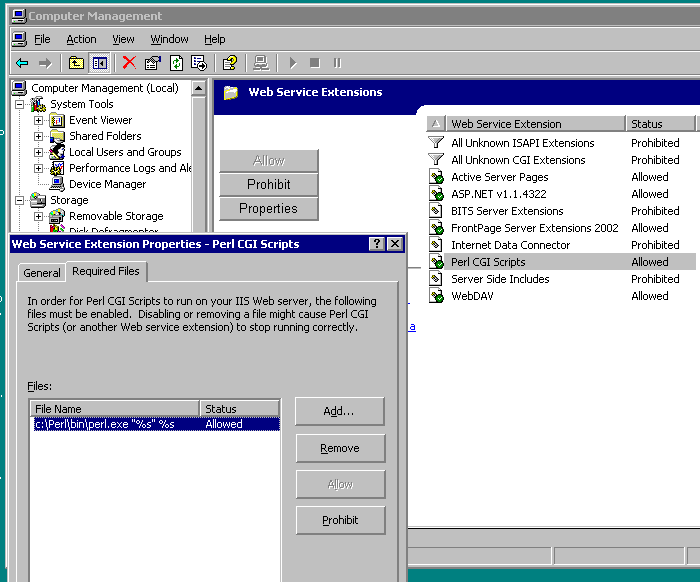 The platform was the most popular blogging tool in the industry then. But they introduced new licensing terms that now required users to pay to use the service. This led to a mass exodus of users to the new alternative, WordPress.
Since then, WordPress has continued to grow consistently with regular updates that improve its system of themes, plugins, pages, posts, and even custom post types. Today, it powers at least 43% of the entire internet. It also remains the fastest growing CMS recording over about 661 new WordPress sites daily.
At this point, opting for WordPress might already look like a no-brainer. But before you get started, let's examine the major WordPress advantages and disadvantages. Let's begin with the reasons why it makes sense to use WordPress.
Advantages of WordPress (Why Use WordPress)
To fully understand WordPress pros and cons, it's very important to know that there are different versions of the platform: WordPress.org and WordPress.com. While both versions are based on the same core software, certain key differences will affect your user experience.
WordPress.org is a completely free open-source web publishing platform that gives you unrestricted access to all the software's features and capabilities. With this version, you can add any plugin, theme, or other extensions to your site. But you'll have to download and install it to your hosting server or local storage. That's why it's also called self-hosted WordPress.
On the other hand, WordPress.com is the more limited proprietary version. With this version, WordPress takes care of web hosting and other things for you for a fee. But you get limited access to the type of themes and plugins you can use, depending on your subscription plan.
We always recommend using WordPress.org for the best WordPress experience. So, all the WordPress pros and cons below are specific to WordPress.org.
1. Relatively Cheap Web Development Solution
Building a website with WordPress is relatively cheaper than any other traditional web development technology. Setting a site using web development stacks will normally require you to hire a designer or developer. And this often comes at a steep price.
With WordPress, the no-code beginner-friendly solution helps you get started with even a tiny budget. The biggest advantage here is that the WordPress software is free and open-source. All you'll need to do is pay for web hosting and register a domain name. And as an example, SiteGround provides web hosting starting as low as $2.99/mo.
All other expenses are optional. Whether it's just a blog or an eCommerce store, there are lots of free WordPress themes and plugins to help you build a professional site.
2. Beginner-Friendly and Easy to Get Started
Another major advantage of using WordPress is that you don't need any prior coding or web development experience to build your first website. Most WordPress hosts today allow you to add WordPress to your hosting account in just one click.
Once you get past that, the default dashboard has a setup wizard you can use to find your way around quickly. You'll be able to easily name your site, set up a color palette, add a theme, and even install a plugin. Many plugins also redirect you to a setup wizard immediately after activating them.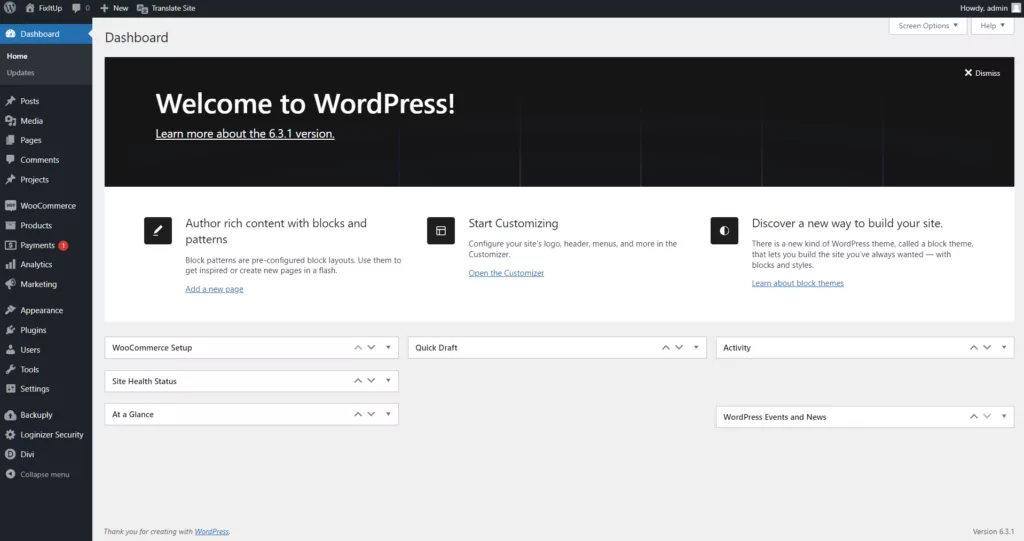 Adding content to your website (either as a page or post) is also pretty straightforward. The Gutenberg Block Editor offers a very intuitive user interface (UI) that allows you to use content blocks to build almost any type of site in no time.
It's also very easy to scale upwards once you're done mastering the software. For example, you can easily upgrade to more robust web hosting options or buy a premium WordPress theme with more features.
3. Highly Modular (Thousands of Plugins and Themes)
Once you start to add plugins and themes to your site, you'll quickly discover that there are several thousands of both free and premium options to choose from. Irrespective of your industry, you can easily find a WordPress theme with an elegant design to match your taste.
Most WordPress theme developers also add hundreds of starter sites to their template library. You can simply click 'Import' and have a ready site in under a minute. All you'll then need to do is customize the media and text for your unique website.
The WordPress plugin repository is also equally vast. You can almost be sure to find a WordPress plugin for any feature you need to offer your site visitors. From eCommerce features to CRM, SEO, and media file sharing functionality, you're always covered.
This plugin architecture allows you to add only the features and code you need to your website. This modularity is important for optimizing your website speed and user experience.
4. You Can Build Almost Any Type of Website
As we mentioned earlier, WordPress has long evolved from being just a blogging platform to a full-fledged web development software. With the help of WordPress themes and plugins, you can build both the front end and the back end of virtually any type of website you can think of today.
For example, if you want to build a multilingual site with multiple translations, all you need is a WordPress translation plugin like TranslatePress. And with a few clicks in the WYSIWYG editor, your multilingual site will be ready.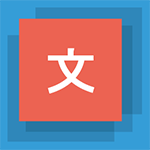 TranslatePress Multilingual
TranslatePress is the easiest way to translate your WordPress site. It's fast, won't slow down your website, works with ANY theme or plugin and it's SEO friendly.
Get the plugin
WordPress is not only beginner-friendly, but it is also fully developer-ready as well. Thanks to being open-source, WordPress is as flexible as any web development technology can get. Whether you need to add custom code or build an entire plugin or theme, the platform makes all of this possible.
You get total control over all your site files. It also integrates well with other third-party services to deliver features that are non-native to WordPress.
5. Responsive Sites
Worried about how your website will look on mobile and other screen sizes? Fortunately, WordPress is designed to be responsive right out of the box. All major WordPress theme developers also ensure that their products comply with this WordPress requirement.
Whether you're using the default Block Editor or a page builder like Elementor or Beaver Builder, you can be sure that your site will look great on virtually any device. You can also adjust different design elements like padding and margin for 3 different screen sizes: Desktop, Tablet, and Mobile.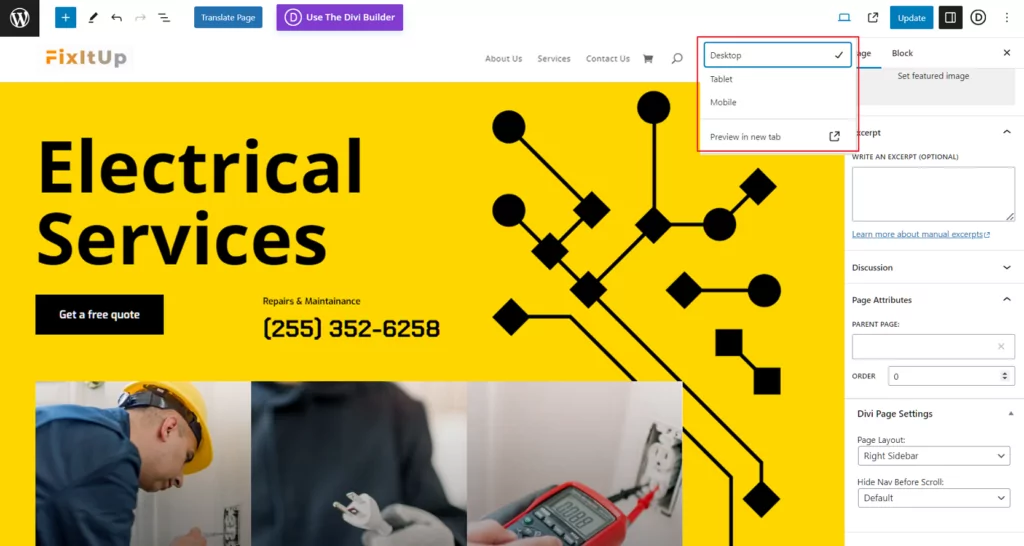 6. SEO-Friendly by Default
Another major concern in web development is Search Engine Optimization (SEO). The core WordPress software is fully SEO-friendly. This means most WordPress sites are more likely to be indexed by search engines and as a result, rank higher on Search Engine Results Pages (SERPs).
Most WordPress themes were built with SEO in mind. Additionally, you can choose from a myriad of SEO plugins. These plugins like Yoast SEO help you streamline your pages and blog posts for more organic traffic.
7. eCommerce Features (+ Social Sharing and Online Marketing)
If you're looking to sell physical or digital products on your site, all you need to get started is to install a free plugin called WooCommerce. This plugin adds very powerful eCommerce features to your site. This explains why it now powers over 99% of all WordPress stores in the US, Canada, and the UK.
Once you've built your store, you can also integrate your social accounts and automatically update your followers each time you add new products, services, or educational content.
When you also need to create promotional campaigns online (either on your site or as paid ads), you'll easily find the necessary tools.
8. Low Hosting Resource Demands
One important subject to bear in mind when discussing WordPress advantages and disadvantages is server hosting resources. When choosing a software development stack, it's always important to consider whether it is server resource-hungry or not.
For example, applications built on the Ruby on Rails framework often require a lot of server resources (in terms of CPU and memory). Fortunately, WordPress is a relatively light technology. This explains why WordPress hosting is significantly cheaper than other types of hosting. You'll generally need less storage and bandwidth to handle consistent traffic while delivering fast page loading times.
9. Frequent Updates and Increased Security
WordPress is also great because of how easy it is to upgrade its different components. Automattic (the umbrella company behind WordPress) also frequently updates the core software. This ensures that your site is running on the latest versions of PHP.

With frequent updates also comes better overall security. Since WordPress is open-source, it's sometimes prone to different types of security vulnerabilities. But Automattic always deals efficiently with these security concerns and other software bugs in new updates.
10. Vibrant Community
Talking about WordPress pros and cons, the list will be incomplete without a mention of the vast vibrant community of both users and developers. No doubt, WordPress has one of the biggest communities surrounding any software development 'stack'.
If you ever get stuck while building or running your website, there are thousands of blogs and forums to the rescue. In most cases, a simple Google search can also solve most of the common challenges you'll face along the way.
Apart from online communities, there are often several physical WordPress events (especially the official WordCamps) where you can learn new things, meet WordPress experts, and even advance a career.
Cons of Using WordPress (+ Possible Fixes)
1. Too Many Options to Choose From
No doubt, there's a downside to the sheer amount of variety you get when you need to choose a WordPress plugin or theme. For most beginners, sifting through thousands of products that you know very little about can be overwhelming. WordPress also has a lot of features that may be a little difficult to understand.
The easiest way to get around this is to get as much help as you can online. If you're looking for a specific type of theme or plugin, it's best to check out what reputable blogs like TranslatePress (that's us!), Astra, and Themeisle recommend.
2. Keeping Up With Updates Is a Major Concern
Here's another WordPress pro that can easily become a con. WordPress's frequent upgrades are good for security and functionality. But since you'll probably have many plugins on your site, keeping up with these updates can be quite challenging.
Fortunately, if you opt for managed WordPress hosting, your host will take care of your plugin and software updates, among other things. Many plugin developers also support automatic updates. Otherwise, you may have to log into your WordPress dashboard to update the plugin or theme manually.
3. Security Vulnerabilities
Security also features on both sides of WordPress pros and cons. Just like every other thing on the internet, WordPress sites can also be hacked or spammed. With WordPress, the risk may sometimes be higher because the software is open-source. Its popularity also makes it a major target among hackers.
WordPress security plugins can help you mitigate many of these security vulnerabilities better. You can also use anti-spam tools to keep your comments section and forms free from spam.
4. Optimizing Site Speed Can Be Challenging
In most cases, fully-functional WordPress websites often require a lot of plugins and extensions to deliver your site's key features. While modularity is a good thing, adding a lot of plugins to your site can hurt its speed and performance. Coupled with other factors like an unreliable web host, your page loading times can take a significant hit.
The first step to tackling this is to use a reliable and high-performing web host with the best server locations for your target audience. Once your site is up, you can then use caching plugins and Cloud Delivery Network (CDN)—RocketCDN is a good option here—to offer your users the best page speeds possible.
5. Custom WordPress Solutions Can Be Expensive
Building with WordPress often offers you great value for your money. The core software is free, hosting is relatively affordable, and there are lots of free plugins and themes to choose from.
But once you need to build a custom theme or plugin, costs can ramp pretty rapidly. On average, experience WordPress developer hourly rates start from $30 for experts from low-income countries. They can go as high as $175/hour for US-based developers.
Premium WordPress themes and plugins can also be quite expensive. If you need to add several to your site, you may need to expand your budget quite drastically.
Is WordPress for You?
This exhaustive list of WordPress pros and cons should already give you an idea of what to expect building a website with the software. Even as a complete beginner, the platform allows you to build powerful, elegant websites with almost any type of feature your users need.
If you're still unsure if WordPress is for you, we recommend trying it out especially if you fall into any of these categories:
Small and medium-sized agencies
Freelancers
Creatives (Photographers, musical bands, artists, etc.)
Online store owners
But if you're not looking to invest any time into web design, then you can check out other more limited alternatives like Wix or Squarespace. Larger enterprises that require custom databases and a lot of content may have to turn to traditional web development solutions or a more customizable CMS like Drupal.
We hope this article has helped you understand all the key WordPress pros and cons better. Kindly let us know if you have any questions in the comments section below.
If you found this post helpful, please check out our YouTube channel, where we constantly upload short & easy-to-follow video tutorials. You can also follow us on Facebook and Twitter to be the first to know each time we post.